This no-churn ice cream can be made from home without an ice cream maker, and with a little bit of added protein, it'll make you feel less guilty eating it! ;)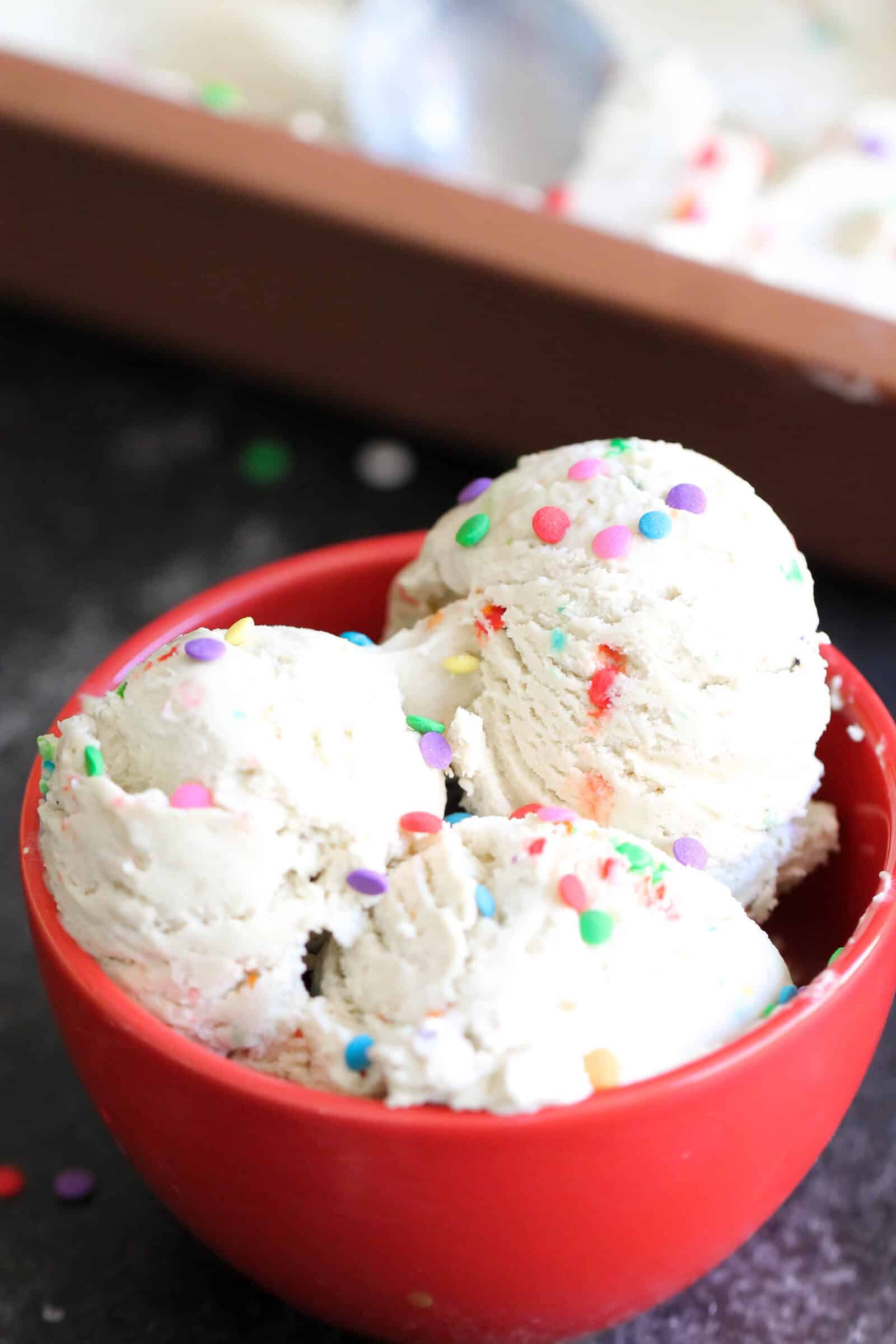 I absolutely LOVE homemade ice cream – and my husband loves it, too! Even though we've been married for almost 5 years now, we have still never gotten around to purchasing an ice cream maker. I wanted to make some last week when the weather was SO HOT, so I took a page from some of our other ice cream recipes, and made this no-churn dream.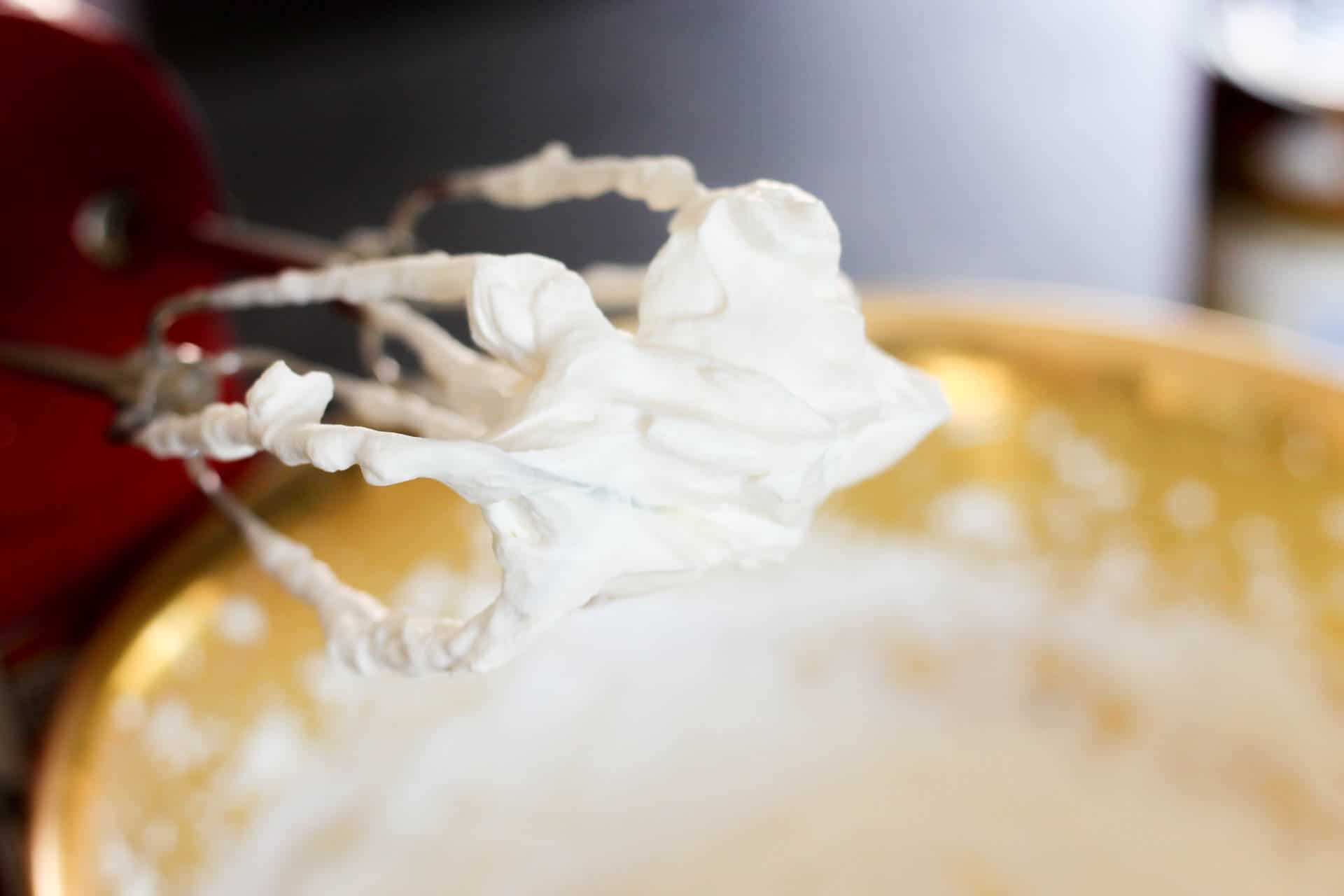 The first thing the recipe calls for is heavy cream, whipped until stiff peaks form. If you're wondering what stiff peaks look like, the image above is perfect. When you remove your beaters and hold them sideways, the cream should stick straight out (and not fall off and back down into the bowl). A great tip to get perfectly formed stiff peaks in just 3-4 minutes? Place your bowl AND beaters in the fridge to chill them before you whip your cream – it will help it go a lot faster.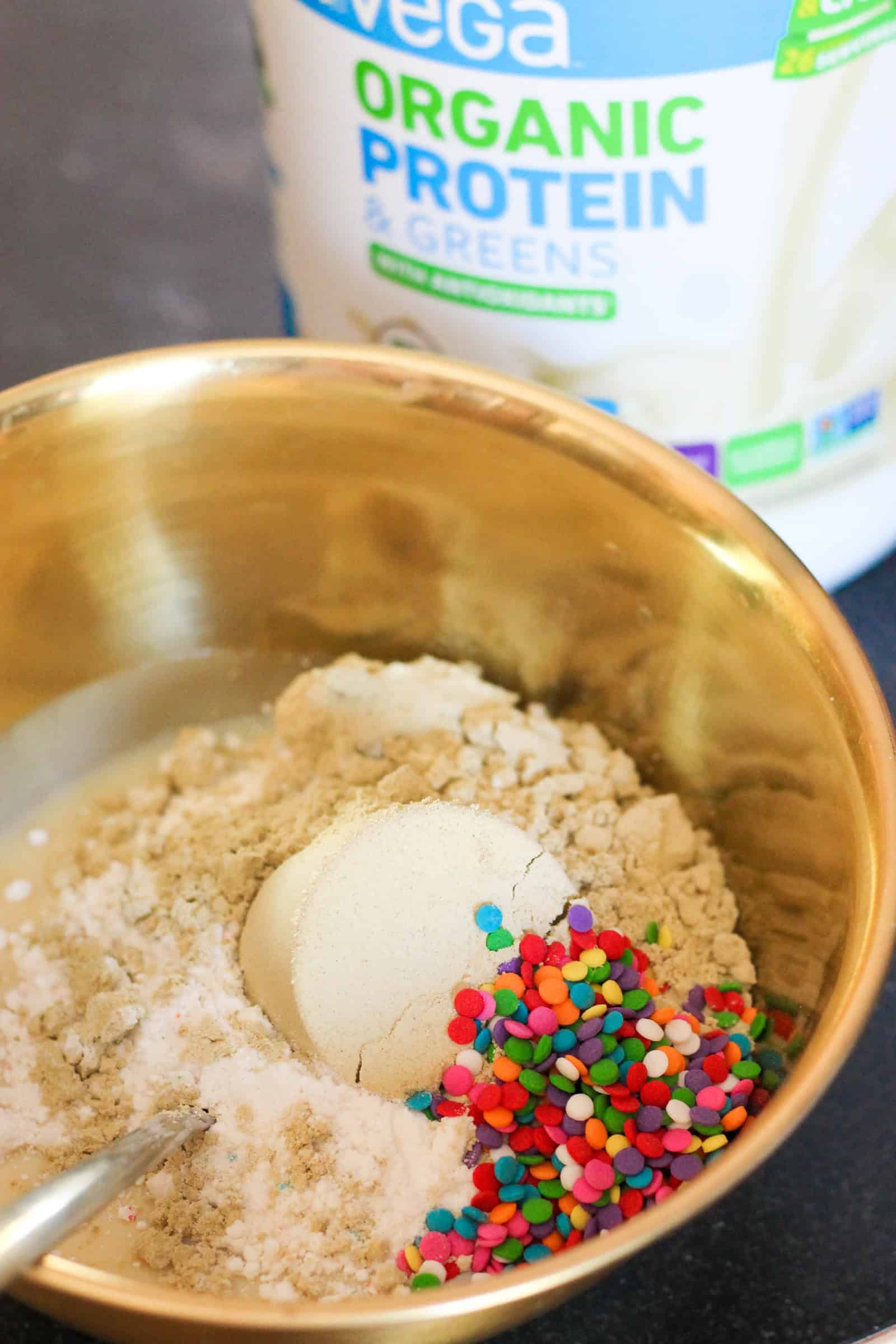 This recipe only calls for 5-ingredients: heavy cream, cake mix, sprinkles, protein powder, and sweetened condensed milk. (I know, I know – some of you would vote that cake mix doesn't count as "one ingredient," but I'm counting it as one!). Since I know many of you will probably ask, this is the exact protein powder I used. While it doesn't make this ice cream "healthy," it does make me feel a little better knowing I'm getting a little extra protein with every single bite! 😉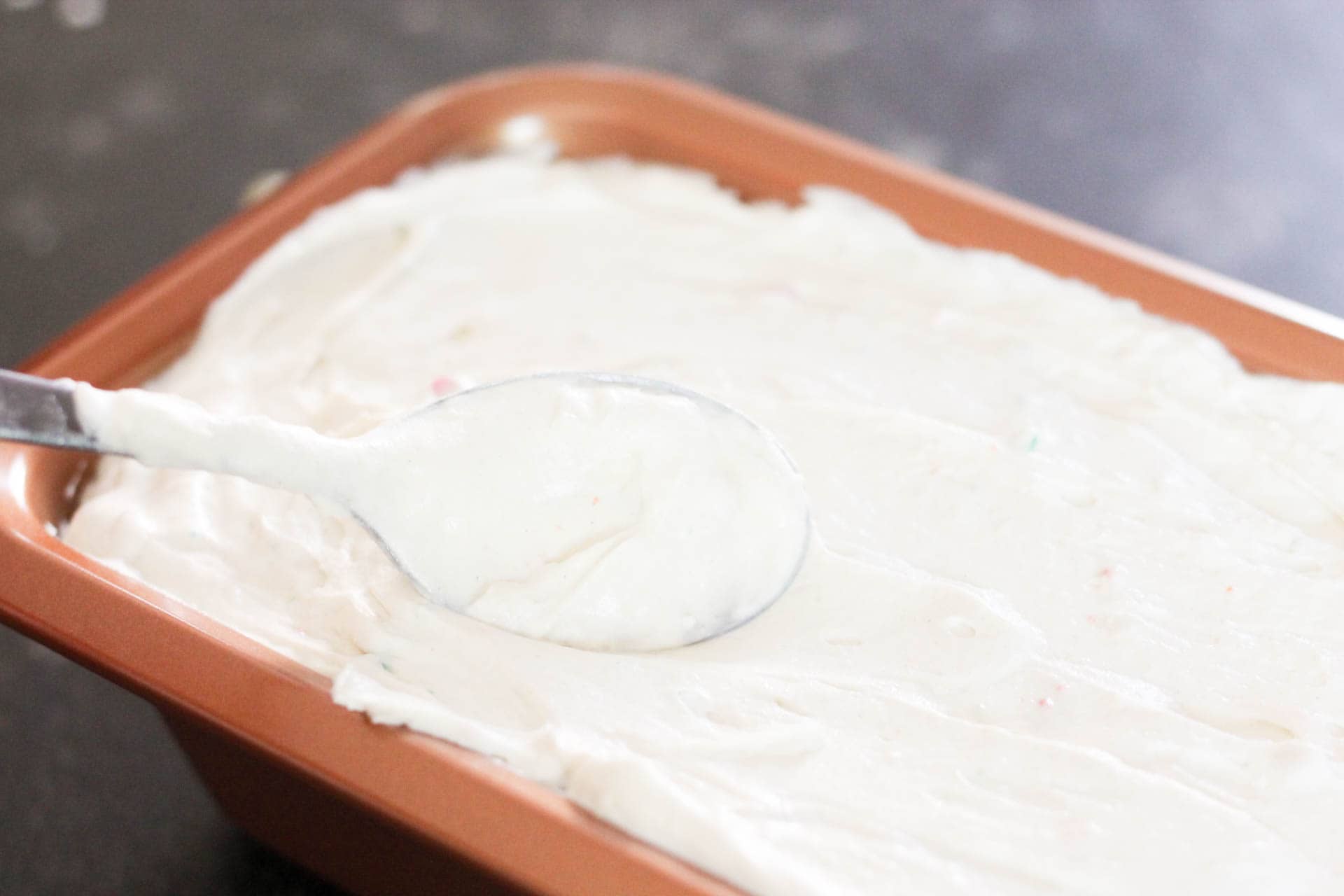 The ice cream should be frozen in a freezer-safe container. I didn't actually have one available, so I used a 9×5″ loaf pan, wrapped in saran wrap and covered in foil. It actually held up really well, but I would recommend a container with a lid for future uses!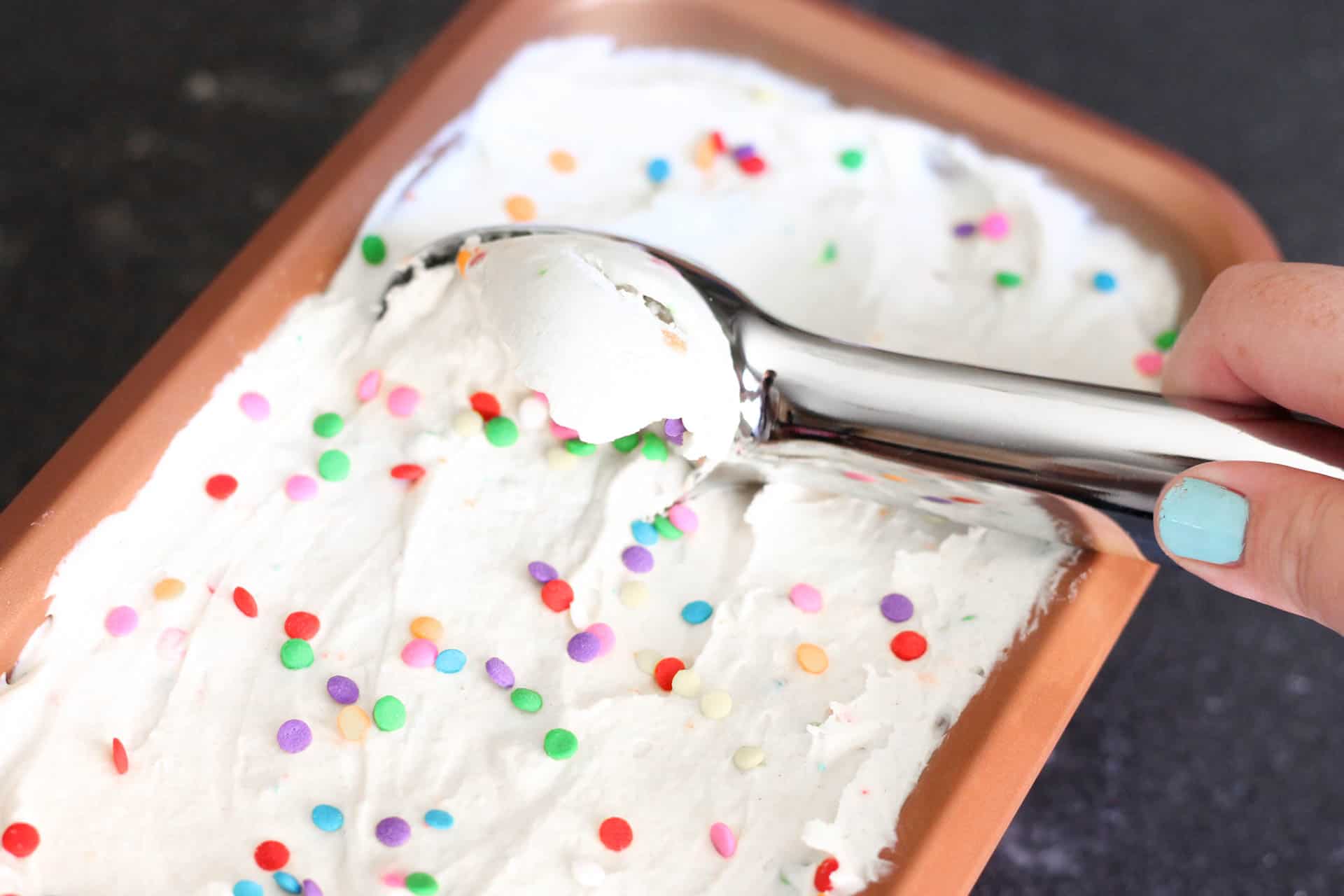 Once your six hours is up (or you can freeze it overnight), run your ice cream scoop under water to make a cleaner, round scoop. We served ours with extra sprinkles and a bit of reddi whip on top!
Looking for more easy no-churn ice cream recipes? You'll love our Rocky Road Ice Cream or our Caramel Snickerdoodle Ice Cream.
Serves: 10
No-Churn Birthday Cake Protein Ice Cream
6 hr, 10 Prep Time
6 hr, 10 Total Time
Ingredients
2 cups heavy cream
3/4 cup unprepared funfetti cake mix
1 scoop vanilla protein powder
1 (14 ounce) can sweetened condensed milk
2-3 Tablespoons rainbow sprinkles
Instructions
In a large bowl, beat heavy cream until stiff peaks form.
In a smaller bowl, combine cake mix, protein powder, sweetened condensed milk, and sprinkles. Slowly fold the cake mix mixture into the whipped cream, then pour into a freezer safe container. Top with more sprinkles if desired.
Cover the container and freeze for 6 hours or overnight.
Notes
If you don't have protein powder or don't want to use it, you can substitute in 1/3 cup of cake mix.
7.8.1.2
3193
https://www.sixsistersstuff.com/recipe/no-churn-birthday-cake-protein-ice-cream/