This Cheesy Pizza Roll is quick and easy. Made with premade pizza crust or bread dough, and topped with all your favorite pizza toppings, it's easy to customize so your whole family will love it!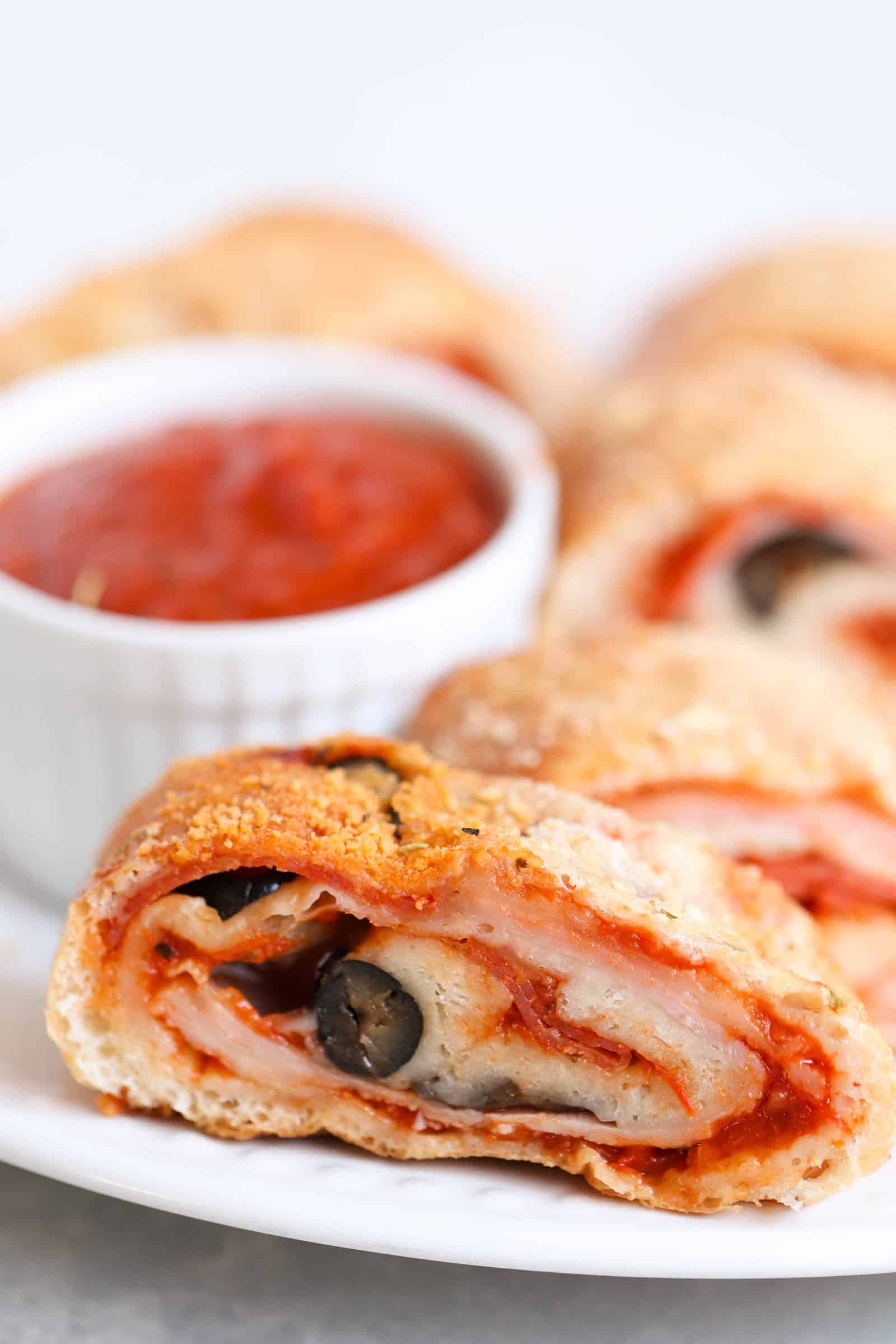 If you're looking to switch things up for pizza night, look no further. This quick and easy cheesy pizza roll is always a crowd favorite.
It can be made with a bread roll loaf (the kind you find in the freezer section) or you can use a pre-made pizza crust so you save a lot of time, and you can top it with whatever you like to eat on a pizza so your family will be sure to eat it.
My husband's favorite meal is our homemade pizza pockets – just Rhodes rolls, mozzarella cheese, ham and pineapple. Making each individual one takes some time to make, so this cheesy pizza roll is the perfect shortcut!
It's basically like a cheater Stromboli, all wrapped up and then cut into dippable sliced pieces.
How to make our Cheesy Pizza Roll:
Preheat oven to 350 degrees F. Let the dough thaw out for about an hour (if you're using refrigerated pizza crust, you can skip this step).
Roll out the dough with a rolling pin so that it is about 1/4″ thin. Spread about 1/2 cup sauce over the bread.
Layer your toppings over the sauce.
Carefully roll up (you'll want to roll it so it's long and thin rather than short and thick) and place seam-side down on a baking sheet. If you use a bread loaf, you may have to cut it in half to fit it on the baking sheet.
Brush with beaten egg, then top with parmesan cheese and Italian seasoning (totally optional, but we love the flavor it gives the "crust").
Bake for 20 – 25 minutes. Keep an eye on it so it doesn't burn. Let cool for 5 minutes then cut into slices.
Dip in remaining pizza sauce (or preferred dipping sauce).