This Asphalt Sheet Cake Pie is the perfect summer dessert to feed a crowd. It's easy to make and tastes absolutely amazing. It's my new favorite way to keep cool.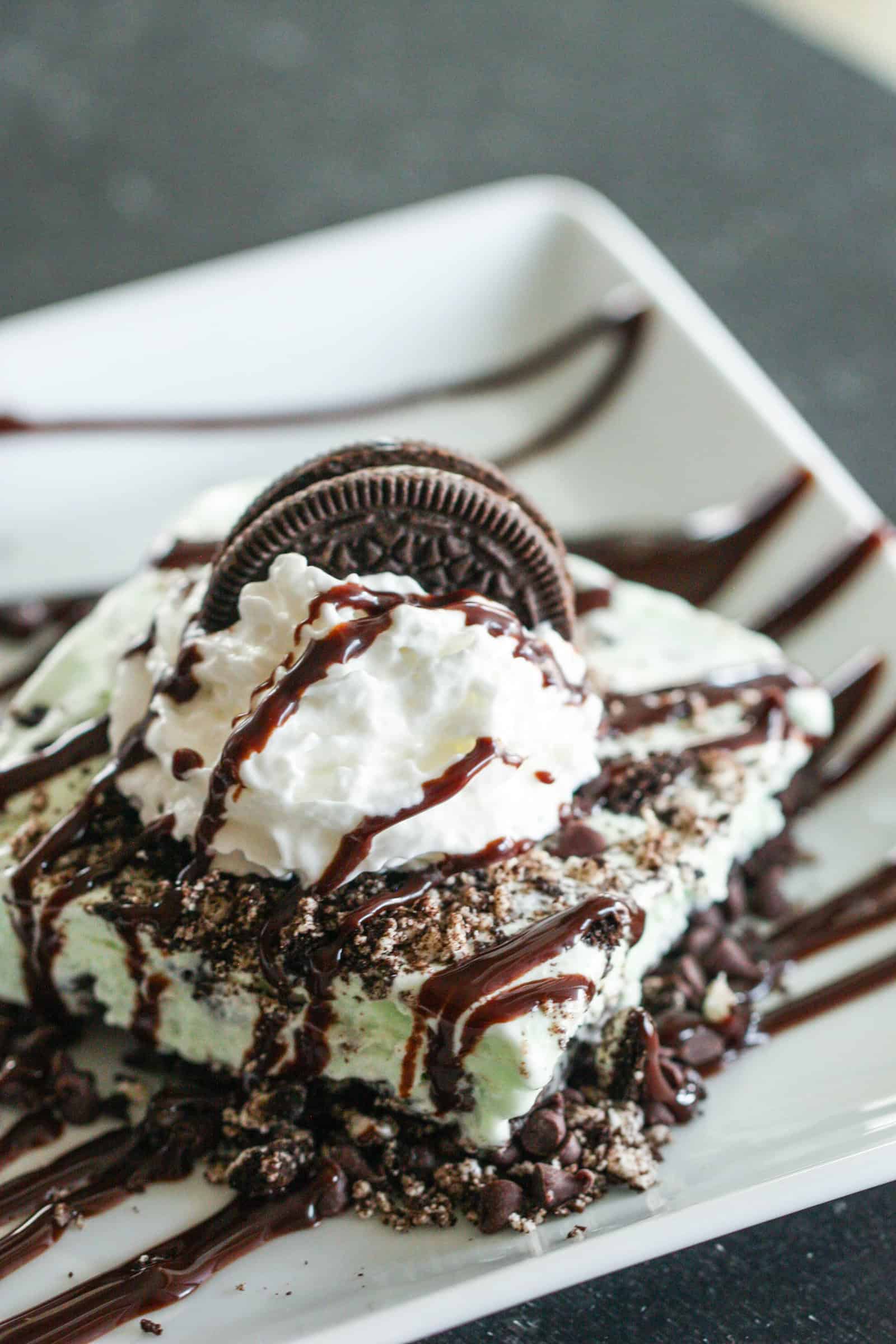 This Asphalt Sheet Cake Pie is incredibly easy to throw together, and perfect for serving a crowd.
My husband loves Asphalt pie, and requested I make it for a large family gathering. I decided instead of making a bunch of small pies, I would just make one giant one.
It turned out perfectly, and tastes absolutely amazing. I am also all about crust, and the crust to ice cream ratio is 10 out of 10 with this recipe. You will love it.
If you are a mint and chocolate lover, you are going to love this recipe.
Steps to make Asphalt Sheet Cake Pie:
This dessert is incredibly simple to make and you can seriously throw it together in a matter of minutes. It only needs a few simple ingredients, and is perfect for serving a crowd. Here are a few simple steps and tips to make the perfect Asphalt Sheet Cake Pie Dessert:
I am all about shortcuts so I usually use a blender or food processor to crush my Oreos.
I also used just original Oreos, because they crumble a little finer and make a better crust to me (that's my personal opinion but I have made it with double stuffed Oreos, and they still work. You will need a second package if you do choose to use double stuffed).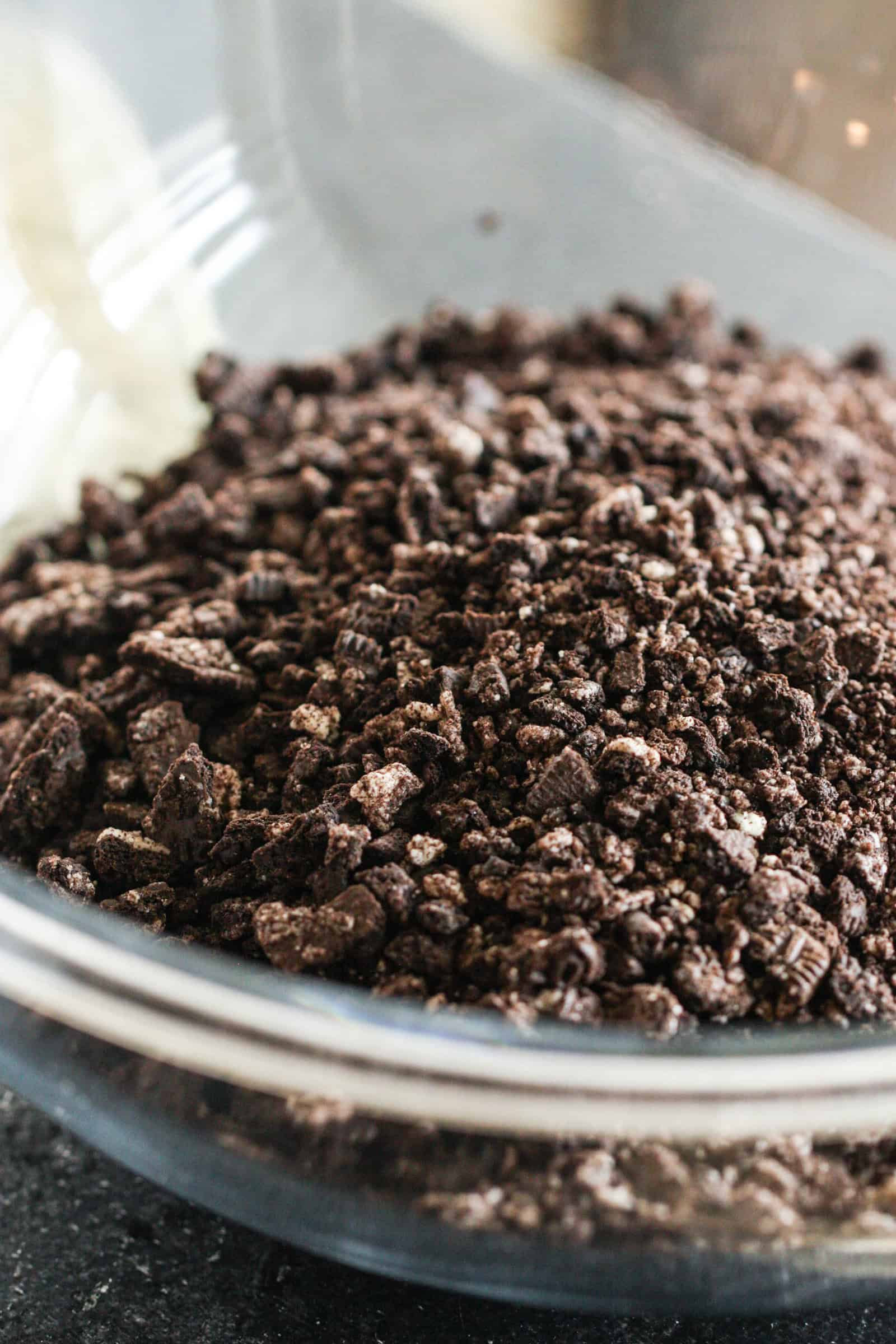 Step 2: Melt the butter and add it to the crumbled Oreo's.
For this recipe, you will want completely melted butter. Add the melted butter to the Oreo crumbles and stir until well combined. I also like to add about 1 cup of mini semi sweet chocolate chips to the mixture, to give it a little extra chocolatey taste.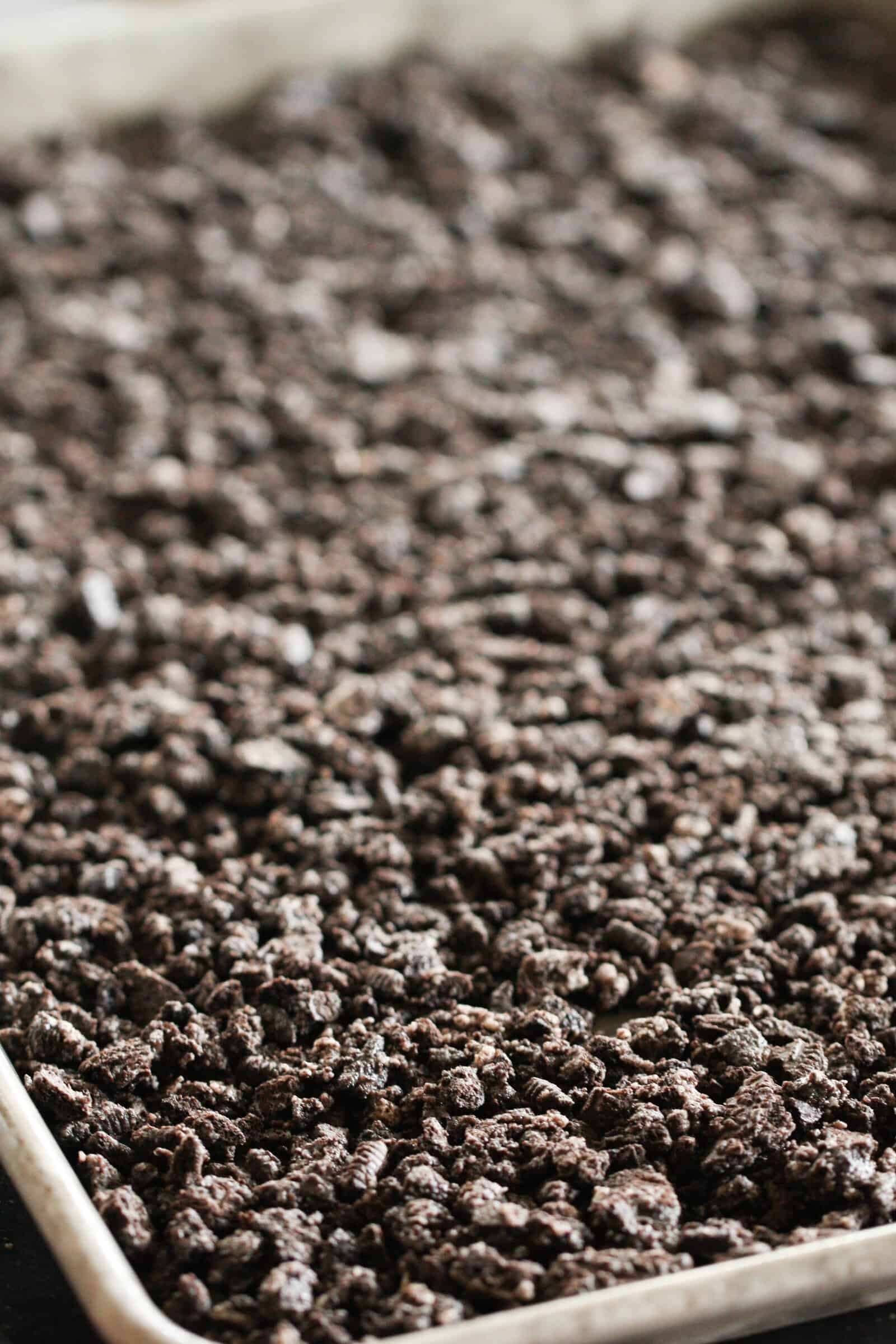 Step 3: Spray cookie sheet and press in crust.
I highly recommend spraying your cookie sheet with non stick cooking spray, mostly so it keeps the crust together a little better when you are pressing it into the pan.
I used my hands to press it into the pan. You could also use a rubber spatula and spray it with non stick cooking spray, to press in the crust, so the crust doesn't stick to it.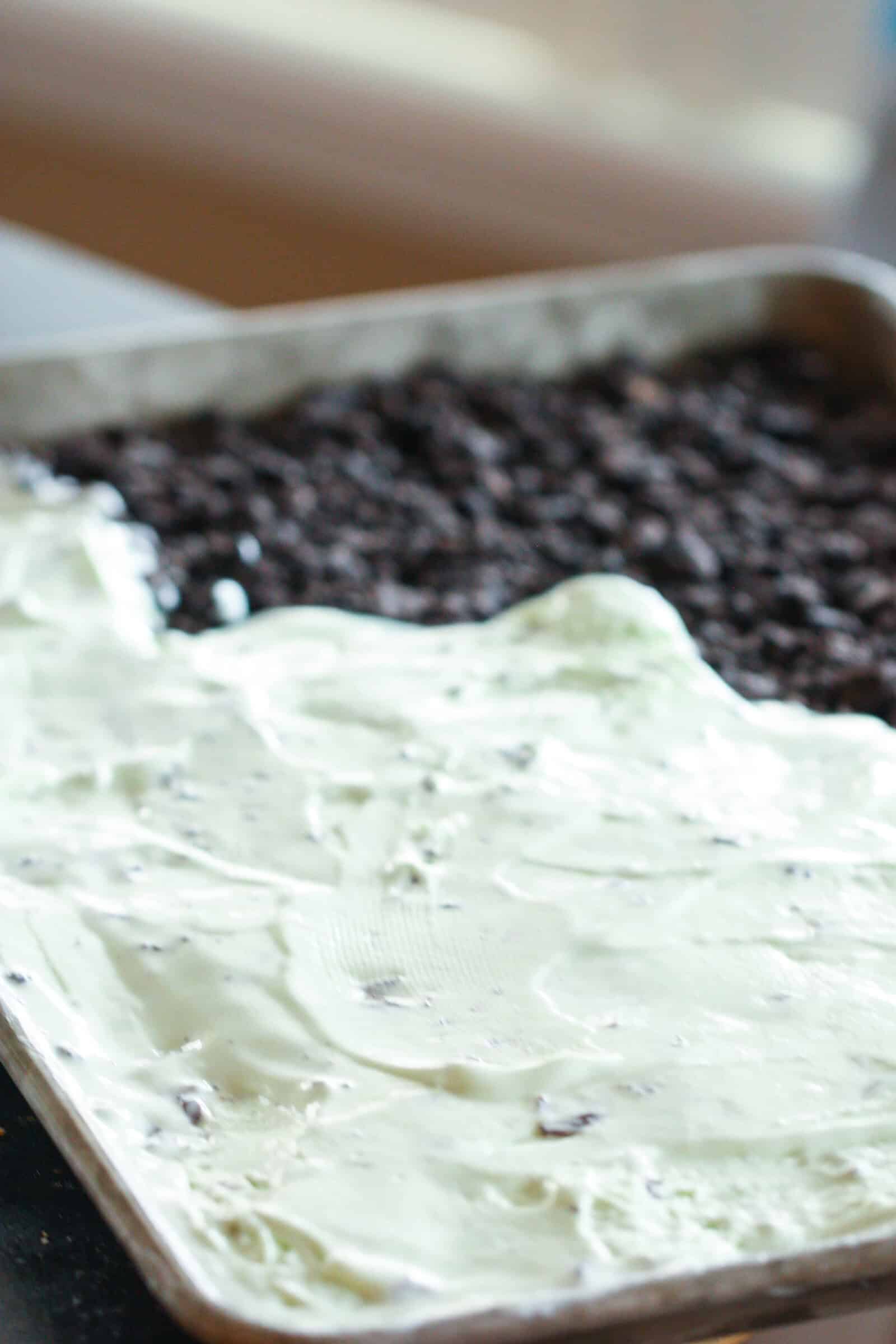 Step 4: Slightly melt the mint chocolate chip ice cream. You don't want it to be completely melted, but just soft enough to spread around.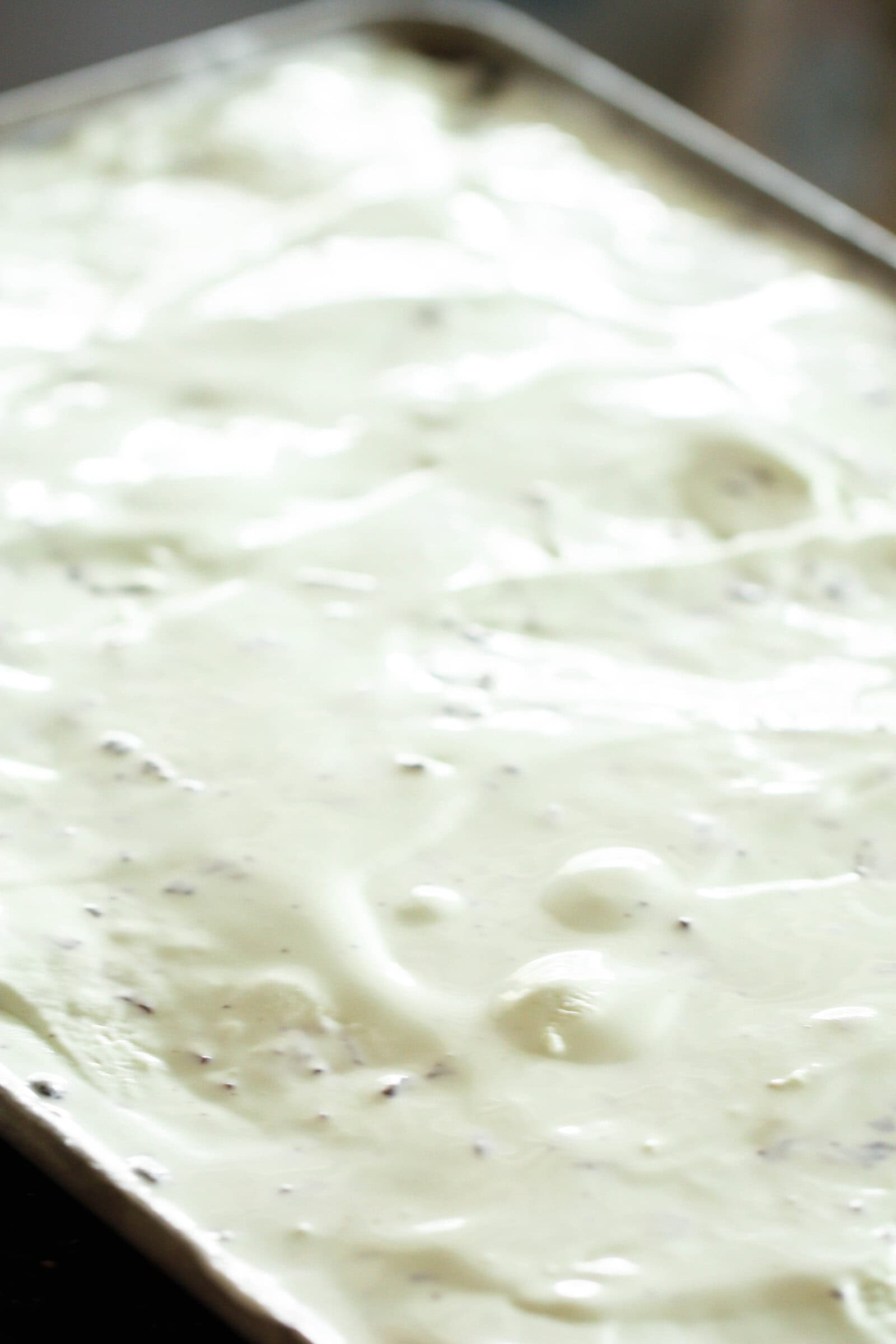 Step 5: Top the Asphalt Sheet Cake Pie with more crushed Oreo's and the last 1/2 cup of mini semi sweet chocolate chips.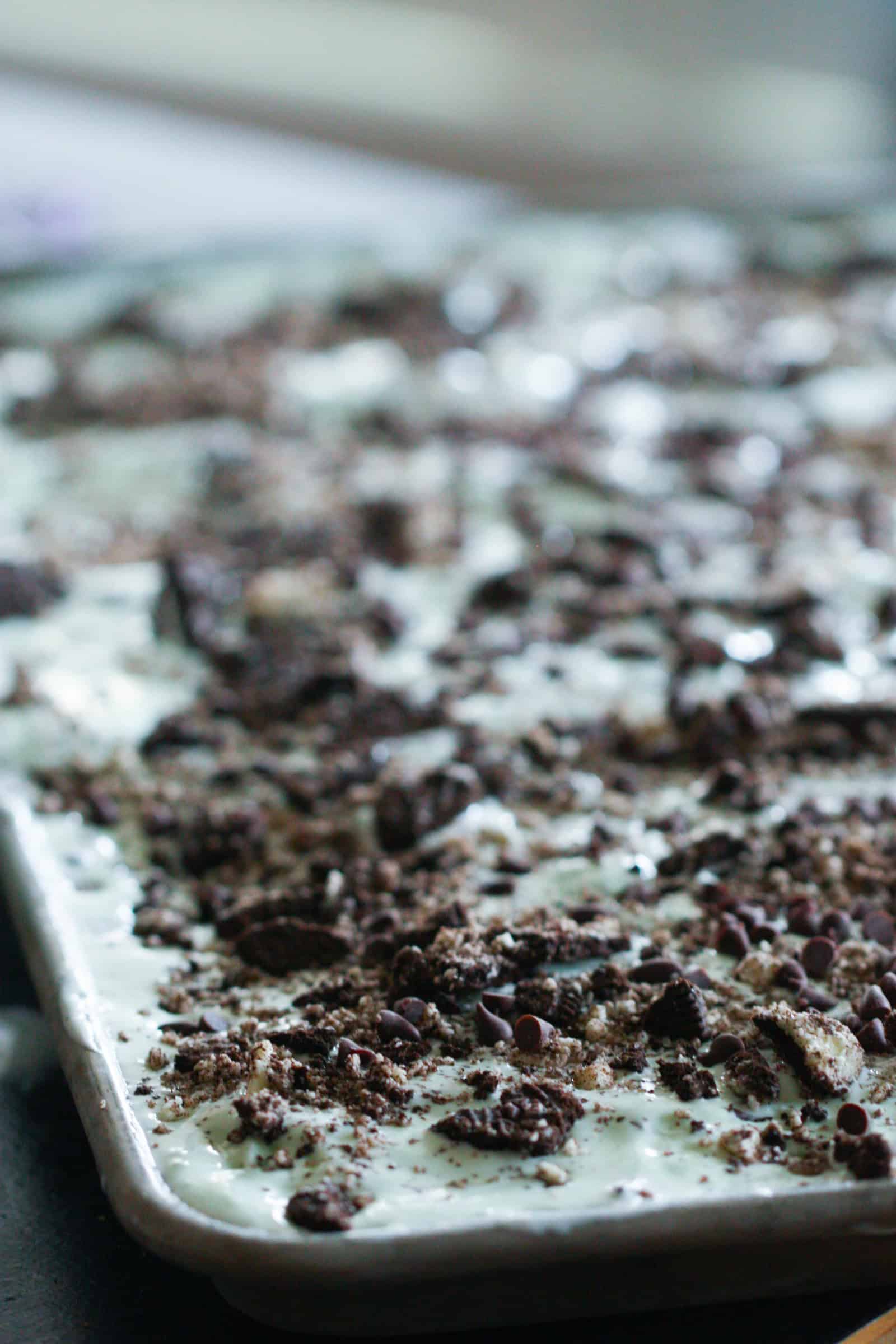 Step 6: Place the pan back in the freezer for about 2-3 hours. To allow it to fully freeze. I recommend covering it with a lid or aluminum foil, to avoid freezer burn.
You will definitely want to let it freeze after spreading out all the ice cream and toppings. It could take anywhere from 2-5 hours to fully get the dessert frozen.
This will last in the freezer for about 4 days, nicely. We don't recommend keeping it in your freezer for more than 4 days, because it will get freezer burned and lose it's crisp texture (especially the crust).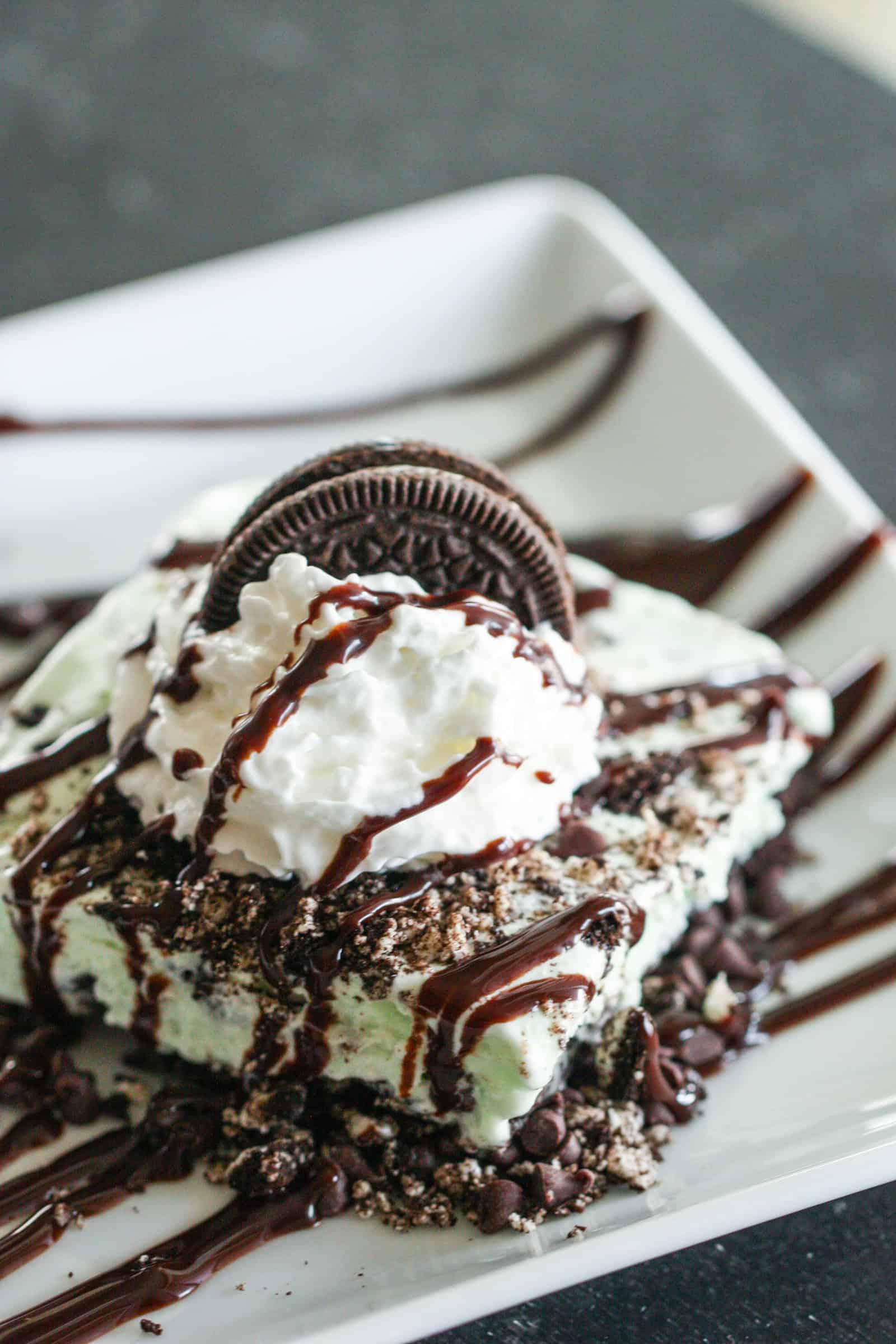 Step 7: Cut, garnish and serve.
Once the ice cream is frozen, remove it from the freezer and slice it into squares. Top with Chocolate syrup and a dollop of whipped cream. I had a few extra Oreo's in our cookie jar, so I garnished a few with some large Oreos.
You could also top it off with hot fudge, caramel, or your favorite ice cream topping.