These Oreo Cookie Truffles are so simple to make, and taste absolutely delicious. They only require three simple ingredients, and come together in just minutes. No baking required.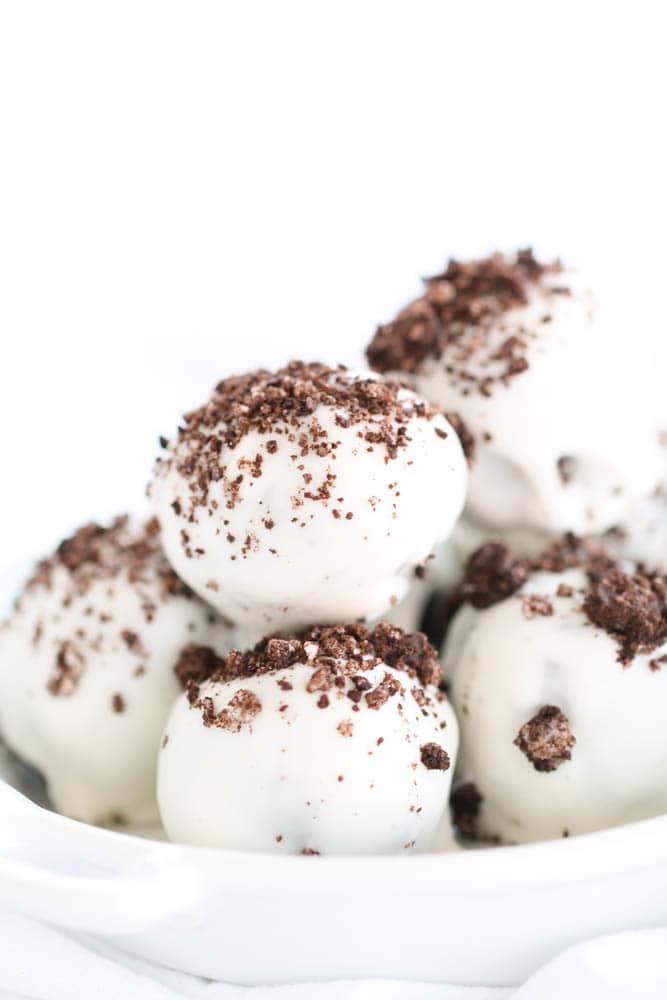 These easy Oreo cookie truffles are the perfect dessert for parties or gatherings. We make these for every bridal or baby shower in our family and everyone LOVES them. With just three ingredients needed to make this cookie truffles, there's no reason not to make them.
A lot of people refer to them as goose berries, and these are common truffles around Christmas time, but I honestly enjoy these alllll year round. I mean three ingredients? And Oreo cookies and cream cheese? who wouldn't love this recipe?
We highly recommend making these, but I must warn you, once you taste one, prepare to eat half the batch. They are just that amazing. In fact, you may just want to double it right now, because you won't be able to resist these bad boys.
Could I use chocolate instead of almond bark?
This recipe calls for almond bark, but white chocolate would work just as well. They may take a little longer to harden, so you may want to place them in the fridge to let the white chocolate set up, but almond bark or white chocolate would work just as well.
If you want to make these extra rich, you could also dip them in dark or milk chocolate.
Related Recipe: Looking for more delicious truffles? Try these No Bake Lemon Cookie Truffles!