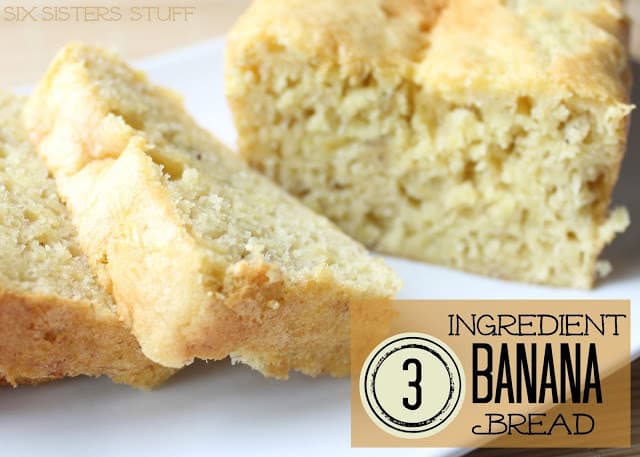 This week has been crazy and when I'm not home, we don't eat all of the food in the house. We are on the "not loving bananas" phase in our house. They were definitely too brown and nasty to attempt to eat so I decided to find a recipe that called for bananas. As I searched, I found one from Lindsay at 
Artsy-Fartsy Mama
. I just met Lindsay from our Build Your Blog Conference and she really is one of the nicest people I have ever met. I also LOVE her blog! She has so many cute ideas – Check it out 
here!

3 Ingredient Banana Bread
Ingredients:
1 (15.25 ounce) package yellow cake mix
2 eggs
3-4 overripe bananas
Directions
Preheat the oven to 350 degrees.  Smash bananas in a large bowl (I just mixed them in my Bosch), then add remaining ingredients and mix well. Spray 2 small loaf pans or 1 large loaf pan with non stick cooking spray. Fill the pans (or pan) with batter. Bake at for 35-40 minutes – you might need to bake longer if using 1 loaf pan.
Do you have brown bananas sitting on your counter also? 
Check out other ways you can cook with them!