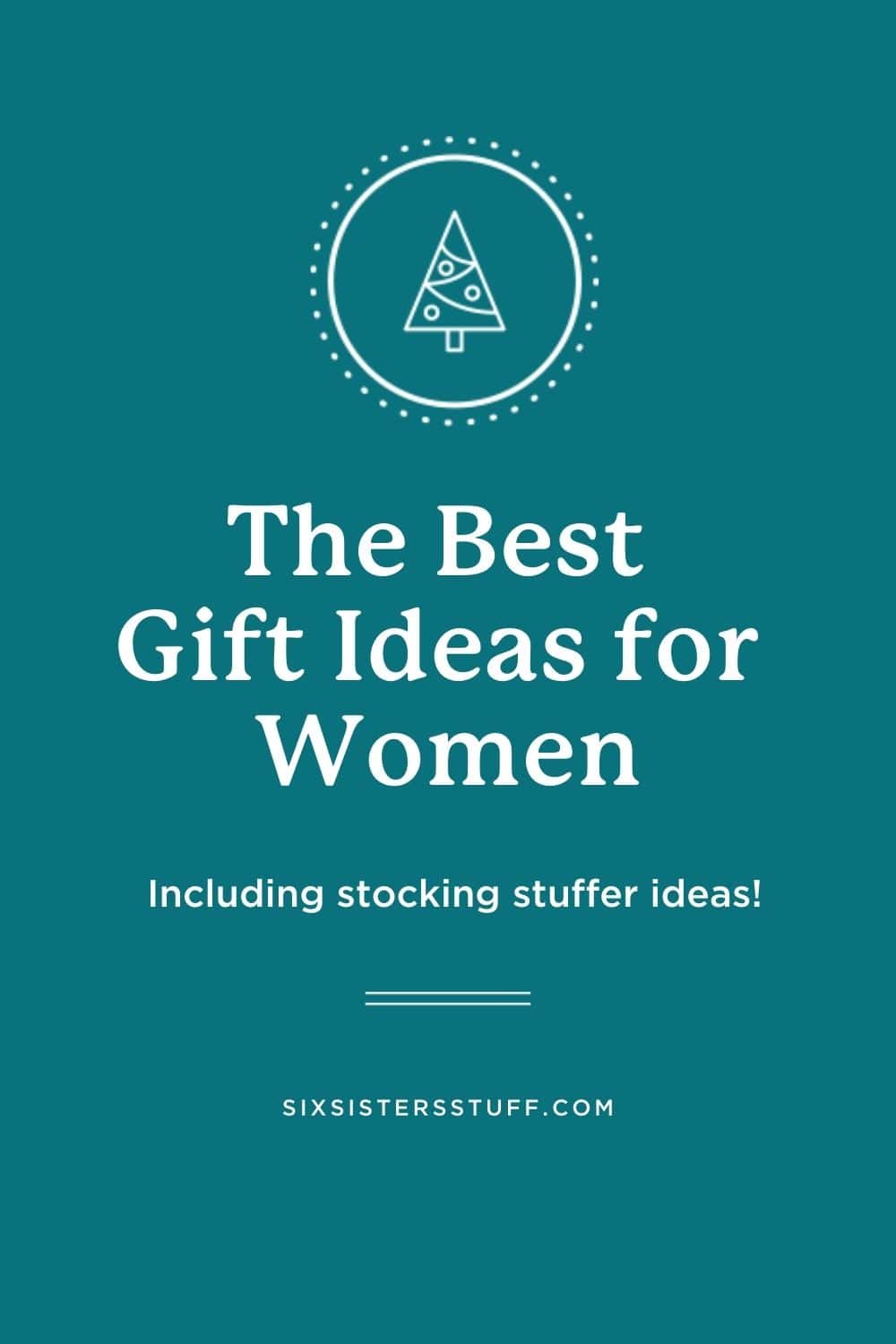 Sometimes shopping for the women in your life can be tricky!
We wanted to make it easy by sharing all the things that we wouldn't mind seeing under our tree Christmas morning (hint, hint to all our husbands!).
Husbands, boyfriends, and anyone who needs a gift for the lady in your life: just grab a few things off of this list and you can't go wrong!
We broke it into different categories, so scroll down to find what you are looking for:
Clothes and Shoes
Beauty and Pampering
Jewelry and Accessories
Other
Stocking Stuffers
The best places to get gift cards
Clothes and Shoes Gift Ideas:
-The Perfect Tie-Dye Lounge Set (or pajamas)
Since we are spending so much time at home, you might as well look cute and put together! We love comfy outfits and this one comes in tons of colors!
-The Perfect Chunky Knit Cardigan
This sweater is a fan favorite! It comes in tons of colors and is perfect to throw over a t-shirt and leggings and wear with some cute boots.
-The SOFTEST Cozy Cardigan Sweater
It doesn't get any softer than this! This also comes in a ton of different colors as well.
-A cute drop-shoulder sweater
We all love the oversized sweater trend and this sweater is one of our favorites! Lots of color options on this one as well. It fits true to size, but if you want it more oversized, you can size up.
-The BEST Black Leggings in all the World
As sisters, we all agree that the buttery-soft Align leggings from Lululemon are our favorite. If you need black leggings (or any color, for that matter), these are our go-to recommendation! However, they are pricey, so below is our favorite dupe!
-Colorfulkoala Buttery Soft High Waisted Leggings
These are a CLOSE MATCH to the Lululemon leggings for 1/4 the price! These also fit true to size, are so soft and stretchy, and have lots of colors to choose from.
-Albion Fit Jetsetter Joggers
If you are on the hunt for the perfect joggers, look no further! These are definitely a splurge, but worth EVERY penny. We all swear by this pants and have LIVED in them (especially during quarantine!). They are so comfy, but you still feel put together.
-Brushed Tech Stretch Joggers
If you love joggers but are looking for a less expensive option, this is our favorite! Only $20 and they are SO soft and fit like a glove!
-And one more jogger option because we can never have enough!
These ones are only $30 and so light and stretchy. They have a few different colors as well! If we have learned anything in 2020, it's that one cannot have enough pairs of lounge pants and/or joggers.
-Our Favorite Bodysuit
Are you on board with the bodysuit trend? Let me tell you – they are awesome! Wear with jeans, a cute skirt (like the one below!), or paperbag pants (love these!) – and your top stays perfectly in place all day. I love my bodysuit for wearing under cardigans.
-Boho Midi Skirt:
Looking for the perfect long skirt? This one has an elastic waist and is so comfortable! Pair with some booties and a cute chunky sweater and it's the perfect winter outfit.
-Slippers
We always get slippers for Christmas and this is one of our favorites!
-The perfect black ankle boots
Target is crushing it with their boot game this year! These boots are a dupe for a MUCH more expensive brand, but the quality is amazing. Bonus – they are only $39! If they are out of stock in your size, click the button to be notified when they come back in stock. I only had to wait about 48 hours before they restocked my size and I was able to get them!
-Another boot dupe for a fraction of the price!
I told you that Target has killer boots! These are a dupe for boots that run over $150 – and Target has them for $39! Comes in 3 colors and I can personally say that they are so comfy!
-Combat Boots
Combat boots are back and we are here for it! I love the heel on this pair (just the right height) and these are so comfortable. They have 5/5 stars on their reviews and everyone is loving them. Target for the win!
Beauty and Pampering Gift Ideas:
-Get Nail Polish Starter Kit with Lamp
If you are serious about nails, you might want to check out this kit for home manicures! It is usually around $40 (watch for sales – sometimes the price goes way down), but it comes with everything needed to do manicures at home.
-PMD – Personal Microdermabrasion Machine to use at home
If you love getting facials and microdermabrasion at the spa, you NEED this! You will save so much money by being able to do it yourself at home. Helps remove dead skin, reduces the appearance of fine lines, wrinkles, blemishes, and enlarged pores.
-Laneige Lip Sleeping Mask
Some of the sisters SWEAR by this mask and don't leave home without it! It's a game changer for giving you soft lips (especially if you live in the desert of Utah like us!).
-The BEST Face Mask
I know that this doesn't look like anything special, but it is our FAVORITE face mask for reducing redness and softening skin. It's inexpensive, but so effective! Trust us on this one!
-Revlon Hair Dryer Brush
It's like a blow dryer and a round brush had a baby . . . and it's GENIUS! It using a round brush in one hand and a blow dryer in the other hand is difficult for you (like it is for me), this is a LIFESAVER! It's also what I used to teach my teenage daughters how to blow out their hair!
Jewelry and Accessories Gift Ideas:
-Layered Necklace:
We love the look of layered necklaces and this comes as a set of 3 that you can wear all together or individually. I love all the different lengths!
-Personalized Bracelet or Necklace:
I am a sucker for anything personalized that means something. I love this cute little jewelry shop (hooray for small businesses!) that makes this customizable bracelets. You can put a name, a special word, coordinates that mean something to you, or a date.
–Mini Backpack Purse
I LOVE that mini backpacks are back in style! This print is to die for and it's on all the sister's lists this year!
-Leather Belt (or faux leather)
This is my go-to belt and I have it in a few different colors. It's such a great belt for a killer price!
-The perfect faux leather tote
A girl can never have enough totes or purses! This one comes in over 50 colors and it's crazy inexpensive so that you can get a couple to match every outfit. 🙂
Other Gift Ideas:
-Six Sisters' Stuff Cookbooks!
Did you know that our 10th cookbook is about to come out?! We decided to make the 10th all about Instant Pot recipes (so grab it for the Instant Pot lover in your life!). Be sure to check out all 9 our of other cookbooks, including:
-Instant Cooking Course
If you have an Instant Pot and don't feel comfortable using it (or don't know how to), check out our Instant Pot Cooking Course!
After teaching hundreds of thousands of people how to get started cooking, we decided to put all our tips, secrets, and instructions that you really need to know in one place.
You can learn how to use your Instant Pot and feel comfortable making your family's favorite recipes in it in less than 1 day! You will learn why we love our Instant Pot's so much – they are a game changer in the kitchen!
And if you still need an Instant Pot, this one is our favorite!
-A good set of knives
It may not be the most exciting gift, but it's the gift that keeps on giving! This is actually what I got for Christmas last year and a good set of knives in the kitchen makes all the difference!
-Beautiful Artwork (Pictures of the Savior)
Where we have been spending so much time at home, we have tried to make our homes more of a sanctuary and safe place. Artwork helps so much with this. We love putting pictures of the Savior in our home.
-Juniper Print Shop
Another great place for incredible artwork for your home! They have SO many incredible prints and artists. It's like a one-stop shop for art!
-Soft Lush Blanket
This is something that I use everyday in the winter – my Saranoni blanket. It's perfect for snuggling up while I watch a movie or read and I even throw it on top of me at night for an extra layer. I got each of my kids their own so that they don't steal mine anymore.
-The Perfect Planner
Every woman out there is looking for the perfect way to keep her life organized and this is our favorite planner to do just that!
-Charcuterie Board
If you love to host people or even make a fun charcuterie for your family, then you need a gorgeous board to serve it on! Never made a charcuterie board? Here are our step-by-step directions!
-Handwritten Recipe Cutting Board
We are suckers for a sentimental gift and if you have a recipe from your mom or grandma or best friend that they hand-wrote, you can have it etched on a wooden cutting board (cue the tears!!). Such a cool gift idea.
-Scribd or Audible Subscription
If you love books, you need an audiobook membership! I don't have time to sit down and read, but I love to listen to books while I clean the house or fold laundry. Scribd is only $9.99 and offers unlimited books – it is worth every penny!
Stocking Stuffers:
-The perfect stud earrings
As a busy mom, I just need one pair of go-to earrings that I can wear everyday and these are the ones! I have not found better quality for a better price (these are less than $20!)! They come in lots of sizes and you can choose white gold or yellow gold.
-Gold Eye Mask:
We purchased these and tested them out ourselves and we are here to tell you that they are the real deal! We don't know of a woman out there who wouldn't benefit from some under eye pampering, so add this to the list!
-The Most Gorgeous Eye Shadow Palette:
When it comes to eyeshadow, all are not created equal. This one is incredible with gorgeous colors and the quality cannot be matched! It would be such a great stocking stuffer!
-Stila All Day Sheer Liquid Lipstick
This lipstick is our go-to because it stays on all day and the color is GORGEOUS. This is a shade that looks good on every lip and every skin tone. It's the perfect lipstick!
-Fabric Resistance Bands
No more using an elastic band that rolls up and snaps you! These fabric resistance bands are lined so that they don't slip and they give your back side a WORKOUT!! There are tons of workouts on YouTube that show you how to use these bands and they are great for working out at home.
-Velvet Scrunchies
I use one of these every night to pull my hair up while I sleep and I love that they don't crease my hair like a regular elastic! Plus, you CANNOT beat this price!
-Sunglasses (Celine dupe!)
We are not at a stage in our lives where we can have expensive sunglasses (with little kids, you can't have much anything that is expensive because it will most likely be broken by kids . . .), but I still want sunglasses that are trendy and look good. This is a dupe for sunglasses that are over $150 – and they are only $15!!
-Journal pens/markers (or just fun pens)
I love using different pens for my journal and calendar and just for fun . . . these are my favorites!
-One Line a Day Journal:
I love that this journal is not overwhelming! All that I do at the end of each day is just write a line or two about how what happened that day. It's a 5 year journal, so it's fun to look back on what happened that day in years past.
-Make Up Remover Cloths
I started using these about a year ago and they are the BEST thing ever! Wipes away foundation, lipstick, eye shadow, mascara. You can use it with warm water or add your favorite cleanser. And then throw it in the wash and use it again!
-Vegetable Chopper
If cutting onions makes you cry, then you need this in your life!! Kristen introduced us to this and it will change your life.
-Heel Socks
If you have dry heels (in the winter, doesn't everyone?), you will love these socks. They have a hydrating gel in the socks that helps to soften feet while you sleep! You can also add your own lotion to speed up the process. It's a great idea!
-The Best Smelling Candle EVER!
This volcano candle is a cult favorite. We LOVE this candle. It lasts forever and makes your whole house smell good.
–Silicone AirPod Case/Skin
If you have airpods, I recommend snagging a silicone case (or some kind of case) to protect them! They are only a couple of bucks!
-Silk Pillowcase
You deserve to sleep on silk. 🙂 Helps keep your hair from getting snarled, helps prevent wrinkles on your face, and it's just so pretty.
-A GOOD Pillow!
Speaking of good sleep, you deserve to sleep on a good pillow! I know that this won't exactly fit in a stocking, but if you have neck or back pain, I love that this pillow can be stuffed to the exact size that you need it. Works for stomach sleepers, side sleepers, and back sleepers because it's customizable! I got mine about 18 months ago and it's made such a big difference. Trust me – every woman needs a good pillow!
Gift Card Ideas:
You can't go wrong with a gift card! Here are some of our favorite places to shop for cute clothes (and support small businesses!):