Shopping for a teen boys? We rounded up the best gifts for him on his birthday or Christmas (including stocking stuffer ideas).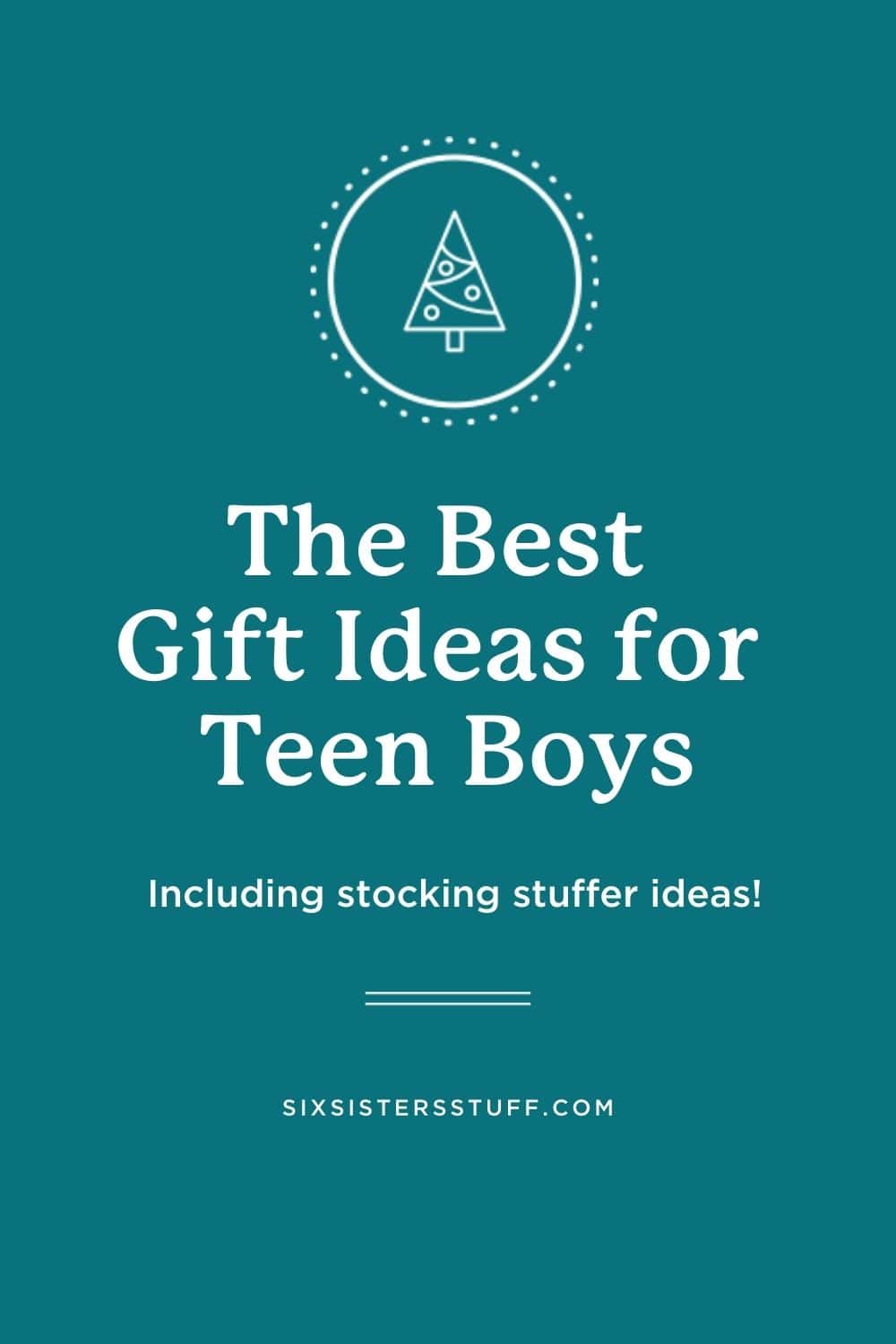 Knowing what gift to get for teen boys can be so hard!
I sat down with my teenage son and he helped me come up with this list of things that he had received in the past or is asking for this year.
Hopefully this will help some of you who have a teen boy and are not sure what to get them for Christmas or their birthday!
Also, be sure to scroll to the bottom for stocking stuffer ideas!
Need more gift ideas? Check out our gift guides for:
We got fun lights for my two oldest kids that they put around their beds and they love them! These light are cool because they are controlled by an app and they change colors.
Another idea for a cool light is one of these LED word signs – they have a huge variety and they are fun hanging in a bedroom!
All the boys around our neighborhood ride on these – they look pretty sweet!
If your son is into fitness or wants to work on his strength training, this set is awesome because it can grow with them. I love the adjustable option for dumbbells – it's something small enough he could keep in his room, but it will still give him a good workout.
This is such a fun game to play with friends or family – our whole family of all ages loves it!
It's great for outdoors, but we have even played it indoors on a snowy day!
My son has outgrown his "little boy" lego sets, but he still loves to build. These architecture sets are like legos for grown ups – they are a little more challenging and make a cool keepsake.
Plus it gives them something fun to do on Christmas day!
Perfect for doing homework if you are sitting on a bed or a couch – it just makes it so that you can have a desk to do work on anywhere!
Another fun way for boys to get around (especially before they are old enough to drive!).
My son has started using my husband's old pull up bar and loves it!
Vans are still popular shoes . . . especially these hi-top ones! They make a lower version as well.
Apparently these are the "it" shoes right now . . . they are crazy expensive, but maybe something you want to look into if it's what they are asking for!
Converse are still very much in style and they are a much more reasonable price point!
I feel like I need to put a disclaimer that my son does not own all these shoes – these are just the most popular shoes that he likes and that he knows lots of people are asking for for Christmas.
Once again, these are a pricey shoe, but they are super high quality and last a long time (even after being worn everyday!). Watch for sales – occasionally you can get these for a really good price!
These are so great – and they are less than $20 right now!
My son just finished the Divergent series and loved it!
He also loved the Maze Runner Series!
These pens are super awesome! It's incredible what you can make with them! Don't forget to grab refills to go with the pen!
Everyone loves these hoodies and they are actually a pretty decent price!
Okay – here is my secret to getting Nike clothing at a better price . . . buy it at Kohl's. (This isn't sponsored, it's just what I do). Usually they have some type of sale going on and online they have a huge selection! Plus sometimes you get Kohl's cash that you can use on your next purchase. They also carry Champion and Under Armour . . . and it's just the best place to get a discount on those name brands!
Every guy needs some comfy clothes to lounge around in and these are perfect!
I am not one to spend a lot of sunglasses because they always get lost or broken, so I like to buy inexpensive sunglasses that look like they cost a lot more than they did! 🙂 These sunglasses are great!
However, if you do want to spend more money – Oakley's and Ray Ban's are everyone's favorite sunglasses.
Graphic tee shirts are what teen boys are loving right now. Some of the best places to get them are Pac Sun, Asos, and Urban Outfitters. You can also find some great ones at Tilly's and Target!
Trucker hats are hot right now! You can find them everywhere.
My husband received one of these in high school and uses it all the time, even to this day!
Don't let your boy fool you – they love big soft blankets too! My son loves his on his bed or he uses it when he watches TV.
These are quite the investment . . . a few years ago, we got a generic brand smart watch (it looks like an apple watch) and it has been amazing at a much better price point! It's a great option for younger teens and kids. I will link it here if you want to check it out:
Add some variety to their watch by getting them fun watch bands to wear with it! There are so many to choose from!
A new phone case is a simple way to switch up the look of their phone. There are TONS of really cool ones. One brand that is really awesome with teens is Casetify.
Airpods are still really popular for teens – and the price seems to come down a little more each year. If you want to upgrade, get some Air Pod Pros.
If they would rather have a pair of headphones that didn't go in their ear, this Bluetooth Wireless Headset is amazing and it's less than $50. It also has a built in mic so you can make phone calls from it.
Because a few of us have air pods at our house, I make sure that everyone has a different case so that we can tell them apart!
I got each of my kids one of these last year and they use it multiple times a day. It's their alarm clock in the mornings, it sets timers while they practice their instrument, they play games with it, it plays music, and I use it as an intercom system when I need to talk to them instead of yelling through the house. 🙂 Highly recommend! There are tons of varieties and tons of price points. Definitely one of my favorite gifts.
We are big readers at our house and these Kindle Paperwhites are awesome. It's incredible how many books are available in e-book form and available at our fingertips!
If your teen boy has tons of devices, they will love this all-in-one charging station for all their things!
These speakers are pretty incredible! They really are completely waterproof. Let's be honest – your singing in the shower will never be better. The one pictured is on sale for only $15 and is
Did you know that record players are totally trendy right now?? Teenagers LOVE them – which is so funny because they have access to any song they could have ever wanted on their phones!
Be sure to grab them a couple of records to go with it!! Or head to a local thrift store or goodwill and you will find TONS!
Such a fun way to watch movies with friends – this projects what is playing on your phone. You can project it onto a wall or even a white sheet or blanket.
Or grab them a simple projector screen for $20 so that they can project anywhere they go!
Grab one of these printers and let your teen print off pictures straight from his phone. Technology is so cool!
These balls are so fun to play with outside when it's dark – I wish I would have had this when I was younger and we were always playing basketball outside with the neighbors!
This cool hammock is only about $20! So fun for camping or even just relaxing in the yard!
My kids have always loved these pillows for reading and relaxing on their beds. The handle makes it easy to tote around to wherever they need it!
If you haven't heard of this game yet, you need to!! It's so fun – my kids will play for HOURS with their friends. It's awesome to play with big groups and it moves so fast. I work with the youth in our church and this was their favorite thing to do this past summer.
It's a big investment, but if you are a DIY person – here are the instructions to build your own!
Another fun game to play with family and friends!
I have a brother-in-law who loves to get video footage with his drone and he makes the coolest videos! This would be a really fun gift.
Just a fun thing to have in their room!
I don't want to store a ping pong table at my house, but I love that this set can turn my kitchen table into a ping pong table! Such a funny idea!
STOCKING STUFFERS:
I try to fill my kids stockings with practical things. I know that these ideas are not for everyone, but I hope that it gives you some ideas of what you could put in your kids' stockings.
-Concert tickets, play or sporting event tickets
I am all about giving experiences as a gift. Check out if there are any cool events going on near you!
These are still the cool water bottles to have!
Did you know that you can get a straw lid for less than $9? It's totally worth it!
All things vintage are cool again and one-time disposable cameras are all the rage! It's so crazy! So, get one of these and throw it in their stocking.
-Old School Game Boy
Such a fun and brain-challenging game that my son loves to play!
–Ties
-Gift cards:
Nike
Apple
Amazon
Visa
Tilly's
Urban Outfitters
FOOD
Gas
Spotify subscription