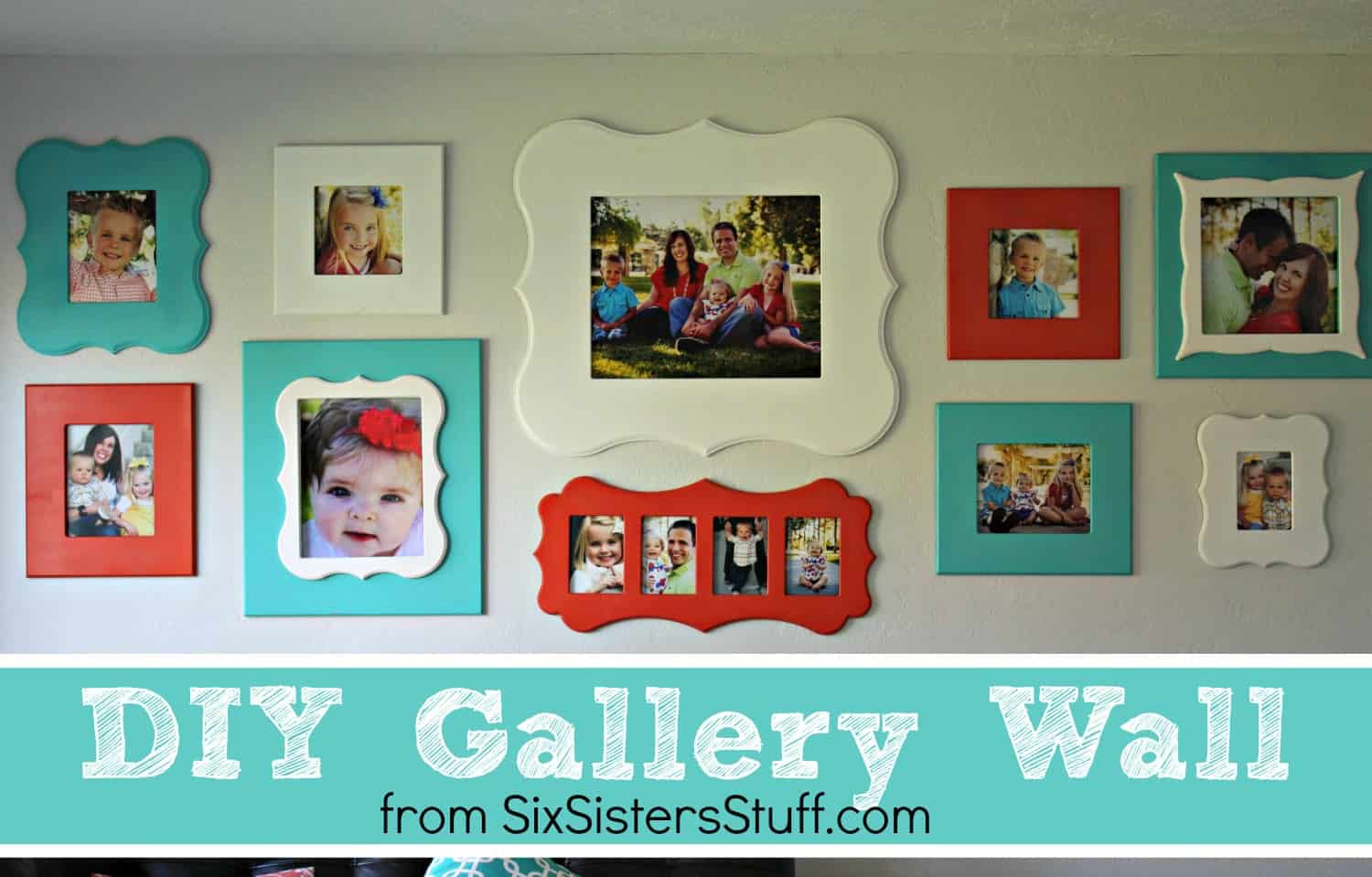 Even though I have lived in my home for almost three years, I am finally getting around to decorating it. My husband went out of town on business for a couple of weeks earlier this year and I decided that while he was gone, I would re-do my family room. I stayed up many nights painting walls and refinishing different pieces of furniture. We were both pleasantly surprised at how it all turned out. However,  I had a large wall on one side of the room that had been empty since we moved in and needed some color, so I thought it would be fun to do a large gallery wall of family pictures.
Gallery walls can be intimidating, especially when you are starting from scratch and have to gather up all the frames yourself.
Today I am excited to introduce you to a company that is going to make your life so much easier:
Poppy Seed Projects is a company that our friends started and they specialize in darling wood cut-outs that are perfect for decorating your home. I had seen on their website that they have a couple of different gallery wall options and chose the one that would best fit my wall (I went with the Step It Up Frame Gallery). They also sell frames individually, so you could put together your own gallery wall or even just frame one or two of your favorite pictures.
 (Some of my other favorite gallery walls from Poppy Seed Projects)
Once the wood frames arrived in the mail, it was time to get to work.
I measured the area that I wanted the frames to hang on and then decided how to arrange them.
The Step It Up Gallery actually comes with a couple more frames that I didn't end of using (I am saving them for another project), so there are plenty of options to play with.
Once I finished deciding my layout, it was time to paint. I love that the frames come unfinished because it gives me complete freedom to do whatever colors/styles/patterns I want.
I am a very simple person and just wanted bright, fun colors.
I picked up a couple of cans of spray paint from Lowe's for less than $4 each and went to town on my frames.
Here are the colors that I used:
I also used white that I had on hand.
For tips and tricks on painting your gallery wall, check out this post Poppy Seed Projects' blog.
You can add texture, patterns, prints, or sand the edges to give your frames a completely different look.
Once the paint had dried, I ordered some prints of my favorite pictures of my family and attached them to the back of each frame. Poppy Seed Projects also sells all the hardware that you will need to attach the frames to the wall.
Now, the trickiest part is getting your "vision" up on the wall.
Hanging frames is hard work!
Thankfully, my husband did all the hard work for me, but if you need some tips and tricks for hanging a gallery wall, be sure to check out this post.
I am loving not only the bright colors and fun frames, but just how "homey" this collage makes my room feel. My kids love to look at the pictures and see themselves and their siblings. It is the perfect addition to our family room (that was seriously lacking any decor!).
Be sure to check out all the fun things that Poppy Seed Projects offers.
If you are in Utah, they have a store located in Sandy where they also teach classes and offer Girls Night Out where you can get together with your girlfriends, craft, and eat lots of chocolate (does it get any better than that?!).
If you are outside Utah, no worries! They ship everything! 🙂
Happy Crafting!