Shopping for a teen girl? We rounded up all the best gifts for your teen girl for her birthday or Christmas (including stocking stuffer ideas!).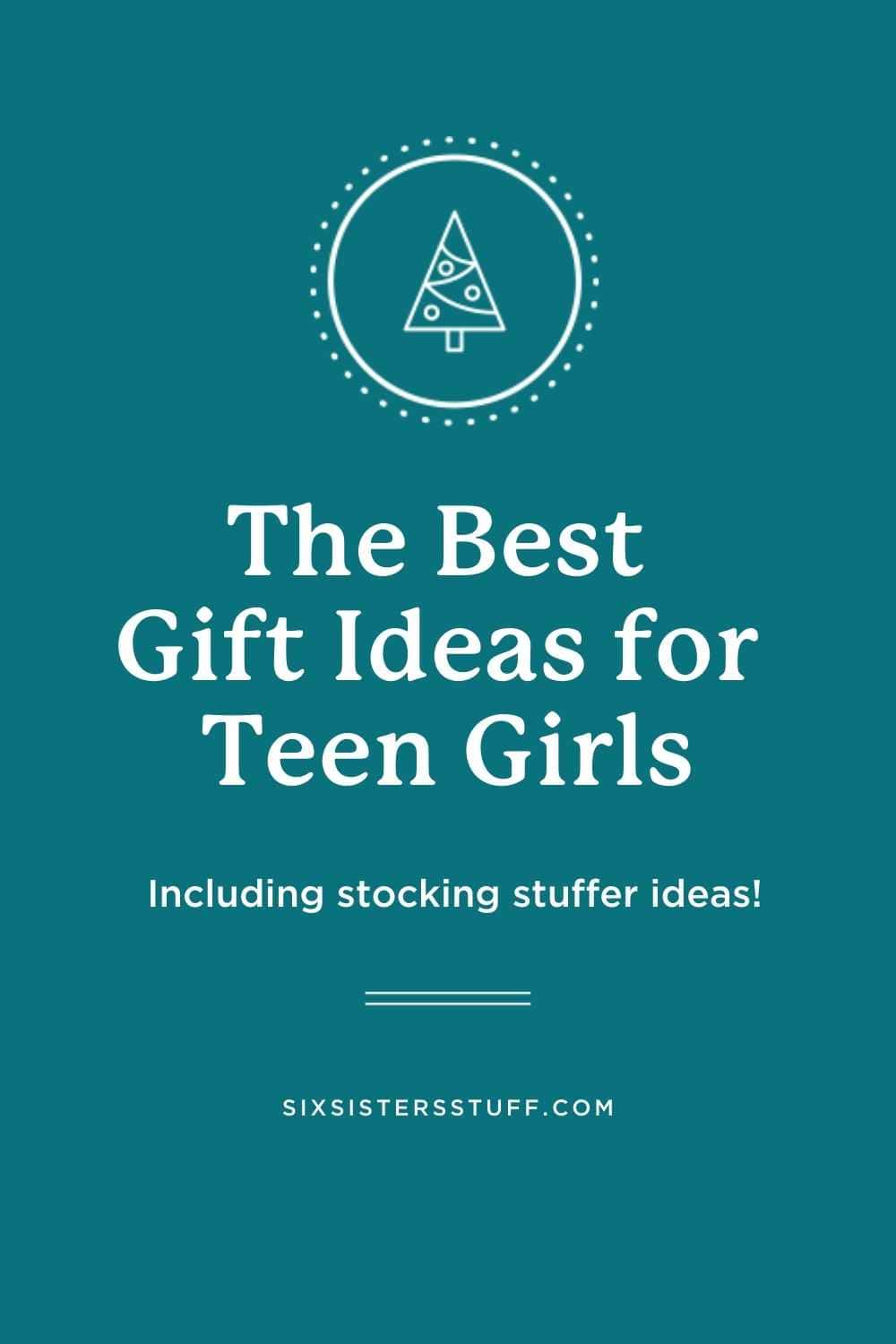 It's crazy that we now have kids old enough to be TEENAGERS!
Here are some gift ideas for TEEN GIRLS . . .
Also, be sure to scroll to the bottom for stocking stuffer ideas!
Pura Vida Bracelets
My daughter LOVES these bracelets and they are fun because they come in so many colors and styles! They are fun to stack.
2. Revlon Hair Dryer Brush
It's like a blow dryer and round brush in one! If you struggle with blowing out your hair or know a teen girl who wants to do their own hair, this tool is a GAME CHANGER! It's so much easier than trying to use a round brush in one hand and a blow dryer in another. Each of my girls has their own brush and we LOVE them.
3. Travel Size Perfume
Perfume is expensive and one bottle of it can last you for a VERY long time, so I recommend getting some smaller sizes of perfume (like a travel size) because it's less money and then they can try a few different scents before committing to one. Some of our girls' favorites:
Ariana Grande Ari (pictured above)
Also, you can't go wrong with Victoria Secret's Bombshell or any scents from Bath and Body Works.
4. Nail Wraps
If your daughter loves to paint her nails, these nail wraps are super fun! They have TONS of different colors and patterns and are so easy to put on. No heat or special light needed. My 12 year old LOVES them (as do I!).
We have tried some on Amazon, but this brand (Lily and Fox) seems to be the best.
5. Get Nail Polish Starter Kit with Lamp
If they are serious about nails, you might want to check out this entire kit for home manicures! It is usually around $40 (watch for sales – sometimes it goes down cheaper), but it comes with everything they need to do manicures at home.
6. Minky Blanket (or SUPER soft blanket)
Every girl needs a big warm blanket she can wrap up in! I love how soft these blankets are. I got one for each of my kids last year and they use them all the time!
7. Soft Plush Slippers
I love the cross band on these slippers and they come in a ton of different colors and prints!
8. Initial Necklace
I love how small and dainty these are. Also this one is a great price with great reviews!
9. Hydro Flask Water Bottle
If you haven't heard of a hydro flask, chances are the teen girl you are shopping for has and she wants one! They come in all sizes and colors and last FOREVER! (I have had one for 4 years and it's still going strong!) Also, if they prefer straws, you can get this straw top for them that works great!
10. VSCO Stickers
If you get a water bottle, you need the VSCO stickers to go with it! My kids have their water bottles COVERED in these stickers. They are kind of fun and some of them crack me up. I have also been surprised how well the stickers stay on/don't fade after washing the waterbottles. This would also be a great stocking stuffer!
11. Nintendo Switch Ring Fit Adventure
I am all about video games IF they promote physical activity and this is a fun one for your teens to play! If you don't have a Nintendo Switch, it's definitely something to look into. It's been a fun way for our family to connect and play (especially in the winter when we are spending more time indoors).

Another fun Nintendo Switch game that gets your kids moving is Just Dance (we love playing this one as a family!).
12. The Selection Series
We always get our kids a book for Christmas and this was one of my daughter's favorites! I read it myself and found it appropriate for ages 12 and up. There are no sexual parts (just some kissing) and it's clean and fun and such an engaging read. Even as an adult, I couldn't put it down! It's like the Hunger Games and The Bachelor TV Show had a baby . . . such a creative idea for a story line!
13. Throw Throw Burrito
My kids LOVE to play games and this is on all of their lists this year! It's HILARIOUS and so fun to play with a group.
14. Exploding Kittens
We also love playing this game as a family – even the grandparents like it! If you already have this, we recommend getting the card game Kittens in a Blender.
15. LED Lights that are controlled by an app!
We got fun lights for my two oldest kids that they put around their beds and they love them! These light are cool because they are controlled by an app and they change colors.
16. Instax Camera
I got these for both of my kids last year and they have had so much fun with them. The bundle package is a great deal as well!
17. Instax Camera FILM
One thing that we never have enough of is FILM for our Instax cameras. Definitely a great stocking stuffer! These colorful ones are my kids favorites.
18. Photo Clip String Lights
Now they are going to need a place to display all these photos! These photo clips are so fun to hang on the wall. You can hang any pictures, which my girls love.
19. Apple AirPods
My kids love these for listening to music and podcasts and audio books (especially for long car rides). They are an investment, but so far mine have lasted for 3 years and are going strong.
20. Silicone AirPod Case/Skin
If you do get airpods, I recommend snagging a silicone case (or some kind of case) to protect them! They are only a couple of bucks (also- these make a great stocking stuffer).
21. One Line A Day Journal
If journaling seems overwhelming, you might want to check out this One Line A Day Journal. It has a couple of lines for everyday over the next 5 years. It's a darling cover on the hardbound journal as well!
22. Waterproof Bluetooth Speaker
These speakers are pretty incredible! They really are completely waterproof. They can float in the tub or hang in the shower or even go to the beach with you. Let's be honest – your singing in the shower will never be better. Has a 10 hour play time on one battery charge – it's pretty awesome.
23. Adidas Mini Backpack
I love that mini backpacks are back in style (they are so much more practical than a purse in my opinion!). This one is a crowd favorite! It comes in lots of different colors.
24. Chatbook
These books are MY FAVORITE! It's basically scrapbooking made stupid easy! I try to make one for each kid each Christmas and just highlight pictures and events from throughout the year. You can use pictures from your social media or even just your camera roll. You can add a caption to each picture so you can remember what the picture is about or even just write your kid a little note with each picture. It's such a sentimental gift! My kids LOVE looking at their Chatbooks and it's one of their favorite gifts each year.
If you download the app, you can put together a complete book in about 30 minutes and order it right from the app. It does take about 10 business days to print and ship, so keep that in mind as Christmas gets closer!
25. Wireless Bluetooth Karaoke Microphone
Such a fun thing to do alone or with friends. There are TONS of karaoke songs on YourTube that my girls and their friends love to sing to.
26. Letter Lightbox
These are so much fun – they come with tons of letters and emojis so you can swap out the words on them. Plus they double as a lamp! 😉
27. Tie-Dye Pajama / Lounge Set
With all the virtual school and activities that have been going on, get your girl a cute matching set! This one is so comfortable and comes in a ton of styles and prints!
28. 15 Days of Socks
Target has a ton of different sets of these "15 Days of Socks" – I gave them to my kids last year as a gift, but you could also do them as an advent calendar! They have them for boys, girls, men, and women.
29. Puffer Jackets
These jackets are everywhere right now and they are at the top of many girls' lists! This jacket in the picture is from Forever 21, but they also have another quilted puffer jacket that is crazy popular (it's sold out a lot, but they always restock!).
30. Bed Rest Pillow
My kids love using these to read on their beds – this one is so soft and cute! And it's less than $20!
31. Wave Crimper
My daughter has a hard time curling her hair, but this wave crimper makes it so easy for her to have wavy hair! She LOVES it and it's easy to use.
32. The perfect joggers!
These are buttery soft, stretchy, and come in a TON of colors. Perfect for lounging around or wearing out and about.
33. Felt Letter Boards
This is such a fun way to decorate a room!
STOCKING STUFFERS
-Stance Socks
Every year, I love to put fun socks in my kids' stockings. Our favorite kinds of socks are Stance socks (love supporting local businesses!), but they do get kind of pricey.
–Target also has tons of fun socks for only $1.50 a pair!! Killer deal and great quality (with hilarious prints!).
-Face Masks
I love that these ones really look like animals when you put them on! They have great reviews as well.
-Apple Watch Bands
My original watch bad is pretty gross and these replacements are such fun colors! They have tons of prints and styles.
-Stackable Rings
These rings were on my daughter's list – they can stack a couple of different rings on each finger and wear them between different knuckles. This set comes with lots of styles and sizes so you can mix it up.
-Bath Bombs
What girl doesn't love soaking in the tub? I love that this comes with so many for such a great price!
-Book Light
My kids love to read in bed and this little book light attaches to the book they are reading. It's just the right brightness (it actually has 3 different levels of brightness) and it's a great buy!
-Scrunchies
My girls are obsessed with scrunchies and you can get great prices on Amazon!
-Chapstick
I always throw chapstick in my kids' stockings. You can't go wrong with Burt's Bees!
-Their favorite treat in jumbo size
We don't eat a ton of sugary treats at our house, so I do like to get them something to put in their stocking as a special treat. This 5 pound bag might be taking it a little too far, but it's kind of fun!
-A nice toothbrush
This will especially be needed if you purchase them a huge bag of candy. ha ha!
-A Popsocket
These come in so many fun prints and colors! My daughter is always switching hers.
-Selfie Ring Light that attaches to your phone!
This is the coolest – it clips on to your phone, which makes it so much easier to use compared to the ring lights on a stand. Plus, for $12.99, you can't go wrong!
-Reusable straws with silicone topper
I love my stainless steel straws, but sometimes when I am drinking a really cold drink, it freezes my mouth! These silicone toppers take care of that, plus they look cute.
-Capri Blue Volcano Candle
This scent is HANDS DOWN the best scent of all time! And now it comes in these cute prints. It smells incredible.
-Slouchie Beanie
This comes in so many colors! It's so cute and has great reviews.
-Eyeshadow Palette
So many fun colors and shades for a great price!
-Bath and Body Works Lotion
Say what you will, but I still love Bath and Body Works lotion the best. Plus all their fun scents make it easy to find something for everyone. And with all the hand washing we are doing these days, lotion is always a plus.
And if you are too scared to pick out anything for your teen, you can ALWAYS grab them a gift card!
Here are some of my teenager's favorite places to shop:
Anything that you would add to this list? Leave a comment below and share what your teen girl has loved!