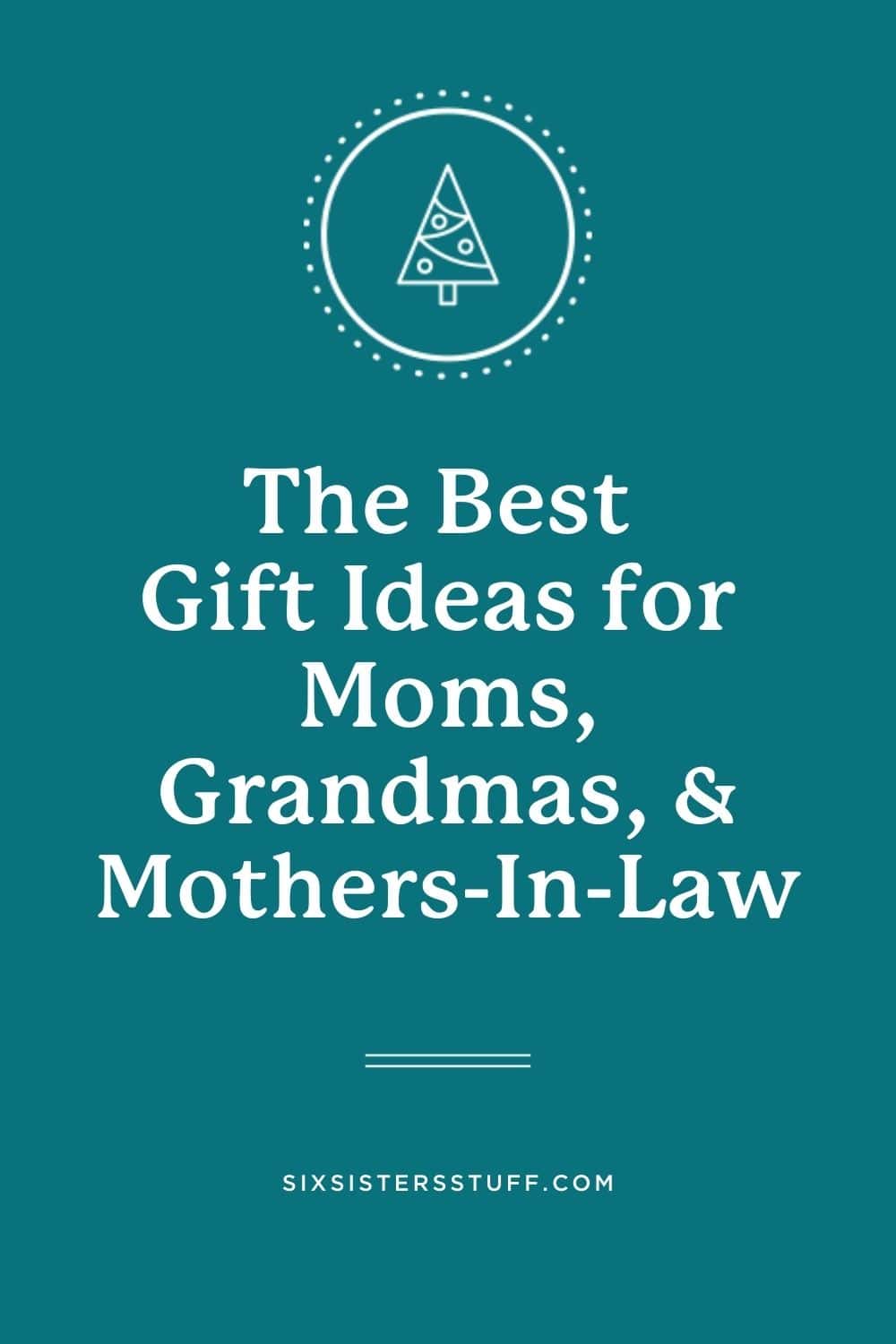 Sometimes shopping for your Mom, Grandma, or Mother in Law is the hardest person to shop for!
We have learned over the years that the more you can personalize a gift, the more loved it will be.
I love getting them something special instead of just the regular gift card. Hopefully these gift ideas will help you!
**Disclaimer: These gifts are all different price points. Sometimes we will go in together on a gift as sisters or family to get our mom or grandma a more expensive gift.
You do what is right for you and your budget!
Need more gift ideas? Check out our gift guides for:
Chatbooks is a fast and affordable way to get photos off of your phone and into your hands. You can make small little books of memories with grandma for only $10!
I love this picture frame because you can add or share photos via an app!
Add all your siblings to the app and have them update the photos all the time – it's the gift that keeps on giving! 😉
The Chosen is the first-ever-multi-season TV show about the life of Jesus. Created outside of the Hollywood system, The Chosen allows us to see Him through the eyes of those who knew him.
It is my new favorite show and everyone of all ages will LOVE it!

This robe is so incredibly soft!! It is a personal favorite of ours and has incredible reviews. Comes in lots of colors and patterns.
Or if they live in a warmer climate or don't want a super thick robe, check out this lightweight waffle knit spa robe – it's only $20 and you could pair it with a spa gift card or a massage gift card for a super thoughtful gift!
This candle is the OG of best smelling candles! This is the favorite candle among all the sisters.
Another place that is our favorite go-to for candles is Bath and Body Works. Watch for sales on their 3-Wick Candles because they have them frequently!
Some of our favorite scents (besides all their holiday scents that are amazing!) are Champagne Toast and Winter.
Another place that has great candles for an amazing price point is Target. Their Threshold Candles have some amazing scents for killer prices.
I love to pair a candle with some cozy socks or a soft blanket for a sweet gift.
This isn't sponsored and it's not even an affiliate link – it's just hands-down the best blanket of all time!
Their cashmere-soft throws are what dreams are made of.
I gave one of these to my mother-in-law and she sleeps with it every night. They are so plush!
What woman doesn't love a new purse?!
You could get her a designer bag (maybe something you go in together on as siblings because they are so expensive or shop at an outlet store like Coach Outlet) or maybe a designer wallet.
The other thing is that places like Target and Kohl's carry amazing bags at amazing prices!
Even Amazon has completely stepped up their game! This whole set (all 4 pieces!) is on sale for $39!
If you are getting her a new purse, give her something to help organize everything inside her purse so that that bag doesn't turn into a dark pit where things go to get lost! ha ha.
My Mom loves cute, feminine necklaces. Made by Mary is great because you can customize it what whatever you want! It is perfect for Nana, Grandma or any woman in your life.
Sometimes all moms need are comfy slippers and a good book by the fire! These are so comfortable and soft. She will love them!
This is perfect and cute to display and hold open a cookbook or hold an iPad while she cooks a recipe for dinner.
And of course she needs a new cookbook to put on her cookbook stand!!!
Did you know that we have 10 cookbooks we have released over the years??
Instant Cooking: Over 100 recipes for your Instant Pot!
Six Ingredients: Over 100 easy recipes that are made with 6 ingredients or LESS!
Dinner Made Easy: Tons of our favorite dinner recipes like One Pan dishes, freezer meals, slow cooker, pantry staples, and 30 minutes or less!
Copycat Cooking: This cookbook was our favorite to put together! We took 100 dishes from popular restaurants and figured out the recipes so that you could make them at home.
A Year with Six Sisters' Stuff (52 Meal Plans and holiday ideas): This is a fun one for moms and grandmas because we share ideas that you can use throughout the entire year to make memories.
Healthy Eats: For the person who wants to eat a little healthier, but still loves good food!
Our First Cookbook – Family Recipes: This was the cookbook that started it all! This cookbook has all of our tried-and-true family recipes.
Sweets and Treats: 100 Desserts: If you love all things dessert, this is the cookbook for you! Everyone loves a delicious dessert!
Celebrate Every Season: This is the cookbook for anyone who loves traditions and loves celebrating all year long! We squeezed in our favorite ways to celebrate throughout the year and it's loaded with over 150 recipes.
12 Days of Christmas: For anyone who is looking for ways to make this holiday season a little more memorable and start some new traditions. This book was our favorite to put together!
These are SO cool! If you struggle losing your keys, your wallet, your remote, your purse, or anything else – these Tiles will be your best friend!
There are so many cool journals out there – this one was awesome because it gives you prompts and really helps you hone in on your goals and dreams.
I recently slept with a weighted blanket and I loved it SO much! This weighted blanket isn't too heavy, but it just helped me sleep so well.
You probably know by now how much we LOVE our Instant Pots. We think that they are the perfect gifts!
Last year many of our mothers-in-law got Instant Pots from us with our new Instant Pot Cookbook (it's a great gift combo!).
What if she doesn't know how to use an Instant Pot?
Well, it's your lucky day because you can give her this:
This is perfect if her Instant Pot is still on the shelf or she just doesn't feel comfortable with her Instant Pot yet! It is only $37 and it will help her learn how to use her Instant Pot and be cooking all kinds of meals with it in just one afternoon!
Check out the course HERE.
Purchase the course as a gift card to give as a gift HERE.
If she already has an Instant Pot, get her this Instant Pot Air Fryer lid attachment – it turns your instant pot into an air fryer!! It's so cool.
Sometimes it is hard to get out and get a pedicure, so this at home pedicure set makes everything so much easier to do it on your own.
This ice machine is an important part of our kitchen! If your Mom or MIL loves cold drinks or ice in her drinks, then this is the perfect gift!
The Echo dots are the cutest modern shape. If your loved one doesn't have an echo dot yet, this is the perfect gift!
The reason I love the Echo Show is because you can make video calls to anyone else who has one! My kids love to talk to their Grandma on their echo, so it's a cool way to stay in touch and they are so simple to use.
If you have an Alexa-device already, get one of these smart plus and add voice control to any outlet! I love using it for lamps to be able to turn them on and off with just my voice. Technology is so cool!
You can get rid of that broom and make her life so much easier with the Cordless Dyson. My favorite is to use it on hardwood flooring!
Our Mom always has a cookie jar full of cookies for the grandkids. Now you can personalize it specifically for grandma!
Every grandma needs a fun game to play with grandkids. This one is one of our favorites!
I saw a rug just like this at my neighbors house and I loved it! If your mom or grandma loves her grandkids and loves to share it, then she would love this!
You may have seen all the buzz on social media about mug tumblers like this – these ones are almost identical and are half of the price! I love that they come with a handle and are dishwasher safe.
They keep hot liquids hot and cold liquids cold.
Another water bottle that is GORGEOUS! This will also keep drinks cold for 48 hours and hot for 24 hours.
This wristlet wallet comes in a ton of colors (the pink is also so pretty) and it's such high quality that it will last forever!
These pajamas are almost identical to a brand that they carry at Nordstrom, but these ones are half the price!
They come in a ton of colors and are so soft and beautiful. I have given many sets of these away as gifts.
Some of our Mothers-in-Law LOVE Brighton Jewelry. It's a high-quality jewelry and accessory store and I can always find a beautiful gift from them!
Another jewelry brand that I love for Moms, Mothers-in-Law, and Grandmas is Kendra Scott. They have some beautiful pieces – especially their bracelets!
If you have a mom who loves to take long baths, these bath trays are so fun!
Add in some bath bombs to make it the perfect gift!
If your mom/grandma/MIL doesn't take baths, get her some of these aromatherapy shower steamers! You just place the steamer in the bottom of the shower and the smell from the essential oils is so therapeutic and relaxing! I especially love the menthol/eucalyptus ones when I have a cold.
I honestly believe that every woman needs this hair appliance. It's like a blow dryer and a round brush in one and makes blowing out your hair so much easier!
I love these personalized gift! You just send in a sample or copy of someone's signature or small note and they can laser engrave it on a keychain! Such a cool keepsake, especially if someone they love has passed away.
Same as the customizable keychain, but just in necklace form!
If you have a special family recipe, this company will etch it on a cutting board for you.
Our mom always wore a mother's ring when we were little – it has a birthstone for each of your kids! It's just a cool way to always keep your kids with you. They also make necklaces as well.
I don't know a woman out there who doesn't carry stress from her life . . . this massager is a LIFESAVER. I can't recommend it enough!!
For the woman who has everything . . . give her the gift that keeps on giving!
This isn't sponsored and it's not even an affiliate link – it's just truly something we love and know that it's a fun gift!
For someone who has a green thumb, this indoor garden is so cool! It's great for fresh herbs and will automatically water itself. Such a fun gift idea!
This scarf is such a golden find on Amazon! It looks and feels SO luxurious and expensive, but it's less than $20! And it comes in a ton of colors and prints.
If you have a mom that is always cold, this cute portable heater is for her!
I love that I can take my portable heater to any room that I am in (especially when I am working at the computer – my feet always get cold!).
Plus, this heater is so modern and cute!
After a lifetime of vacuuming, your mom deserves a break! She needs a Roomba in her life!
Sometimes Grandma's just want your TIME. Plan a special date with grandma and wrap it up as a gift for her!
I love giving cardigans like this because the sizes are very forgiving and everyone loves a soft cardigan they can wrap up in!
If your grandma or Mother-In-Law is only feeding 2 people now, this is the perfect app for them! It can also be accessed via desktop or tablet.
You can change any recipes to just feed 2 people! AND it automatically takes your grocery list and puts it right into Walmart Pick-up or delivery.
You can purchase a subscription to the app and gift it to the person you love. 🙂
Such a cool way to document your family's history! This is such a meaningful gift!
This is a really cool company! You send them your old family videos that are on VHS or old cassette recordings and they will digitize them! They offer so many cool services. I gave them to my dad one year and he really appreciated it! It was fun to pull out old movies and watch them on DVD.
I love giving artwork as a gift and this company has some beautiful Christian pieces!
Chances are your mom or mother-in-law is using a crock pot from the 1980's (they used to build them to last forever!!). These new crock pots are so sleek and beautiful!