These Steak and Potato Foil Pack Dinners are filled with juicy sirloin steak, roasted red potatoes, onion and a flavorful homemade garlic butter. This easy foil dinner recipe is one you will want to make all summer long and is a great recipe to take with you on your next camping trip!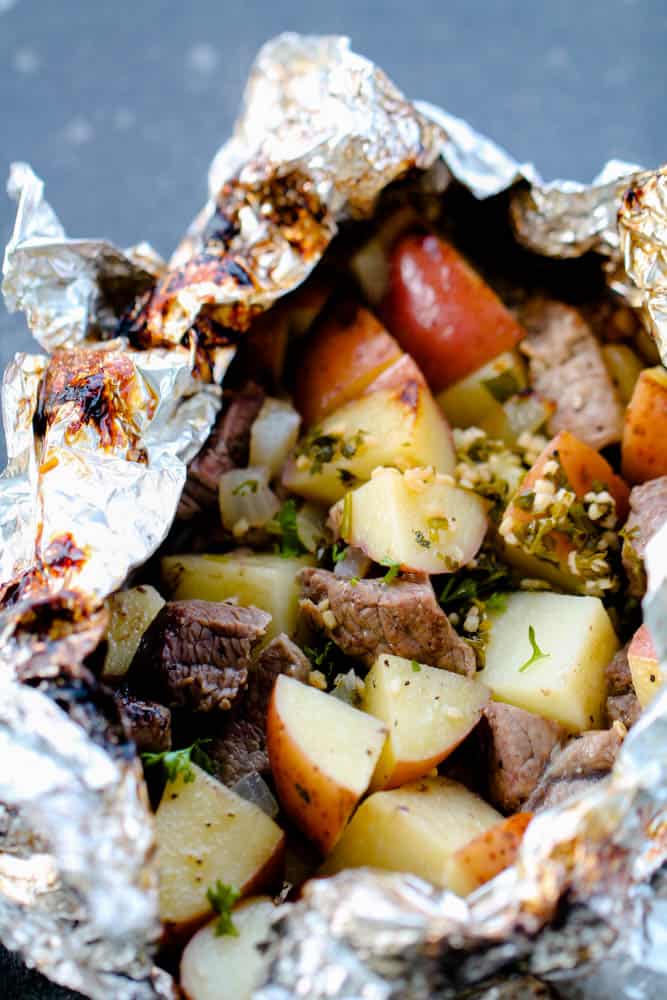 A few years ago we shared a post sharing 30 Delicious Tin Foil Dinners that got rave reviews!
I might not be much of a camper, but I love a good foil pack dinner.
First of all, I love that foil pack dinners means that clean up is easy and I will have less dishes to do.
Second of all, the prep is usually pretty minimal and the ingredients can be adjusted to fit everyone's preferences.
My kids absolutely love whenever we make "hobo dinners" because I set out all of ingredients and let them build their own, then we write their name on the outside of the foil with permanent marker and they eat them right out of the foil.
For some reason, it's the coolest thing ever. As long as they are eating meat and vegetables without complaining, I will wrap their dinners in foil all day long!
I was wanting to make some foil dinners that were a little more sophisticated but using steak and topping it with a delicious garlic butter.
My husband and I are meat and potatoes type people, so these Steak and Potato Foil Pack Dinners are right down our alley!
If you like Tin Foil Dinners, be sure to check out how to make it in the slow cooker!
Love cooking as much as we do? Join our FREE private Facebook Group: Six Sisters' Dinner Club!