Snickers Apple Pudding Salad gets more rave reviews than any other salad on our site. It's perfect all year round. All it takes is mixing ingredients together and refrigeration until ready to eat. It's absolutely delicious.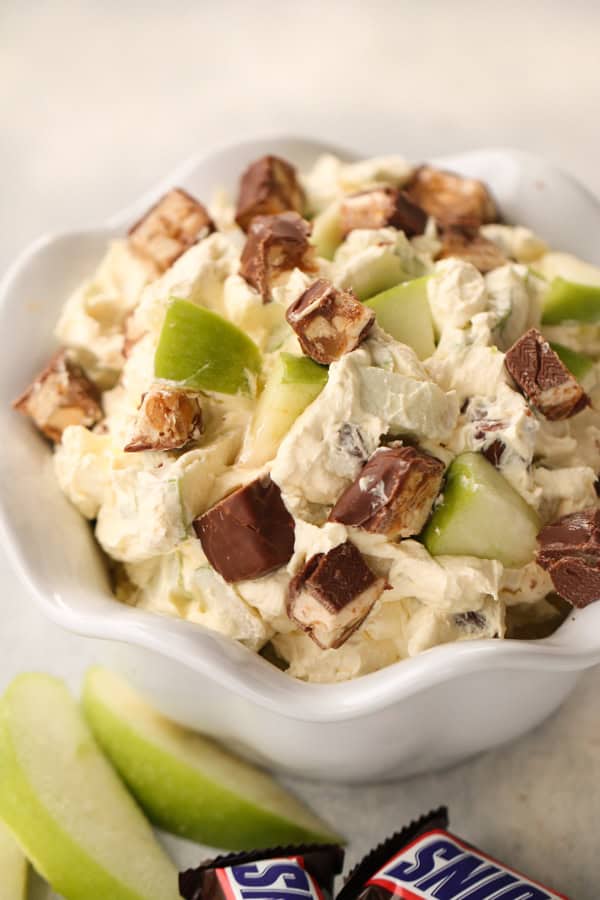 Have you ever been asked to bring a salad to a party or bbq? Snickers Apple Pudding Salad is just for you. And if you are short on time – this is ready in 10 minutes. WIN!
This is seriously one of our favorite salads. With the snickers bars, it could also be eaten as a dessert. Either way, it tastes amazing.
Chop up apples and snickers, and the only other task is stirring.
We use Granny Smith apples in this Snickers Apple Pudding Salad, but you could use any apples that you have on hand. They will all taste great. Granny Smiths apples are tart and go so well with snickers and pudding.
Some may think this is definitely a dessert, not a salad. But we want to give you the definition of a salad – "A varied mixture, or a cold dish of various mixtures." So this is a salad in our book! Enjoy! But if you served it as a dessert, it would also be a huge success.
Can you double this Snickers Apple Pudding Salad?
This recipe is so easy to double so that you can feed more people. The current recipe feeds 10 people, and those are generous portions.
Sometimes we cut the recipe in half when we want to make if for a smaller group. We used 1 1/2 apples and everything else is easy to cut in half.
If you double the recipe, be sure to have a big bowl. It will make a lot and a big serving bowl will be needed.