Looking for a delicious dinner with a healthy twist? These easy meatballs are just what you need. They have ground turkey and oats added to the ingredients. And kids love meatballs, so these Salisbury Steak Meatballs were a hit with the whole family.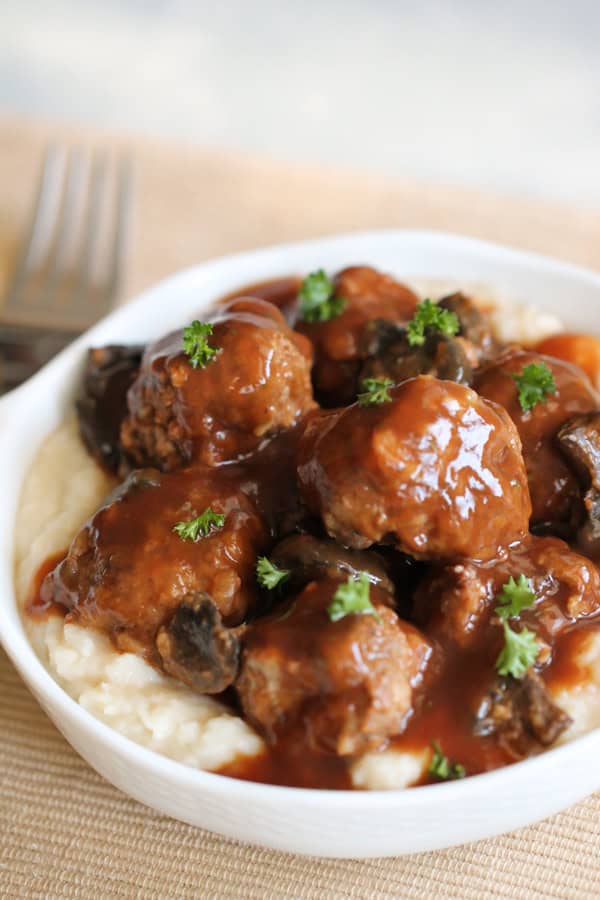 These Salisbury Steak meatballs are easy to make with ingredients you usually have on hand. Feel free to add your own special twist for your family. Meatballs and slow cooker recipes are great that way.
You can totally sneak in a few veggies into your slow cooker while these amazing meatballs are cooking all day.
We added in some fresh sliced mushrooms because that's what our kids love. I think next time we may throw in baby carrots. YUM!
You will also love this delicious recipe for Salisbury Steak. It's another easy and delicious recipe that the whole family loved.
Can this Salisbury Steak Meatballs recipe be made in an instant pot?
These meatballs can definitely be made in the Instant Pot. We made them in the slow cooker, but you can adapt slow cooker recipes to the instant pot.
Here is a link that will help you as you change a slow cooker recipe to an instant pot recipe. https://www.sixsistersstuff.com/how-to-convert-recipes-into-instant-pot-recipes/
Kristen will show you step by step how easy it is to conver the recipe over. Or you can use your slow cooker for an easy and delicious dinner.
We love to make our recipes both ways.