Instant Pot Bolognese is a thick, flavorful meat sauce that goes perfectly over pasta. Once you try this, you'll never buy pre-made spaghetti sauce or marinara again! Only takes 20 minutes to cook.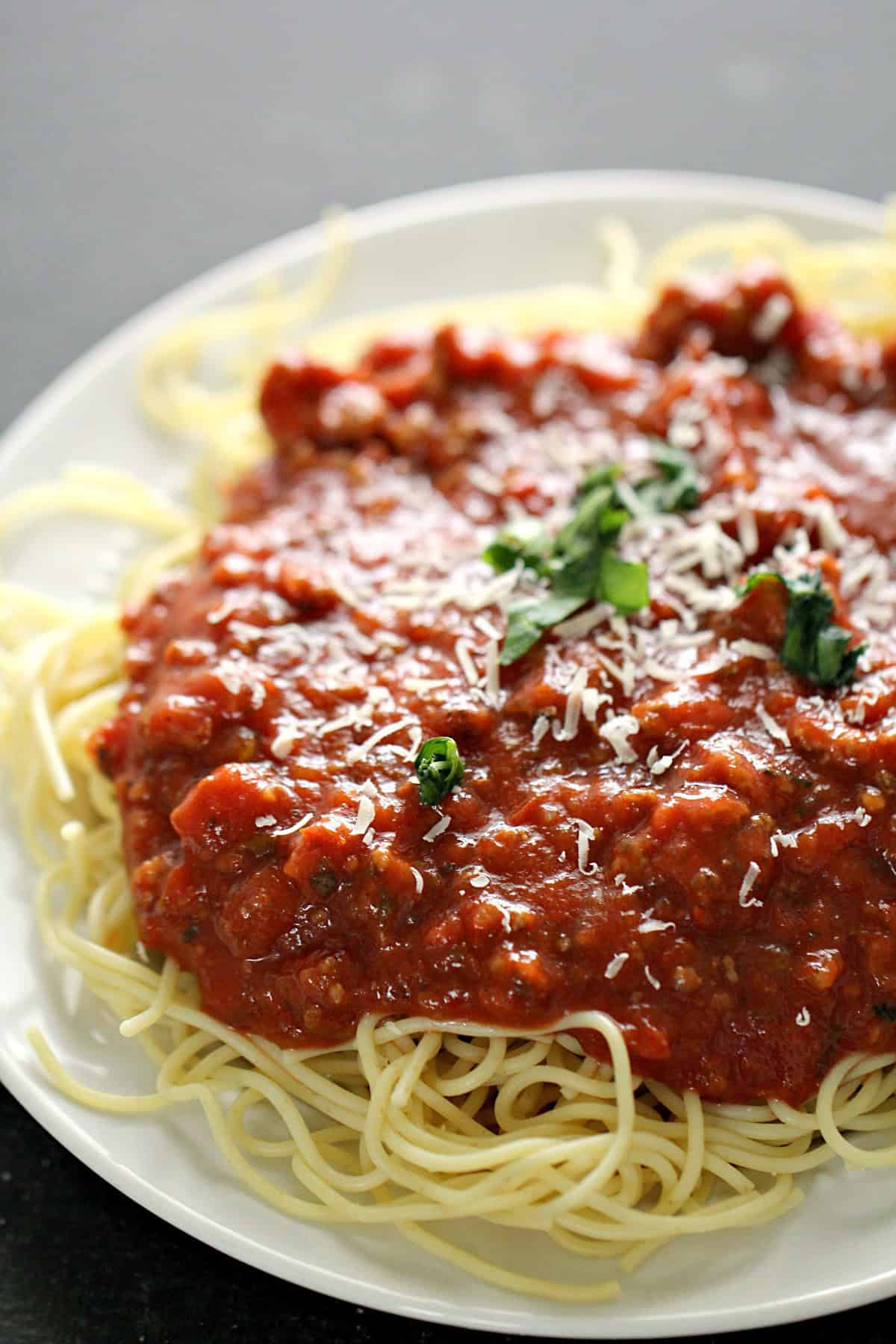 I love a good pasta sauce and this Instant Pot Bolognese has become of my go-to favorite recipes lately.
We do have a Slow Cooker Bolognese sauce that is also delicious, but I have been using my Instant Pot more and more and love how easy it is to make this sauce in an Instant Pot.
If you are looking for more Instant Pot recipes, click here.
We will keep adding more and more each week (with an Instant Pot cookbook coming out in January 2021!).
What is bolognese?
Bolognese is a meat based sauce that comes from a place called Bologna, Italy, which is where it gets it's name.
Bolognese is not the same thing as spaghetti or marinara sauce. Marinara is a tomato based sauce filled with herbs and occasionally vegetables.
Bolognese is a meat based sauce that has just a little bit of tomato for flavor – the meat is what this sauce is all about.
So if meaty sauce is your thing, then so is bolognese!
What kind of meat is used to make bolognese?
Bolognese is traditionally made with minced beef or pork.
Today I am using a sweet turkey sausage, but Italian ground sausage is also delicious.
Choose your favorite – they will all taste delicious in this dish.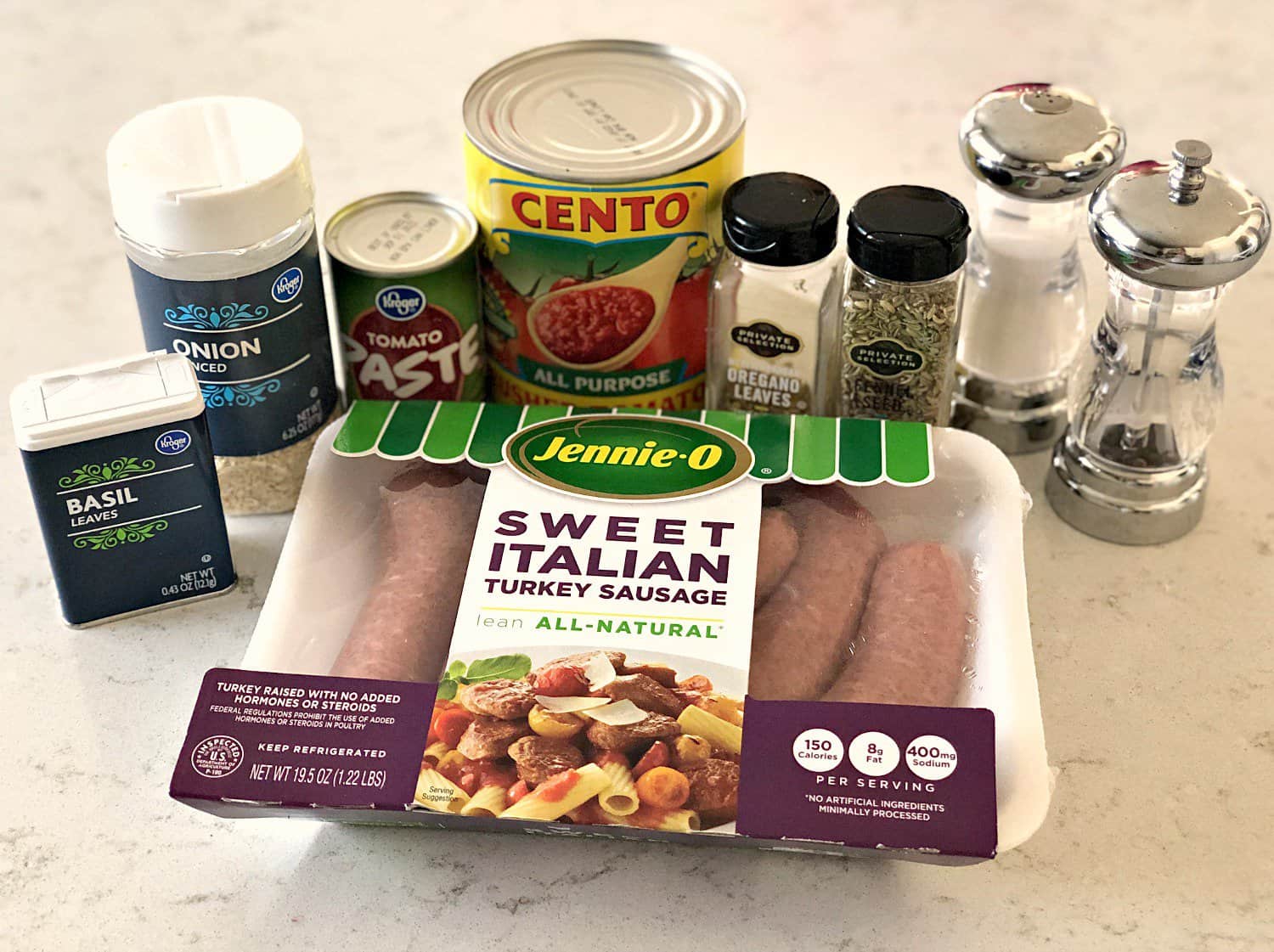 Ingredients needed for Instant Pot Bolognese:
1 pound Italian sausage (I used turkey sausage)
3 Tablespoons minced onion flakes
4 teaspoons minced garlic
1 (28 ounce) can crushed tomatoes
1 (6 ounce) can tomato paste
1 cup water
2 Tablespoons sugar
1 Tablespoon dried oregano
1 Tablespoon dried basil
1 teaspoon fennel seed
1 teaspoon salt
1/2 teaspoon pepper
How to make Instant Pot Bolognese: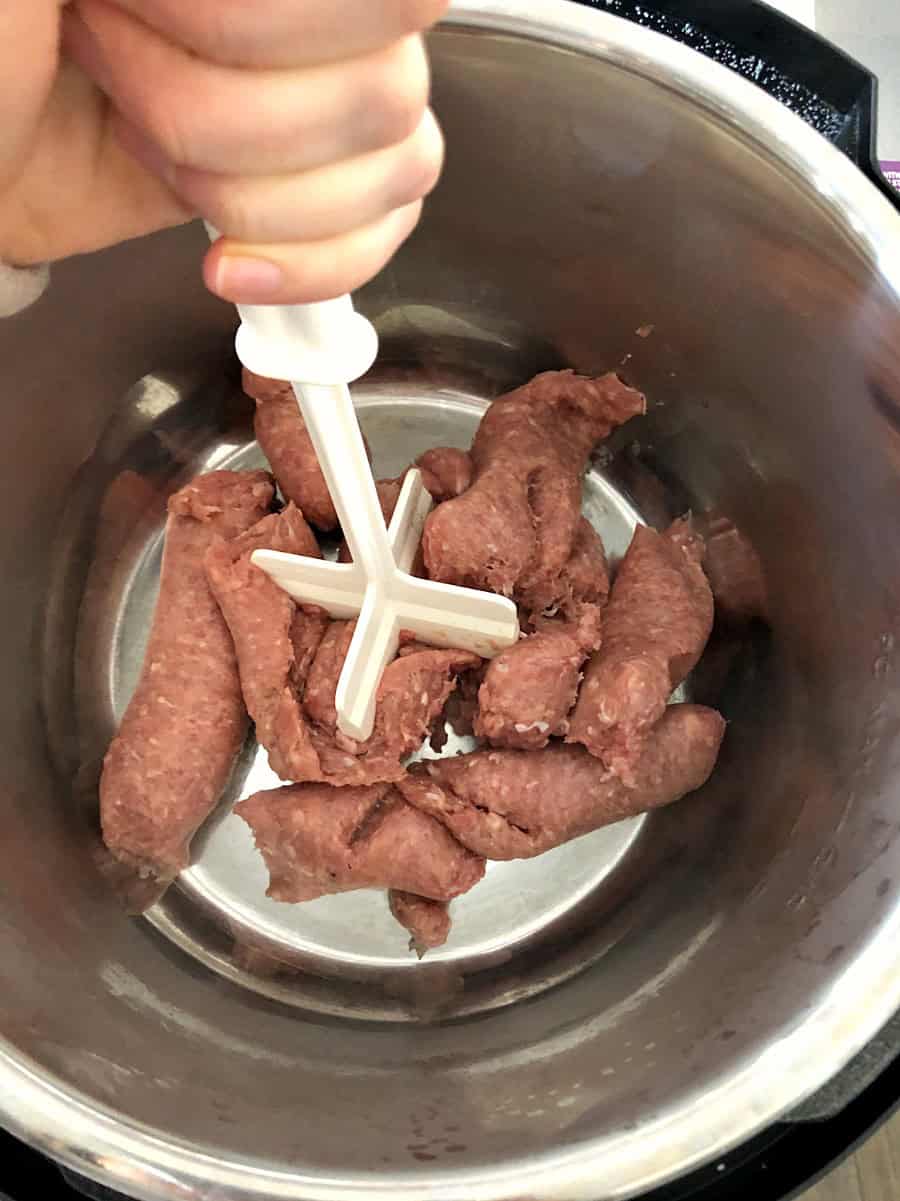 Step 1: Turn Instant Pot to saute setting and add sausage when pot is hot.
Brown sausage and break up as it cooks (I used a Chop-Stir to break up my sausage).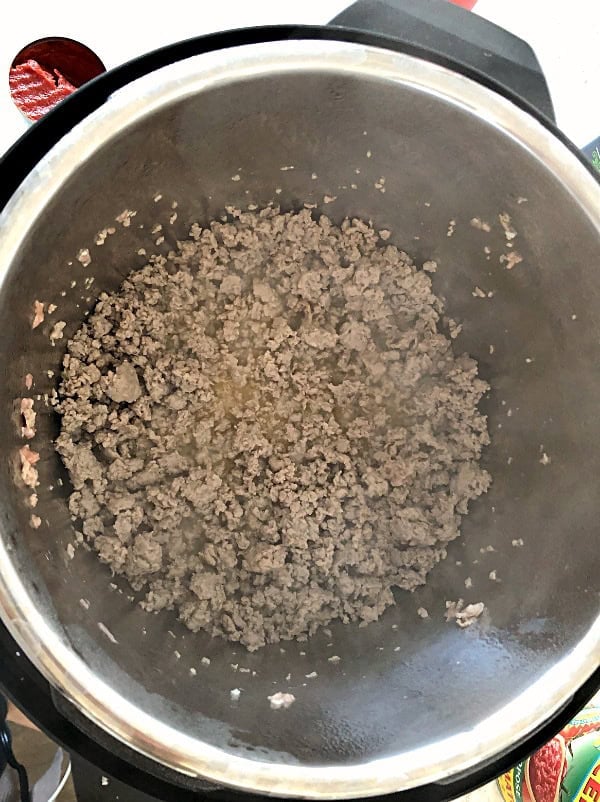 Step 2: Add in other ingredients and mix until combined.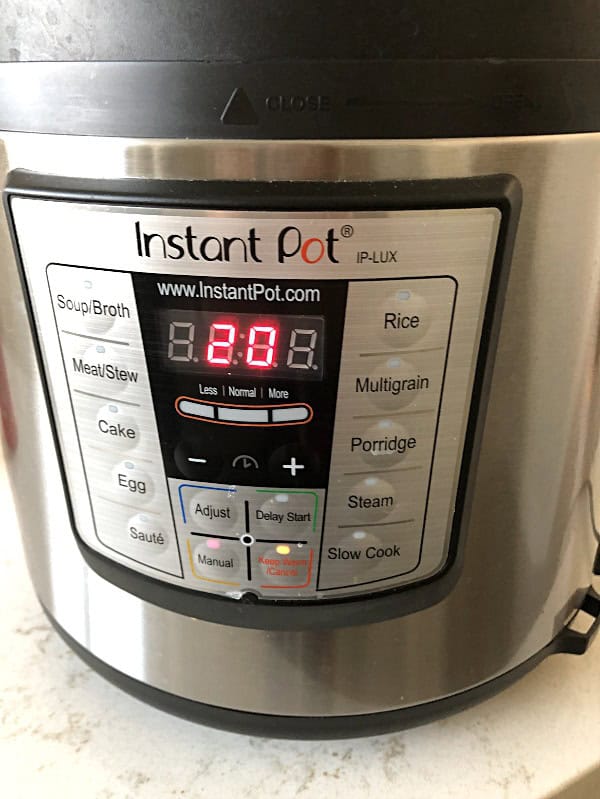 Step 3: Place lid on Instant Pot, move valve to "sealing" and press the "manual" button. Set timer for 20 minutes and let it do it's magic!
It will take a few minutes to come to pressure, then it will start the countdown timer from 20 minutes.
Most bolognese recipes will simmer for many hours (our slow cooker recipe simmers for 8 hours!), but the Instant Pot will give you that all-day simmered flavor and texture in just 20 minutes.
That's why I love this little kitchen appliance!!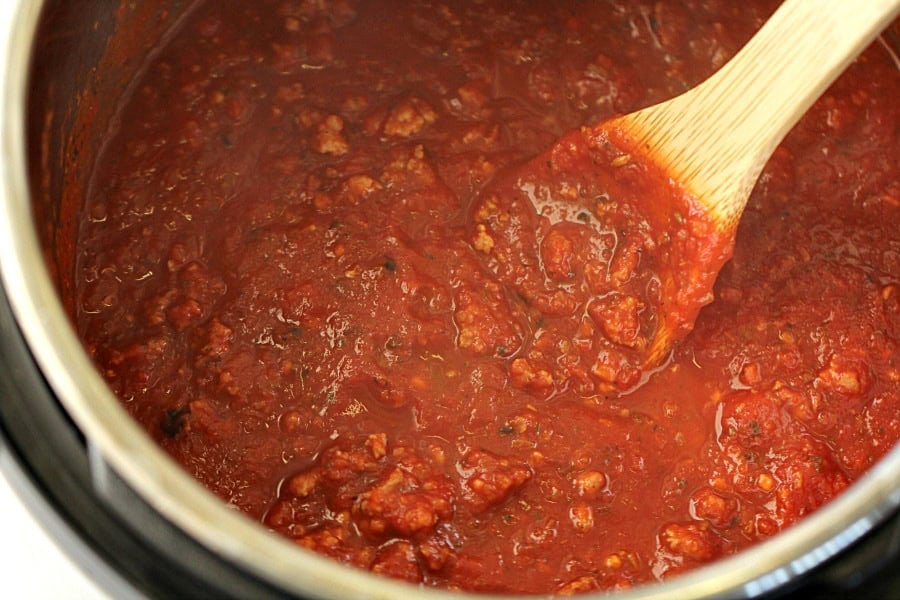 Step 4: Once the 20 minutes of cook time are over, do a "quick release" by moving the valve on top to vent.
Once all the pressure has released and the pin has dropped, remove the lid and stir the sauce.
Enjoy!
What do I serve this bolognese sauce over?
Any kind of pasta will do!
This bolognese is a hearty meat sauce, so keep that in mind (you might want a thicker noodle to hold more of the sauce).
If you are watching your carbs, this sauce would also be delicious over zoodles (zucchini noodles) or spaghetti squash.