Wake up to delicious Homemade French Toast Sticks. They are as easy as regular French Toast, but even tastier. We love using the thick Texas Toast when making this breakfast.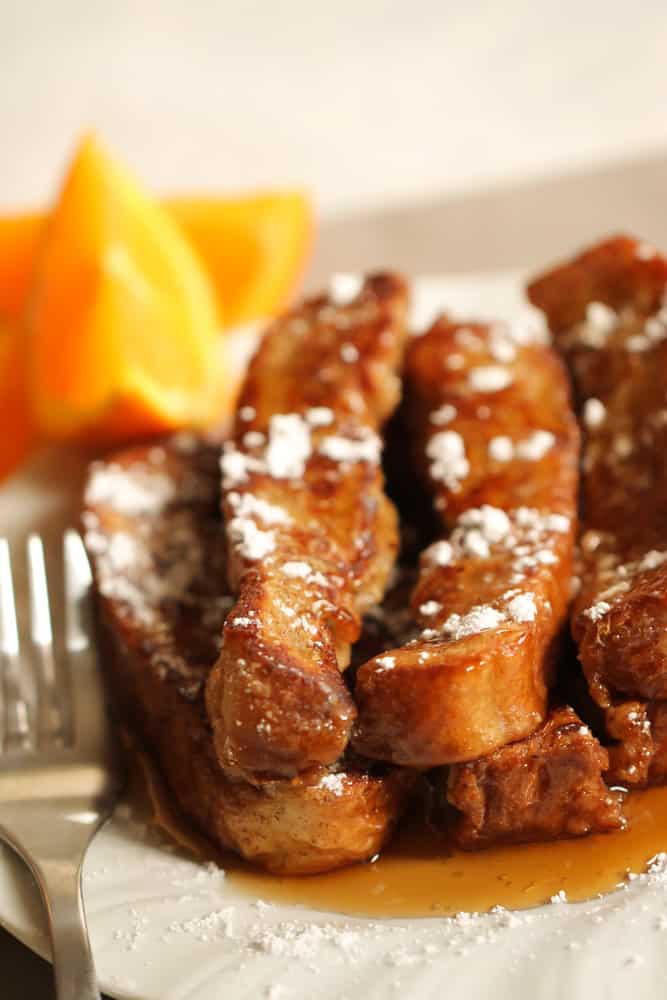 Don't waste your money on all of the prepackaged French toast sticks you can buy in the store. These are SO simple to make and taste a lot better.
These can easily be made ahead of time and then freeze them for a quick and easy breakfast on those busy mornings. The kids love eating them as they head out the door to school or a soccer game.
With just a few easy ingredients you can have an amazing breakfast on the table in no time at all. Homemade French toast sticks are an easy breakfast when you want to entertain friends or guests for breakfast.
What is the best bread for French toast sticks
You can use any bread on hand for Homemade French Toast Sticks. But the thicker the bread, the chewier and more delicious your French toast sticks will be.
We like to use a loaf of Texas Toast that can easily be purchased at most grocery stores. We have even sliced a loaf of French Bread. That way you can slice it to your desired thickness.
Homemade bread is also another great option. You can easily switch it up for white or wheat bread. The options are endless and they all result in yummy French Toast sticks for you and your family.
are french toast sticks messy?
When making French toast sticks, there are a few easy steps. None of them resulted in a lot of clean up. The bread will need to be sliced, which is simple to do on a cutting board. They are not messy to prepare.
You will dip the sliced bread into the beaten egg mixture and then place them in the pan. That's about it. Pretty easy clean up.
The kids can eat them with their hands when sprinkled with powdered sugar. You can also dip these French Toast sticks in syrup. Kids love to the simplicity of picking their food and dipping it. We have food dippers at our house.
You will want to use a fork if the French Toast Sticks have been covered in syrup. That is how we prefer to eat them. Syrup makes everything taste delicious.