These muffins are full of lemon flavor and SURPRISE - they are pretty healthy for you too! Made of all real ingredients, you can feel good about feeding them to your family. These make a great snack or breakfast.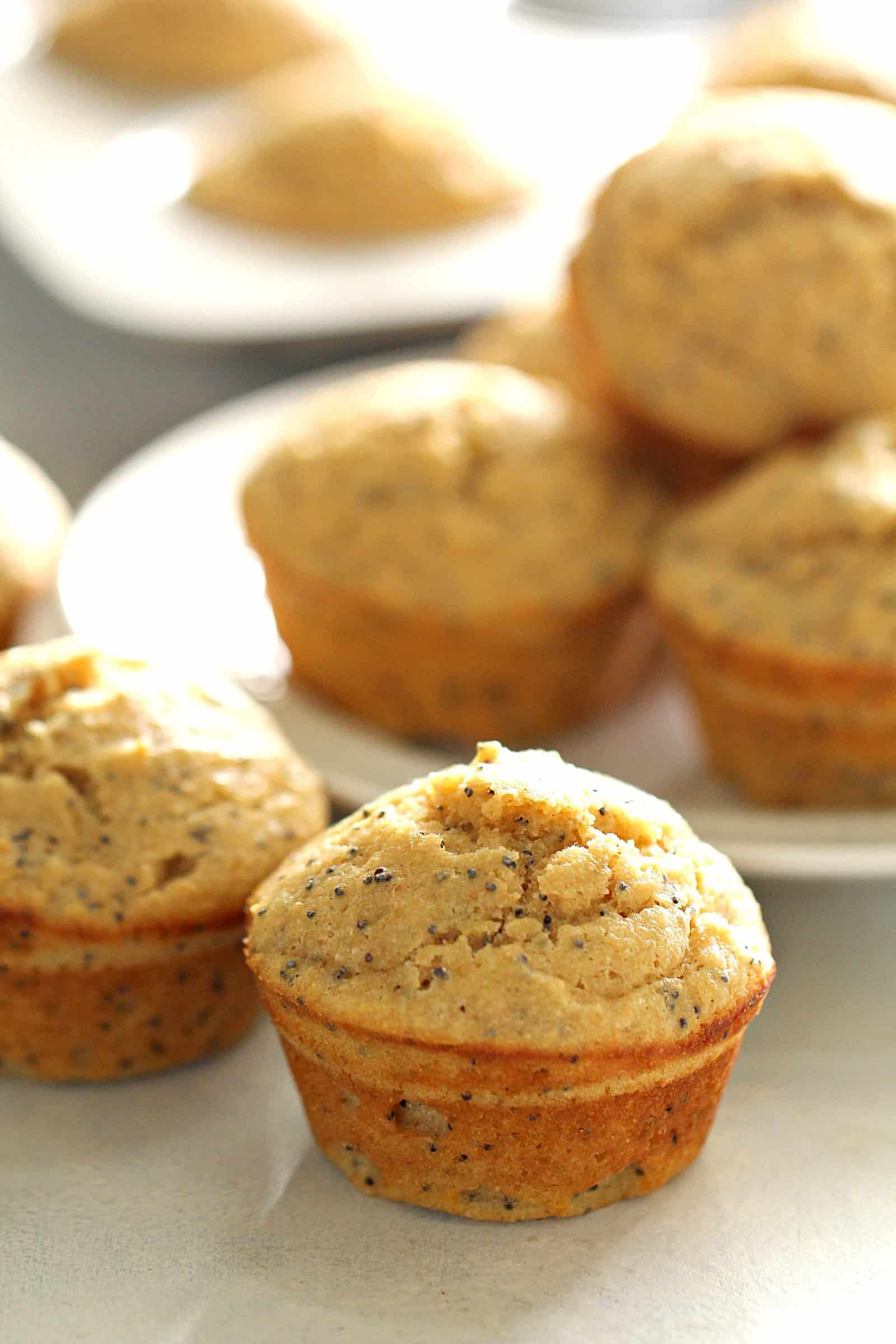 Oh muffins – one of my guilty pleasures when I go to a bakery. However, those tricky little cupcakes without frosting are LOADED with calories and not-so-good for your ingredients. So, I decided to take one of my favorite muffin flavors – Lemon Poppyseed – and lighten it up so that I can eat it and not feel the least bit guilty!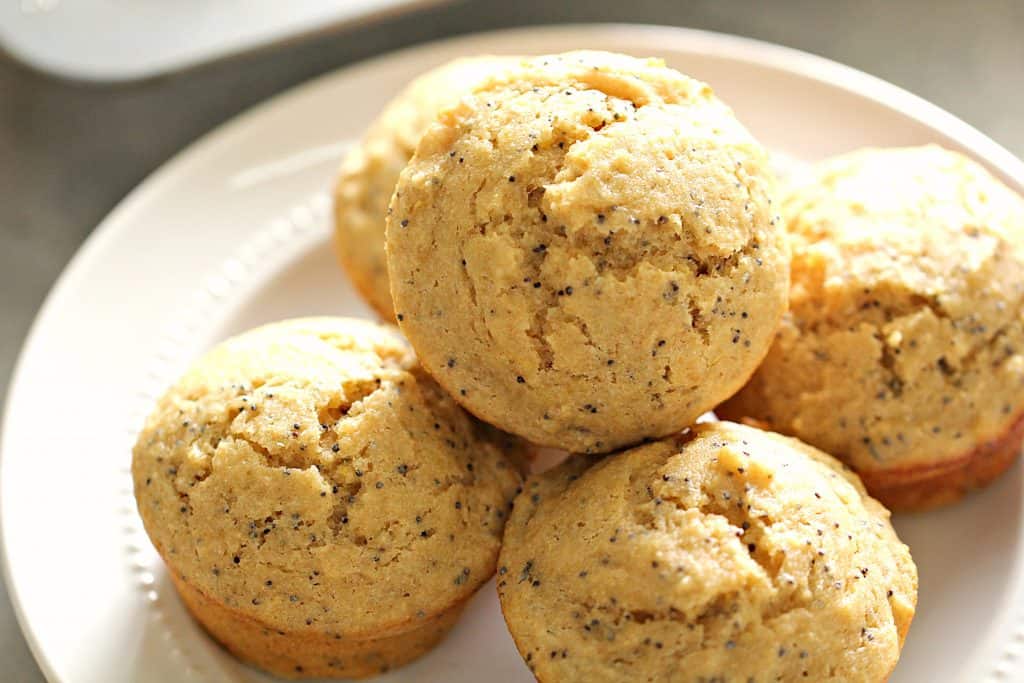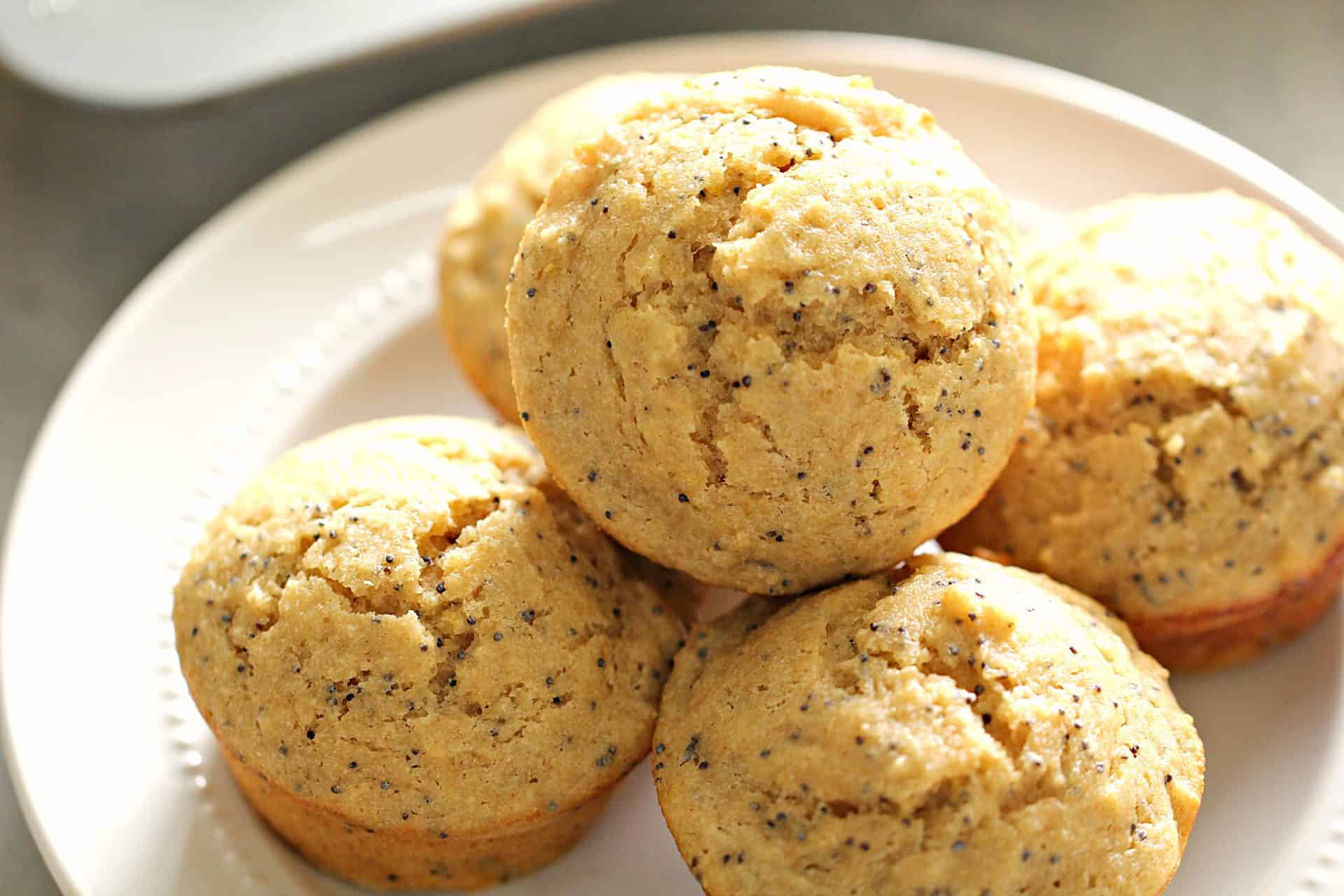 My goal with this recipe was to make some healthy ingredient swaps, cut out the refined sugar, and make these muffins a healthy snack, dessert, or even breakfast that I would feel good about feeding to my kids. Of course, these muffins had to pass the picky-eater test (I have 4 kids who will honestly tell me if a recipe is good or not) and still taste delicious despite being healthier.
The first swap that I made was using white whole wheat flour instead of an all-purpose flour. It's pretty much all that I use for all my cooking and baking these days! I like that it's whole wheat, but it's not quite so heavy (which is especially important in baked goods like muffins and cakes).
Whole wheat white flour is made from a hard white wheat berry. It contains the entire wheat berry; the difference is in the white berry's bran and the result is a lighter colored, sweeter tasting flour. Keeping the bran and germ yields a flour with more fiber and naturally occurring nutrients. All-purpose flour is usually stripped of all the good stuff and then is bleached to get that white color. Making this simple switch to white whole wheat flour is just one of the little ways I try to help my family eat healthier. ? You'll have to try it and tell me what you think!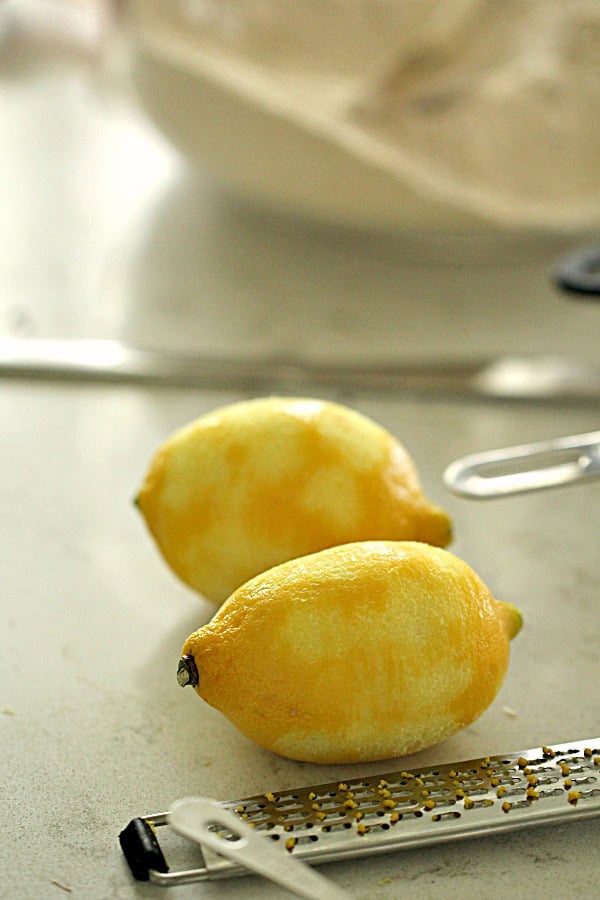 I don't like to waste food, so for this recipe you are going to use 2 lemons. Not only are we going to use the zest from the outside, but also the juice from the inside.
Lemon zest is CRUCIAL in this recipe. I didn't want to use any artificial flavoring, so most of the lemon flavor will come from the zest.
How To ZEST A Lemon
If you have never zested a lemon before, it's easy! Start by rinsing the lemon, then drying with a towel. I highly recommend using a microplane to get more of a finely-grated zest that just melts into the muffin batter. Holding the microplane in one hand over a bowl or plate, hold the lemon in the other hand and gently drag it down microplane and applying moderate pressure. Turn the lemon each time to push it down the microplane, making sure to only get the outermost layer of the lemon (the white pith is where the bitterness is, so you definitely don't want that).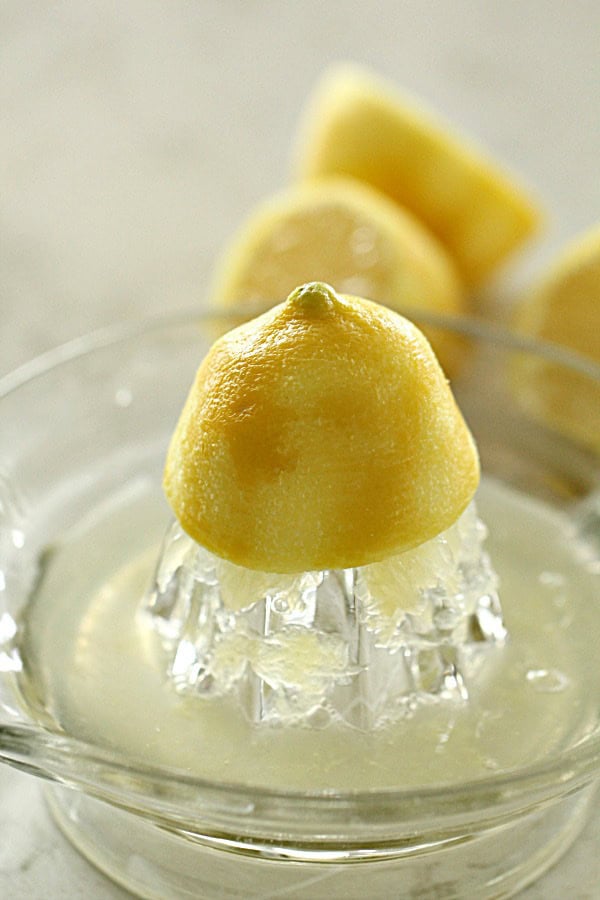 How To JUICE a Lemon
Now that we have zested the lemon, it's time to get all the juice out. A lemon usually contains about 2 Tablespoons of lemon juice – so you could substitute bottled lemon juice if desired. However, fresh lemon juice has so much more flavor and I highly recommend using it for this recipe.
I have heard that the best way to get the most juice out of a lemon is to pop it in the microwave for 8-10 seconds, then cut it in half and squeeze out the juice. I have found that doing this helps make it easier for me to squeeze because the lemon is a little bit softer.
I have also heard that rolling it around on the table before cutting it open and squeezing it will also help you get the most juice out of a lemon. I have tried this method many times as well and it seems to help! Do you know any tricks to getting the most juice out of a lemon? I would love to have you share them below.
I actually inherited a glass citrus juicer from my grandma and I LOVE it (it's what I used in the picture above). They still make them, so you will have to check them out. I love making fresh orange juice with it too!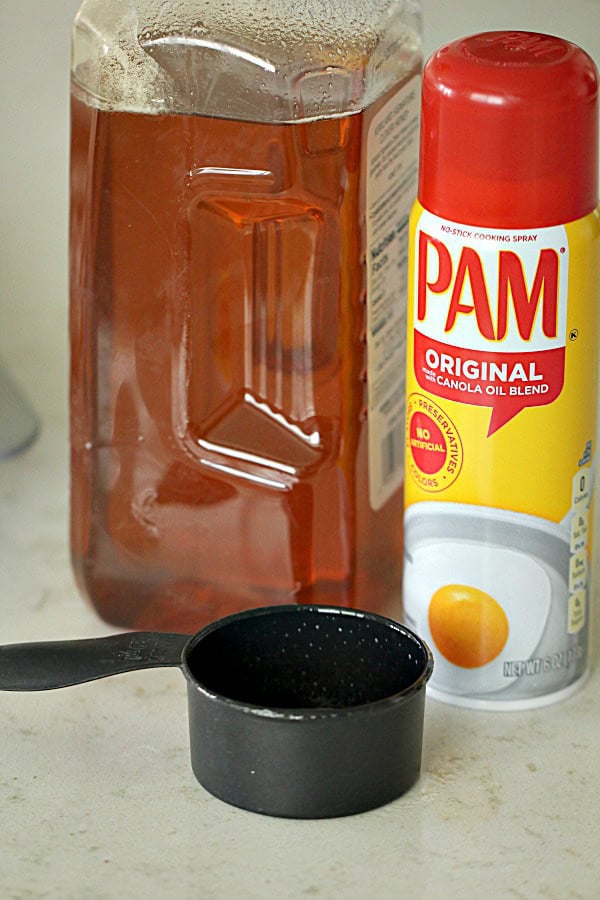 Another healthier swap that I made was using honey instead of refined sugar. I know that honey is still considered a sweetener, but I do appreciate the added nutrients and benefits that it provides. You can also use a smaller amount than sugar to still get the sweet taste that you need for your recipes when you use honey, so that's another pro to add to the list. I love baking with honey (check out these Honey Oatmeal Raisin Cookies) and I usually buy honey in bulk (it's a lot cheaper that way).
My SECRET to Measuring Honey
Sometimes measuring honey can be a crazy sticky mess, so here's what I do to make sure that not one drop of honey is lost: spray your measuring cup with non-stick cooking spray before pouring in the honey. Then when you pour the honey into your mixing bowl, it easily slides out! It makes clean up a breeze!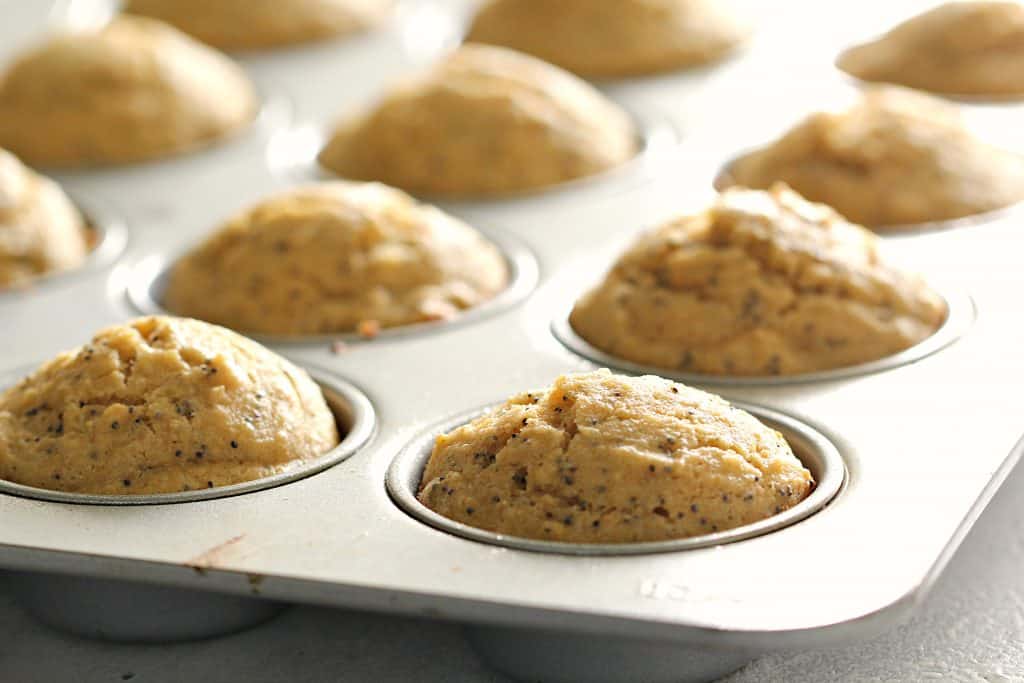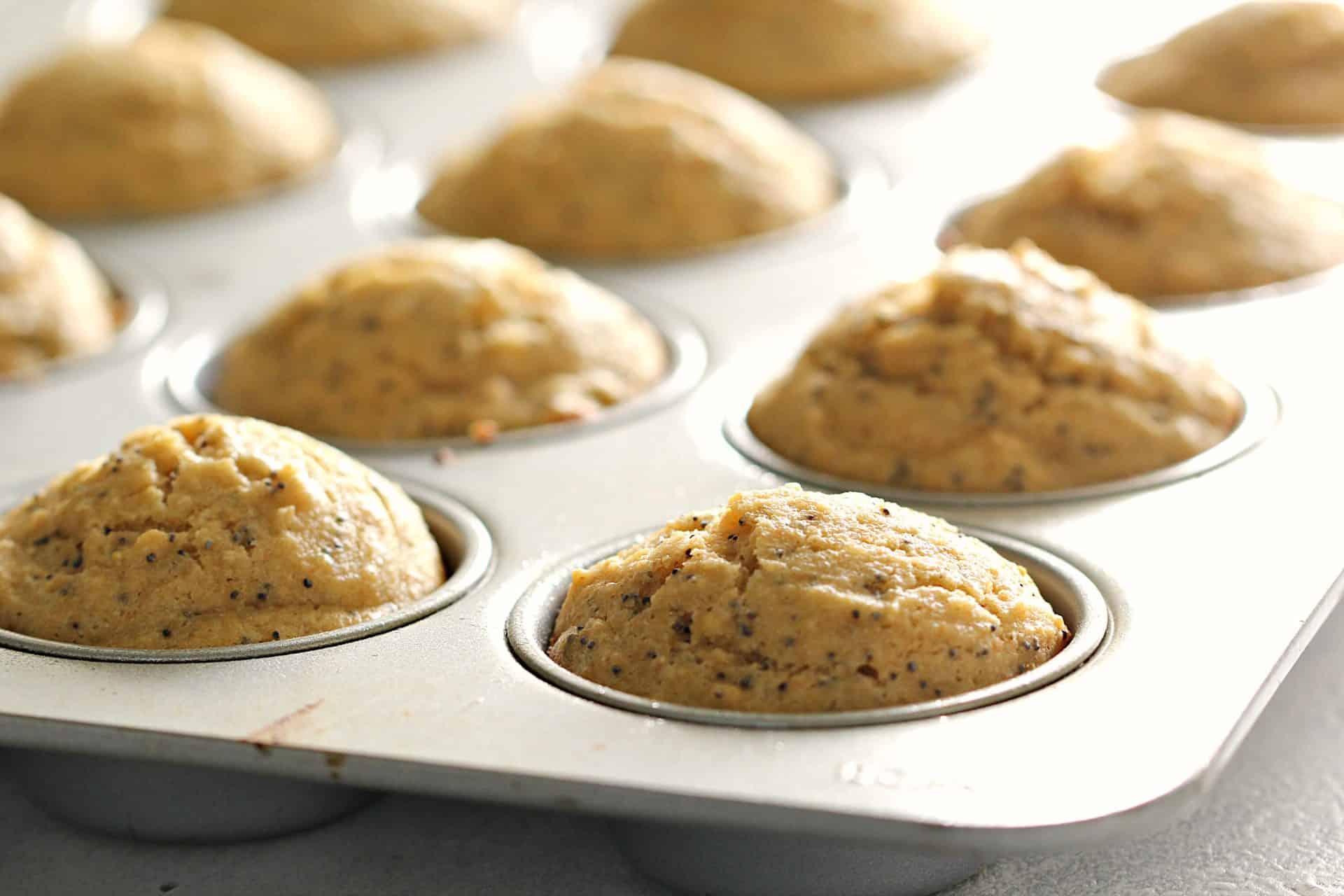 If you have any tips on healthier baking, I would love to hear them! Leave a comment below!
Be sure to check out some of our healthier desserts:
-Greek Yogurt Chocolate Fruit Dip
-Healthier Soft and Chewy Ginger Cookies
-Sheet Pan Banana Cake
-Fudgy Avocado Brownies
-No Bake Coconut Bars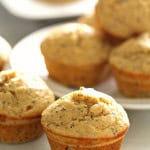 Healthy Greek Yogurt Lemon Poppy Seed Muffins
These muffins are full of lemon flavor and SURPRISE - they are pretty healthy for you too! 
Ingredients
2½

cups

white whole wheat flour

1½

teaspoons

baking powder

½

teaspoon

baking soda

¼

teaspoon

salt

¼

cup

coconut oil

melted

½

cup

honey

½

cup

plain greek yogurt

6

Tablespoons

lemon juice

freshly squeezed

2

lemons

zested

2

eggs

room temperature

2

teaspoons

vanilla

1½

Tablespoons

poppy seeds
Instructions
Preheat oven to 425 degrees. Place muffin liners in a 12-count muffin tin or spray with non stick spray. Set aside.

In a medium bowl, whisk together flour, baking powder, baking soda, and salt. Set aside.

In a large bowl, whisk together coconut oil, honey, yogurt, lemon juice, and lemon zest until fully combined. Add eggs and vanilla, and mix thoroughly.

Add dry ingredients to wet ingredients, stirring until just combined. Gently fold in poppy seeds.

Pour batter into prepared muffin tin, filling 3/4 of the way full. Bake for 5 minutes at 425 degrees then reduce heat to 350 degrees and bake for another 8 to 10 minutes, until muffins are golden on top and a toothpick inserted in the center comes out clean.

Allow to cool in pan for ten minutes before transferring to cooling rack to cool completely.

Keep in an air tight container for up to 5 days or keep in the freezer (we just put them in gallon-sized freezer bags) for up to 30 days - makes a great on-the-go breakfast or snack!
Nutrition
Calories:
198
kcal
·
Carbohydrates:
32
g
·
Protein:
6
g
·
Fat:
6
g
·
Saturated Fat:
4
g
·
Trans Fat:
1
g
·
Cholesterol:
28
mg
·
Sodium:
163
mg
·
Potassium:
87
mg
·
Fiber:
3
g
·
Sugar:
13
g
·
Vitamin A:
49
IU
·
Vitamin C:
13
mg
·
Calcium:
83
mg
·
Iron:
1
mg
Recipe Details