Ground Turkey Spaghetti Sauce is a delicious and guiltless recipe. Your favorite comfort food just got healthy. You could also make this dish into a freezer meal and make it ahead of time. Your family is going to love this healthy and delicious dinner that takes minutes to put together.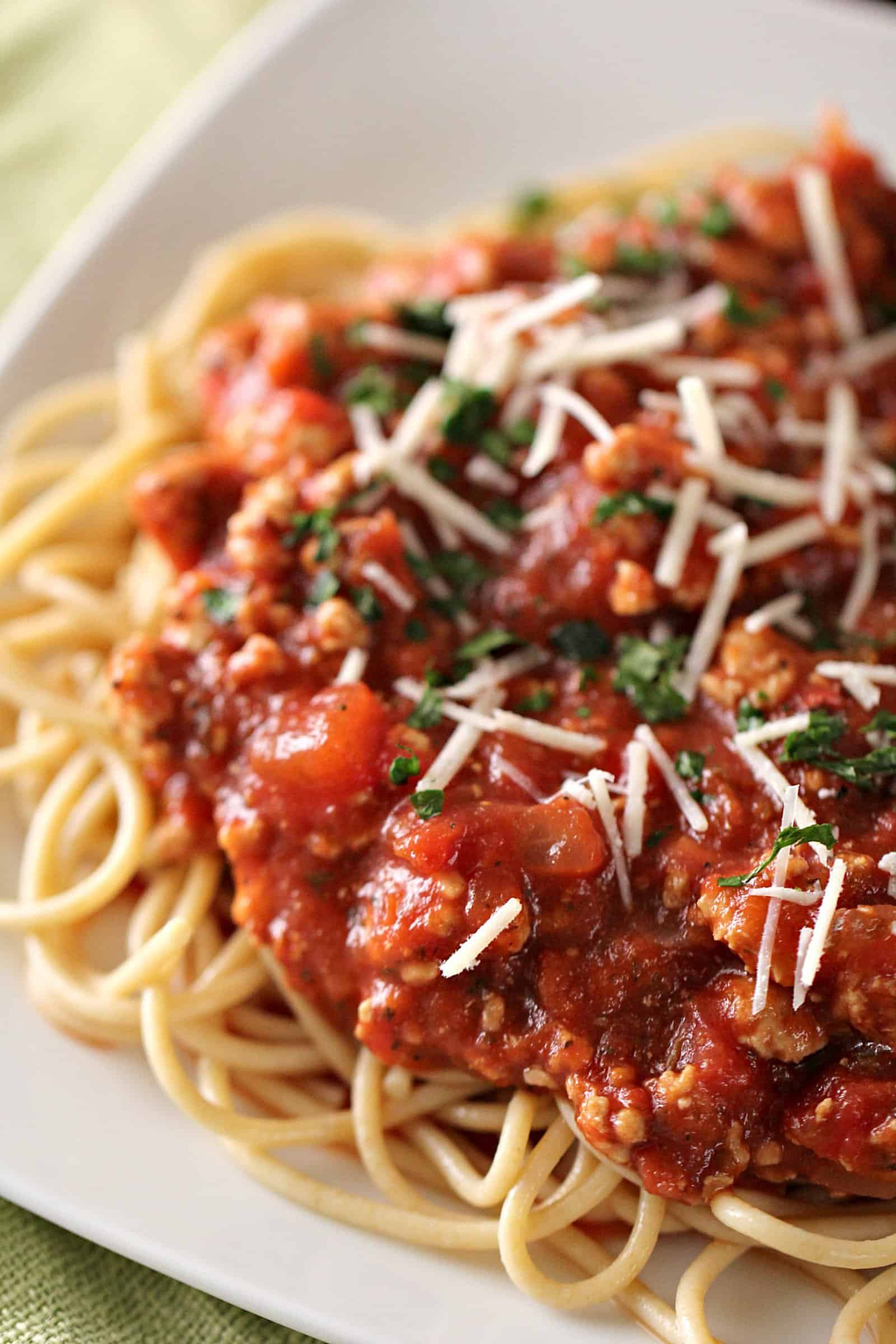 Sometimes making recipes from scratch can be intimidating, but this ground turkey spaghetti sauce is so simple to throw together that you'll never go back to buying store sauce again.
We love replacing ground beef with ground turkey as a healthier alternative.
The taste is still amazing and it cooks just the same. Your family may never know the difference.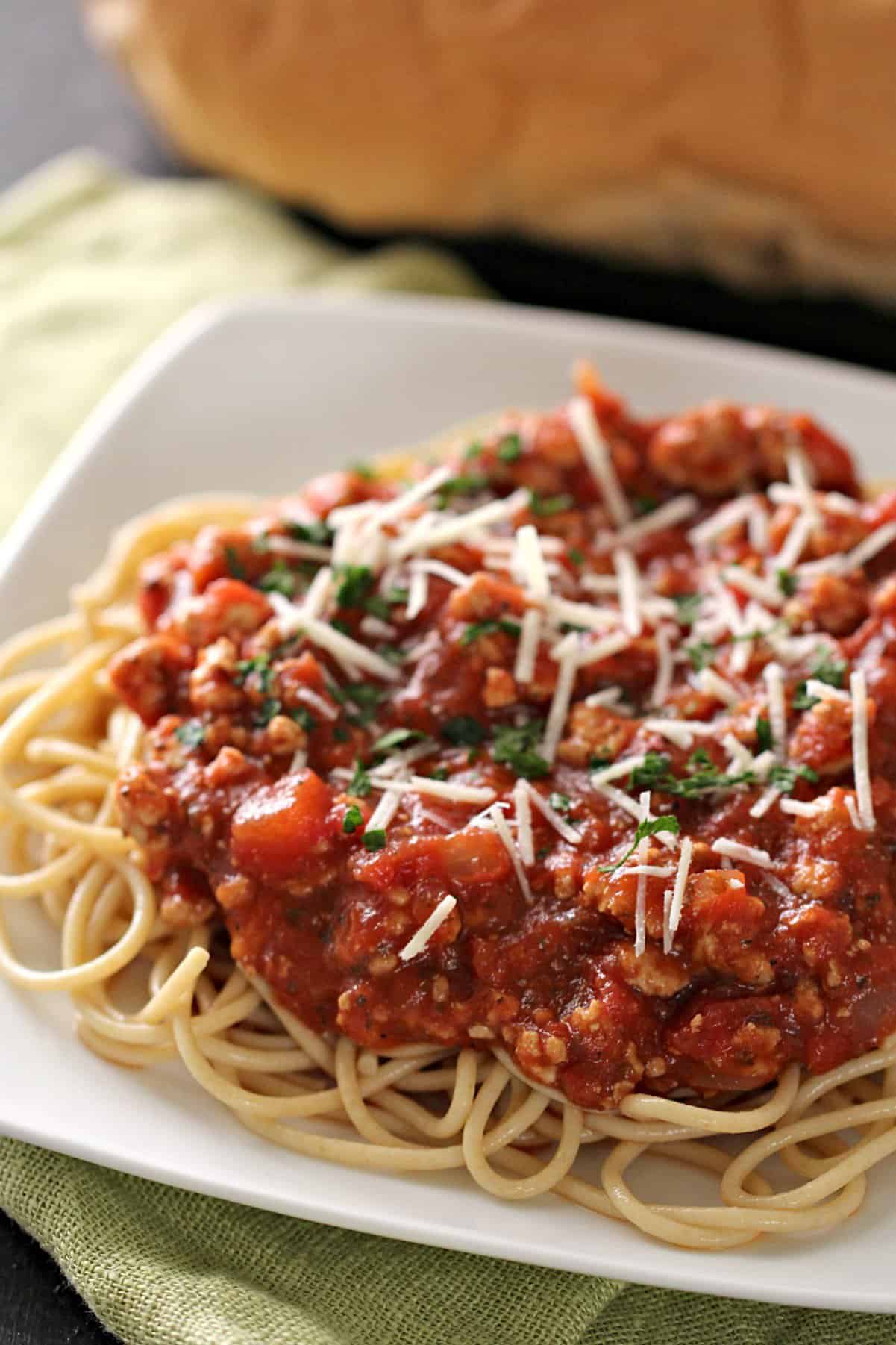 I try to use ground turkey in my recipes as much as possible, but if you don't have ground turkey on hand, you can also use lean ground beef.
Either meat tastes delicious in this recipe!
How to make ground turkey spaghetti sauce:
Step 1: In a large pot, brown the ground turkey over medium heat.
Step 2: Add in the onion and garlic and cook until softened. Then drain grease well.
We do this by rinsing the meat in water multiple times. We often use a strainer to do this.
Step 3: Place meat back in the pan and add tomato paste and crushed tomatoes, stirring until all is combined. Add chicken broth to thin it down a little bit.
Step 5: Add spices, butter, and salt and pepper and allow to simmer over low heat for about 15 minutes (just long enough to boil the water and cook the pasta).
Step 6: Taste and add more salt and pepper if needed. Serve over cooked noodles and enjoy.
How to brown ground turkey:
Browning ground turkey is just like browning ground beef.
Heat stove top to medium heat. In a large pan or skillet, add the ground turkey to the pan.
Using a spatula, preferably a metal one, cut up the ground turkey and continue to mash it until it is in tiny little bits.
Continue flipping and moving the ground turkey around the pan, to ensure it is all getting cooked through.
I am constantly moving it and dicing it up smaller and smaller with the spatula, as it cooks.
I do this for about 10 minutes or until the turkey is a light gray or brown and no pink is showing.
Be sure to keep the heat at medium heat.
If you increase the temperature, the meat won't cook evenly. There will be areas of pink and burned meat.
Keep it even and slow. Continue moving the meat and cutting it up smaller and smaller to ensure it is all cooked evenly and all the way through.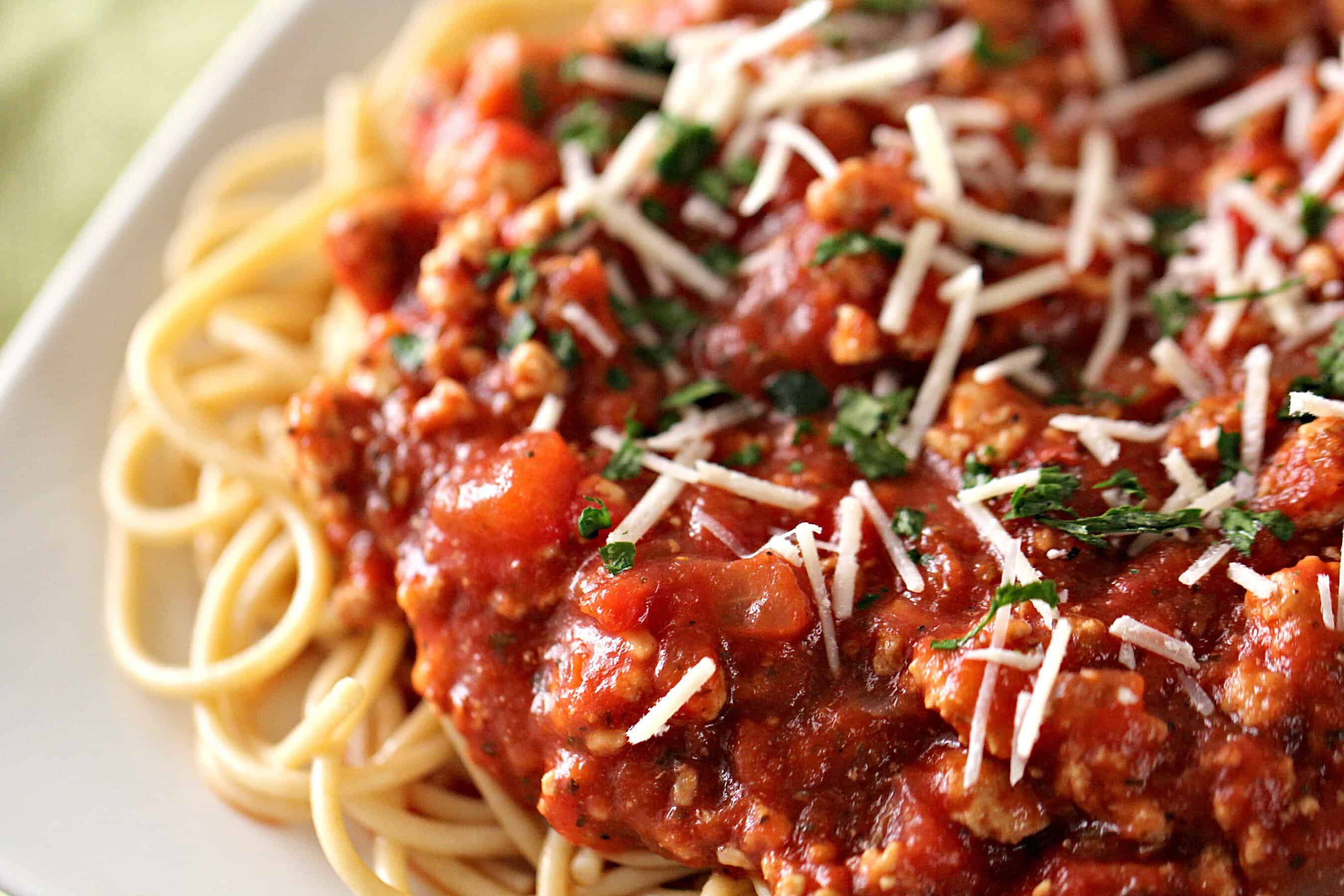 If you are looking for lightened up versions of your favorite recipes, be sure to check out our Weekly Healthy Menu Plan where we email you 6 dinners, 2 side dishes, and 1 dessert each week.
How to make this dish a freezer meal:
This dish could easily be made into a freezer meal.
Make the recipe as directed and let it cool. Once cooled but not cold, (just slightly warm), place the Ground Turkey Spaghetti Sauce into a large gallon freezer bag.
Release any extra air from the bag and zip it up tightly.
Wrap the bag up in foil to ensure no more moisture or freezer burn happens.
We recommend eating this freezer meal within 3-5 months of freezing.
We also recommend you make the noodles right before eating and not freezing them.
To thaw and prepare, place in fridge the night before you plan to serve it. You could also place it in a stock pot and heat up.
Microwave oven isn't recommended for reheating, because it dries out the meat.
However, if you are in a rush, you could remove the sauce from the bag, place the contents in a microwave safe bowl and heat until warmed all the way through, stirring throughout.