Our copycat chipotle corn salsa recipe is the perfect topping to make your own burrito bowl at home just like from Chipotle. It is an easy salsa recipe that is flavorful and you can also enjoy with your favorite tortilla chips.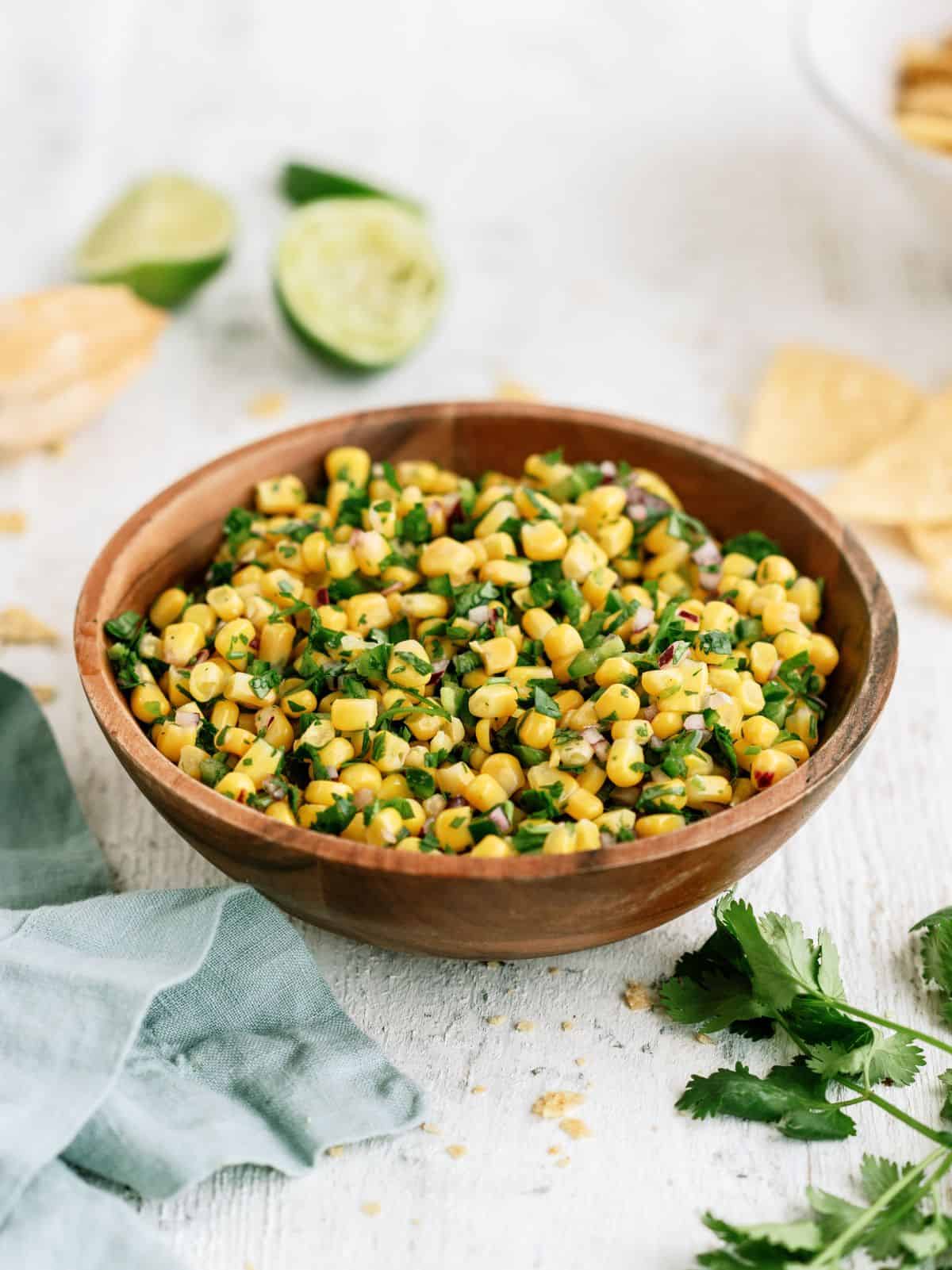 Making our copycat Chipotle corn salsa recipe has changed our take on burritos and tacos at home. Whenever I actually go to Chipotle I always get their corn salsa, so making a Chipotle corn salsa recipe was a must!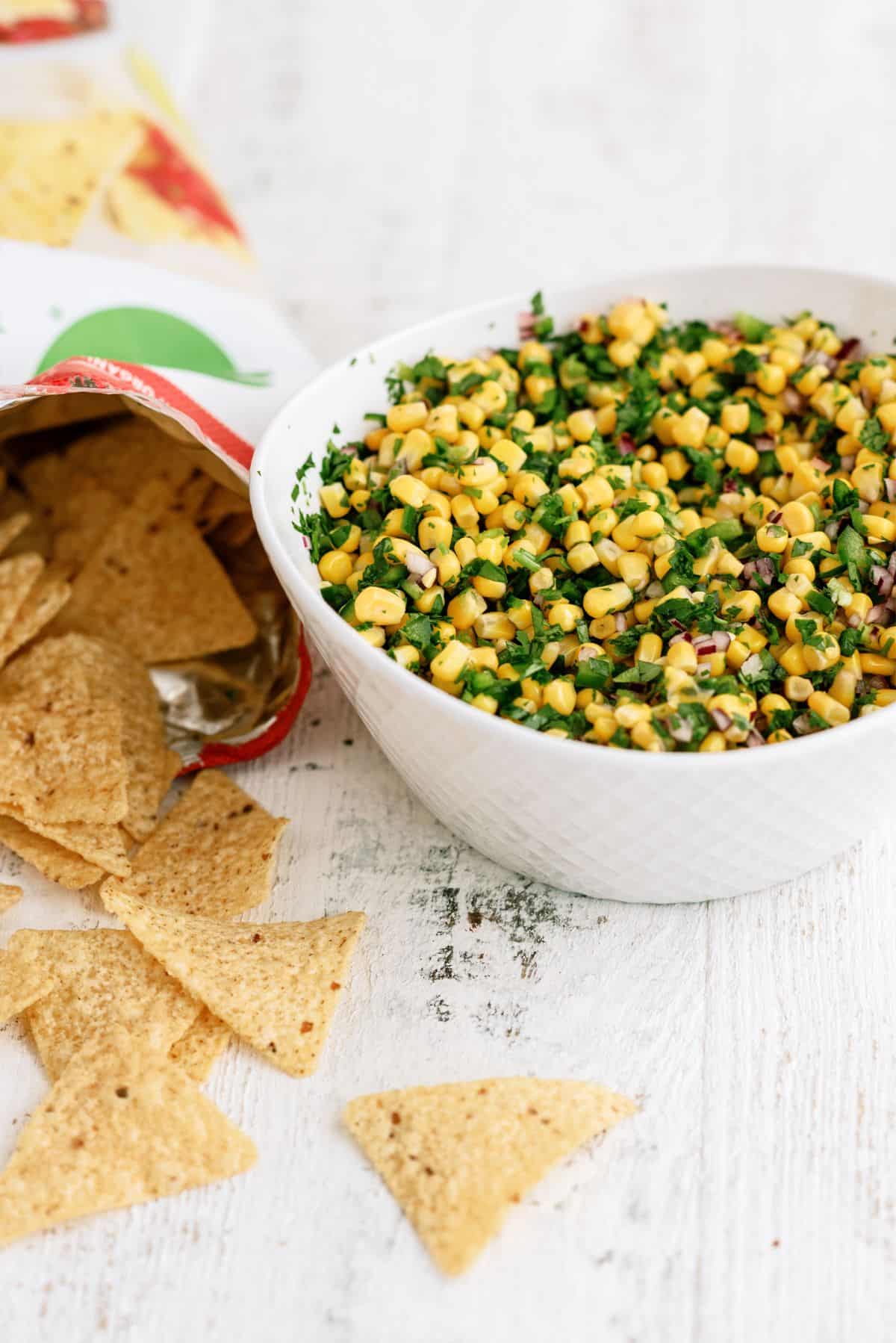 Plus it is literally the perfect potluck recipe to make! It is super simple and everyone will love and devour it. Just serve it with some tortilla chips and you are good to go.
I also like to serve it at get-togethers, it is always the star of all the appetizers. People cannot resist a good salsa recipe, so maybe double it depending on how many people you are hosting. 😉
This is also a wonderful recipe you can give to your little helpers if they want to help out in the kitchen. It truly is that easy, plus they always love to pitch in and enjoy eating when they put in the "hard" work. Haha.
Not to be corny (haha okay maybe) but a few other great recipes to make with corn that are poppin' (okay I'm done) are our Mexican street corn chicken tacos, copycat Disneyland chili lime corn on the cob, and some simple and delicious slow cooker creamed corn! Give them a try and let us know what you think.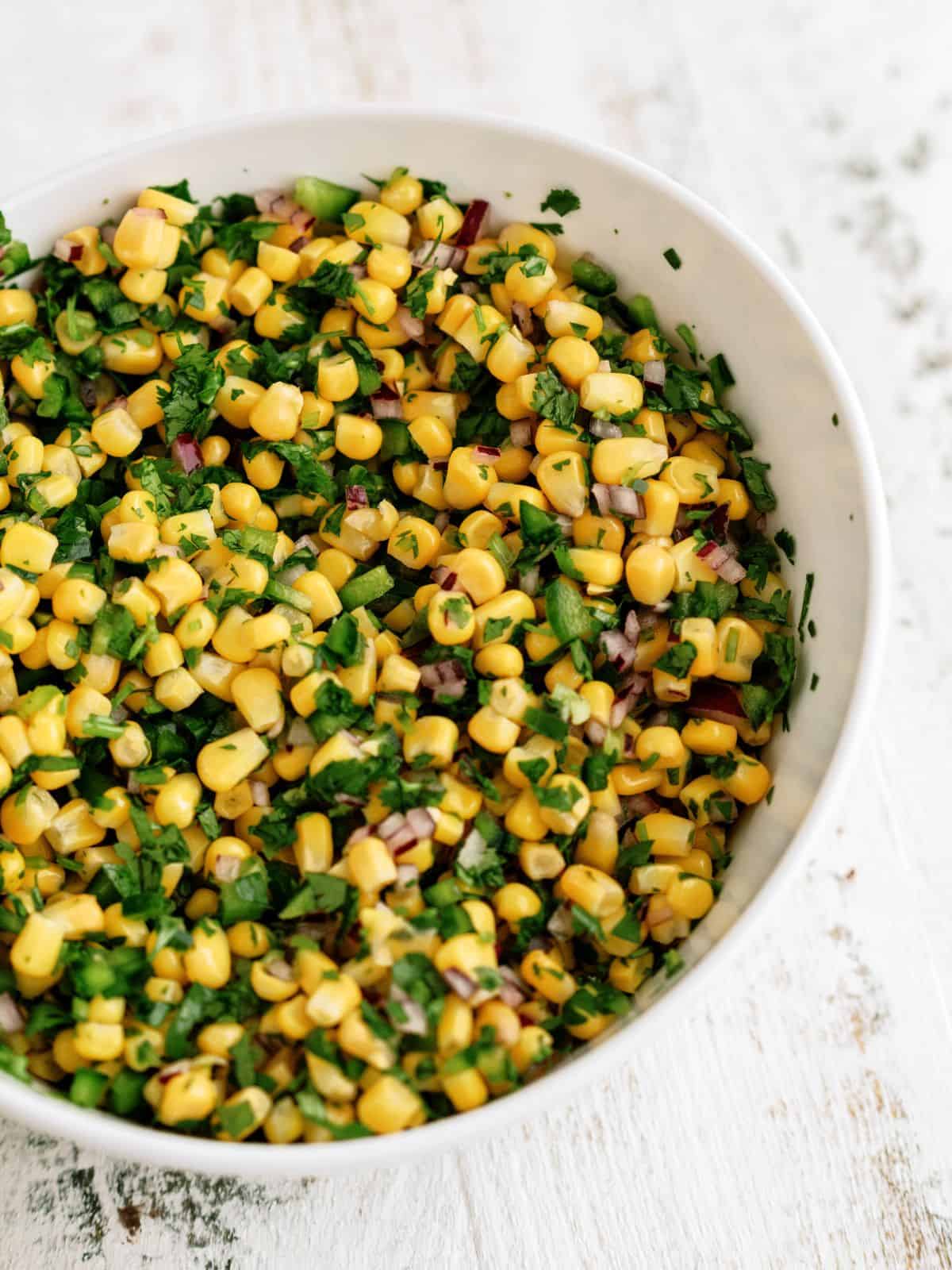 Ingredients You Need to For Our Copycat Chipotle Corn Salsa Recipe:
Frozen white corn (yellow corn can work too) completely thawed
Lime juice
Lemon juice
Red onion, finely diced
Jalapeno pepper, seeded and finely diced
Poblano pepper, seeded and finely diced
Fresh cilantro, roughly chopped
How To Make Our Copycat Chipotle Corn Salsa Recipe: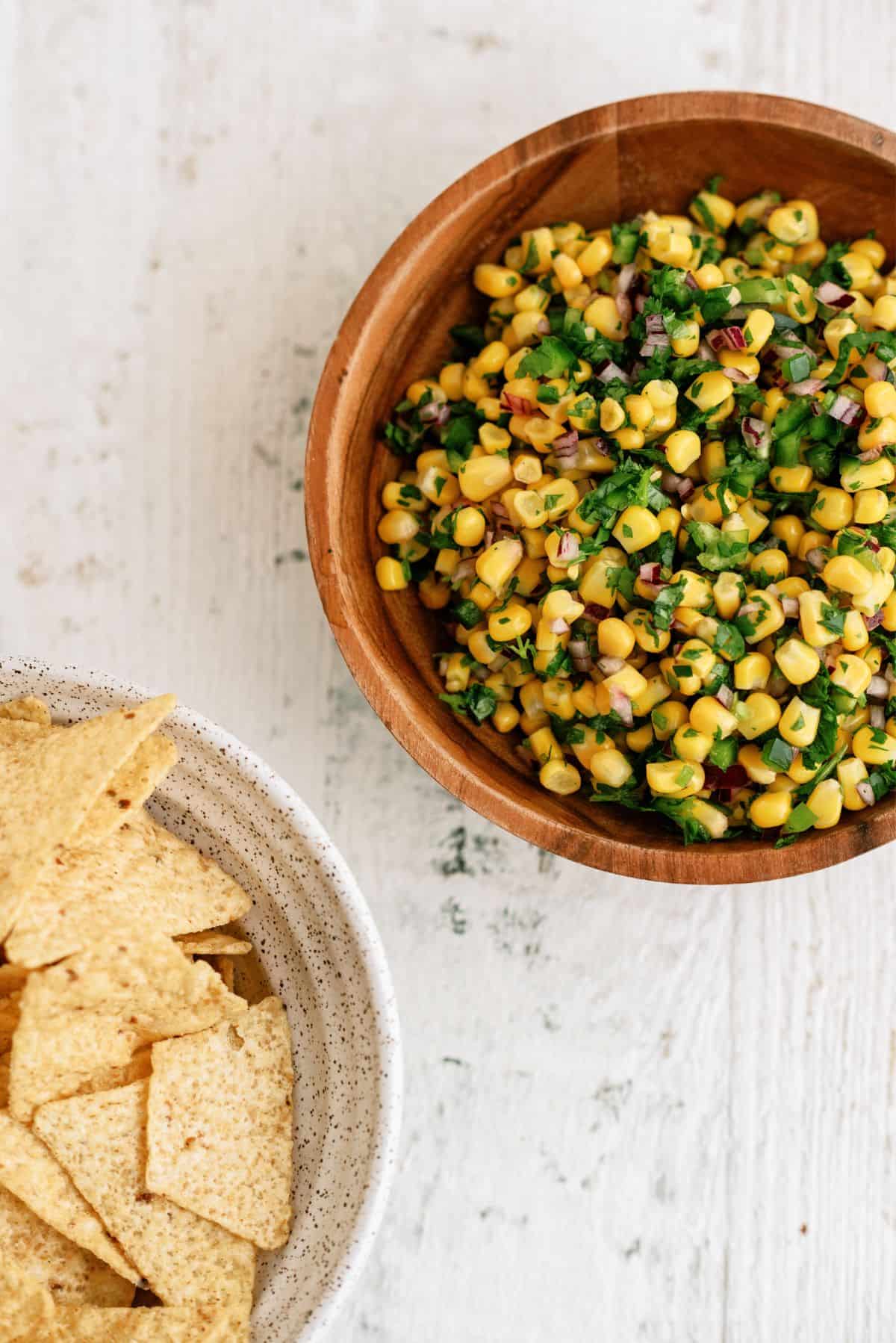 This recipe can be made in just a few simple steps with our list of Chipotle corn salsa ingredients.
First begin by dicing up the red onion, jalapeno pepper, and the poblano pepper all to a very fine consistency.
Then, make sure that your white corn has completely thawed out. If it is not, pour it in a bowl and run it under cold water, this will help it thaw a little quicker.
Once the corn has thawed out completely, strain the water out.
NOTE: If the corn isn't all the way thawed ahead of mixing you can have excess water in the salsa that will dilute the flavors.
After the corn is ready, place the white corn, ⅓ cup of diced red onion, diced jalapeno pepper, diced poblano pepper in a bowl and mix it together.
Then pour in the lime juice and lemon juice and add the freshly chopped cilantro and mix it all together.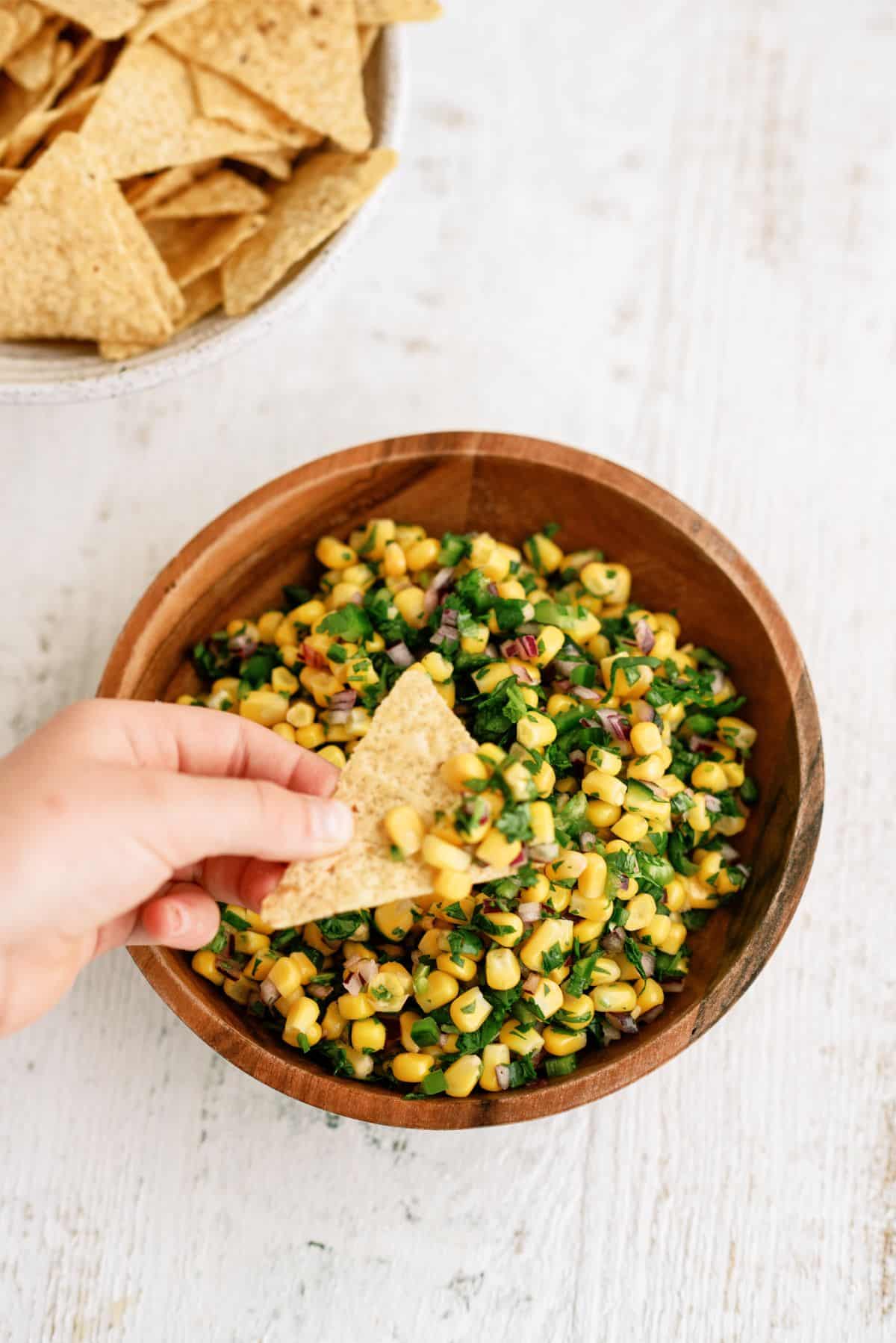 You can serve this salsa immediately when it is done and it will be good to go. However, I have found that I love it best after it has chilled in the fridge for an hour or two.
To Make This Chipotle Corn Salsa Recipe You Will Need:
Medium mixing bowl
Stainer (if the corn is not completely thawed)
Spatula
Airtight container (like THESE for storing the salsa afterwards)