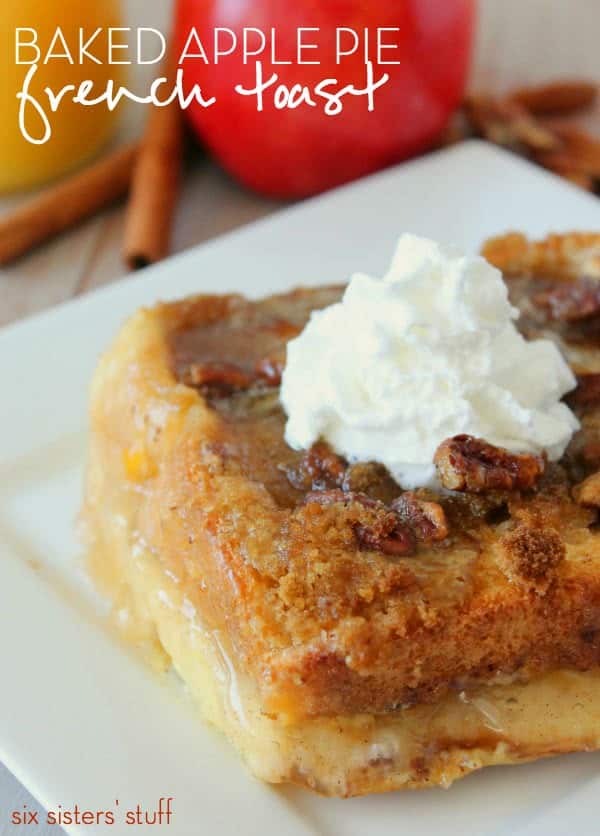 Merry Christmas Eve!
I wanted to share with you what we will be having for breakfast tomorrow morning . . .
Baked Apple Pie French Toast
Delicious French Toast combined with Apple Pie filling . . .
every breakfast-lover's and pie-lover's dream!
You could easily prep this the night before and let it sit in your fridge overnight or throw it together in the morning- I have done it both ways and it turns out perfectly no matter which method you choose.
Baked Apple Pie French Toast
Ingredients
20 slices French bread (1 inch thick) or other thick, dense bread
1 can (21 ounces) apple pie filling
8 eggs
2 cups 2% milk
2 teaspoons pure vanilla extract
1/2 teaspoon ground cinnamon
1/2 teaspoon ground nutmeg
TOPPING:
1 cup packed brown sugar
1/2 cup cold butter, cubed
1 cup chopped pecans
2 tablespoons corn syrup
Directions
Arrange 10 slices of bread in a greased 13-in. x 9-in. baking dish. Spread with pie filling; top with remaining bread. In a large bowl, whisk the eggs, milk, vanilla, cinnamon and nutmeg. Pour over bread. (If prepping this the night before, cover and refrigerate overnight and remove from fridge about 30 minutes before baking).
Place brown sugar in a small bowl. Cut in butter until mixture resembles coarse crumbs. Stir in pecans and corn syrup. Sprinkle over French toast.
Bake, uncovered, at 350° for 35-40 minutes or until a knife inserted near the center comes out clean. Yield: 10 servings.
Source: Taste of Home

You Might Also Like:
Ham, Egg, and Cheese Breakfast Roll-Ups
Gooey Caramel Breakfast Pull-Apart
Puffy Strawberry Cream Cheese French Toast