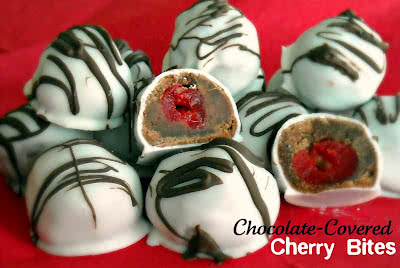 Cherries and chocolate are always a big hit- the best part is when you bite into one and find the cherry surprise! They are a fun (and easy!) treat for Valentine's Day.
*Some of you had tried these and they went flat, so we modified the recipe and they are turning out MUCH better. This is the modified recipe:
Ingredients:
1 1/2 squares of baking chocolate
1/2 cup butter
1/4 cup powdered sugar
1 (10 oz) jar maraschino cherries
2 T cherry juice from maraschino cherries
1 t vanilla
1 1/2 cups flour
1/8 t salt
White chocolate for dipping Directions:
Melt the squares of baking chocolate and add butter. Mix in powdered sugar, cherry juice, and vanilla.
Add the flour and salt and mix well. Knead together into a dough.
Pat dough tightly around each cherry, (make sure cherries are VERY dry).
Bake at 350 for 12 to 15 minutes. Cool thoroughly.
Melt white chocolate in microwave for 30 seconds and stir. Repeat until smooth and melted. Dip each cookie and allow to dry on cookie sheet lined with wax paper. Drizzle melted chocolate chips over the top of each cookie. Store in an air-tight container.