If you don't have a Kneader's where you live, this Chicken Bacon Avocado Sandwich recipe is a great replica with shredded chicken, bacon, and avocado!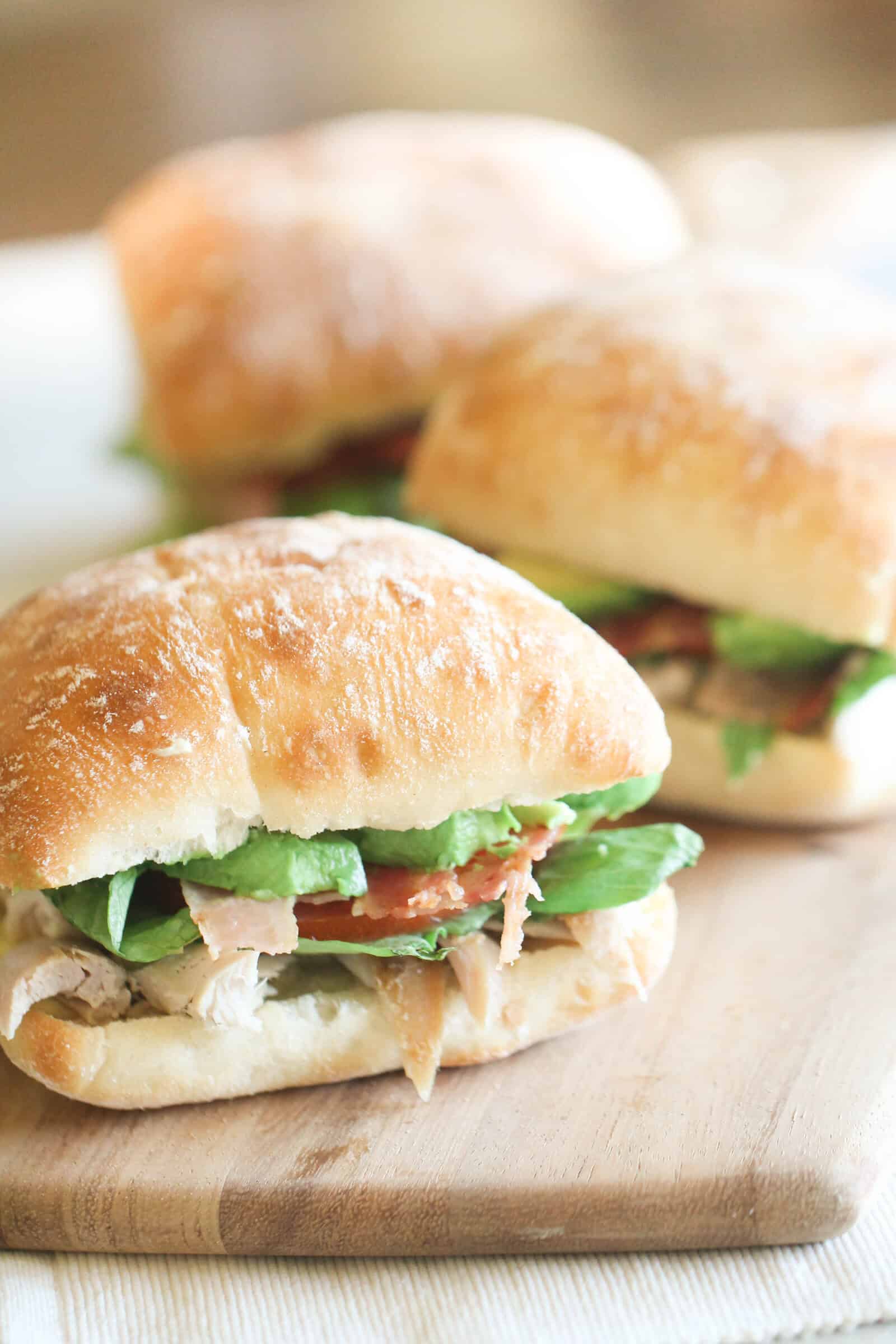 Whenever I visit Utah I always try and go to Kneaders to get this Chicken Bacon Avocado Sandwich. If you ever go there you must try four things:

1. Their bread. Doesn't matter what kind. You just need to try it.
2. Their waffles with their special syrup. (You are welcome)
3. Their sandwiches. This Chicken Bacon Avocado Sandwich is my FAVORITE!
4. The Desserts. Also doesn't matter what kind. They are all amazing!
Well, since I don't have a Kneaders here in Texas, I decided to try and make my own! Hope you like it!
Ingredients needed for this copycat Kneader's Chicken Bacon Avocado Sandwich:
½ cup real mayo
2 Tablespoon sour cream
2 teaspoon yellow mustard
1 boneless, skinless chicken breasts cooked and shredded
4 strips bacon cooked
2 slices Provolone cheese
2 large leaves lettuce
4 slices tomato
¼ red onion thinly sliced
salt and pepper to taste
1 avocado sliced
2 rolls Fresh focaccia bread or artisan bread/rolls
You can make this copycat Chicken Bacon Avocado Sandwich in 10 Minutes!
In a small bowl, stir together: ½ cup mayo, 2 Tablespoons of sour cream and 2 teaspoons of mustard.
Cut open your bread and spread the sauce lightly on both sides. Then add cheese, chicken, bacon, lettuce, tomato, onion, avocado, salt & pepper and place your bread on top!
(If using focaccia bread, cut it in half and serve. If you are using artisan bread/rolls it will make 2 servings)