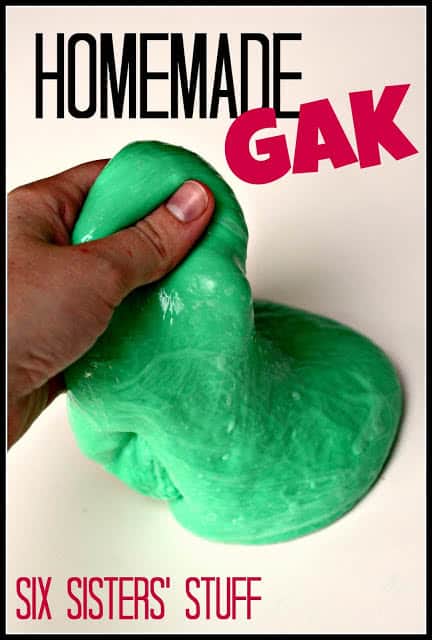 Winter is here . . . and it is CRAZY cold in Utah! The HIGH temperature for the day doesn't even reach 20 degrees and the low in the morning is usually a negative number. I try not to take my kids anywhere and so we are forced to find things to do to entertain ourselves.
The best part about this craft is that it seriously took less than 3 minutes to throw together and it entertained my kids for 2 straight hours! I am not even kidding!
 To make your own gak, this is what you will need:
-2 (4 oz) bottles of Elmer's glue (or one big 8 oz bottle like mine)
-1 teaspoon Borax (I bought that huge box of Borax at WalMart for less than $2. You can find it on the laundry detergent aisle)
-Water
-Food coloring
Empty your bottles of glue into a big bowl. Then fill the empty bottles with warm water, shake it up and dump it into the bowl with the glue. Add some food coloring (the more you add, the more vibrant your gak will be). Set the bowl aside.
 Fill a cup with 1/2 cup of warm water. Add the 1 teaspoon of Borax and mix until the Borax is dissolved. Pour the Borax mixture into your bowl and start stirring (I used a big wooden spoon to mix it up). You will see that it will start to get "stringy". When it becomes difficult to stir with a spoon, continuing mixing with your hands. Keep squishing it and kneading it until it starts to become gelatinous.
The more you play with it, the more "gak"-like it becomes!
I occasionally let my kids play with Play-Doh, but I hate it because it smells funny and when it dries out, it leaves a huge mess behind. This Gak doesn't smell at all and it doesn't dry out or leave a mess behind! When we are done playing, we just put it in a large Ziploc bag and save it for another day! It is awesome!
Kristyn over at Lil' Luna also has a cute idea to give this Gak as a gift . . . you can check it out
here
.