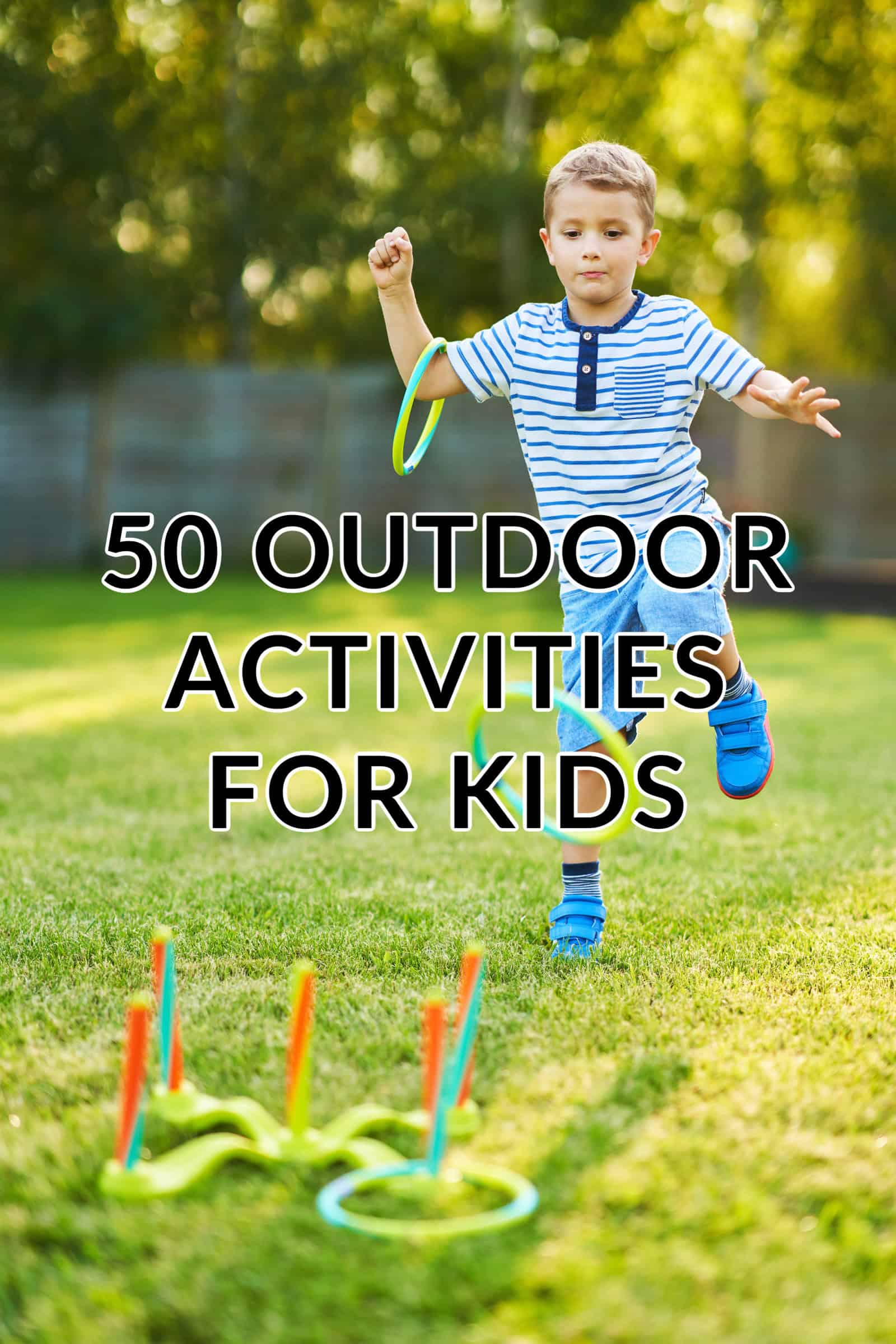 Summer's just around the corner and we LOVE summer vacation, but we get a little worried about entertaining kids for all hours of the day. We want to encourage our kids to unplug and go enjoy outdoor activities while the weather is so nice. I remember throwing water balloons back and forth as a kid with my whole family.
Just that simple time together was a great way to take advantage of the beautiful summer days at the local park. I also used to have so much fun at the water park, summer camp, going on nature trails, playing at the local playground, and even making mud pies in my own backyard.
To help you avoid that summer burnout (and us, too!), we rounded up 50 Outdoor Summer Activities just for kids that would be perfect to chase the bored blues away and keep the kids from turning into couch potatoes over the summer. The summer months can be hard, especially on a hot day.
These creative ideas are a fun way to encourage your older kids to spend time with the younger kids and keeps the entire family together during the summer break to have some outdoor fun.
Most of these fun summer activities can be done for free (or for pretty cheap). Just help the kids get set up with these activities and then let their imaginations run wild.
You could even turn this list into a family summer bucket list and check off activities as you do them. If you did one activity a day, it might get you through the middle of July.
After that, you are on your own! 🙂 This is the perfect way to keep kids of all ages entertaining and the best part is it gives the parents a break.
Follow these great ideas to keep your young kids enjoying their favorite summer activities all summer!
Paint with frozen Paint 

(This is my son's new favorite!)

Have a car wash
Have a read-a-thon outside (maybe in the shade if it's really hot!)
Make ice cream in a bag  

(pro tip: you probably have all the supplies at home!)

Play a game of drip, drip, SPLASH (think duck, duck, goose for summer!)
Make a bike obstacle course or games
Play with sidewalk chalk (check out these fun games!)
Decorate your own Hula Hoops.
Make a DIY Giant Jenga set
Clothesline art show – have the kids make the art, pass our invitations, and make it happen!

Make a PVC Pipe Sprinkler aka "Kid wash"
Play flashlight games (this is a great list!)
Sidewalk chalk paint

Paint the sidewalks with water.
Play a game of Scatterball (a favorite for us growing up!)
Go on a nature scavenger hunt (check out this cute printable)
Make a quick and easy DIY sandbox
Go on a bug hunt

Have a neighborhood parade. Dress up like princesses or firemen, decorate your bikes and wagons, even throw candy if you want! Invite all the neighbors to come and watch (This one's great for social distancing!)

Have a spoon race
 Buy some spray bottles and fill them with water for a water fight or add some washable paint to the bottles and spray large poster boards to make awesome art!
Have some marble races
Wrap a piece of masking tape around each child's wrist with the sticky side facing out. Go on a "Nature Walk" and collect items from nature (leaves, grass, small rocks, flowers, etc) and stick them on your masking tape "bracelet". Come home and compare bracelets!
Start a garden and let the kids do the planting, watering, and weeding.

Make giant bubbles with a huge bubble wand
Play frisbee tic tac toe
Make a lemonade stand (or even a DOLE WHIP stand)
Make a water balloon piñata
Play some outdoor glow stick games

Make a sponge bullseye
Paint rocks (check out this rock painting post for beginners)
Find a local Farmer's Market. Come home and prepare a meal with the food purchased from the market.
DIY Outdoor Movie Night complete with concession stands and our favorite popcorn

Make homemade popsicles and eat them on the lawn.
Go park hopping (make a goal to play at a new park each week)
Play "parachute" with a large sheet or get one off Amazon (just like the ones in elementary school!).
Have a banana split party- provide the bananas and ice cream and asks guests to bring their favorite topping to share with everyone else
Make your own stomp rockets (or you can buy one here)
Go on a photo scavenger hunt

Play in a water table (see how to make your own here)
Make your own kites and fly them
Play classic outdoor games from your childhood (red rover, red-light green-light, mother may I, or kick the can)
Have a s'more party (check out these fun s'more variations)
Play cornhole (you can even learn how to make your own set)
Do you have any other fun or cheap summer activities for kids? Leave a comment below, we'd love to keep growing this list and give everyone more ideas.