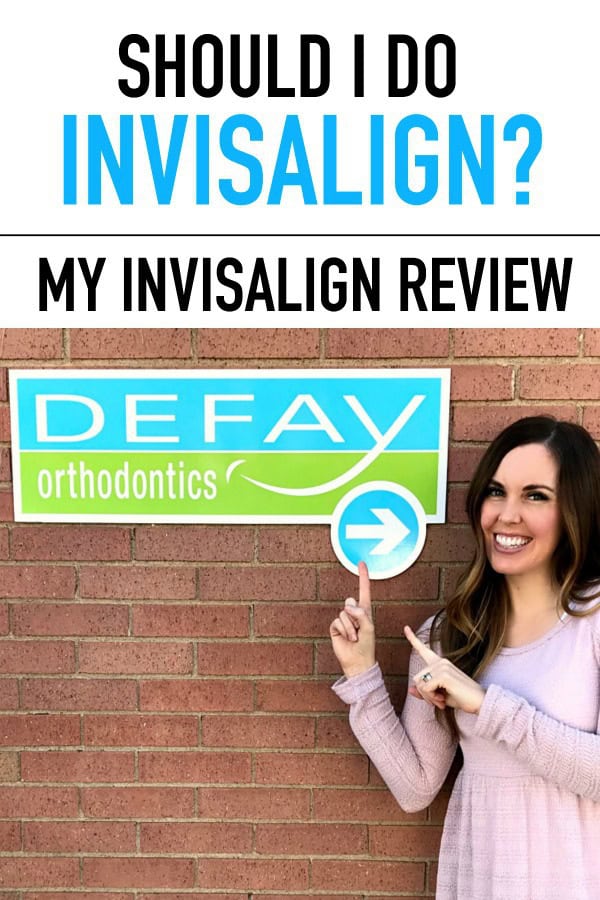 If you have been following my Invisalign journey with Defay Orthodontics, you know that I am now more than half way done with my treatment.
If you are in the Davis County area of Utah (Kaysville, Farmington, Fruit Heights, Centerville, etc), you will definitely want to check out Dr. Defay. All of his consultations are free – CLICK HERE to schedule an appointment!
As one who had braces as a teenager, it has been interesting to compare braces to Invisalign. While most teenagers still wear traditional braces, Dr. Defay puts most of his adult patients (about 90%) in Invisalign aligners.
Can I just tell you how much I have LOVED my Invisalign?!
So, let's break it down. I have gotten so many questions about it that I wanted to share how all about how Invisalign works!
No molds needed
When you get started, you first have a scan of your teeth. No need for those gross mouth molds that they used to do when I was a teenager – it's all done by an awesome state-of-the-art camera. The camera then pops out a 3D image of your teeth.
Using their software, your orthodontist will then fine-tune how they want your teeth to move. This technology is amazing because you will see what your smile will look like even before you start your treatment!
Once your digital plan is finalized, your personalized aligners are made using their amazing printing technology.
What are the aligners made of?
I was nervous that it was going to feel like I was wearing a mouth guard all day and night, but they are made of such a thin material that it does not feel that way at all!
Invisalign clear aligners are made of a really thin flexible plastic. It's actually a patented thermoplastic material that was invented specifically for Invisalign.
The material is FDA approved and does not contain latex, BPA, BPS, or gluten. Also, don't clean them with really hot or boiling water because it will cause them to become misshapen – that's how thin these liners are.
Also, each aligner is individually trimmed to fit with your gumline. It looks better, it feels better, and it fits your mouth and teeth perfectly. It's not a one-size-fits-all system.
Watch this video to check it out:

How long does Invisalign take?
When I had my braces, it wore them for just over 2 years.
For Invisalign, I was scheduled to have 35 sets of aligners (one new set for each week) . . . only 35 weeks!!! That is crazy. So much less time without all the pain.
I have some friends who use Invisalign that only have to wear the aligners for 6 months.
After I am done with the aligners, I will have permanent retainers put in to help me keep my new smile forever.
Does Invisalign cost more than braces?
Every person's treatment will vary in length, depending on how complex your case is.
For me, the cost of Invisalign was the same as braces.
At Dr. Defay's office, he offers a great payment plan which helps with the cost greatly.
Many times insurance will also cover the some of the cost of Invisalign, so be sure to check if that is an option for you!
If you want to check out my Invisalign consultation at Dr. Defay's office, watch this video:
I am now on week 25 of my 35 weeks, so I am getting close to the end. I can't wait to share my before and after pictures – it is CRAZY to me how much my teeth have moved and how little pain I have felt because of it.
It has been an amazing experience so far. Stay tuned for the big reveal!
For more info on Invisalign, be sure to check out my other posts: