Szechuan Chicken is a simple, spicy twist to chicken stir-fry. It is full of vegetables, protein and amazing Asian-inspired flavor. If you are looking for a Chinese take-out recipe to make at home, try this Szechuan Chicken!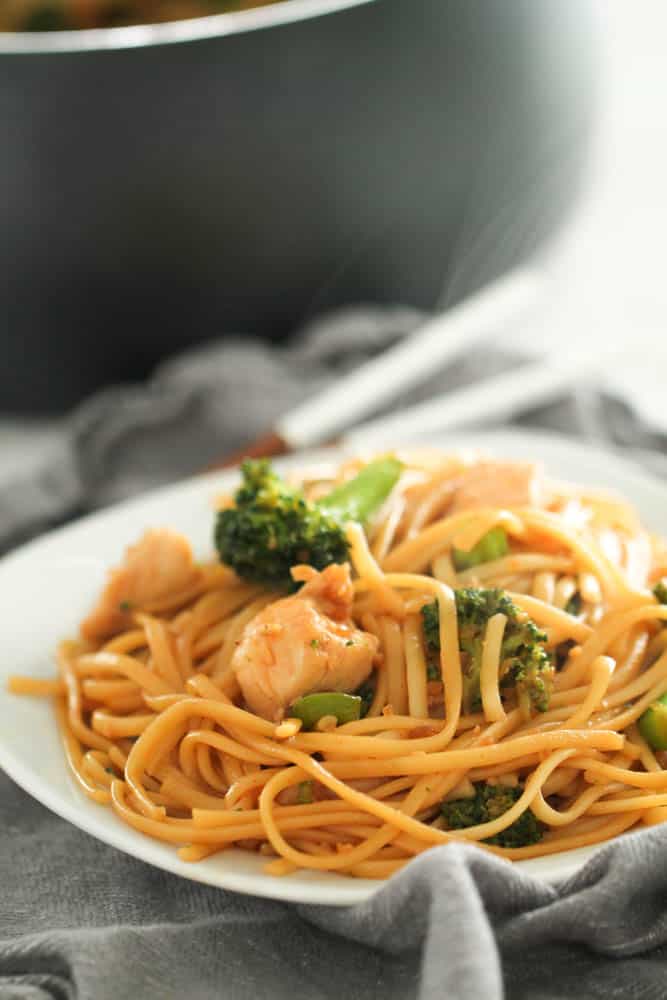 Chinese take-out Szechuan Chicken and Noodles
This Asian inspired Szechuan Chicken and Noodles Recipe stir fry dish is extremely high in calories at most Chinese restaurants, but making it from home allows you to put ingredients in that are good for you and have better nutritional value.
Going out to dinner for Chinese is so great, but have you ever tried staying in and making your own? Not only will it save you money, but it is so much healthier.
This is the perfect make-at-home takeout dish that your family will love.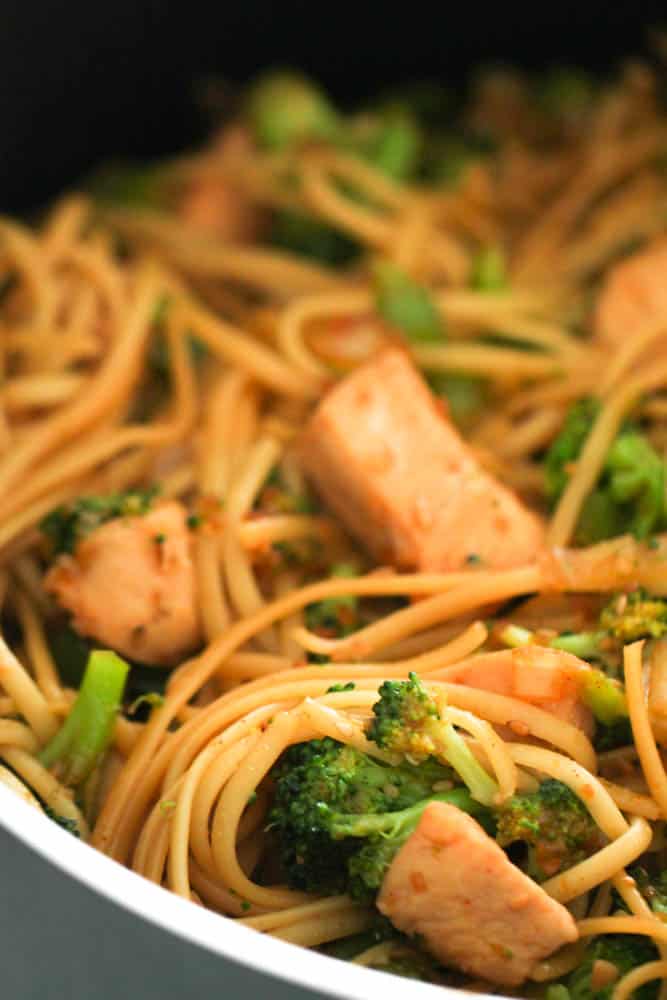 My favorite thing about this recipe is that it is all made in one pan! So not only is this recipe so easy to make, but the clean up afterwards is a breeze. It doesn't get much better than that.
Make this Szechuan stir fry dish your own:
If you have picky eaters, don't panic. This Szechuan chicken recipe was made for picky eaters. I love how flexible this recipe is because you can add or switch out any ingredients you need to.
If you are looking to add a few more vegetables, go for it! This is a stir-fry so anything goes.
We love adding zucchini, water chestnuts, green beans, carrots, celery, peppers, etc. The possibilities are endless. If you have vegetables lying around, throw them in.
If you aren't much of a noodle person, no stress. Rice would also go perfectly with this Szechuan Chicken dish.
You could even make our delicious Fried Rice to go with this recipe.
Make Chicken Szechuan and Noodles a freezer meal:
This recipe could easily be made into a freezer meal.
Throw your raw chicken breast pieces, peppers, onion, broccoli, garlic and paprika into a gallon-sized resealable freezer bag. Pour in the sauce, zip up the bag, and shake until it's fully combined. Place in the freezer until ready to serve. We recommend using the freezer meal before 3 months of putting it into the freezer.
When you are ready to use it, place contents into a slow cooker and cook on low for 4-5 hours. Make your noodles or rice according to package directions.
Because the sauce and juices will cook into the chicken, you may want to have a little extra sauce on hand to pour over the finished product.
Serve warm and enjoy!
Wanting more Chicken and Noodles, try our Instant Pot Chicken Noodle Soup Recipe (Dump and Go)