Perfectly gooey lava cake taken to the next level with a delicious salted caramel filling. Topped with ice cream and more caramel, this is a decadent dessert everyone is bound to love.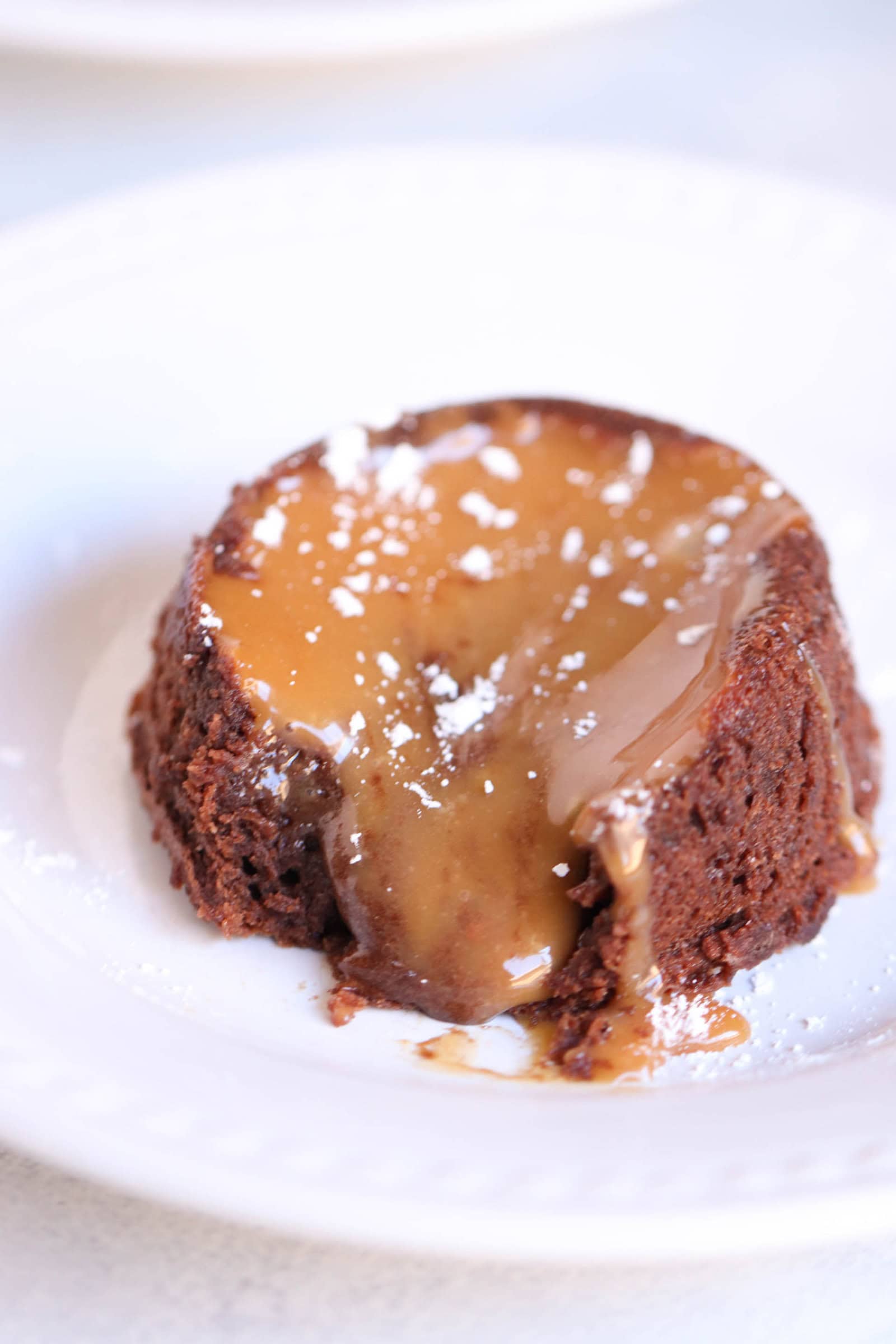 Are you a fan of Lava Cake? WE ARE! Elyse even served this lava cake at her wedding.
Perfectly moist chocolate cake with a gooey center and filled with salted caramel – it's a delicious dessert that actually isn't hard to make!
Tips for making Salted Caramel Lava Cakes:
Invest in some oven-safe bowls or ramekins. You can use 1-cup ramekins and make 4 cakes, or use the half-cup size to make 8 (you can see the half-cup size in the photos below).
Make sure you spray the bowls with nonstick cooking spray. We'd recommend Pam or Baker's Joy.
Whether you're using pyrex or ramekins, we'd still recommend cooking them on a cookie sheet. Just in case anything overflows, it will save you a lot of clean-up in the long run.
Let the cakes rest for 2-3 minutes so they come out cleaner, but not much more than that. You still want your cakes to be gooey and warm when you dig in.
How to make Salted Caramel Lava Cakes
In a small pan over low heat, combine caramels, milk, and salt, stirring constantly until smooth. Set aside and let cool.
Preheat oven to 400 degrees F.
In a microwave-safe bowl combine chocolate chips and butter. Microwave for 2 minutes and whisk until smooth.
Whisk in powdered sugar until combined, then add in 3 eggs and 1 egg yolk, and continue whisking until combined. Add vanilla and flour and mix again.

Generously spray four 1 cup oven-safe cups with cooking spray, and evenly fill with batter.
Spoon a generous amount of caramel into each cup (reserve the rest of the caramel for serving).
Bake on a cookie sheet in the oven for 13-15 minutes until the outer edges are set and the center is still soft.
Remove from oven and let cool for 2-3 minutes before inverting onto a plate. Top with ice cream (optional) and more caramel (optional) and serve warm.