These Red Velvet Cake Bites are the perfect festive dessert, all year long, but especially during the holidays. If you are looking for a rich and delicious dessert, this is the one you need to try. They are out of this world.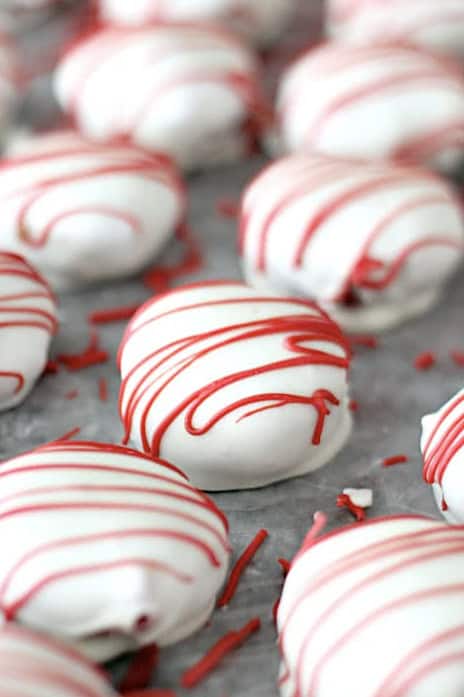 These Red Velvet Cake Bites taste like they are straight from a bakery!
There is a delicious shop here in Utah called The Sweet Tooth Fairy that makes the yummiest little baked goods – including cake bites.
Cake bites are basically the cake and frosting mixed together, then dipped in chocolate.
When our sister Stephanie moved to Los Angeles, she had some cake bites shipped out to her because they are just so amazing.
It got me thinking that these wouldn't be that hard to make at home.
One batch of cake bites makes a ton, so they would be perfect to give out as gifts or treats for neighbors.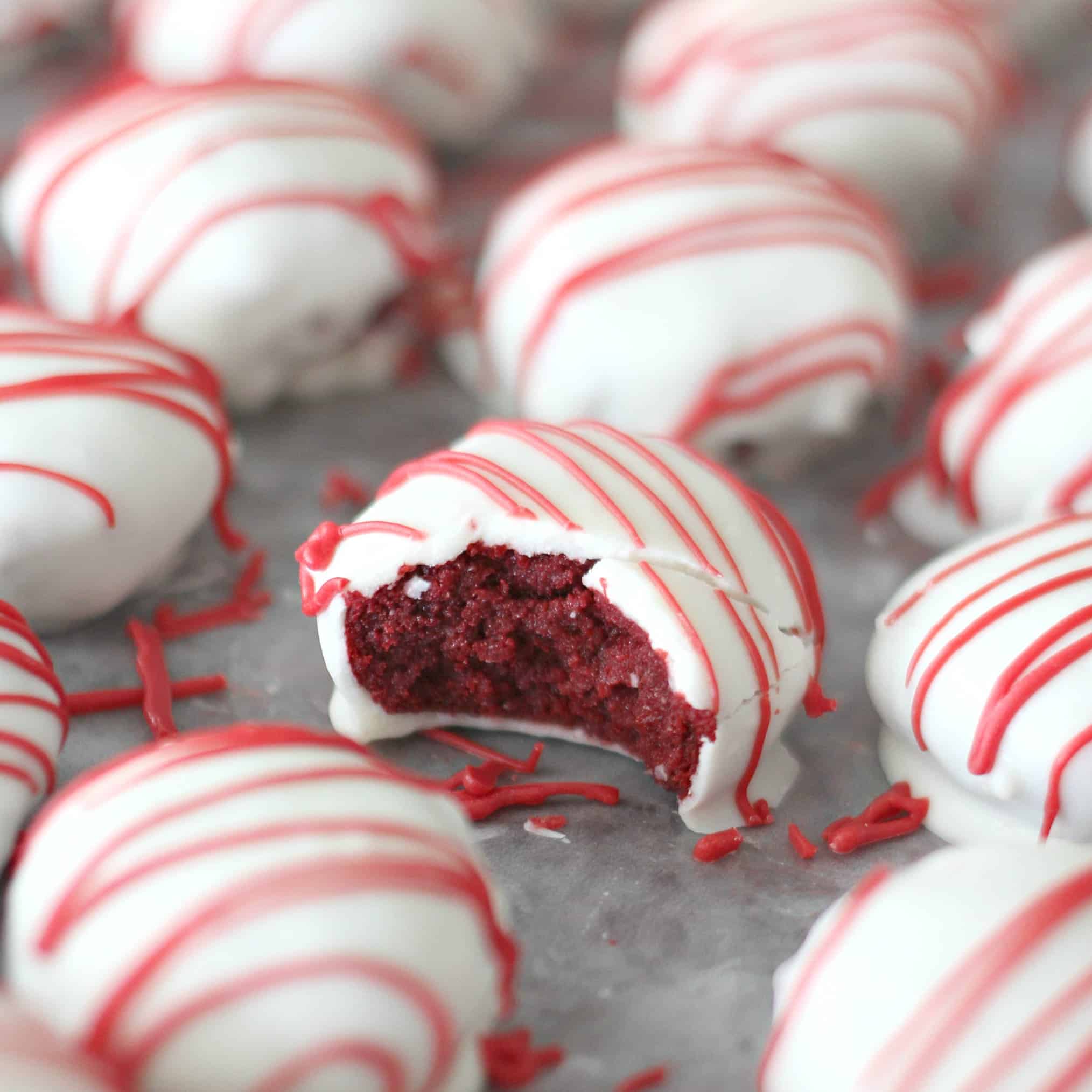 How to make red velvet cake bites:
Step 1: Bake the cake according to directions on the package. You will also use the ingredients that the box asks for.
Let the baked cake, cool completely (I put mine in the freezer for about 45 minutes to cool it down super fast, but you could also let it cool overnight).
Step 2: Using your hands or forks, crumble the baked and cooled cake. I found that it was easiest to just use my hands to completely crumble the cake, but you could also use forks.
You will want to do this step, using a large bowl, because you will be adding your frosting to it next.
Step 3: Stir in your container of frosting (or homemade, if you choose to use that), about 1/2 a cup at a time. Once it reaches a nice consistency that will hold together when you roll it in a ball, it's perfect.
Remember that you can always add frosting, but you can't always take it away. You will want to add a little bit of frosting at a time.
Don't add the frosting all at once because if it becomes too gooey, they won't work, and you won't be able to roll them into balls.
Step 4: Roll the mashed cake and frosting into balls. You can go as big or as small as you'd like, but keep in mind that these little bites are rich, so most people prefer smaller.
If you want them to look more like authentic cake bites, smoosh them down so that they are shape of a disc (not so rounded-out like a ball).
Step 5: Place bites on a large baking sheet (like a cookie sheet) and place them into the fridge for about 30 minutes to set up.
I covered my cookie sheet with parchment paper, but you could also use wax or aluminum foil.
Step 6: Melt white chocolate candy coating according to directions on back of package. I then used a skewer to dip each ball- I would poke it into the cake ball and dip it into the melted bark.
I had to rotate each bite a couple of times to make sure it was evenly covered with chocolate. Stick the cake bite back onto the pan or onto wax paper.
Step 7: Let the bites set up. I stuck them back into the fridge because I wanted them to harden quickly, but you could leave them out and they will be just fine.
If you are going to decorate them with sprinkles, make sure to do it before the candy coating hardens.
If you are doing to drizzle with red candy melts, it works best if the cake bite coating has completely set up.
To drizzle the candy melts on top, melt candy according to package directions. Spoon melted candy into a resealable sandwich bag.
Clip a TINY corner on the bag and drizzle the candy melts onto each bite.
Related Recipe: Looking for more Red Velvet recipes? Try our Red Velvet White Chocolate Chip Cookies and our Red Velvet Oreo Cookies!