There is nothing better than a soft and chewy Oatmeal cookie. And then add a thin layer of icing to take these cookies over the top.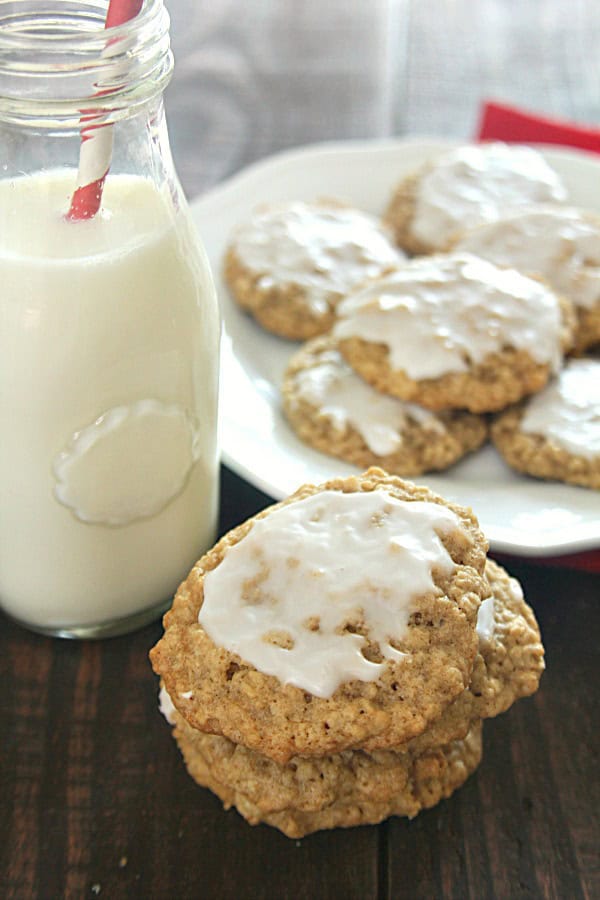 Does it get better than Iced Oatmeal Cookies?
Chewy oatmeal cookies topped with the perfect amount of icing . . . these cookies are always a hit!
If you wanted to, you could add raisins to these Iced Oatmeal Cookies, but you definitely don't need to!
Ingredients needed to make Iced Oatmeal Cookies:
Oatmeal Cookies
1 1/2 cups old fashioned oats
2 cups all-purpose flour
2 teaspoons baking powder
1/2 teaspoon baking soda
1/2 teaspoon salt
1 1/2 teaspoon ground cinnamon
1/2 teaspoon ground nutmeg
1 cup butter (softened)
3/4 cup sugar
3/4 cup light brown sugar
2 large eggs
2 teaspoons vanilla
Icing
2 cups powdered sugar
3 Tablespoons milk
How to make Iced Oatmeal Cookies :
Preheat oven to 350 degrees.
Pour oats into a food processor or high-powered blender and pulse until partially ground, about 15 seconds. In a large bowl, whisk together flour, baking powder, baking soda, salt, cinnamon, nutmeg and ground oats until completely incorporated.
In a separate large bowl, cream together butter, sugar and brown sugar until light and fluffy (about 3 minutes). Add in eggs one at a time, mixing until combined after each addition. Stir in vanilla.
Slowly add in dry ingredients to wet ingredients and mix just until combined.
Scoop dough out onto baking sheet (I used a silpat liner) in heaping tablespoonfuls. Bake in preheated oven for 11 – 15 minutes. Allow cookies to rest on baking sheet several minutes before transferring to a wire rack to cool completely.
For the icing, whisk together powdered sugar and milk in a mixing bowl and dip tops of cooled cookies in icing and allow excess to run off or alternately spread icing over cookies. Return to wire rack and allow icing to set. Store in an airtight container at room temperature.