*This post is sponsored by Kroger, but all opinions are my own.*

A few years ago, I hosted my first Thanksgiving dinner.  Not only was it for my family, but for my entire extended family as well.
My husband and I thought we had everything all figured out and had planned to serve ham and smoked turkey.  He woke up so early in the morning to prepare and start smoking the turkey.
Our smoker was located on the side of the house and we checked on it periodically when suddenly a HUGE windstorm rolled in.  We live at the mouth of a canyon, so the the winds are pretty powerful.
Over 30+ people were going to be coming in less than two hours so I was frantically finishing up all the side dishes and desserts while he was out battling the storm.
He tried to roll our smoker (with a giant turkey inside) around the house and safely into the garage.  However, it didn't go as planned.  Our smoker blew over and our beautiful turkey rolled down the driveway into the gutter.
The HORROR!  He frantically carried that smoked bird in the house and we were scrubbing it down trying to salvage what we could.  In the hustle and bustle of our turkey fiasco, a few other minor casualties occurred and we may or may not have served my in-laws a turkey that had rolled down my driveway and some charred side dishes.
I can laugh about it now, but at the time I vowed to never host another stressful holiday dinner (or smoke a turkey ;))!
As you can tell by now, we have faced a stressful holiday dinner or two in our time so we decided to share a few of our holiday dinner hacks so you don't run into the same problems we did!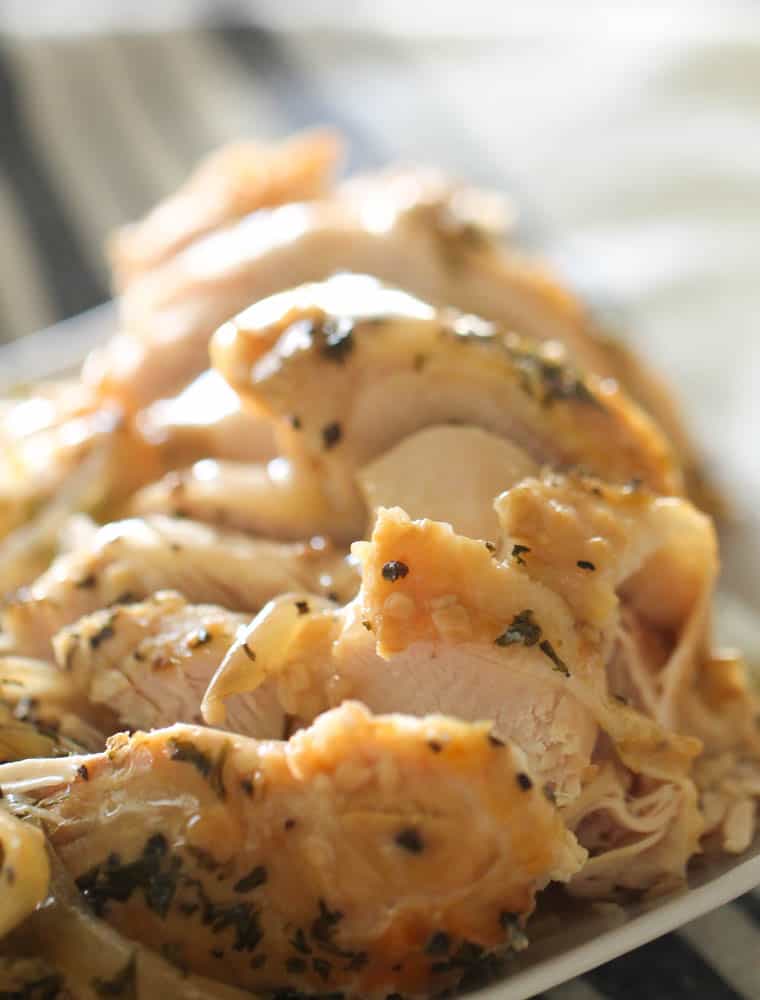 My favorite way to prepare turkey is in my slow cooker!  Oven space is prime real estate when it comes to holiday dinners, so free up some space by using your slow cooker.
This Slow Cooker Savory Turkey and Gravy is seasoned to perfection and can be made right in your slow cooker.  I love using a turkey breast because it still provides a lot of meat for hungry friends and family, but you don't have to worry about dealing with an entire turkey.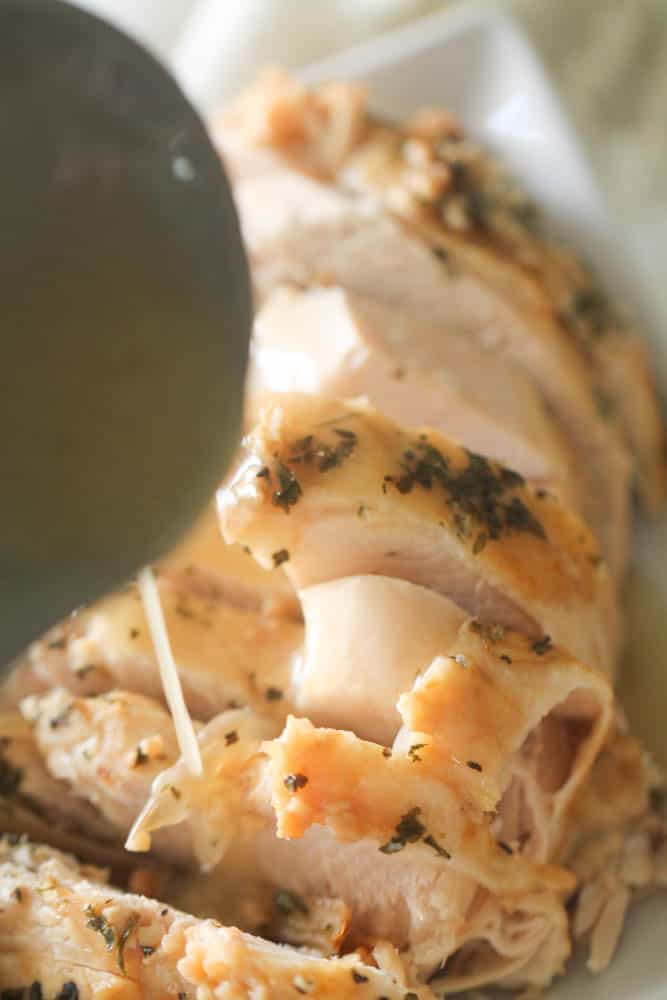 To make the gravy, you simply use strain all the liquid from the slow cooker into a sauce pan.  Whisk together some cornstarch and water until smooth and whisk it into your drippings.  Continue to whisk this mixture over medium heat for 5 minutes or until it reaches your desired consistency and serve over your turkey or mashed potatoes.
Elyse
Serves: 8-10
Savory Slow Cooker Turkey Breast with Gravy
Juicy, savory turkey breast that can be made in a slow cooker. Use the extra drippings to make a delicious gravy!
10 minPrep Time
8 hrCook Time
8 hr, 10 Total Time
Ingredients
1 (3 pound) frozen turkey breast, thawed according to package directions
2 cups chicken broth
1 onion, cut into slices
4 teaspoons minced garlic
1 teaspoon dried parsley
1 teaspoon dried oregano
1 teaspoon dried basil
1/4 cup cornstarch
1/4 cup water
Instructions
Fully thaw turkey according to package directions and remove all packaging.
Spray slow cooker with nonstick cooking spray and lay turkey breast in the bottom of slow cooker.
Pour chicken broth over turkey.
Sprinkle on onion slices, garlic, parsley, oregano and basil.
Cover and cook on low for 8-9 hours, or until the internal temperature of the turkey reaches 165 degrees F.
Remove turkey from slow cooker and place on serving platter.
To make the gravy, strain all the liquid from the slow cooker into a sauce pan.
Whisk together cornstarch and water until smooth, then whisk into saucepan.
Stir over medium heat for 5 minutes, or until gravy reaches desired thickness.
Slice turkey and serve with gravy.
7.8.1.2
3951
https://www.sixsistersstuff.com/recipe/holiday-dinner-hacks-with-kroger-home-chef-side-dishes/
A lot of people worry so much about the main dish of their holiday dinner that side dishes can often be an afterthought.  I was SO EXCITED when I heard Kroger was releasing these Home Chef Holiday Side Dishes!  They an answer to my stress-free holiday dinner prayers!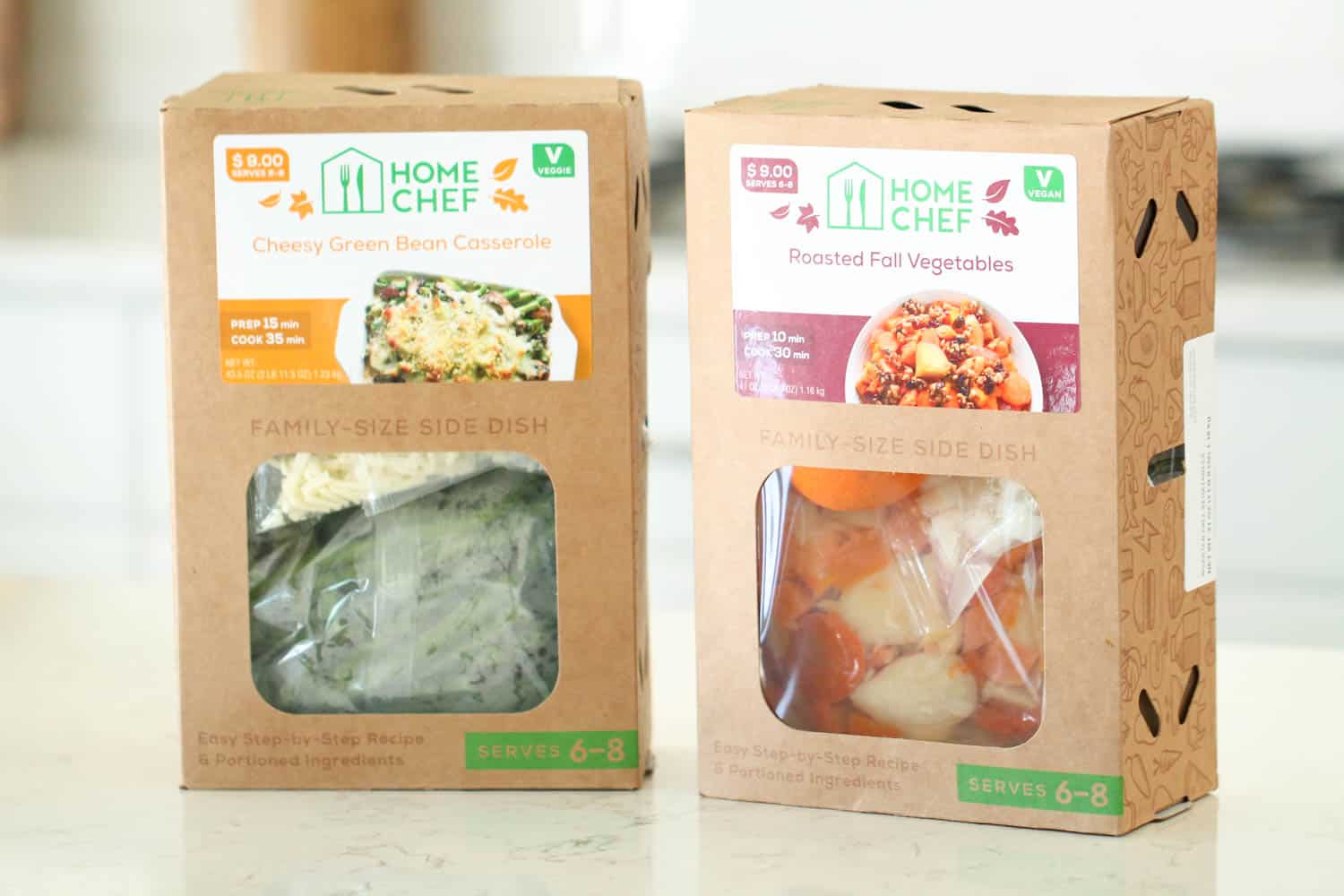 All of the busy work is done for you because all of the ingredients are measured out, peeled and cut.  It saved me so much time not having to worry about all of the prep work for each recipe.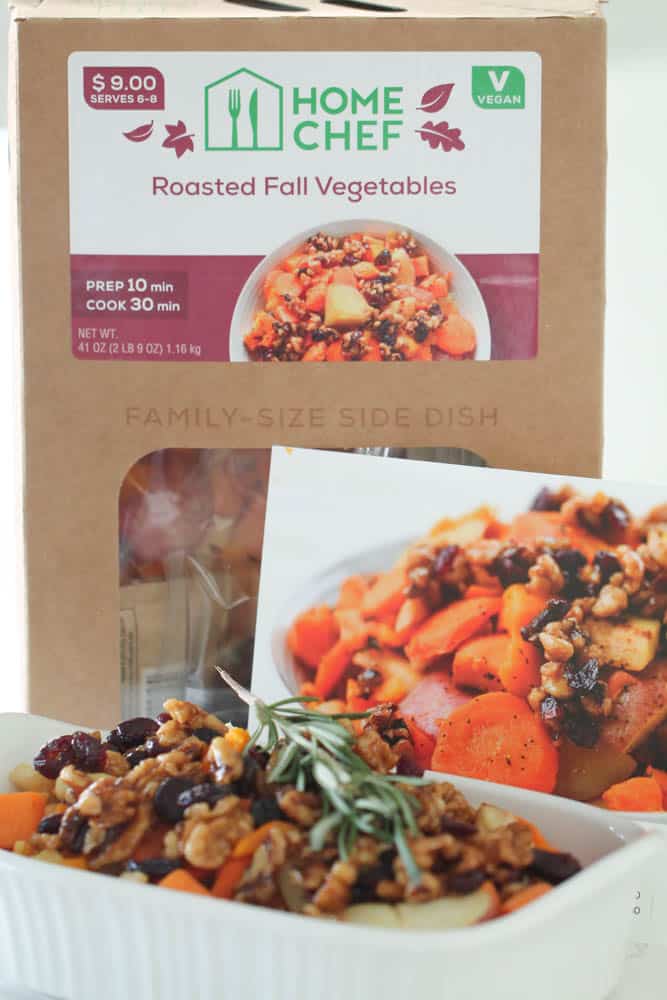 Each Home Chef Side Dish came with a recipe instruction card with pictures for each step, so it's easy to follow even if you're new in the kitchen.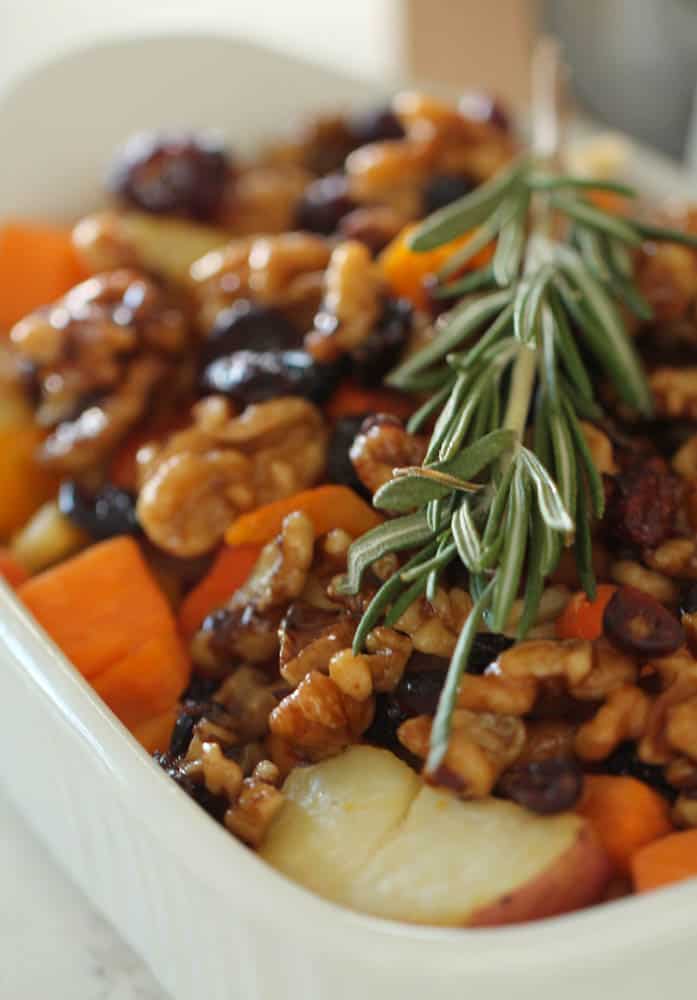 I made the Home Chef Roasted Fall Vegetables with Cranberry, Orange and Walnuts.  I could believe how easy it was to make and that walnut topping was out of this world!  I saved so much time not having to peel and chop every vegetable.  The kit even included an orange so the topping could have freshly squeezed orange juice!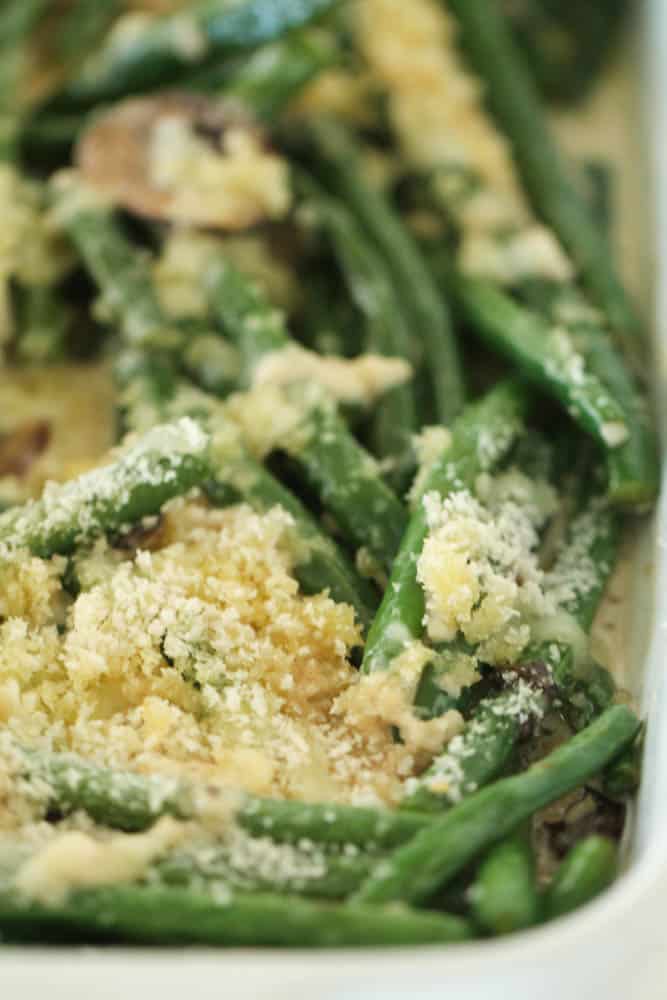 My family has Green Bean Casserole at every holiday dinner, so I was so excited to try the Home Chef Cheesy Green Bean Casserole with Pan Roasted Mushrooms.  I've tried my fair share of green bean casseroles that are filled with condensed soups and artificial flavors.
This Green Bean Casserole was absolutely the best I have ever tried.  I couldn't believe it came from a kit!  The beans were so fresh and it was filled with so much flavor.
You can find these Home Fresh Side Dishes at your local Kroger store in the deli section.  Hurry and get some before they are gone and save yourself some stress this holiday season!
Join me in my kitchen where I make this Slow Cooker Savory Turkey and Gravy with one of our Home Chef Side Dishes: