This Grilled Lemon Chicken is tender and juicy from being marinated in a light lemon mixture then grilled to perfection. This lemon chicken recipe has just the right amount of lemon to make it flavorful and delicious.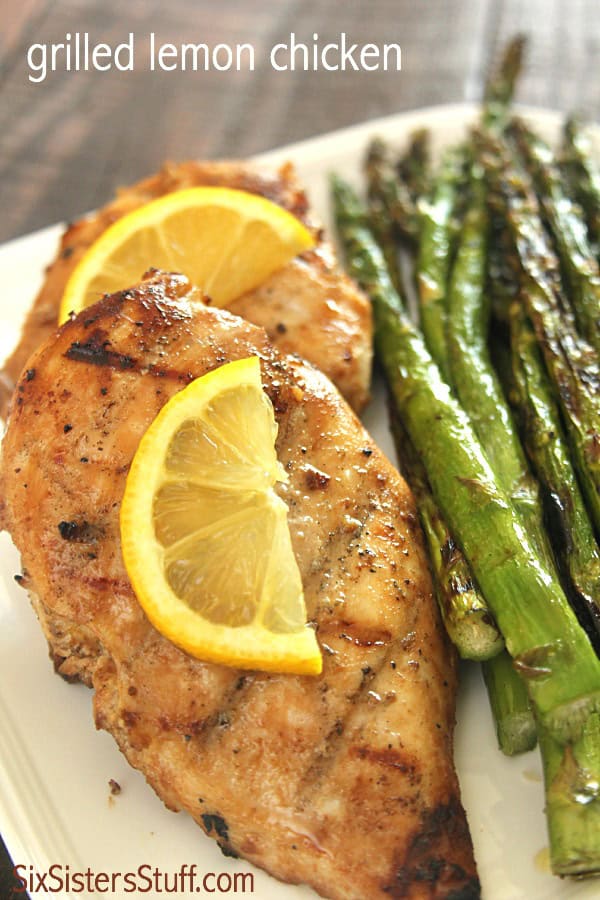 Grilled chicken is a summer staple at our house, and this Grilled Lemon Chicken is bound to be a family favorite.
How to make grilled chicken:
Grilling chicken breast doesn't have to be difficult. Follow these steps for the best grilled chicken:
Store your chicken separately from other food in the fridge. Keep your raw chicken on the bottom shelf of the fridge so it doesn't drip onto other foods.
Always thaw chicken in the refrigerator instead of leaving it out at room temperature. When you thaw chicken in the microwave, it begins cooking the meat immediately and can cause harmful bacteria to grow if it isn't completely cooked all at once.
Add flavor by marinating. If you are using a marinade as a basting or dipping sauce, set aside a portion for later before adding the raw meat to it.
You can also prepare grilled chicken by seasoning it. You can use a dry rub, like in we use on our Spicy Honey Glazed Grilled Chicken, or buy a pre-made rub at the store.
Looking for more grilled chicken recipes? Try our Grilled Malibu Chicken
How long do you cook grilled chicken?
The best way to cook grilled chicken is to sear the chicken to a grill on high heat for 3-4 minutes on each side to sear the outside of the meat.
Next, move the chicken to indirect or lower heat and cook until it reaches an internal temperature of 165 degrees F.
If you don't have a meat thermometer, you can cut into the chicken and check if the meat is white, without a rubbery texture and the juices run clear.
Related Recipe: Check out our Slow Cooker Creamy Lemon Chicken
How to grill chicken on a grill pan:
If you don't have a grill, you can grill your chicken indoors on a grill pan.
Grease your grill pan with cooking spray and set it over medium-high heat.
Place the chicken on the grill pan and cook for 4 minutes on each side.
Place the grill pan in the oven and cook at 350 degrees for 15-20 minutes, or until chicken is cooked through.