Our super delicious cherry cheesecake dump cake recipe is one of my favorite easy dump cake recipes. Not only is it wonderfully moist and filled with tasty cherries and cheesecake layering, but also a super budget-friendly dessert recipe.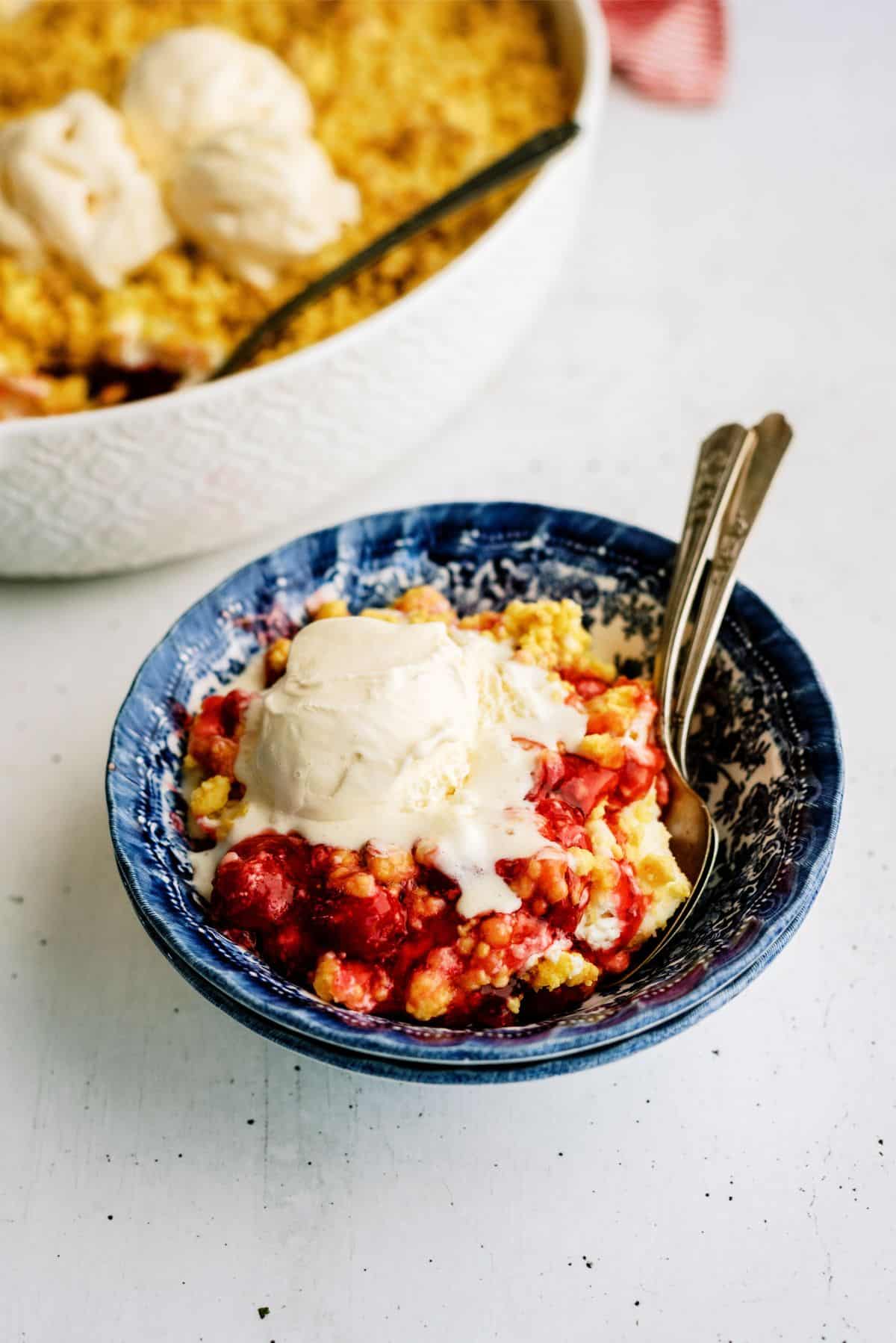 Have you ever heard of our cherry cheesecake dump cake recipe? It is delicious cherry cream cheese bars made with cake mix that takes little to no time to make.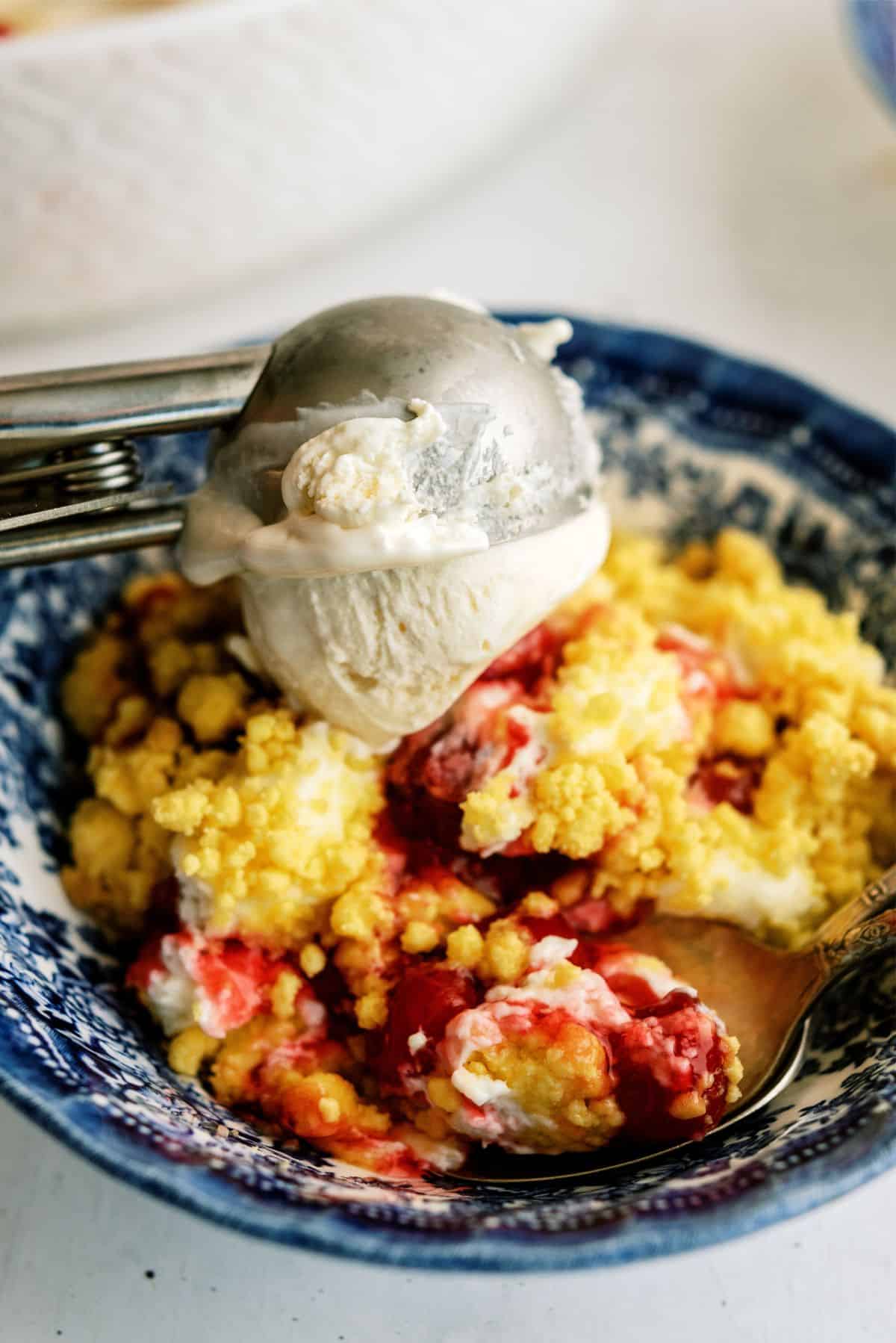 I love to make this cherry cheesecake cump cake recipe for our get-togethers during the summer. Everyone loves it but no one expects that I spend only like 45 minutes to make it (including baking)!
It's also one of those nice recipes for beginners or when your kid wants to be the baker since this recipe is super simple to make and hard to mess up. Plus you only need a few ingredients since it is made with a cake mix.
You can make even more delicious dump cakes like our peach cobbler dump cake recipe, Instant Pot cherry dump cake recipe, or another favorite, apple raspberry dump cake. They are all super tasty, easy, and perfect for a summer dessert.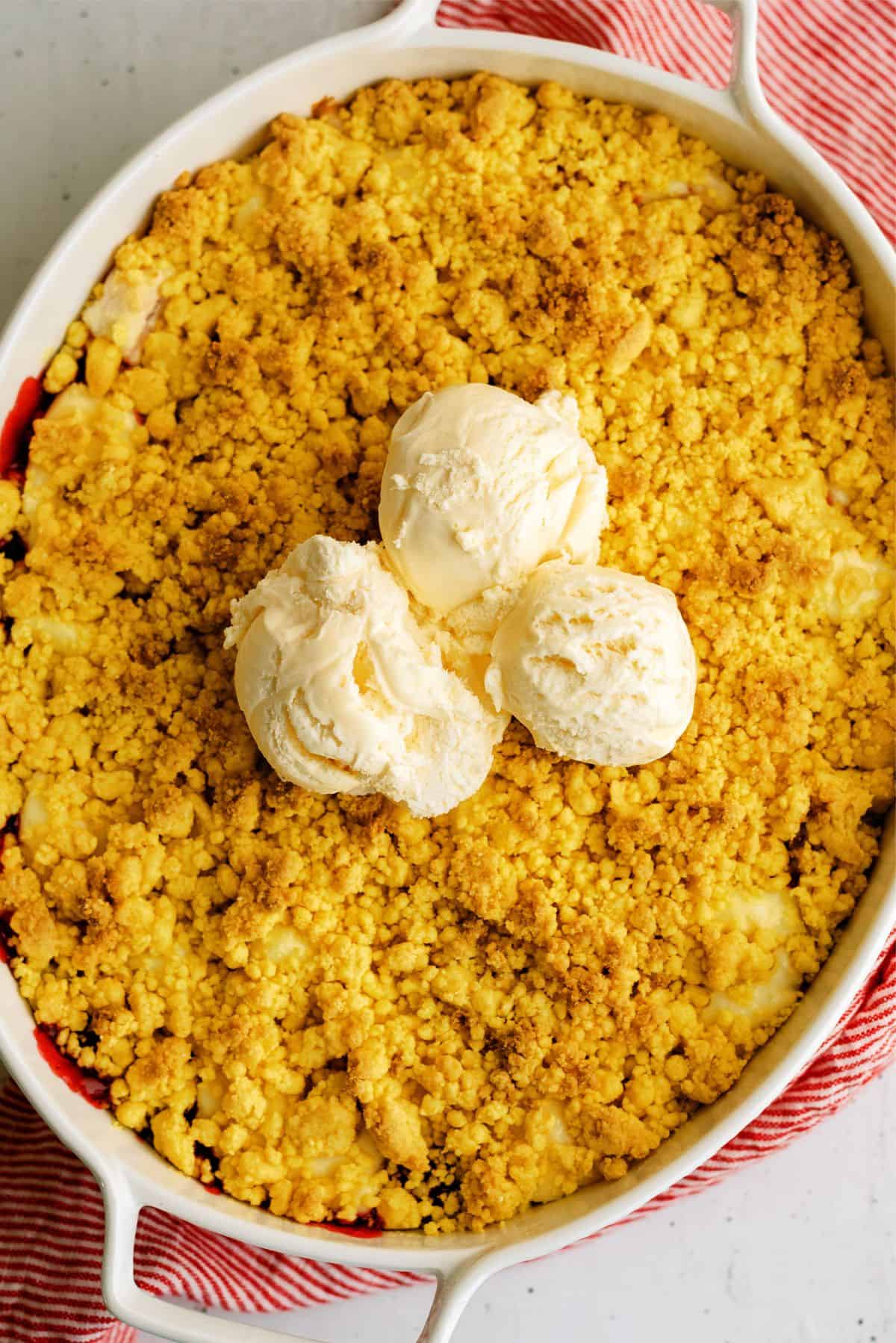 Ingredients You Need to For This Cherry Cheesecake Dump Cake Recipe:
Canned cherry pie filling
Whipped cream cheese
Yellow cake mix
Butter, melted
How To Make This Cherry Cheesecake Dump Cake Recipe: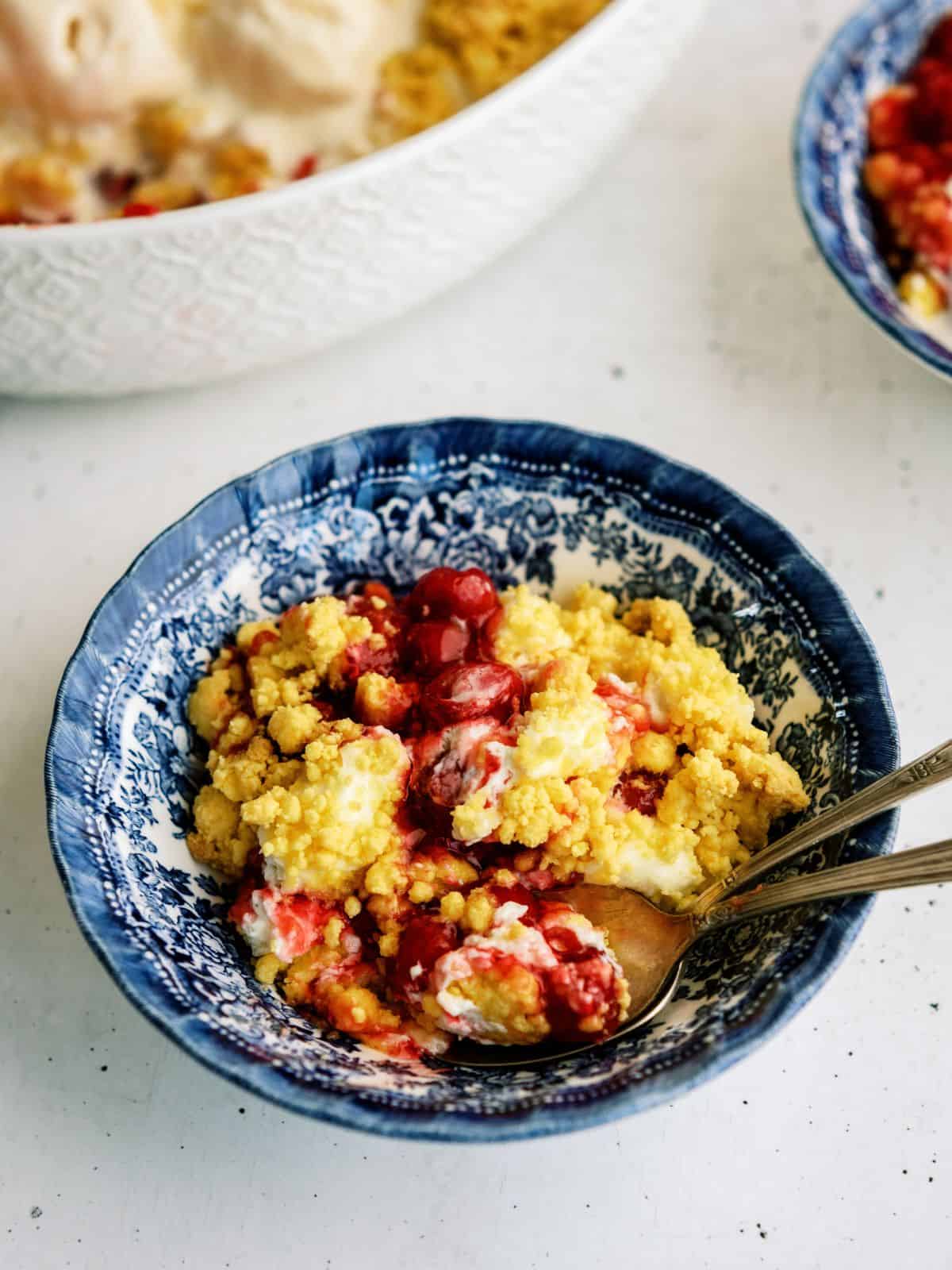 Begin making this tasty dump cake recipe by preheating the oven to 350 degrees fahrenheit.
While the oven preheats, prepare a 9×13 inch pan with nonstick cooking spray.
After prepping the pan, pour the cans of cherry pie filling into the bottom of the pan and spread out the pie filling evenly with a spatula.
Then use a spoon to drop small dollops of the whipped cream cheese over top of the cherry pie filling.
Now, in a medium mixing bowl, mix together the package of dry cake mix (but not the cake mix added ingredients) with the melted butter with a fork until all of the cake mix is moistened by the butter and becomes more like a cumbly wet sand texture.
Then, sprinkle the cake mix crumbles over top of the cream cheese as evenly as you can.
Once you have all the cake mix layer ingredients in the pan, place the pan in the oven and bake the dump cake for 30-40 minutes, or until the top of the cake begins to turn a light golden color.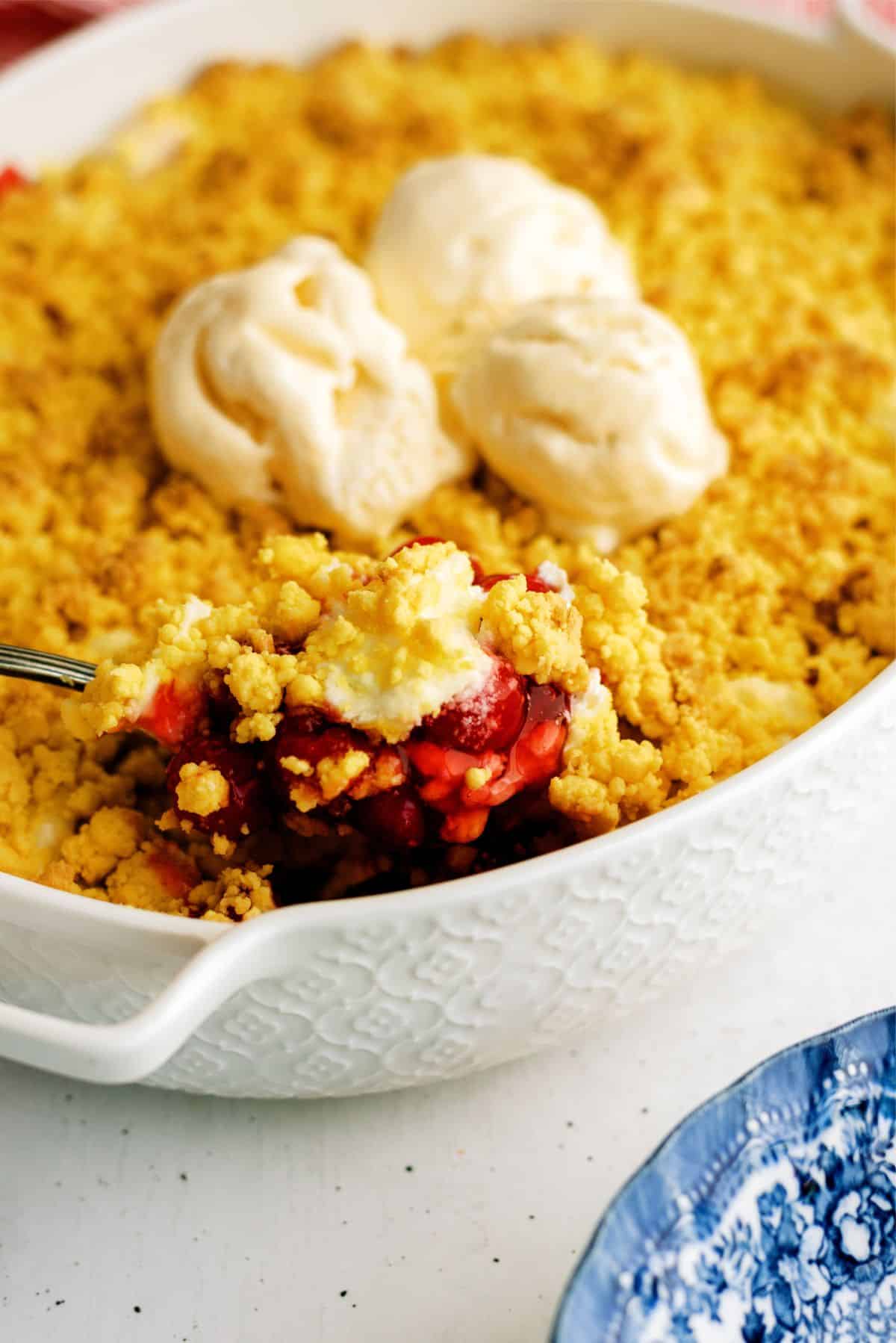 Then remove the cake from the oven and let it cool down for a few minutes.
Now just serve a scoop of this delicious cherry cheesecake dump cake in bowls, topped with either your favorite ice cream or whipped cream and enjoy!
When you are done, store the cake in the fridge for 3-4 days and reheat a piece in the microwave as you need, or even enjoy it cold!
To Make This Easy Dump Cake Recipe You Will Need:
9×13 inch pan (THIS one works great and is super cute!)
Nonstick cooking spray
Medium mixing bowl
Spatula