This Copycat Bucca Di Beppo Spicy Chicken Rigatoni is so simple to throw together and tastes absolutely amazing. If you are looking for a quick and simple dinner recipe, this is a family favorite!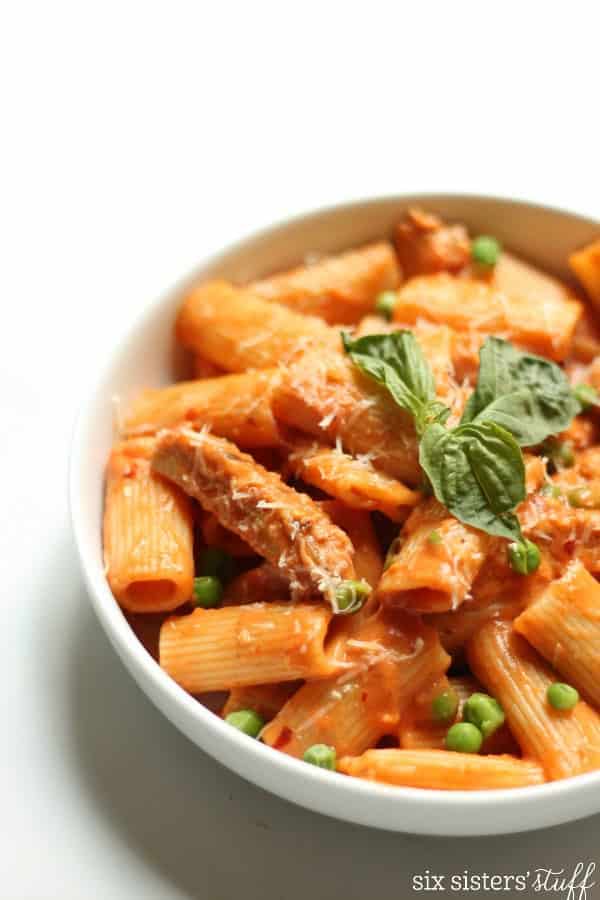 This Spicy Chicken Rigatoni is the perfect copycat recipe for a dish that you can get at Bucca Di Beppo.
It was a little spicy for the toddler but my husband and I were big fans.
Ingredients needed for Spicy Chicken Rigatoni:
2 boneless skinless chicken breasts, cut into thin strips
1 tablespoon minced garlic
1 tablespoon crushed red pepper flakes
1/2 teaspoon coarse black pepper
1/4 teaspoon salt
3-4 tablespoons olive oil
2 cups Alfredo sauce (I just used a jar of store bought sauce)
2 cups marinara sauce (I just used a jar of store bought sauce)
1/2 cup cooked peas
1 lb (16 oz) rigatoni noodles, cooked al dente
2 tablespoons butter
Sprinkle of fresh Parmesan cheese and a pinch of red pepper flake for garnish.