These Black Bean and Sweet Potato Tacos are the perfect meatless meal! Full of protein, fiber, and amazing flavor.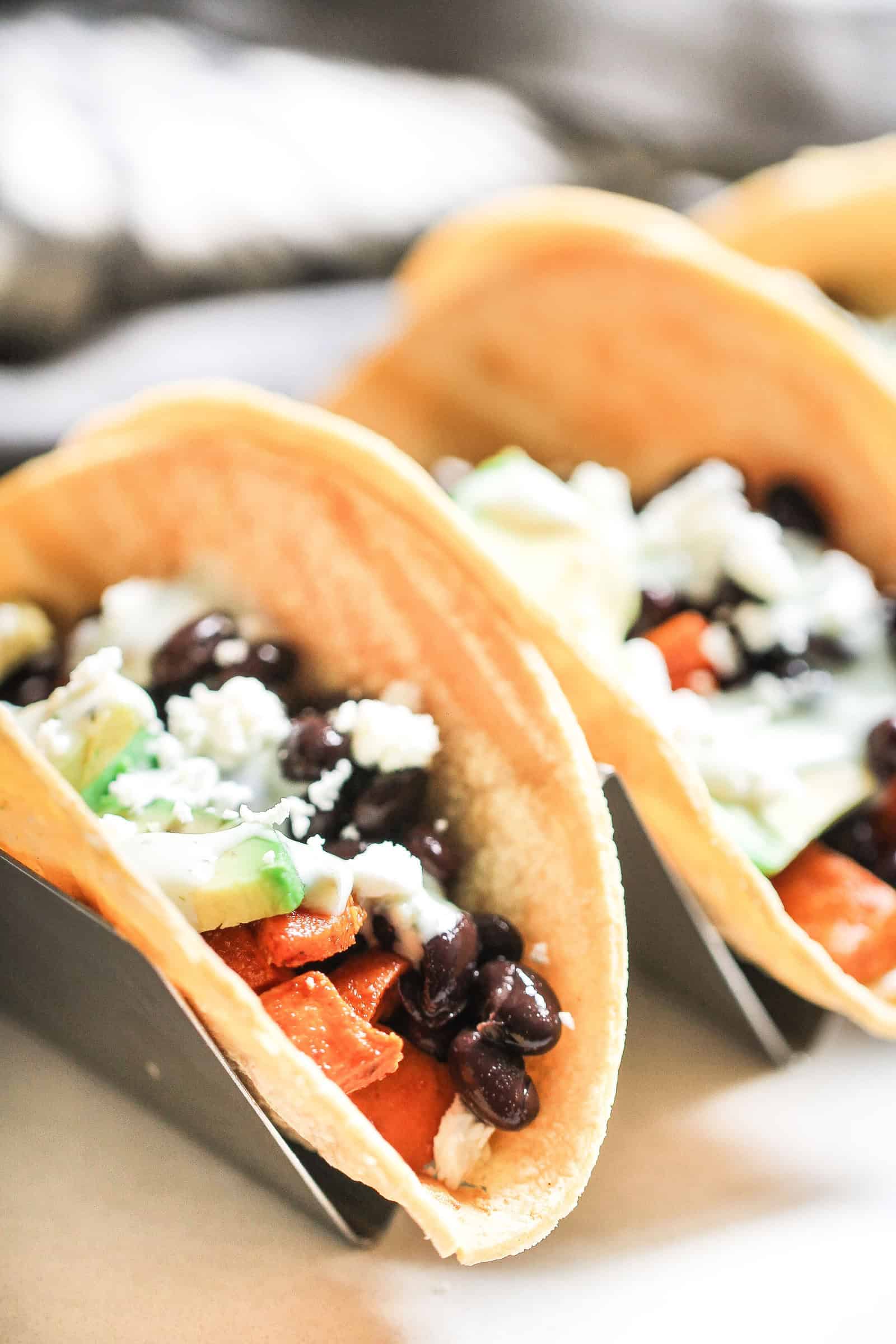 Our Black Bean Sweet Potato Tacos are the perfect meatless meal!
You could easily add some chicken or ground turkey if you want, but they are delicious without it.
Serve these tacos with our Mexican Street Corn Salad for a delicious meal!
Ingredients in Black Bean Sweet Potato Tacos:
sweet potatoes
olive oil
smoked paprika
sea salt
black beans
onion
cumin
chili powder
tortillas
crumbled feta or cotija cheese
guacamole
cilantro

How to make Black Bean Sweet Potato Tacos:
Roast the sweet potatoes by preheating the oven to 425 degrees.
Toss the prepared sweet potatoes with olive oil, cayenne pepper and salt. Arrange in a single layer and bake for 30 to 40 minutes, tossing halfway.
Prepare the black beans by warming the olive oil in a large saucepan over medium heat. Add the onions and a sprinkle of salt. Cook, stirring occasionally, until the onions have softened (about 5 minutes).
Add the cumin and chili powder and cook for about 30 seconds while stirring.
Pour in the beans and 1/3 cup water. Stir, cover and reduce heat to a simmer. Cook for 5 minutes, then remove the lid and use the back of a fork or potato masher to mash up at least half of the beans. Remove from heat, stir in salt and pepper, and cover until you're ready to serve.
Assemble the tacos by spreading the black beans down the middle of the tortilla, top with sweet potatoes and guacamole. Garnish with cheese and cilantro.