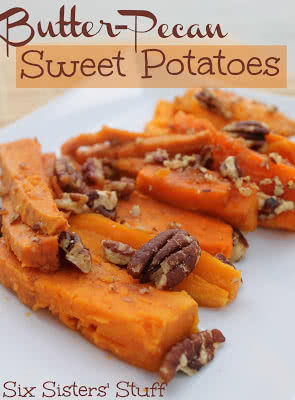 My husband LOVES Sweet Potatoes and he was so happy to find these on the table when he came home from work.  I've been trying new ways to cook sweet potatoes and these are by far my favorite!
Butter-Pecan Sweet Potatoes
Ingredients
4 large sweet potatoes
4 Tablespoons of butter, cut into small pieces
4 Tablespoons brown sugar
2/3 cup of pecan pieces
Directions
Boil the sweet potatoes in a large pot of water until they are tender inside (30 to 40 minutes)
After they are done boiling, let them cool and then peel them.

Preheat oven to 400 degrees. Cut the potatoes lengthwise and then slice crosswise 1/2 inch thick.
Put half of the cut potatoes on the bottom of a 9×13 pan. Place 2 Tablespoons of butter, 2 Tablespoons of brown sugar, and 1/3 of the pecan pieces over the first layer of sweet potatoes. Repeat and layer the rest of your sweet potatoes, butter, brown sugar and pecans. Bake for 15-20 minutes.
Let cool a little before serving!
Looking for other delicious side dishes? These ones are delicious!