Baked Butternut Squash that only requires a few ingredients and is so easy to make. Learn how to bake butternut squash that's perfectly crisp on the outside and tender on the inside. Makes the perfect side dish for any meal.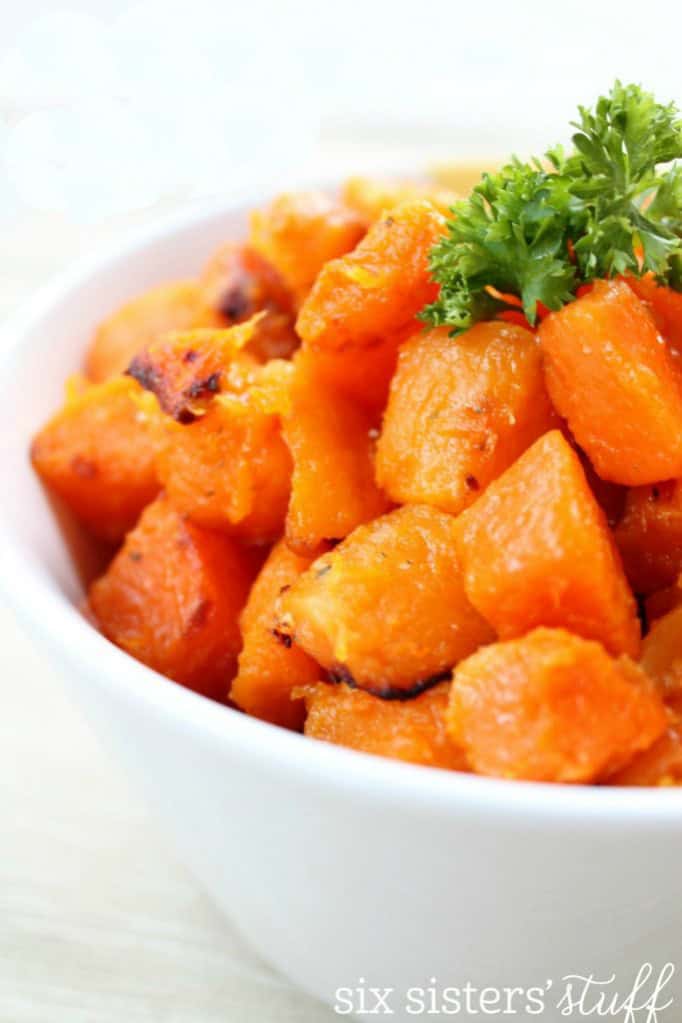 Looking for the perfect side dish? This Baked Butternut Squash is one of our favorites. With only a few ingredients, it comes together in a matter of minutes! Read on for a guide to baked butternut squash!
what is the best way to cook butternut squash?
Butternut squash can be made in a variety of ways and seasoned to please just about anyone. Whether you are microwaving, roasting or baking your butternut squash you will want to always use a sharp knife to cut into it and scoop out the seeds and pulp. Below answers the question, "how to bake butternut squash."
How to microwave butternut squash: lay squash halves cut-side down and place on a microwave-safe plate. Cook the butternut squash on high in 5-minute intervals until completely softened and cooked through, typically 10 minutes but total time will depend upon the size of your squash.
How to bake butternut squash: preheat oven to 400 degrees F.  Place butternut squash halves cut-side up, on a large baking sheet. Season with salt and pepper and place a teaspoon of butter in the middle of each squash and season as desired.  Roast for 25 minutes, or until the flesh is tender.
How to roast butternut squash: preheat oven to 400 degrees F.  Peel and cut the squash into 1-inch cubes.  Place the squash cubes on a baking sheet and drizzle with olive oil, season as desired and toss well. Arrange the squash into one later and roast for 25-30 minutes, until squash is tender, turning once with spatula to roast both sides.
do you have to peel butternut squash before cooking?
Peeling squash isn't easy, which is why some people cook butternut squash unpeeled. You can peel the squash with a vegetable peeler or sharp knife, peeling away from you.
I prefer peeling the butternut squash to make it easier to eat and so the inside of the squash can absorb the seasonings.
how To cut a butternut squash into cubes?
Butternut squash can be a little intimidating because they are hard, round and thick.  To cut your butternut squash into cubes, start by cutting the ends off the squash with a sharp knife.
Hold the squash in one hand and use a vegetable peeler to peel off the outer layer of the squash. Stand the peeled squash upright and cut in half from top to bottom in one long stroke.
Use a metal spoon to scoop out the seeds and stringy pulp from the inside of the squash. Lay the squash halves upside-down on a cutting board and cut into strips, lengthwise.
Lay the slices down and make another set of lengthwise cuts, then cut across the slices to create cubes.
how TO season butternut squash?
Butternut squash can be seasoned in a variety of ways.
Cubed butternut squash can be coated in olive oil and tossed in garlic and herbs such as parsley, thyme and rosemary.
You can sweeten butternut squash by drizzling honey or pure maple syrup on top and sprinkle with cinnamon.
is butternut squash good for you?
Butternut squash is packed with vitamin A- 1 cup of cooked squash has 457% of the recommended daily allowance!  It is also a great source of fiber, potassium and magnesium.
Check out our other easy butternut squash recipes:
Butternut Squash Bake
Maple Roasted Butternut Squash
Roasted Brussels Sprouts and Butternut Squash
Items needed for this recipe:
Baking Sheet:

 I use these baking sheets to roast and bake just about everything. They never rust and are easy to clean.

Glass Mixing Bowl:

 I use this bowl to mix everything. It

 is safe in the oven, microwave, refrigerator, freezer, and dishwasher.

Sharp Chef's Knife: This knife is razor sharp and has a lifetime guarantee!
If you love easy, delicious recipes be sure to check out our weekly menu plans!  Each week we will send you a new menu plan and shopping list directly to your email!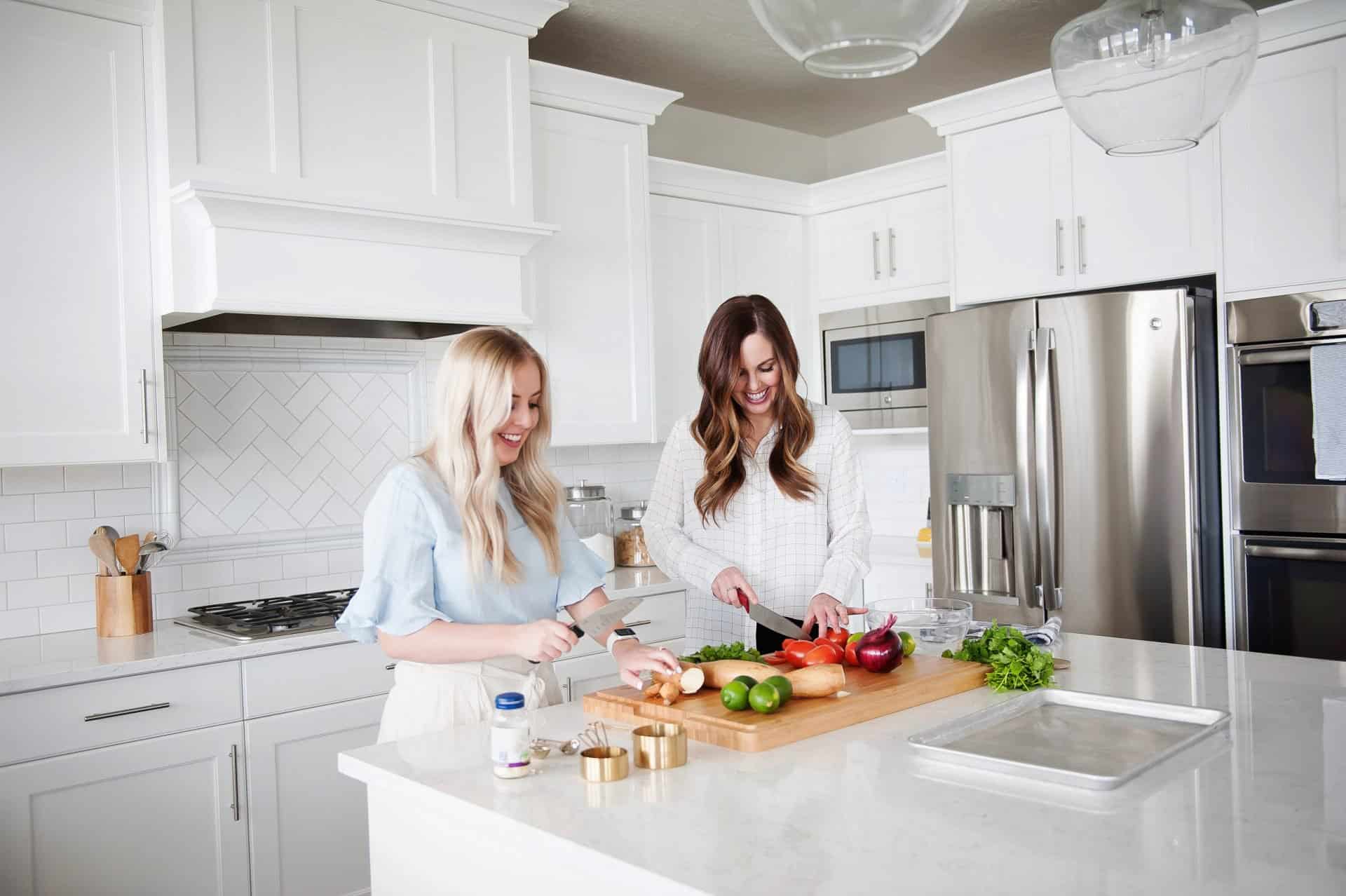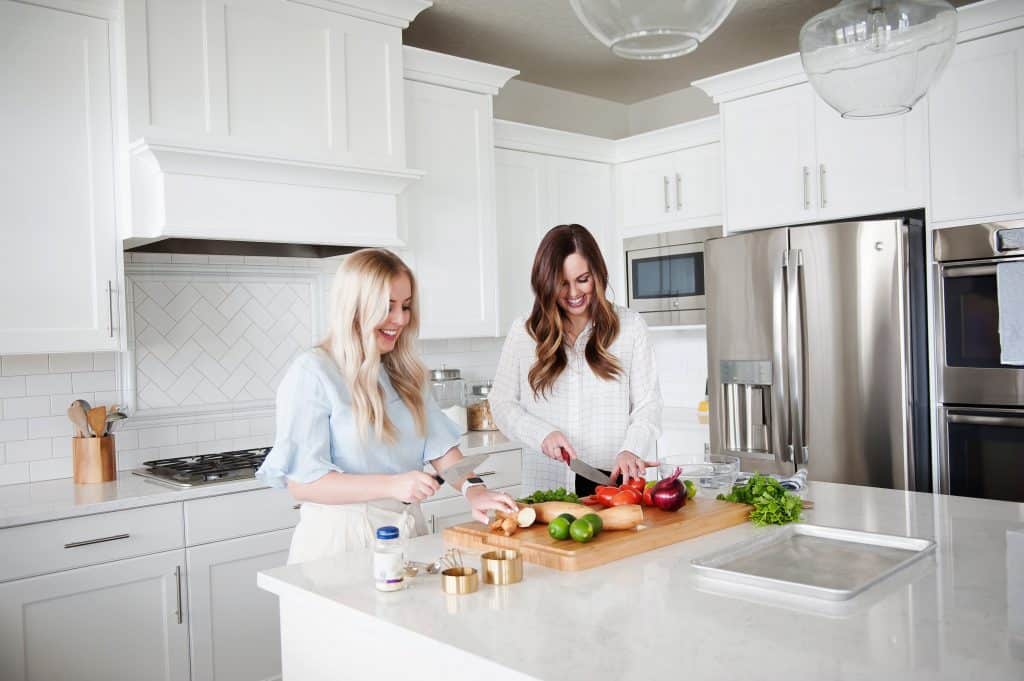 Kristen
Serves: 6
Baked Butternut Squash
Baked Butternut Squash that is simple to make, tender on the inside and crispy on the outside. This butternut squash makes the perfect side dish to any meal.
15 minPrep Time
30 minCook Time
45 minTotal Time
Ingredients
2 pounds butternut squash (peeled, seeded, and cut into one-inch cubes)
2 Tablespoons olive oil
2 teaspoons minced garlic
Salt and pepper, to taste
Instructions
Preheat oven to 400 degrees F.
Toss butternut squash with olive oil and garlic in a large bowl.
Season with salt and pepper, to taste.
Arrange coated squash on a baking sheet.
Roast for 25-30 minutes or until squash is tender and lightly browned.
7.8.1.2
1213
https://www.sixsistersstuff.com/recipe/baked-butternut-squash/
Be sure to not miss another recipe!
Follow Six Sisters' Stuff on Instagram | Facebook | Pinterest | YouTube
Have you checked out our YouTube channel?
We made our favorite version of Baked Squash on the Hallmark Channel's show, Home and Family! Watch it below: