You've never had a burger until you've had it infused with bacon. It's one thing putting bacon on a burger, but a whole other when it's in the hamburger patty. It's definitely a game changer. This Bacon Infused Burgers are the only way to eat burgers.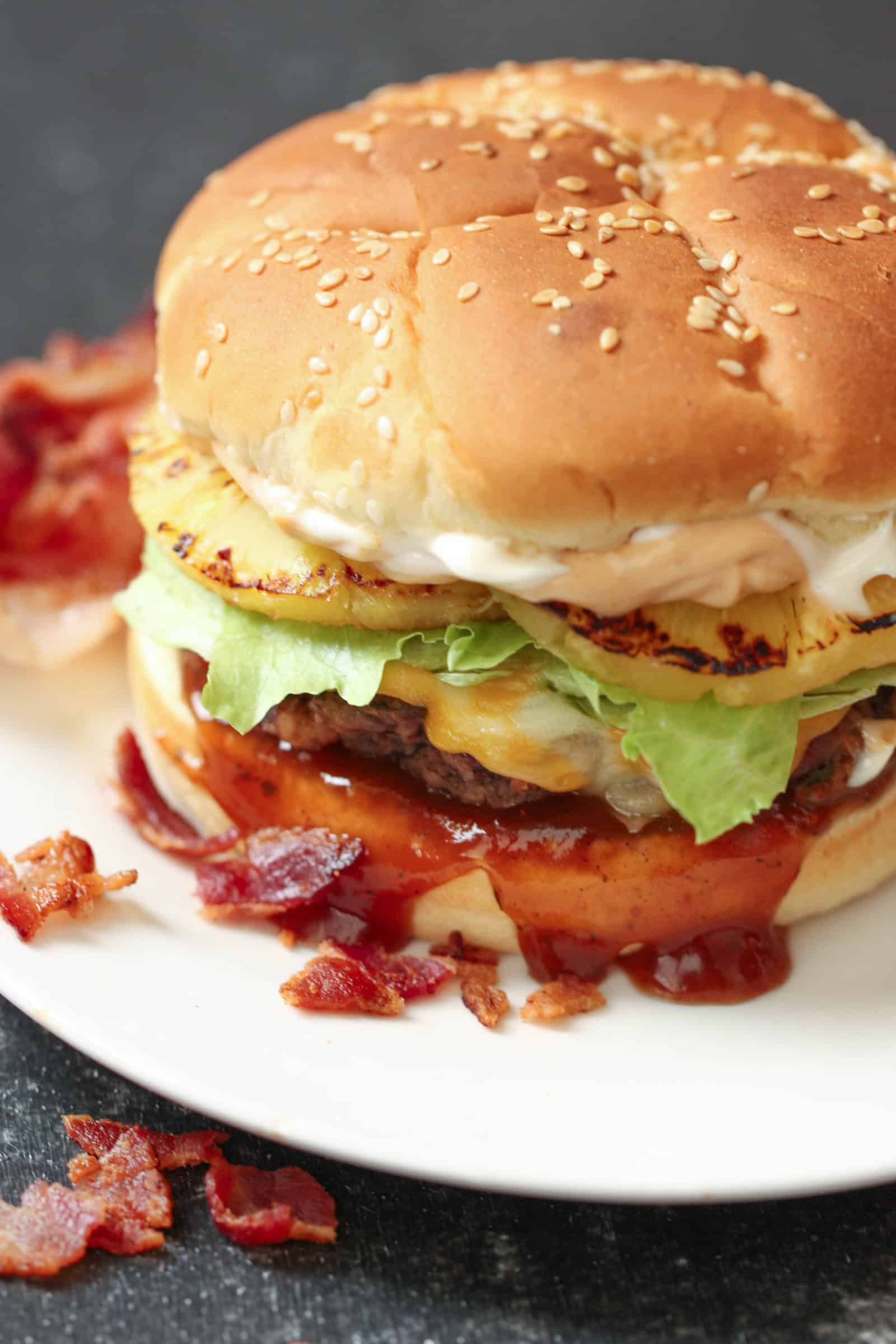 These Bacon Infused Burgers are no joke. The bacon is literally mixed in with the beef and it has has one of the most wonderful tastes to it.
These burgers taste amazing and go perfectly with any topping. My husband and I love grilling pineapple and putting it on, but my sister loves swiss cheese and mushrooms on hers.
They don't take long to make and taste amazing. I love cooking at home because it's healthier, cheaper, and grilled to your perfection and preferance. Enjoy your Bacon Infused Burger.
Looking for more Burger recipes? Try our Hawaiian Turkey Burgers!
How to make bacon infused burgers:
Step 1: Cook the bacon until slightly chewy, but not crisp.
Step 2: Once the bacon has cooled, tear it into small pieces, about the size of a dime. I also like to dab my bacon with a paper towel because it's a little greasy, and helps the bacon cool faster.
Step 3: Mix the bacon bits into the raw ground beef, sometimes it's best to do this with your hands.
Step 4: Form the meat mixture into 6 equal size patties. I usually just try to eyeball it, grab a fistful of meat, and shape it. You may need to take some meat from other patties and reshape them to make them equal sizes.
Step 5: Place on grill, griddle, or pan flipping until desired doneness. (I like mine a little pink in the middle).
Step 6: Grill your pineapple, and glaze with honey, as cooking, if desired. This topping is totally optional, but we prefer it. Pineapple and meat were just made for each other.
Step 7: Once done, create your burger with all your favorite condiments and toppings.
We recommend red onion slice, lettuce, cheddar cheese, mayo, barbecue sauce, as well as all your favorites.