If you are looking for some new family favorite meal ideas, we are sharing 27 Easy Frozen Pork Shoulder Instant Pot Recipes you'll love!
Pressure cooking a pork recipe cuts down on the cooking time significantly, allowing you to get dinner on the table in a fraction of the time.
Instant pot pork roast is a cooking method that breaks down connective tissues in even a tough cut of meat to give you fork tender meat every time.
Whether this is your first time using an instant pot, or you're an old pro, you can't go wrong with cooking pork this way!
What's the Difference Between Pork Butt and Pork Shoulder?
Pork butt roast (or Boston Butt) and pork shoulder are different cuts of meat that come from the pig's shoulder (despite the term pork butt suggesting otherwise). Both are relatively inexpensive cuts that lend themselves to low-and-slow cooking applications such as barbecuing, braising, stewing or cooking in a slow cooker or Instant Pot. You can find out more here!
Tips for Cooking Pork Shoulder in an Electric Pressure Cooker
First things first: Use the best cut of pork. Be sure to pick a pork shoulder that has some nice marbling and fat for best results.
Using a dry rub will make for amazing flavor in your instant pot pork shoulder recipe.
Brown all sides of the cuts of pork on the bottom of the pot using the saute setting. This cooking process will seal in the juices and all of those brown bits will hold tons of flavor for great tasting gravy!
Use at least 1 cup of water, vegetable broth, chicken broth, Chicken stock or other cooking liquid to allow the Instant Pot to pressurize.
Pressure cook on high pressure and use a natural release for the most fork-tender pork.
Can I Cook A Frozen Pork Roast In The Instant Pot?
Of course! Cooking in the Instant Pot is the best way to cook a pork shoulder roast from frozen. It will take extra cook time than cooking it from thawed however it's easy to do! it usually takes under 2 hours to cook a pork roast from frozen in the instant pot (depending on the pound of meat), but you should use a meat thermometer to be sure the pork has reached an internal temperature of 145 degrees F. Check each recipe card for complete instructions.
Let's get to the best instant pot frozen pork shoulder recipes!
Which one are you most excited to try?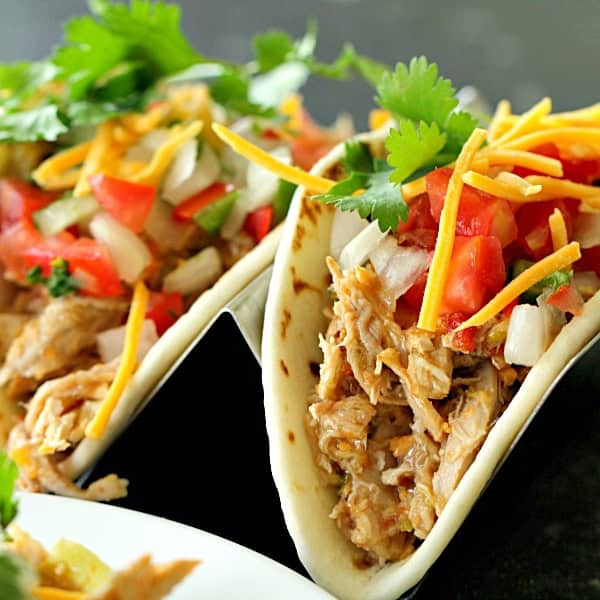 Instant Pot Pork Chile Verde (Pressure Cooker) Recipe
This easy dump-and-go Instant Pot Pork Chile Verde is so versatile. Made with onions, garlic, tomatillos, jalapeno, green pepper, green salsa, green chiles, and seasonings.
View the Recipe