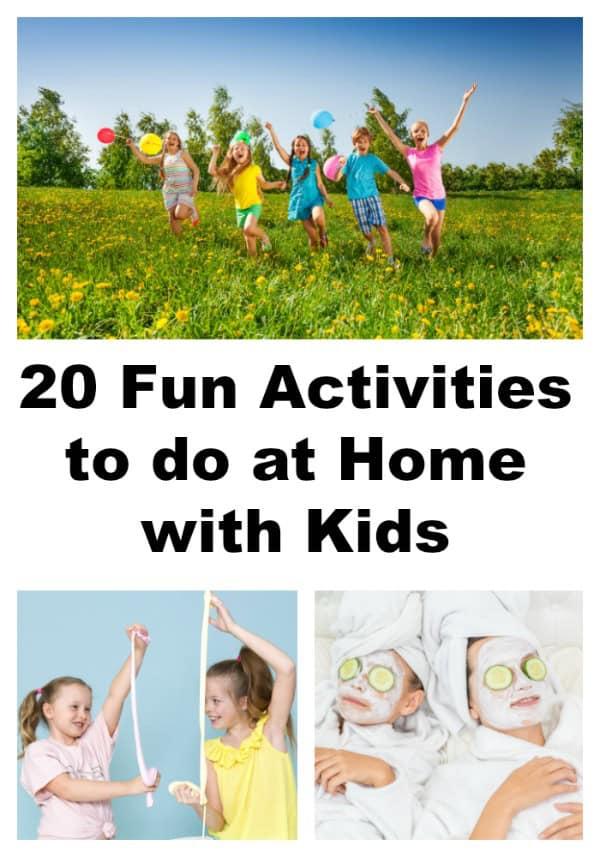 Entertaining kids when school is out (or when there is a crazy virus taking over the world) can seem a little exhausting.
We are all moms, so we know how tiring it can be to keep them entertained, make dinner, keep the house clean, and so much more. It is a life time and full time job, but let's be honest, we all LOVE it.
But it is nice to have a few ideas to keep the kids entertained and even a little quiet sometimes.
We have put our heads together and thought of 20 FUN and SIMPLE activities for your kids to do!
20 Activities to Do with Your kids at home:
Forts and Movies:  

Growing up, we loved getting all the blankets and sheets out and making a fort. We would make our own little stores and pretend like we lived in a little fort neighborhood. By the end of the day, the entire room became one fort, and we would all watch a movie and take a little nap together. So make a fort, throw in every pillow and soft blanket, pop some popcorn (we recommend trying our

Caramel Popcorn Recipe

) and watch a movie together.

Make Slime: I know it sounds like a big mess, but I promise you, it's a mess that keeps them entertained for a long time. Grab some glitter, little trinkets or toys that you can put in the slime, and it will bring hours of entertainment. If it gets a little messy, put it in a bag, add some small items (buttons, beads, dried beans, toys, etc.) and make a bag search (like a word search, but they have to squeeze the slime around in the bag to find objects). There are so many recipes on Pinterest for all sorts of slime and here is a great tutorial on YouTube.
Family Cafe: We played restaurant all the time. We would make menus, create all sorts of kitchen creations (I don't think any of them were good enough to make the website….) but we had full reign over the kitchen, and created many masterpieces for our parents and sisters to try.
Pudding Finger Painting: An old classic. This is a great one for toddlers who just want to make a mess. Strap them into a high chair and let them go at it. It's also fun to add food coloring to a white pudding and make a whole rainbow of pudding paint. If you have poster boards or even cardboard, this would be great to use.
Indoor Hide and Seek/Night Games: Night games were so fun when we were little. Kick the can, go to court, cops and robbers, and so many others. Kids will love a good game of hide and seek, especially when you play it with them. Put up boxes, blankets, move furniture around, and make it more of a challenge if needed.
YouTube Paint or Art Class: YouTube is full of fun paint and art classes. Put on a little course and see what beautiful masterpiece or drawing you can create. Here is a fun tutorial on how to draw for kids.
Make Your Own Board Game: You'll want to keep track of the games you use, but it's fun to see teens or children's imaginations run with creativity when they make a board game. Use pieces from other board games, or make up your own with a ball or household items.
Treasure Hunt: Kids love looking for clues and finding a treasure. Create a treasure map that goes around the house and yard, or even around the neighborhood. This would be a fun one to do with neighbors or friends. This may need to be prepared the night before, depending on how crazy you want to get with the hunt. Burn the edges of the treasure map, to make it look like an actual pirate map.
Make Your Own Puzzle: Take a coloring page from a book, color it, and cut it into unique pieces. Siblings can make puzzles for each other, or you could do it together. Of course, you'll probably need a treat while you are trying to put the pieces together. We highly recommend our Easy Rice Krispie Treats.
Make a Movie or Music Video: Technology… both a blessing and a curse. Making a movie or music video is a little more interactive and creative rather than an hour of screen time. Add music, dress up, come up with a story, and make a movie night. Get everyone together, watch the movie on your tv, and have a family movie night. We personally like to eat milkshakes at our movie night, so we recommend trying our Homemade Strawberry Milkshake.
Have A Beauty Day: Of course this is something that we would do with a house full of girls, but I loved having beauty days all together. Slice up cucumbers to put on your eyes, soak your feet in a hot tub and run lotion on them afterwards. Paint your nails, use a sugar scrub on your hands, and try a new face mask. There are a ton of face mask recipes on Pinterest as well, if you don't have any pre-made masks. Try our favorite healthy snack: S'mores Protein Bites.
Learn A New Language or Skill: There are so many online courses and apps that can teach you a new language. Learn about a new culture and make a day of it. Create food from that culture, learn a few popular or common phrases (such as: Hello. My name is….). You could also try a new instrument, try online singing voices, or learn something you have always wanted to.
Face a Fear: Our sister Elyse was home alone when she was a teenager and decided she was going to face some of her fears. These included: sliding down a fireman pole, trying fish sticks, and strange tasks like that. Do you have any fears you are ready to conquer?
Apple Tennis: This may sound a little crazy, but it was so fun! My husband and I did this on a date, and we would throw apples to each other, and hit them with a tennis racquet. You could also use water balloons. You could do this at a park, or in your backyard. (Just be sure to pick up the water balloons afterwards).
Learn a New Sport: Is there a sport you have always wanted to try? Research it, watch videos on it, and try it out.
Indoor Camping: Put that tent up, and your day has suddenly become free. The kids will love playing in the tent, testing all the zipper windows, and bringing in all their stuffed toys, pillows, and blankets. Watch a movie at night, make our No Bake S'mores Bars, play card games in your tent, and make lasting memories. The best part is, there are no bugs, and flushing toilets. Consider it to be glamping.
Balloon Sports: When we were so bored, and it was too hot to go outside in the summer, our mom would blow up some balloons and we would play with balloons for hours. Making up games, trying to not let them touch the floor, drawing faces on them, etc. Balloons bring hours of entertainment, and only cost a dollar for 10.
Have a Birthday Party: Make party hats, bake a cake, make little presents or cards for each other, and everyone gets to blow out candles. Play some fun party games, make a craft, and of course, sing happy birthday! If you need some creative cake recipes, check out our 50 Delicious Cake Recipes.
Fancy Dinner Night: Some kids will love this, some will hate it. But dress up, fold the napkins special, serve sparkling cider, and teach some fancy dinner etiquette. Serve a fancy dinner, with all sorts of different courses, desserts, and remember: pinky out, when drinking from your glass! If you need a fancy dinner idea (that is still so easy to make) we recommend trying our: Slow Cooker Cheesy Tortellini.
Secret Service Project: Know someone that could use cookies or a kind note? Make our favorite Chocolate Chip Pudding Cookies and take them to a neighbor. Or keep it a secret and ring and run with a kind note.
To moms and dads everywhere, you got this! And just remember, the thing they will remember most is you hanging out with them and being present in their lives. It doesn't matter what you are doing with them, they will just be so excited and happy to have some one on one time with you!
Although you may be tired, annoyed, and sick of the silly sibling fights, they love you so much! Sit back, roll with the punches, and have some fun with your kids today.