I love cooking with pumpkin during the fall and winter.  With the help of my handsome husband, we came up with a way to incorporate pumpkin into our breakfast rotation!  It was amazing!
Pumpkin Chocolate Chip Pancakes Recipe:
Ingredients:
1 1/2 cup pancake mix
1 1/4 cup water
3/4 cup pumpkin puree
1/2 teaspoon vanilla extract
1/2 teaspoon ground cinnamon
1/4 teaspoon ground nutmeg
1/2 cup chocolate chips 
Directions:
Combine pancake mix, water, pumpkin puree, vanilla, cinnamon and nutmeg in a large mixing bowl.  Fold in chocolate chips.  Pour batter onto a hot griddle or pan and cook for a few minutes on each side until golden brown and cooked through.  Serve with maple syrup.
Looking for more delicious breakfast recipes?
Here are a few of our favorites:
Once your blog has started to grow and your traffic has increased, there are so many ways that you can make money from your blog. Through trial and error, the Six Sisters have found a couple of ways they they use to make money and turn their blog into paid work for seven people. In this eBook, they share the top 10 ways they have found to make money blogging. Check it out now and get your income started! Available for only $3.99
.
Get it
here
!
This post is sponsored by: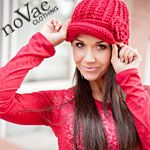 We LOVE noVae, and with these prices, you will too! These adorable Reversible Knit Caps {with a flower} are on sale for just $10! For a limited time, they are even offering two more colors – purple and hot pink. They are one of the best sellers (this year AND last year!), and they won't be here for long! Make sure you get 'em while they are still in stock for this chilly season. They will ship in time for Christmas! 🙂
(The sale will end at midnight on Thursday, 12/13/12 MST)