Between the 6 of us, we have tried and tested many fridges. Here is our review of what we feel is the best refrigerator that you can buy for your family!
We are on the hunt for the world's best refrigerators and the best refrigerator brands.
In our homes, everything revolves around the refrigerator.
From quick breakfasts in the morning as everyone heads to school and work, to after-school snacks as we talk about the day, and of course to family dinner where we talk and connect.
Have you ever been without a fridge?
During our last move, we sold our fridge before we were able to purchase a new one. It was TORTURE to have to use coolers in place of our trusted fridge!
Picking out a new fridge is super important.
Besides making sure that it's the right size for your space, you want to make sure that it's functional for your family and within your budget.
There are a few things to think about when getting a new refrigerator. First, look at the wide range of models and see what works for you. Does it have a built-in ice maker? Any special features? What about humidity control? Next, you'll want to look at cubic feet. You'll want to have plenty of storage space, so this will be important. Energy efficiency is something you'll want to look into as well! Whether you look at Samsung refrigerators, Maytag refrigerators, Whirlpool refrigerators, LG refrigerators, or any different brands, you're sure to find something with the best features to fit all your food items.
That is why we want to share our review of the world's best fridge of 2022.
Here are a few other features to consider when choosing a fridge:
French door models
Innovative features
Smart features
Adjustable shelves
Appliance brand reviews
Double doors
Glass shelves
Easy access
Modern designs
Affordable price
Large capacity for food storage
Advanced technology or high-tech features
Top Overall Pick of Best Fridge: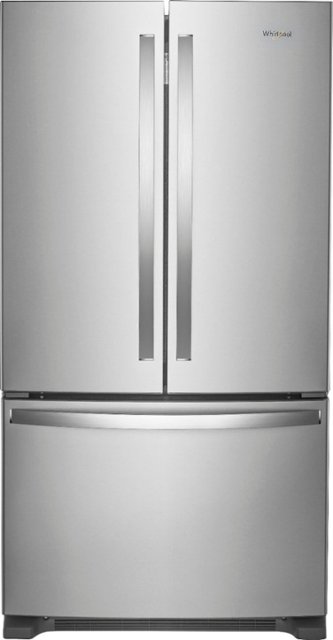 There are so many reasons why we picked this as our number 1 fridge choice and are calling it the world's best refrigerator, but here are just a few:
The water dispenser is on the inside!! That's right . . . look how clean and aesthetically pleasing the outside of the door looks. That means you have more space on the inside instead of the water dispenser taking up tons of room! But you still have the convenience of a fridge water dispenser, but just on the inside of the fridge which cuts back on spills and mold. Our sister Kristen has this feature on her fridge and it has been a game-changer for her.
Ice dispenser is in the bottom freezer. Did you know that refrigerators with the outside ice dispenser are the most likely to have problems? Not only does this fridge look better without the ice dispenser on the outside, it's probably going to need less repairs down the road.
Filter is easy to change. Those of you who have had experience with a filter in a hard place know how difficult that makes it to change out. This filter is a breeze to switch!
Simplicity is everything. We found that with some of the fridges we have tested, they have so many bells and whistles that we have no idea what they all do. We have found that less extras mean less things that break . . . which is awesome for us.
Smart use of inside space. This fridge keeps the layout simple, but has easy shelves that can adjust to your needs. We love the drawer placement and the huge wire baskets in the freezer. The compartments for vegetables, fruit, meats and cheeses is very big and makes it easy to see everything that is in your fridge at a glance.
Best deal for your money. This fridge smartly uses every square inch and with a reputable brand like Whirlpool, you know that it's going to last a long time.
Looks fantastic in every kitchen. It does come in 4 different colors – stainless steel, black, white, and the gorgeous Fingerprint Resistant Black Stainless (which is what our mom has and it really doesn't show fingerprints! It's amazing).
Large ice maker. If you are like us, you love ice for your drinks and this ice maker doesn't disappoint. It makes ice quickly when you need more.
Rating: 4.5/5 stars from other 1,568 reviews.
Yale Appliance actually named Whirlpool as one of the most reliable brands of refrigerators who are serviced the least, which just validates our choice of this Whirlpool refrigerator as one of the best fridges that you can buy.
Other reliable refrigerator brands:
1. LG
LG is known for lots of popular home appliances and they actually have many great fridge options.
They even have a couple of really cool features like Wi-fi and an app that connects your fridge to your phone.
Your family might not need all those features, but they have some of the best refrigerators with technology additions that they offer are fun and innovative.
2. GE Appliances
GE Appliances rank right up there with Whirlpool, so as you are looking for a fridge, this is a great brand to look at!
Many people love the sleek designs that GE offers, along with their Wi-fi connectivity and temperature control.
GE also has many color options, different finishes on the outside, and hardware options.
3. Samsung
Even though Samsung is mostly known for their electronics, they are actually making quite the name for themselves in the appliance world!
Samsung has some great energy-efficient refrigerators, which is very important to many consumers.
They also have a great warranty that lasts for 5-11 years, depending on the model of fridge that you purchase.
Many of their fridges have Wi-Fi connectivity. They have so many different models and price-points that there is something for every type of budget.
What to look for when looking for a fridge:
When you are shopping for a fridge, there are a couple of things that you are going to want to keep in mind:
Configuration: Would you rather have a side-by-side fridge or a top-freezer fridge or bottom-freezer fridge? There are pros and cons to each. Look at your space and see what is going to be best for opening doors. Also think about what you use your fridge for the most. Some people love how inexpensive top-freezers are, but hate bending down to get into their fridge.
Features: Do you want/need all the extra bells and whistles that different fridges provide? If you get a fridge with a glass door, are you going to feel like you need to keep the inside of the fridge clean at all times? Does your family drink a lot of milk and does the fridge have adequate storage for that? Keep your family's lifestyle in mind as you look at fridges – and also keep your budget in mind. You can go as crazy as you want with features, but it will all add up!
Finishes: Keep in mind the colors of kitchen as you shop for a fridge. There are lots of trendy patterns available these days, but how long will those trends stay in style? Stainless steel is definitely the most popular because it's a classic look, but some people love the look of a white or black fridge as well.
How long do fridges usually last?
A fridge will last approximately 12 years.
Many older refrigerators are not energy-efficient.
If you have an older fridge, you might want to consider replacing it even if it's not that old or is still working.
You would think that the world's best refrigerator would last forever, but even they will run out or be replaced by other technology.
Still trying to decide on the world's best refrigerator?
Be sure to check out these articles on the top refrigerators in the world:
Want some easy recipes to stick in your fridge? Try these: