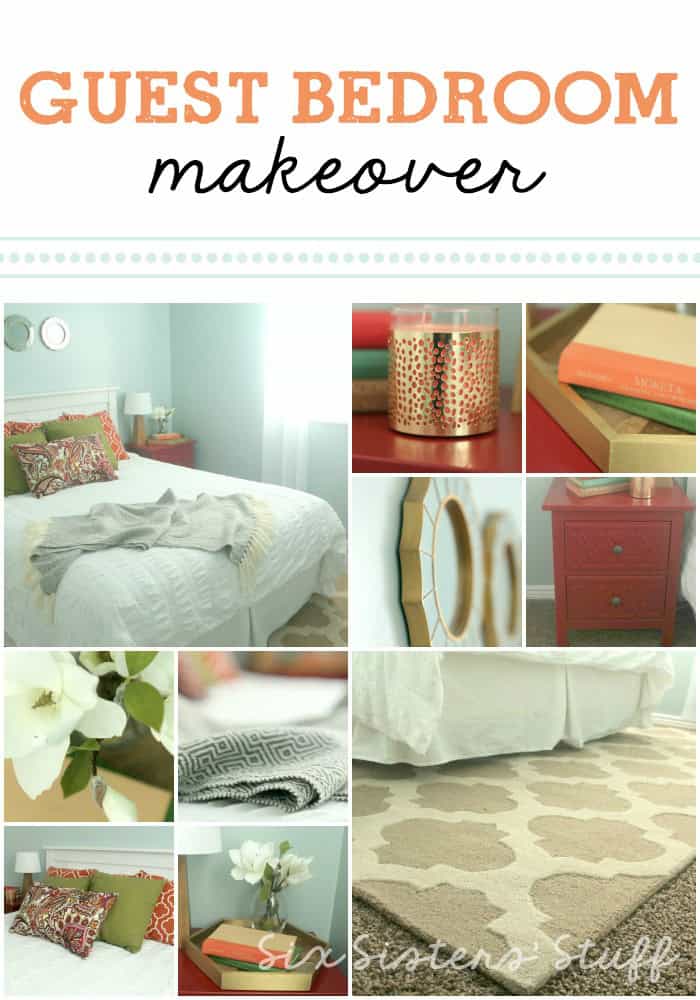 I am finally getting around to finishing up the last few projects around our house!  We had an extra bedroom in our basement that was completely brown and dingy.  I had been avoiding it like the plague, not only because of the color, but because I found cat poop on the inside of the closet……and we don't have any pets.  Haha!  That may be TMI, but I just want you to know how terrible this room is!  After I got the old cat poop sanded off and sanitized the room, I got to work to make it a guest bedroom so our friends and family would have a nice room to stay in!
This room was literally brown from head to toe.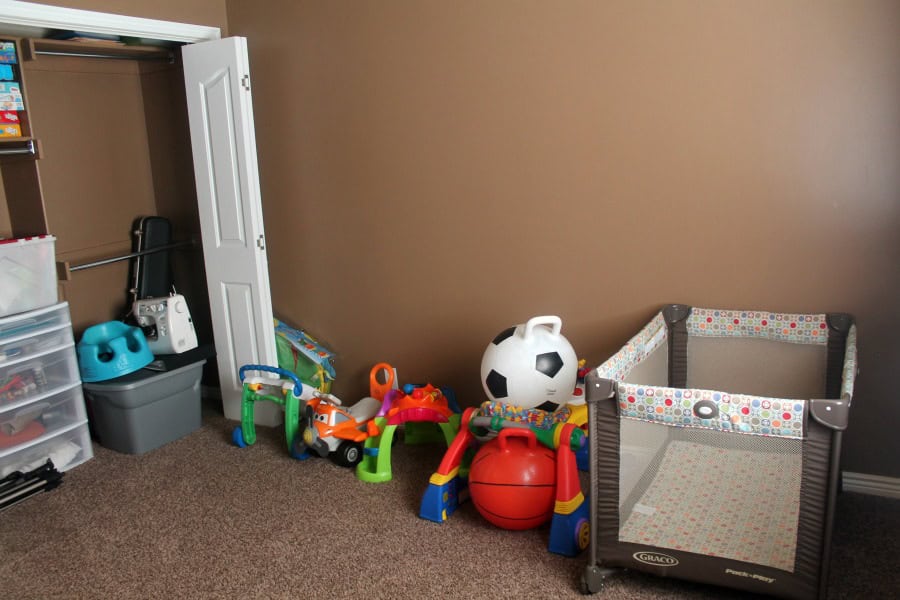 We also used it as a storage room for all our extra junk.  Cute, right?!  I finally got motivated and cleared out everything we didn't need and got organized.
I started by painting the room.  I used Glidden Icy Teal on the walls and Glidden White on White for the ceiling and trim.  The paint alone helped transform and brighten up the room so much!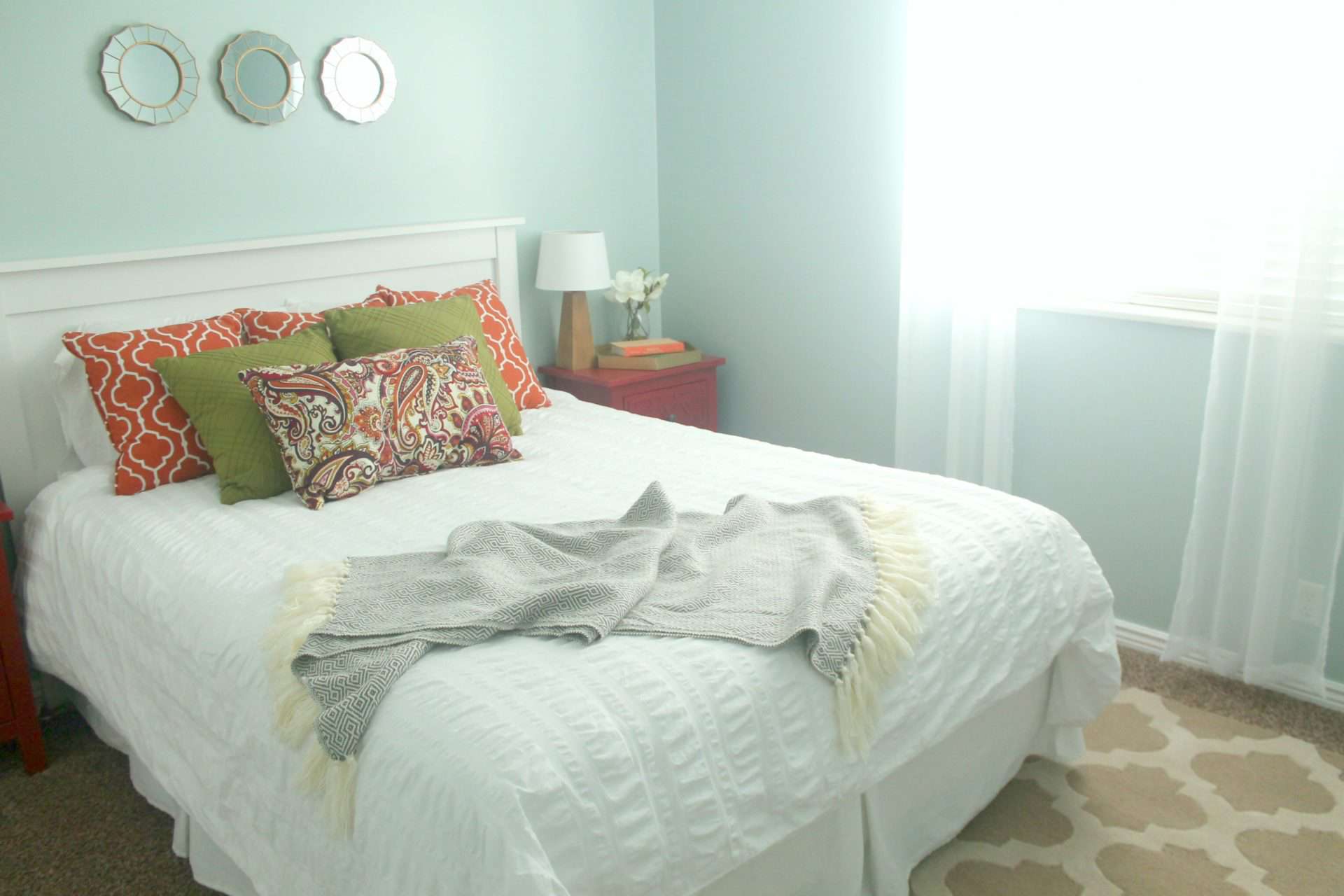 I also hung some new white wood blinds and sheer curtain panels to help the room look lighter, especially because it is in the basement.
The nightstands are from Ikea, and I refinished them.  You can see my Ikea HEMNES Nightstand Makeover HERE.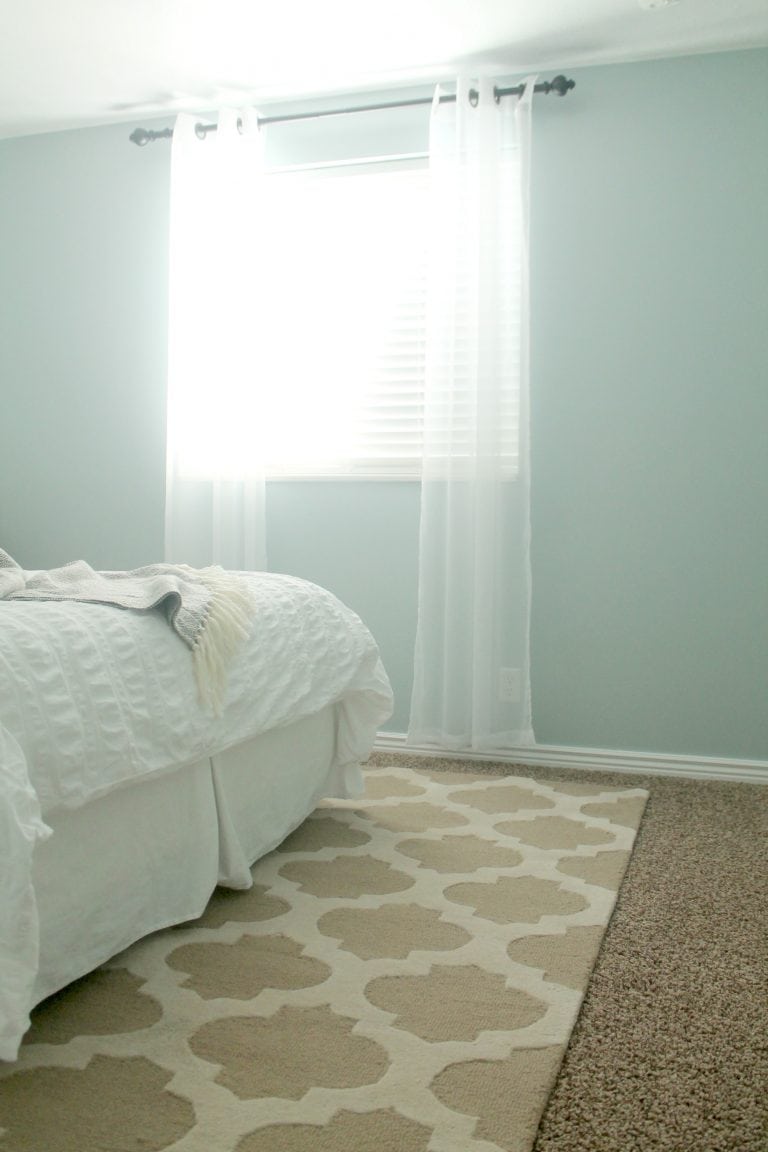 I didn't love the carpet in this room so I knew I needed a cute rug to help add some texture to the room.  I found this cute rug at Plush Rugs.  I am obsessed with the cute pattern!  It's soft, durable and on sale.  It doesn't get much better than that!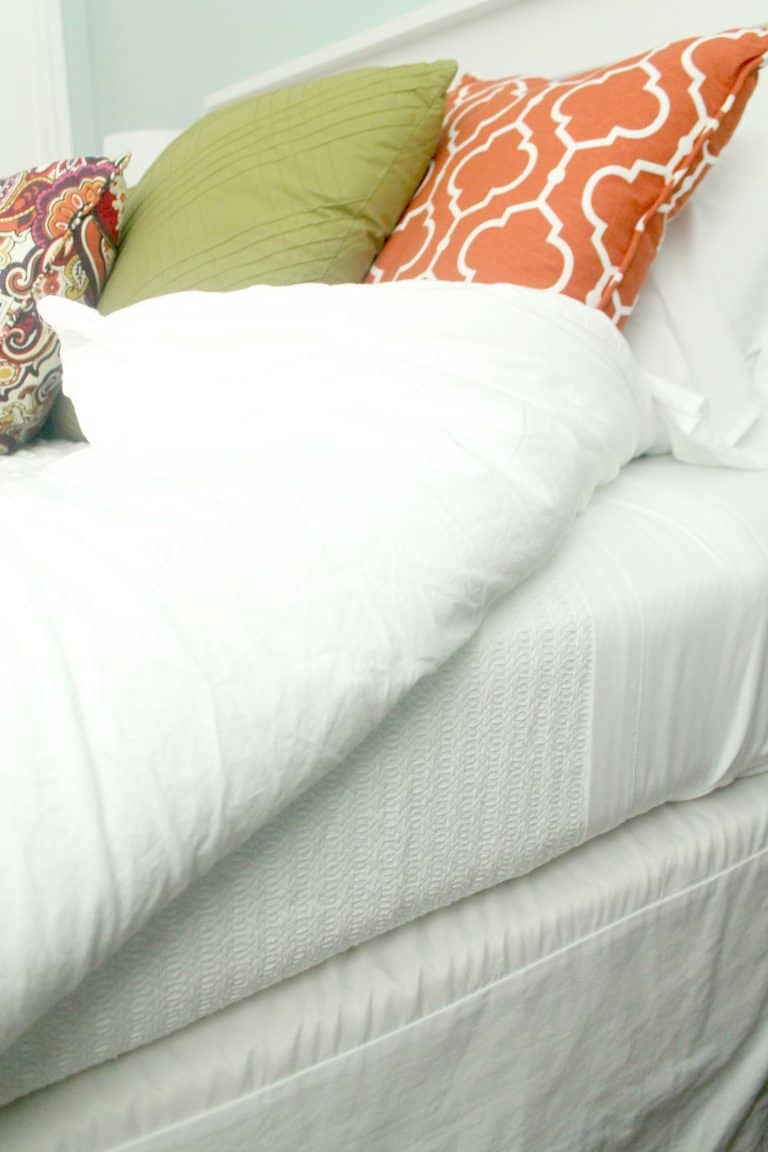 Every guest bedroom needs good sheets.  I have officially found my favorite sheets of all time…. They are from The Sheet Lady.  They are softer than 1500 thread count and they are such high quality.  They are literally the best sheets we have ever had!  They are only $40 a set and come in tons of cute colors.  You can use coupon code SIXSISTERSSTUFF1 to save $5 on one set or SIXSISTERSSTUFF2 to saves $10 on two sets, etc.  Trust me, you'll want them for ever room in your house!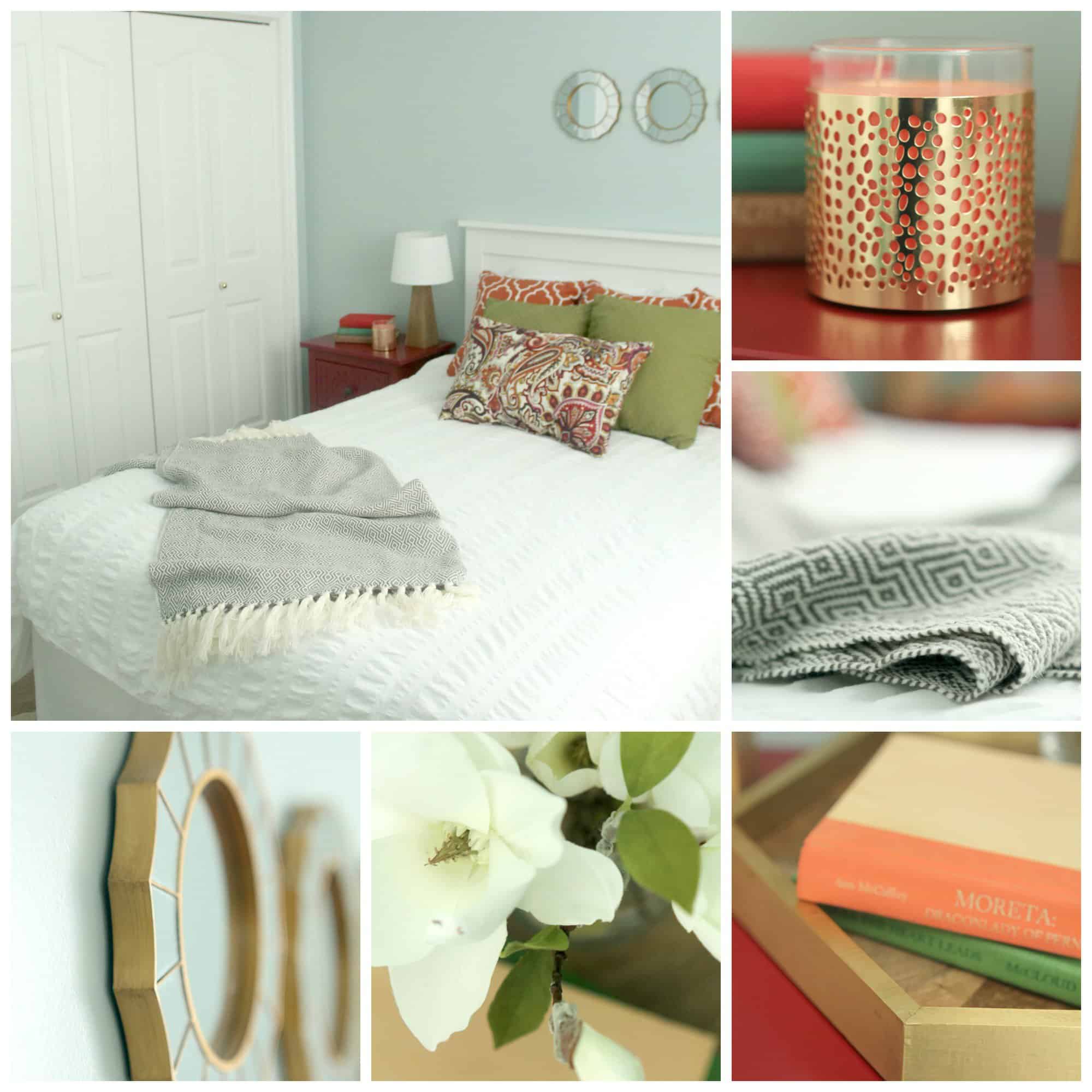 If you know me at all, you know that I can't leave Target without spending one of my children's college funds in a one hour visit.  Seriously.  I can't be trusted there.  I found the throw, candle (it smells amazing!), candle holder, duvet cover, mirrors, lamps, vase, flower stems, and tray at Target.  You could say it was a successful shopping trip. 😉
I found the books at a thrift store and threw them in for a little color!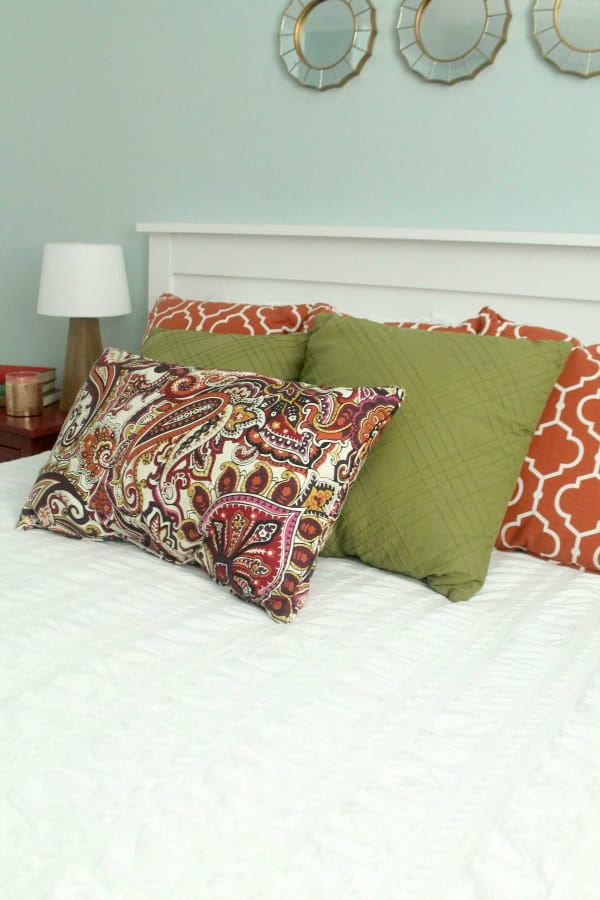 I found all of the pillows at Ross.  You can never have enough pillows, right?!
The white headboard is from RC Willey and I love how it looks against the teal wall.
I think that about does it!