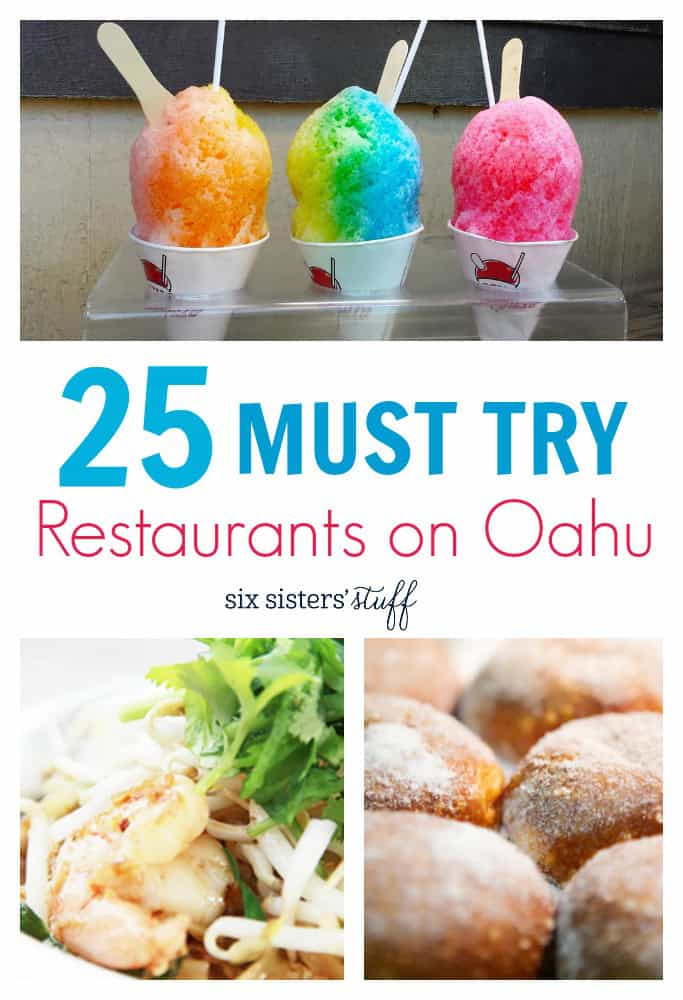 Somehow our vacations all seem to revolve around food. I always get so excited to visit a new place knowing that I am going to be experiencing new foods. It's all part of learning about different cultures and it has always been the best part of traveling. Kendra and I recently visited Oahu, Hawaii and we found some of the best places to eat like the islanders eat! We asked a few suggestions from our readers and ended up with a list full of some of the best food found in Hawaii. We knew we had to share! If you and your family are looking to visit Hawaii soon, be sure to check out how you can win a FREE trip for your family!
Unfortunately we were not able to try all of these places, but we know they are the best because they were suggested by YOU!
Giovannis– The best coconut garlic shrimp you will ever have. I am so sad we didn't discover this until the last day. To see where the food truck is parked, you can visit their website HERE.
Ted's Bakery– Their selection of pies and cakes is out of this world!
Papa Ole's
Seven Brother's– We might be a little biased towards family run food businesses, but we loved this place! Some of the best french friends and the juiciest burger of all time.
Fresh Catch
Side Street Inn– we'd recommend the ribs and fried pork chops!
Kahuku Grill– We LOVED their grilled banana bread!
Arancino
Zippy's
Wailua Bakery
Duke's– A great sit down restaurant with some incredible food!
Cinnamon's-Some of the best pancakes and cinnamon rolls you will find on the island.
Shrimp Shack Food Truck
Tita's Grill
Elephant Thai Food Truck– The best Thai food. They grow their own basil and use some of the best fresh ingredients in their recipes.

Kono's
Liliha Bakery
Tamura's– This is a must if you are wanting to buy fresh fish and prepare it yourself. They also have a delicious menu where you can buy the food already prepared. SO good!
La Tour Cafe
Teddy's Bigger Burgers
Olive Tree
PCC Luau– We had the chance to go to a Luau at the Polynesian Cultural Center. The food there was AMAZING. In fact, we loved it so much that we knew we had to meet the chef and the master behind all of the amazing food! He is incredible, and spends his whole day from dawn until sundown making the most amazing food for the Luau's each night. This is a must if you are visiting Laie or the Polynesian Cultural Center.