Check out this roundup of the very BEST gifts for dad. We want to help make your holiday shopping stress-free. The men in your life will be happy on Christmas morning if they find even a few of these items under the tree.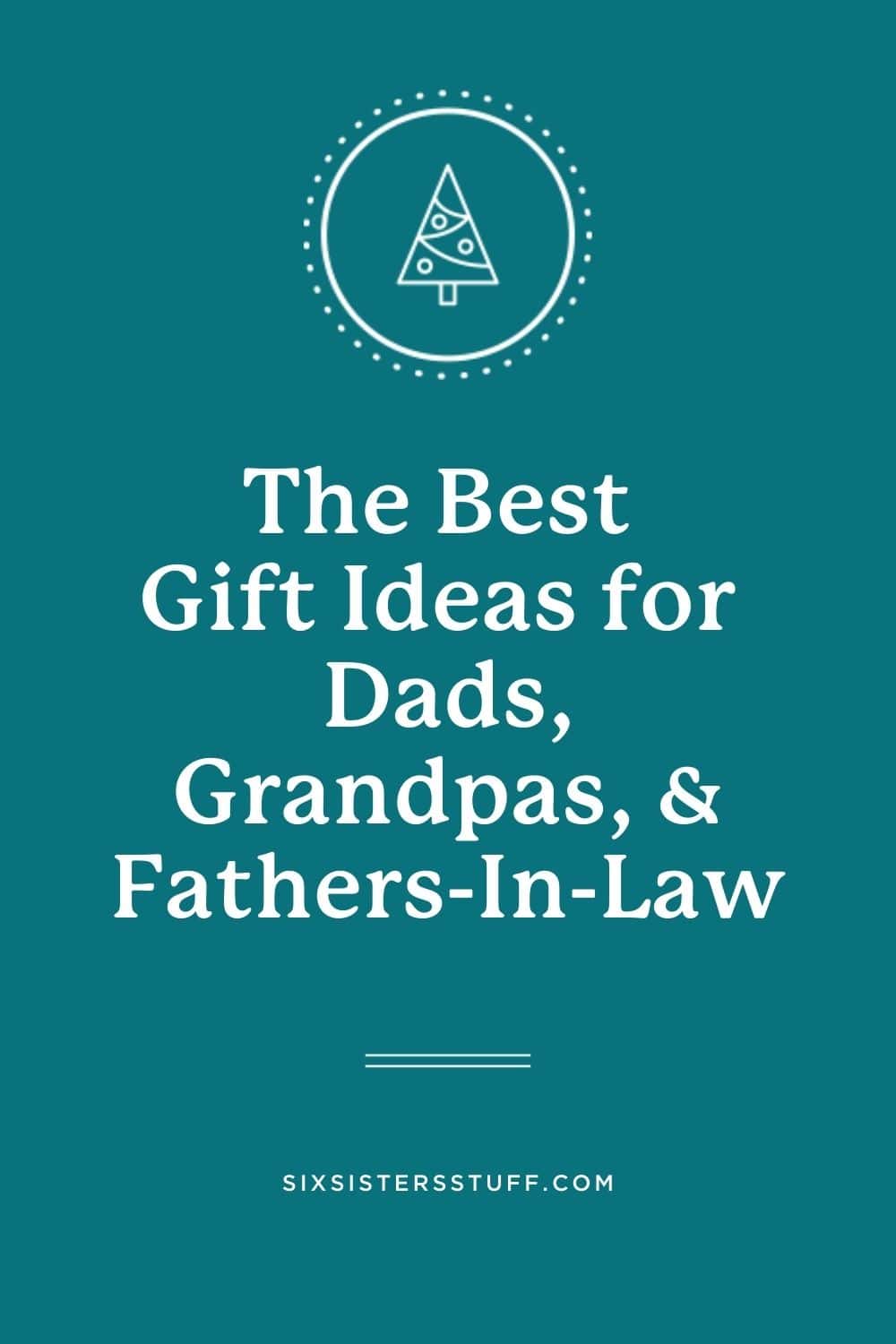 After a lot of research and talking to dads, grandpas, and fathers-in-law, we have come up with some awesome gift ideas to help make your shopping easier!
This gift list is to help all of you find the perfect gift for the dad/men in your life, no matter the age.
**Disclaimer: These gifts are all different price points. Sometimes we will go in together on a gift as sisters or family to get our dad or grandpa a more expensive gift.
You do what is right for you and your budget!
Need more gift ideas? Be sure to check out all our gift guides:
These headphones cover your whole ear and are so soft.
Great quality sound and are great for travel!
These ones are very budget-friendly but have incredible reviews:
But if you want to get some more expensive ones, these ones from Beats are amazing!
We have many happy memories of our dad making homemade ice cream every summer for family parties. Every year was a new recipe.
This is such a fun throw back! Every dad loves to play games and this mini one is so cute!
This is such a great thing to keep in the car – it can charge 5 devices at once and it delivers the fastest possible charge.
Now you can have indoor or outdoor home movie nights or watch the game on a big screen. Pop up some popcorn and get ready for movie night! It's awesome because it can project from your phone!
This portable movie screen can easily be set up in your backyard or while camping. It's great for movie night and measures 120″ diagonal screen. Invite the neighbors over for a fun indoor or outdoor movie night!
We fell in love with this beautiful journal. It's the perfect gift for dad or grandpa. It asks a question or has them think about a memory, and they can share their feelings in this journal. They take just a few minutes each day to reminisce and think about the question, and then you have a book you'll treasure for a lifetime.
Every dad wants to look good – this set has gorgeous ties, clips, and cuff links in an awesome box that's ready to be wrapped!
Another idea is to get a tie and let your kids draw on it or write a special message for Grandpa, it's such a personal fun gift!
We purchased our tie from Boon Ties and then used fabric markers.
Here is Grandpa wearing his special tie:
Get organized and be ready for spring with this garden tool organizer. It comes with a set of 2 17 inch racks. They can also be used indoor to organize cleaning closets or a pantry.
Every Christmas our dad would have a puzzle going for days. We would all work on it together. But he stuck with it the longest. We found this cute puzzle for the Star Wars fans in your life.
If your dad or grandpa has a signature scent that he wears, for sure get him that. Or, this is one of our favorites if you are looking for something new!
If you aren't sure what type of cologne to get them, get them a cologne sampler pack!
This way they can try each one and see what they like the best!
These samples are also great for travelling!
All of the sisters have Sport-Brellas. Our husbands use them all the time. They are great for ballgames, the beach, and picnics. Just about anywhere. We just leave them in our cars all summer long. They are the BEST! They are big enough that we squeeze grandma and grandpa into the shade at ballgames too!
I think any dad or grandpa that got one of these engraved hammers would just melt! They are so cute and you can personalize it your own way. Every time they use their hammer, they would think of you!
This soft lightweight sweater comes in so many colors. It's so easy to dress up or down and will look great on any guy. Sizes range from XS to XXL. Grab a few for the winter months ahead. Great for work or a night out!
Pickle Ball is becoming so popular for young and old alike! If you haven't tried it, you really need to! It's SO fun to play. You can play with two people, or play doubles. We found a great deal on this starter set and it has everything you need! The perfect gift for dad or grandpa!
Between all of our families, we have quite a few kayaks and the kids and adults all use them. They are fun and a great way to exercise. This inflatable 2 person kayak folds up and doesn't take up a lot of storage space. Comes with oars and all you need!
Are the smell of the sport shoes driving you out of the house? Problem solved! These cute boot banana just slip into the shoes and the smell will soon be gone! And they look pretty cute too! These are also great for teen boys!
This little Albatross pocket knife has 6 features- LED light, Seatbelt Cutter, Glass Breaker, Magnesium Fire Starter, Bottle Opener, and Multi-Function Emergency Tool. Comes in more colors and the perfect size to fit in your pocket.
This card game comes in a small tin. It's filled with cards that have thought provoking questions. It's a fun way to get to know each other, and especially your loved ones (like dad). The perfect size to take on a family vacation or fit in your suitcase and play around the campfire in the evening.
We like to use these camping lanterns over flashlights. They are LED lights, and so very bright. They have handles to carry, which also makes them easy to hang in a tent. Great for camping, and when the power goes out. They are powerful enough to light up a room. Comes in a set of 2. They collapse down for easy storage.
This mug cracked me up! I am definitely grabbing it for my father-in-law. Ha ha!
Our dad got new slippers every year for Christmas and these memory foam ones are SO comfy.
Every dad needs a nice bathroom and these ones are so plush, but don't break the bank!
Help your dad or grandpa organize his life with this cool phone dock and storage stand. You can use it for your watch, glasses, keys, phone, wallet . . . everything goes in one organized place. Hopefully he won't lose his keys anymore.
If he does struggle with losing his keys or wallet or anything else, he will LOVE a Tile! This has been a GAME CHANGER for me (no more lost keys!).
As dad gets older, he is going to have sore muscles . . . and this massage gun is AWESOME for working through muscle knots and sore muscles!
If you want to win bonus points with your FIL, this little patch is so cute. You can personalize what the patch says and then put it on the back of a tie.
If your dad loves to grill, he will love the variety of this spice set! Comes with 20 flavors and the packaging is awesome for giving as a gift.
We got this grill/griddle for our dad a few years ago and he still uses it all the time!
What I love about it is you can grill hamburgers and steaks on it, but then because it's a griddle you can make hashbrowns and stir-fry and french toast . . . it's incredible!
If you have a dad that loves to grill, this will become his favorite gift of all time.
If you do get him a griddle grill, make sure to grab him all the accessories!
This is another big investment – and maybe something that all your siblings could go in on together to get one big gift for your dad.
My husband LOOOOOOVES his smoker. There are not enough love adjectives to describe how much he loves his.
I have yet to meet a dad who doesn't love breakfast and this little machine is SO cool because it makes your whole breakfast sandwich at one time!!
Every year, my father-in-law has a tradition of getting a meat and cheese gift box – it's his favorite gift! It's kind of something fun to give to the person who has everything.
Every man needs some good cufflinks and I love the personalization of these ones with a monogram.
My sister brought these chairs to the beach last summer and THEY WERE AMAZING!
So comfortable and easy to tote around. Any dad or grandpa would love this!
Another outdoor chair that is so comfortable are these zero gravity chairs. My in-laws have these and I always fall asleep in them when I sit in them.
These ones come in a 2 pack and are a great price for the set!
We love to play cornhole when we are together as a family and any dad would love his own set!
Our dad uses his yeti cup every day – it's just a great practical gift that will get a lot of use!
We got this for my dad last year and it's been a huge hit! He takes it everywhere and it has amazing sound quality!
This laptop tray table is perfect for being on your computer anywhere – you can use it in bed, on a couch, anywhere you want!
Turn any chair into a massage chair with this mat!
Remember how the mall used to have massage chairs that you could sit in and pay a quarter to turn them on for a minute? Now it's like having that in your own home!
If you have a dad that loves to travel, this scratch map might be kind of fun! It comes with an international map and also a map of the US.
Any traveler would love new luggage – there are some great sets for great prices this time of year!
I just learned about hanging toiletry bags this year and they are a game changer for when you are traveling!
It seems that hotels never have much counter space around the sink, so the fact that this bag can hang instead of take up counter space is awesome!
If your dad loves to read, get him a subscription to a book of the month club!
This is such a fun way to get new books in genres that you love delivered right to your door.
My father-in-law loves to whittle – it's a huge stress reliever for him. This is a cool set for someone just getting started or someone that has been doing it for a long time!
Even though we live somewhere with tons of snow, you can still practice your golf skills with this indoor putting green! My husband loves to tinker around on his, especially when he is feeling stressed.
These backpacks are AWESOME for hiking, going to the beach, going to an amusement park, or anywhere else you would lug a huge cooler. It's so much easier to carry it on your back!
If your dad has a favorite sports team, get him a cool piece of memorabilia!
Can we all just recognize the 1992 Dream Team? Those were the good ol' days . . .
My father-in-law loves the Dodgers and we got him a jersey a few years ago and he loved it!
My parents have discovered that since being empty nesters, they have so much leftover food! This food saver makes it so that they can freeze it and save it for another day. It's been a lifesaver and so practical!
What are we missing? Or what is a favorite gift that you gave your dad, grandpa, or father-in-law? Leave a comment below!