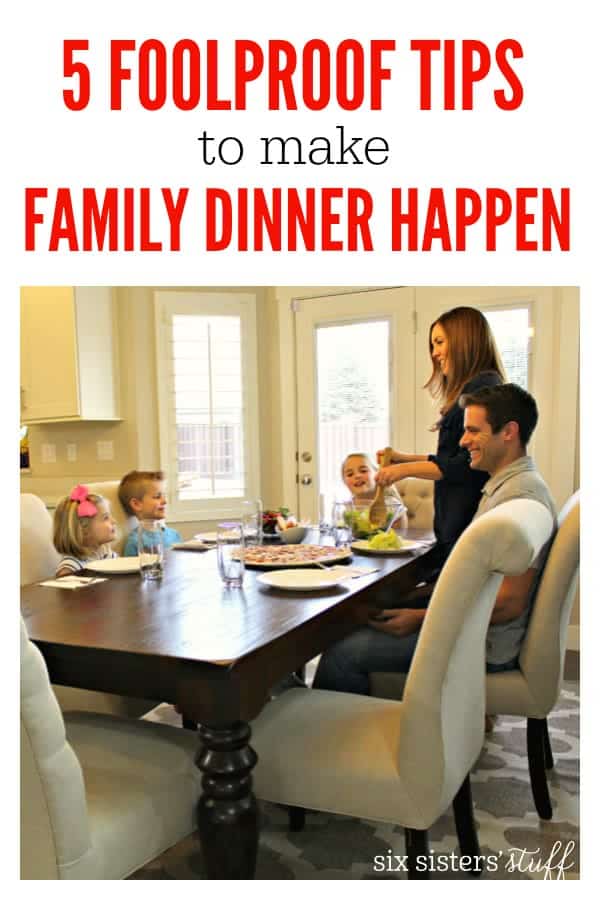 Many of you have asked where my furniture is from, so here is where you can find them all at
Home Decorators Collection:
The table is the Walton Dining Table
The chairs are the Rolled-Back Parsons Chairs
The end chairs are the Button-Tufted Side Chairs
The rug is Ciudad Area Rug (an Indoor/Outdoor Rug)
When we were growing up, family dinner happened every night at 6 pm. Dinner was a time to spend together talking and eating; discussing the happenings of the day and the things that were going on in our lives. It was a time to laugh and share funny stories and a time to talk about serious current events. Many of my favorite memories happened around the dinner table and helped shape me into the person that I am today.
When my sisters and I started this blog, we shared many of our favorite family recipes and we soon realized that one of the reasons we loved these recipes so much were because of the many memories and traditions associated with them. As our following grew, we started to get emails and comments from readers who would tell us that family dinner was a rare occurrence in their home ? for many, Christmas and Thanksgiving were the only times that their family gathered around the table to enjoy a meal together.
My sisters and I couldn?t believe what we were hearing! It seemed to be that family dinner was a old tradition that was quickly being forgotten. We decided that it was important to start sharing why we were so passionate about family dinner and invite others to experience the benefits that eating together can have on your children, your relationships, and your overall happiness.
We found a couple of studies on family dinner that had mind-blowing data. Who knew that family dinner was such a powerful thing? Here are a couple of statistics about dinner that we learned:
-Family dinner will help children get better grades in school.
-By having family dinner together, there is a lower chance of children experimenting with smoking, drinking, or other drugs.
-Family dinner can also help lower depressive symptoms and suicidal thoughts during the teen years.
-Family dinner has been proven to help with a child?s vocabulary development even more than playtime or story time.
-By eating family dinner together, adolescent girls will have a smaller chance of developing an eating disorder.
-Children that have dinner with their family on a consistent basis will be less picky and be more willing to try new foods.
-Family dinner has shown to help lower stress in adults.
Today I wanted to share with you 5 of my FOOLPROOF tips that help will get your family to the dinner table. Don't think they will work? Put them to the test and see what happens!


If you fail to plan, you plan to fail. Come up with your favorite 15 recipes that you know your kids will eat and then come up with 15 other recipes you want to try or know that you can make – and just like that, you have a month's worth of dinner ideas. Or, to make your life easier, just join our Menu Plan Membership and let us mail you a menu and shopping list each week. 😉
Use your weekend or day-off to do some planning. Write out a grocery list using the list of recipes you put together and go shopping for the entire week. That way, when 4 pm rolls around, you won't have to go into panic mode wondering what to make for dinner – the planning is already done!


Meals don't always have to be a 5-course meal with all the fixings – remember that you can keep it simple! In our house, we are big fans of Taco Tuesday: it's one of my kids' favorite meals and they look forward to it each week. Maybe in your house, every Saturday is pasta night or Fridays are homemade pizza night.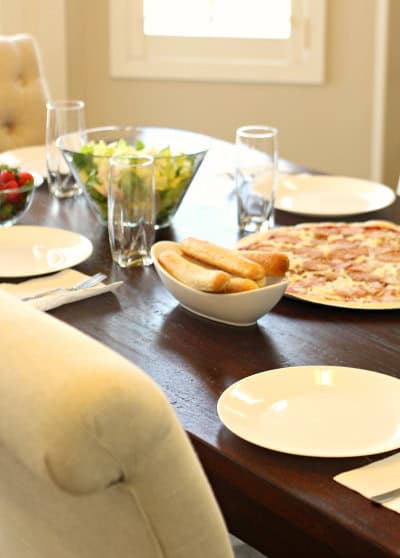 Also, side dishes can be something as easy as breadsticks or even a bag of frozen vegetables. Don't be afraid to purchase pre-cut vegetables or fruits is that is going to help you spend less time in the kitchen and more time enjoying dinner with your family because your time with family is what is most important.


I am very passionate about getting your kids involved in the kitchen. I honestly feel that if kids help with the preparation of the meal, chances are higher that they will eat it. Some ideas for getting everyone involved:
-let the kids choose the menu (I will even let each of my children choose one meal a week. If they hate what we are having on Monday, they know that their favorite meal is coming up on Tuedsay because they got to choose).
-go grocery shopping together and have your kids help find all the items on your list
-let the kids help with the preparation. Depending on their age and skills, you could have them measure ingredients, stir things in a bowl, sprinkle cheese on top, push the button on the blender, crack eggs, etc.
-have your children set the table (they could even make and decorate name cards)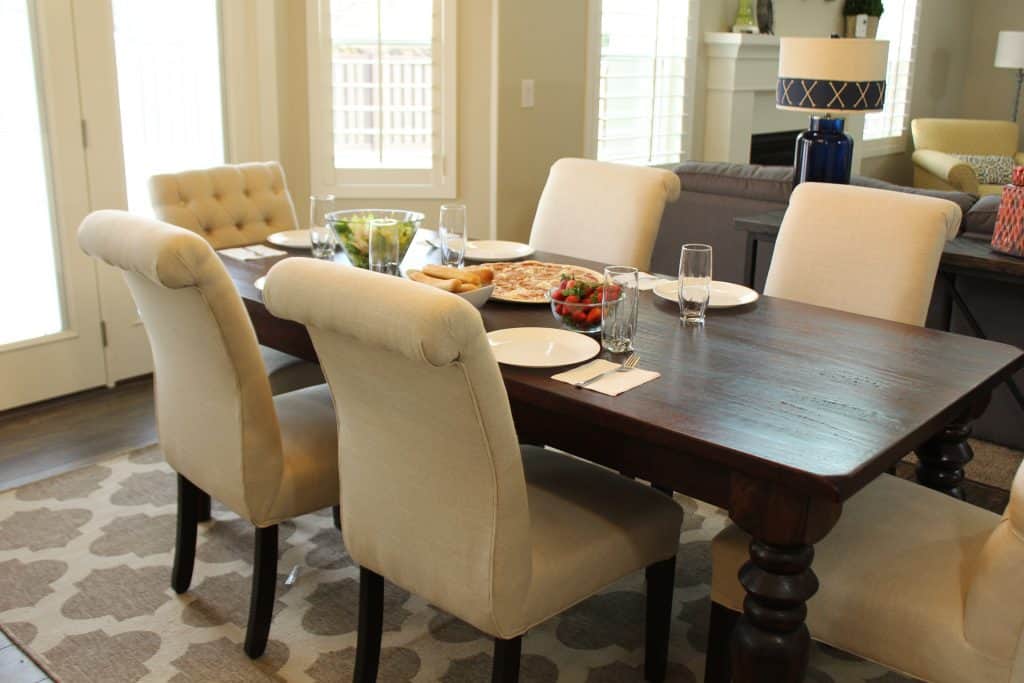 -don't nag or discipline – don't use dinner time as a chance to lecture your children (or spouse!)
-don't expect your toddler to last for an hour long meal and conversation – be realistic
-make it fun!
-eat dinner blindfolded and guess what you are eating
-have a color-theme night (i.e. everything we eat for dinner tonight is RED)
-play restaurant –  whether they cooked the meal or not, have your kids serve each course like waiters at a fancy restaurant. You could even eat your dinner by candlelight to kick-it-up a notch!
-have a backyard picnic (or if it's too cold outside, have an indoor picnic!)
-have international night and make food and decor around the theme (Chinese, Mexican, etc).
-make a meal that is finger-food only – kids love this!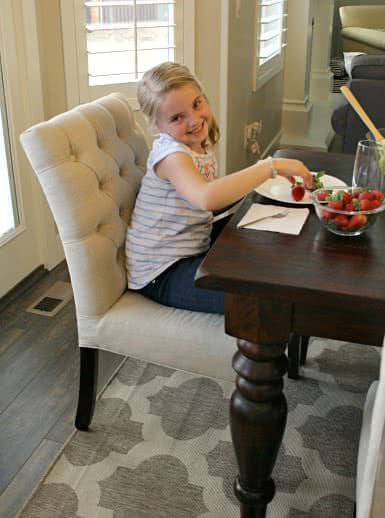 -have a dinner bar: potato bar, pasta bar, oatmeal bar, salad bar, crepe bar, or any type of bar allows kids to have a little more control over their choices, within the realms of your meal.
-have a progressive meal. Starting with appetizers on the front porch, move to the main dish at the dining table, followed by dessert on a field of grass with a picnic blanket.


-have a clear expectation of when dinner will be starting (and if dinner doesn't work for you, maybe you do family breakfast!)
-make a no-phone rule at the table
-need some dinner conversation starters? Here are 50!