Oven baked tacos are an easy dish to make, and the whole family will love them.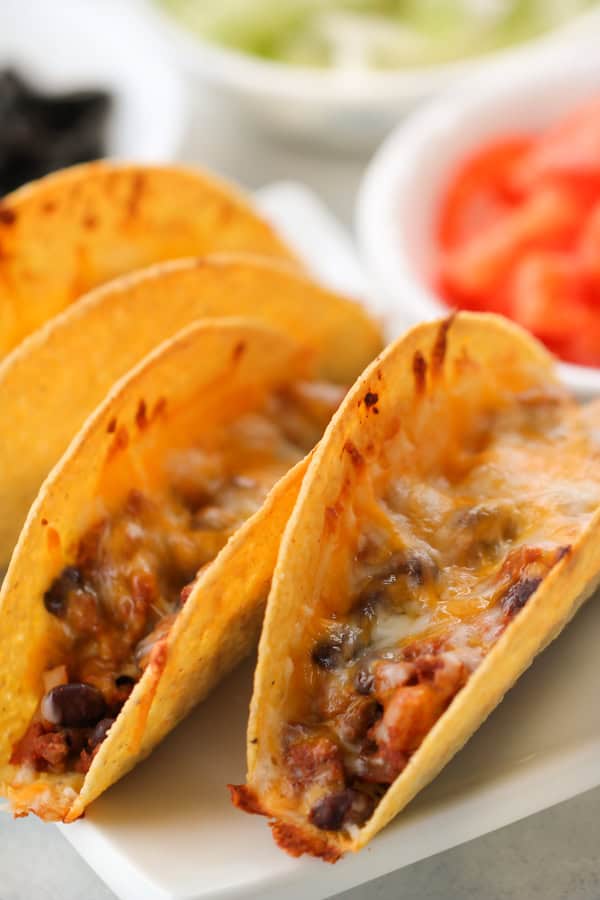 Oven baked tacos come together so quick and easy. And they are easy to eat, too. Not a lot of mess with taco meat falling out with every bite. They are literally the easiest way to make and serve tacos.
Our kids often get so frustrated when they take a bite of their taco, the shell breaks, and taco filling is falling out. These are so easy for little hands to hold.
With oven baked tacos, the meat stays put. The shell slightly softens when cooked. We love using the taco shells with a flat bottom. They can stand up on their own, and that helps holds in the taco meat so well.
We had seen Oven Baked Tacos floating around the internet and decided to take make our own spin on them. I had heard that baking the tacos softens the shell just a little bit and helps solidify the filling, so I put it to the test and it passed with flying colors!
The filling stayed in place, the shells didn't break into a million pieces, and we were able to eat dinner without one single tear . . . which makes these Oven Baked Tacos a perfect 10 in our book!
These tacos are great on their own without any extra toppings. That's how our kids like to eat them.
Can you use other meat in these tacos?
We like to use ground beef in these tacos. You can easily sub the ground beef out for a healthier option such as ground turkey.
Shredded beef would also be tasty in these oven baked tacos. If you had a lot of leftovers after a big Sunday pot roast, just shred the beef and add it to the recipe.
You could also use cooked shredded chicken for a chicken taco.
We have even tried shredded pork, and it was delicious.