If you love peaches and cream, you're going to love our no-bake peach cheesecake bars recipe! It is AMAZING and such an easy peach cheesecake recipe to whip up and enjoy the same day.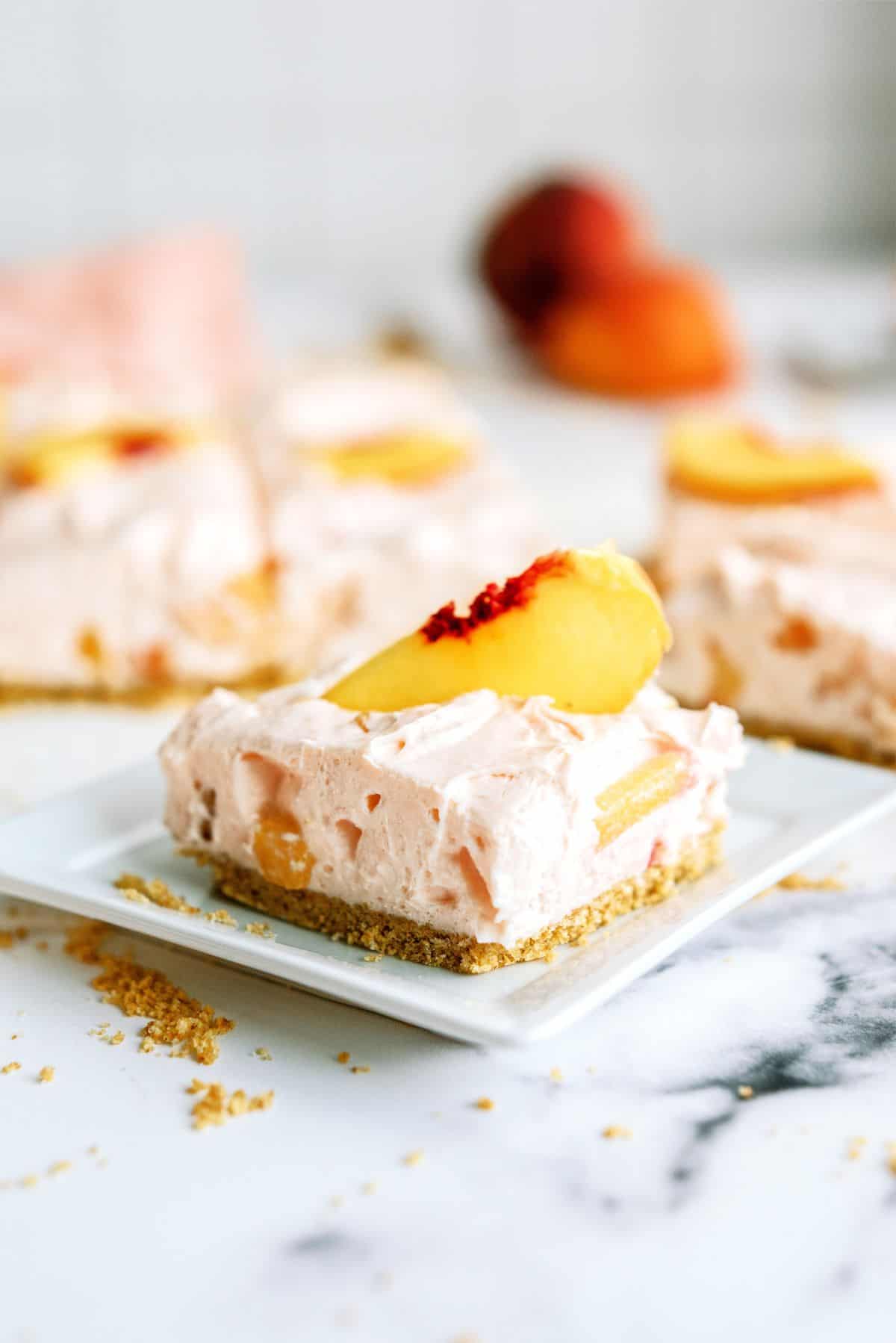 Our no-bake peach cheesecake bars recipe is going to be the talk of your next get together. Whenever people are asking what to bring, I always sign up for desserts so I can make recipes like this no bake cheesecake.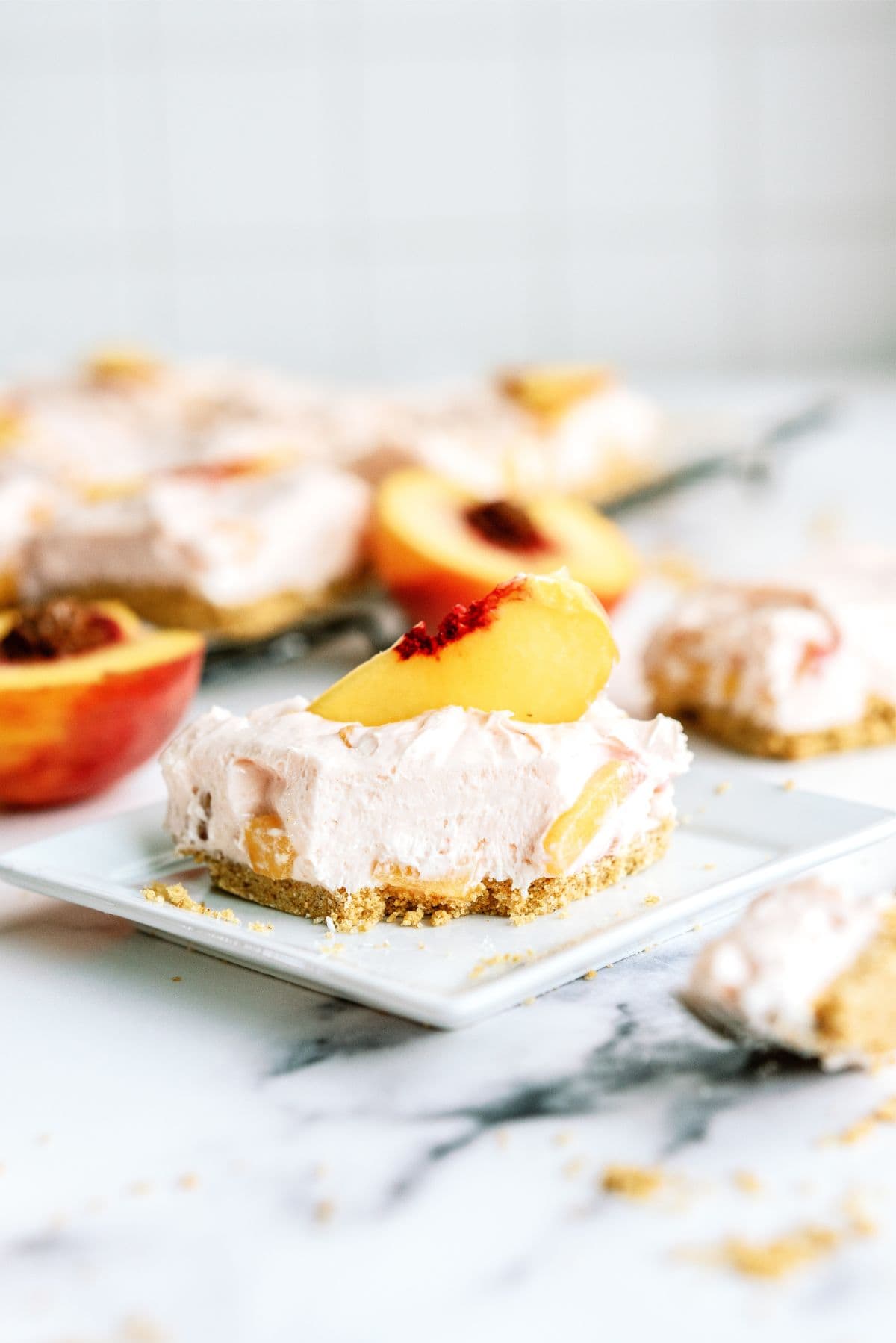 Why, you ask? Because I can put in minimal effort but still have everyone love the easy dessert recipe I bring. And people tend to end up asking for the recipe, so make sure you save it for easy access for sharing.
The no bake peach cheesecake bars are also great to make up the night before if you know you have a lot going on if you are the one hosting a party and they will still be just as delicious the next day.
For more recipes like our easy peach cheesecake, check out our no bake strawberry ice box cake recipe, no bake strawberry cheesecake bars recipe, and no bake lemon cookie truffles that are perfect for the summer! You can also find 50 listed in our easy and delicious no bake desserts list compiled to make it simple for you to find them all.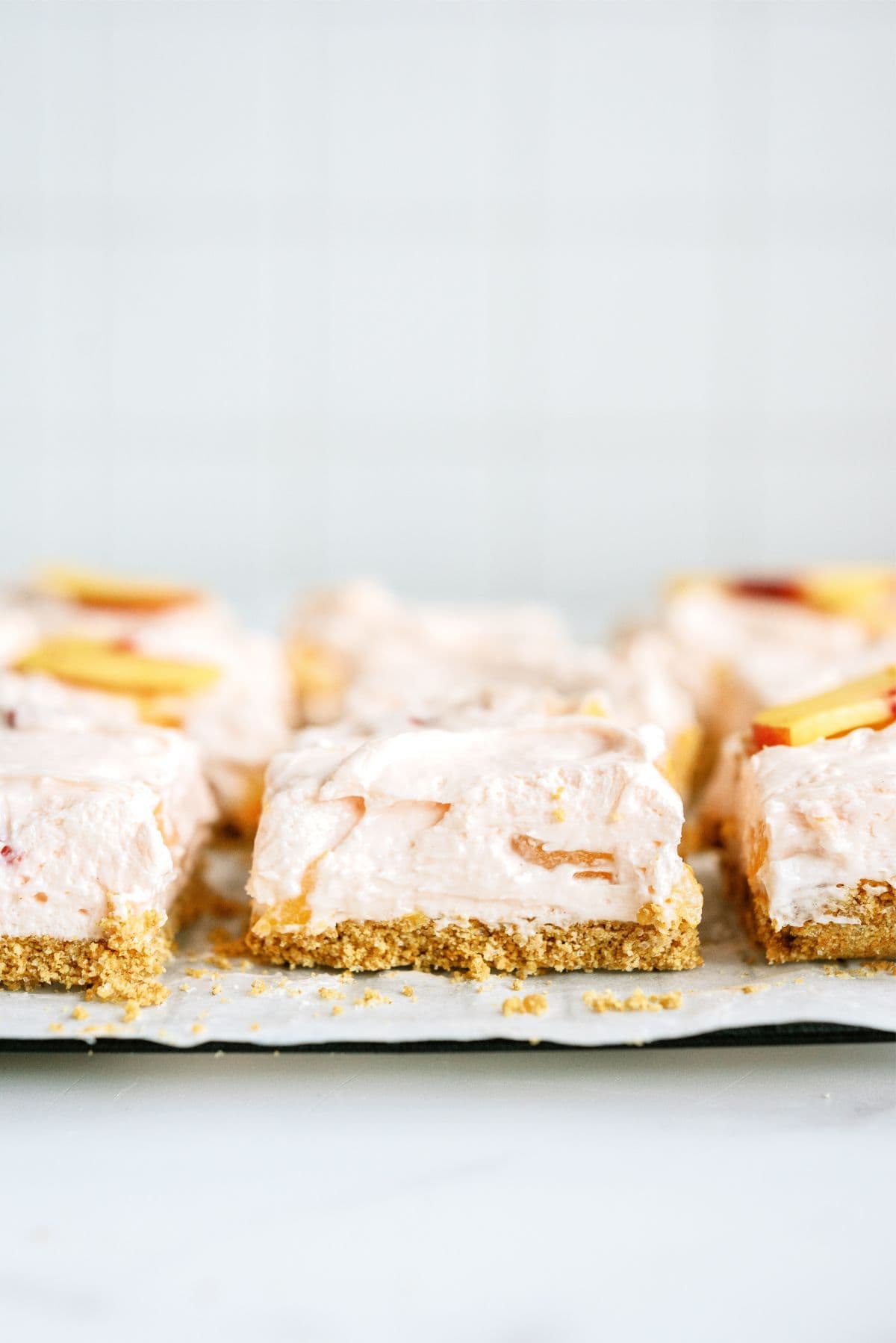 Ingredients You Need to Make Our No-Bake Peach Cheesecake Bars Recipe:
Graham cracker crumbs
Butter, melted
Sugar
Cream cheese, softened
Jello-O peach flavor gelatin (you can find it on Amazon HERE)
Cool Whip 
Fresh peaches, chopped into small pieces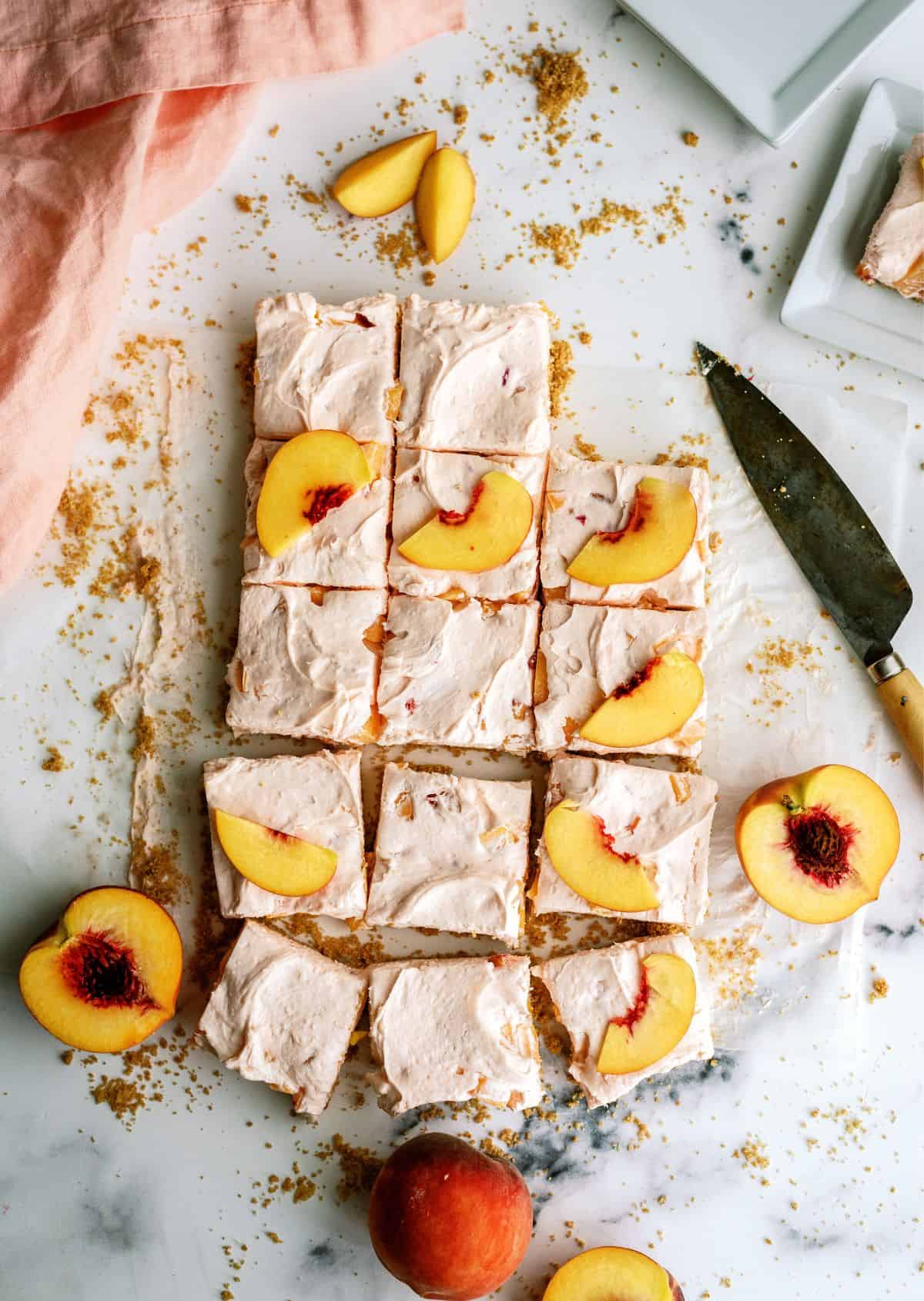 How To Make Our No-Bake Peach Cheesecake Bars Recipe:
Begin by getting out a large mixing bowl to make the crust.
Combine the graham cracker crumbs, melted butter, and ¼ cup sugar in the mixing bowl and mix it together until the crumbs are saturated in the melted butter.
Then press the cracker crumb mixture into the bottom of a 9×13 inch baking pan and then place it in the fridge to let it set up.
Now, prepare the cheesecake mixture by beating the softened cream cheese and ¾ cup of sugar in another bowl and mix it until it is well combined.
Then add in the dry Jello-O peach mix and mix it well.
When that is all mixed together, gently fold in the thawed Cool Whip and the fresh, chopped peaches.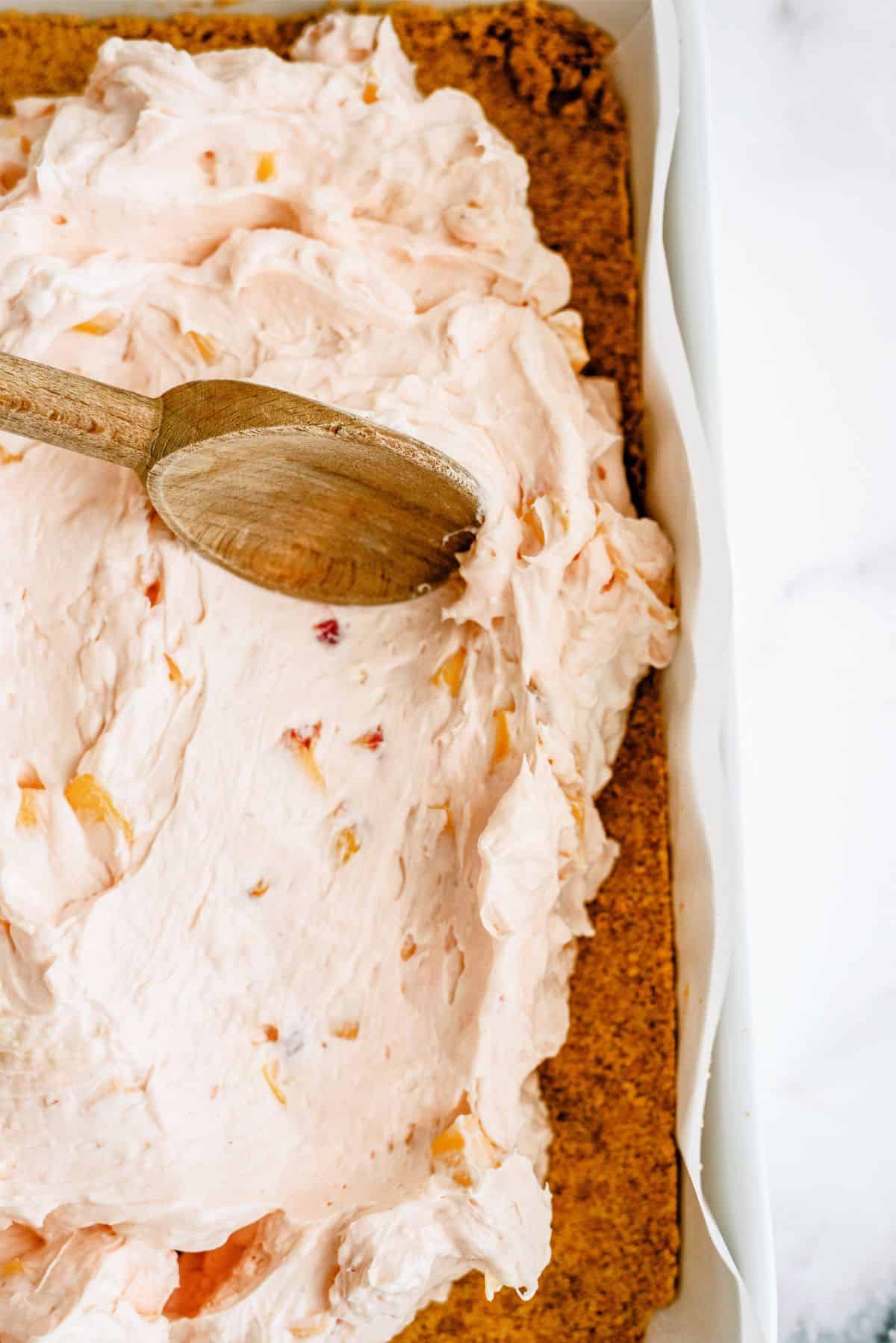 After all of that is mixed together, grab the pan out of the fridge and spread the cream cheese and Cool Whip mixture evenly over top of the crust layer.
Then, simply place the pan back into the fridge for at least 4 hours or until the cheesecake bars are firm.
Once the bars have hardened up, remove the pan when you are ready to serve, slice them, and enjoy them.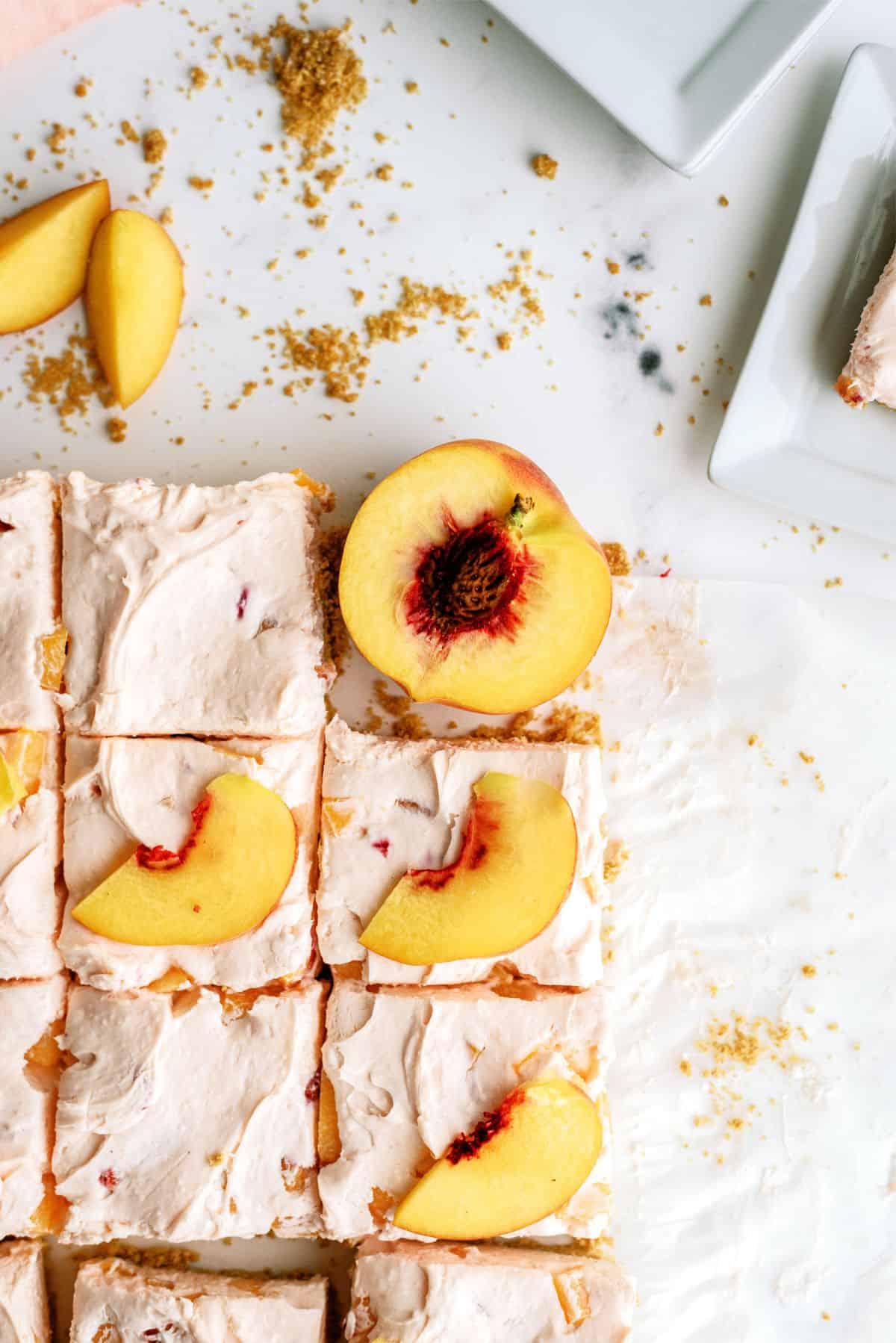 To Make These Easy Dessert Recipe You Will Need:
Large mixing bowl
Medium mixing bowl
9×13 inch pan (THIS one is great and comes with a lid for easy storing!)
Spatula