This is such and easy yet simple Greek pasta salad. This is a perfect summer pasta salad that is light and fresh. It is the best potluck side dish to bring to share.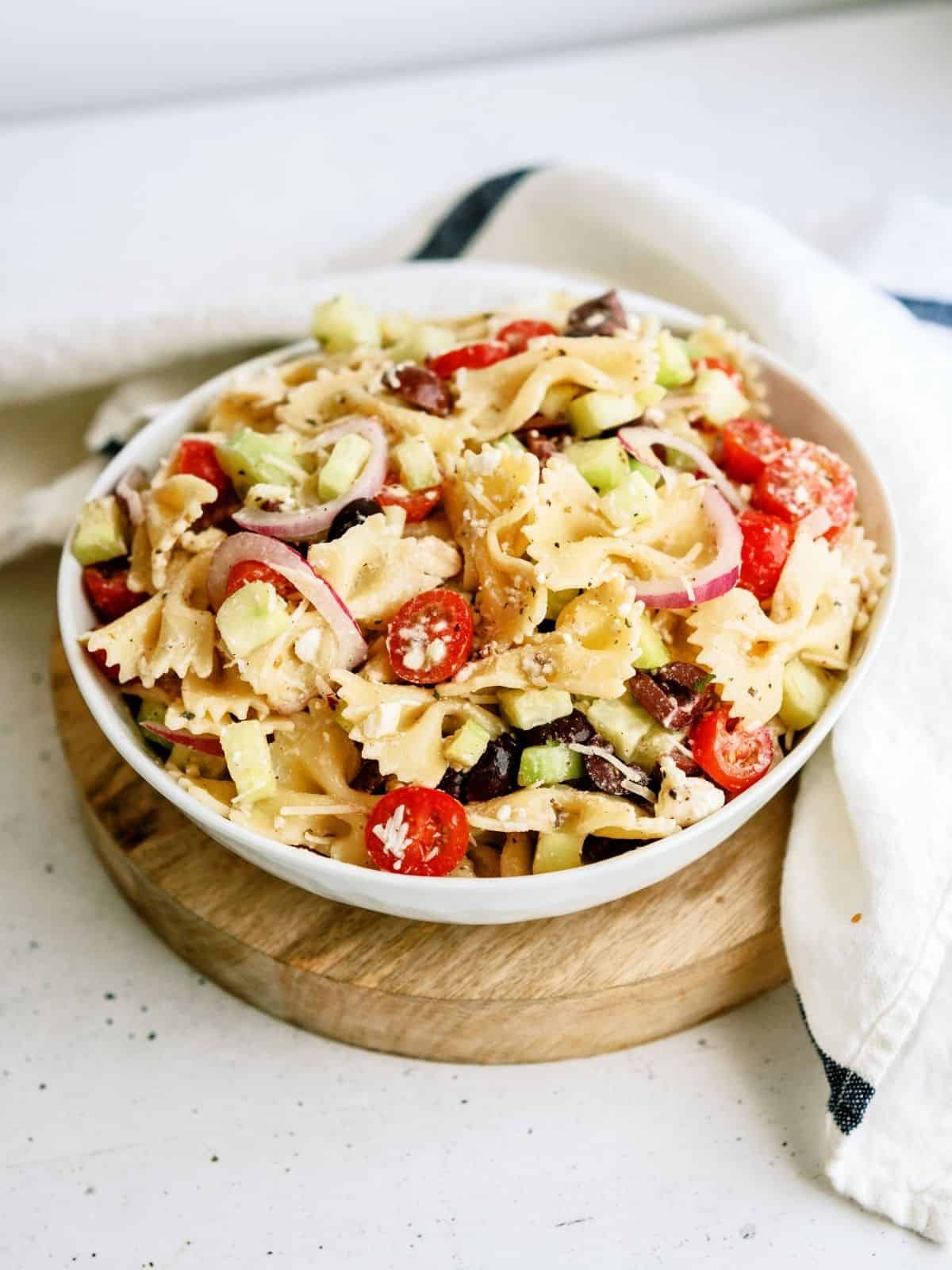 I feel like salads are always a great dish to bring to any BBQ and our greek pasta salad is one of my favorites! I love that I can make this up the same day or the night before and either way it will have the best potluck side dish to share.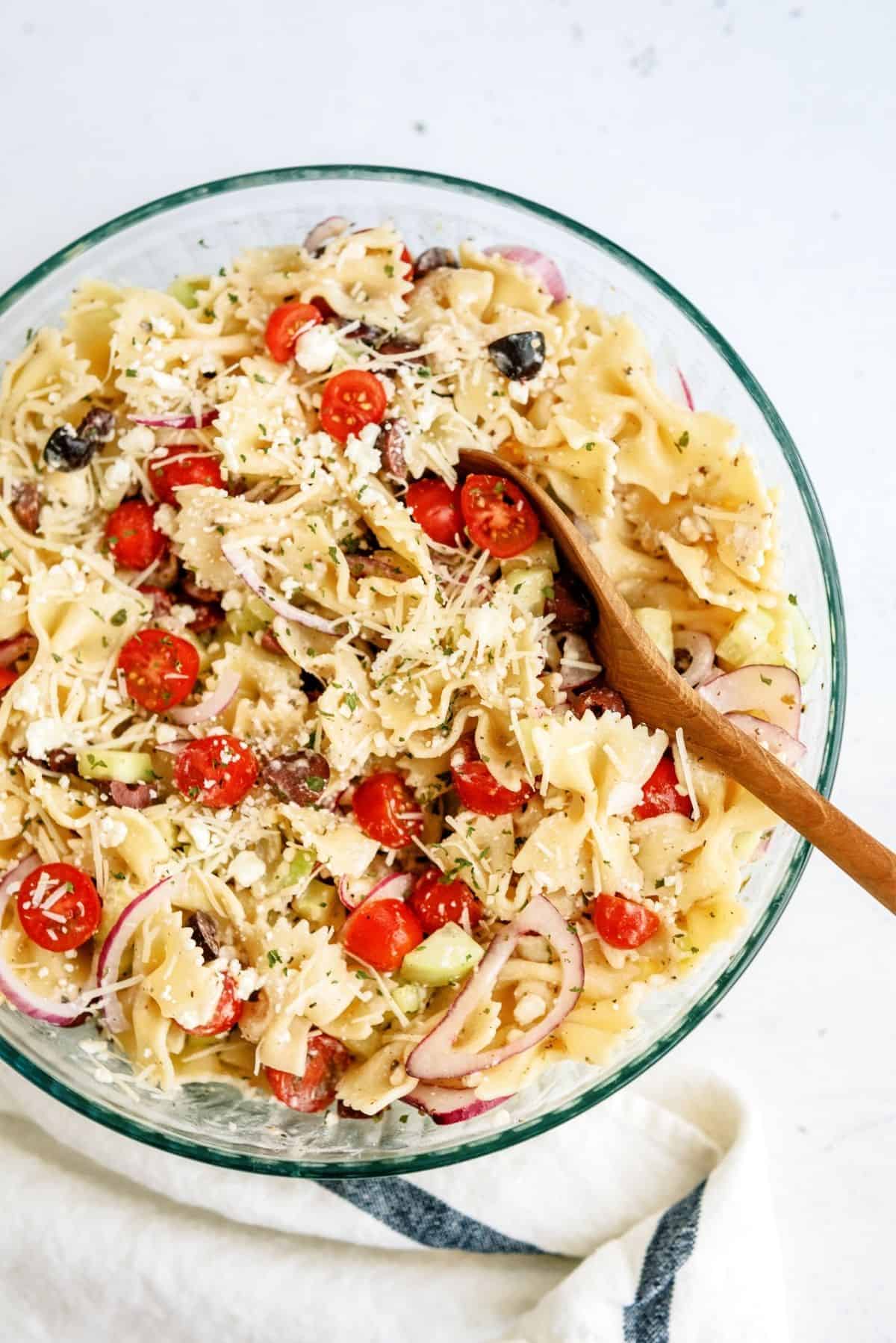 With a simple greek pasta salad recipe, you can follow it to the "T" or you can make it your own depending on what you like. So, if you know there are allergies or dietary restrictions you need to be cautious of there are ways to alter the recipe, but still have a delicious summer pasta salad.
Plus, I don't think I've ever had a greek pasta salad with feta that I don't like. I always say, the more feta the betta. 😉
Since I'm sure you will be living it up this summer by partying or eating with friends, make sure to save a few of our other delicious pasta salads. A few more that I make often are our southwest chicken pasta salad, cowboy pasta salad, or our more traditional but still the best creamy pasta salad recipe.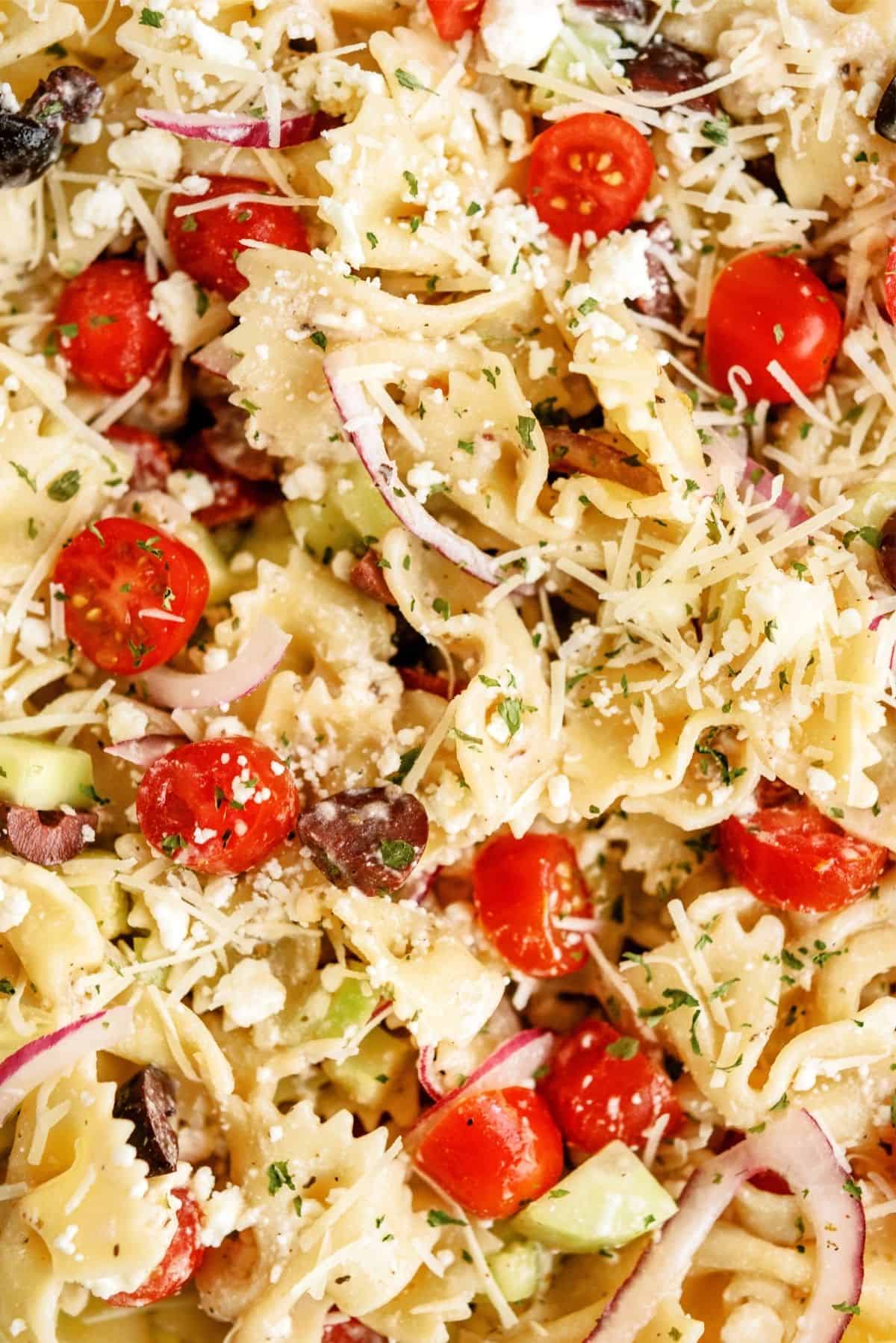 Ingredients You Need to For Our Greek Pasta Salad Recipe:
Bow tie pasta
Cucumbers, sliced and quartered
Grape tomatoes, halved
Crumbled feta cheese
Kalamata olives, quartered
Red onion, thinly sliced
Greek vinaigrette dressing (we like THIS one for this recipe)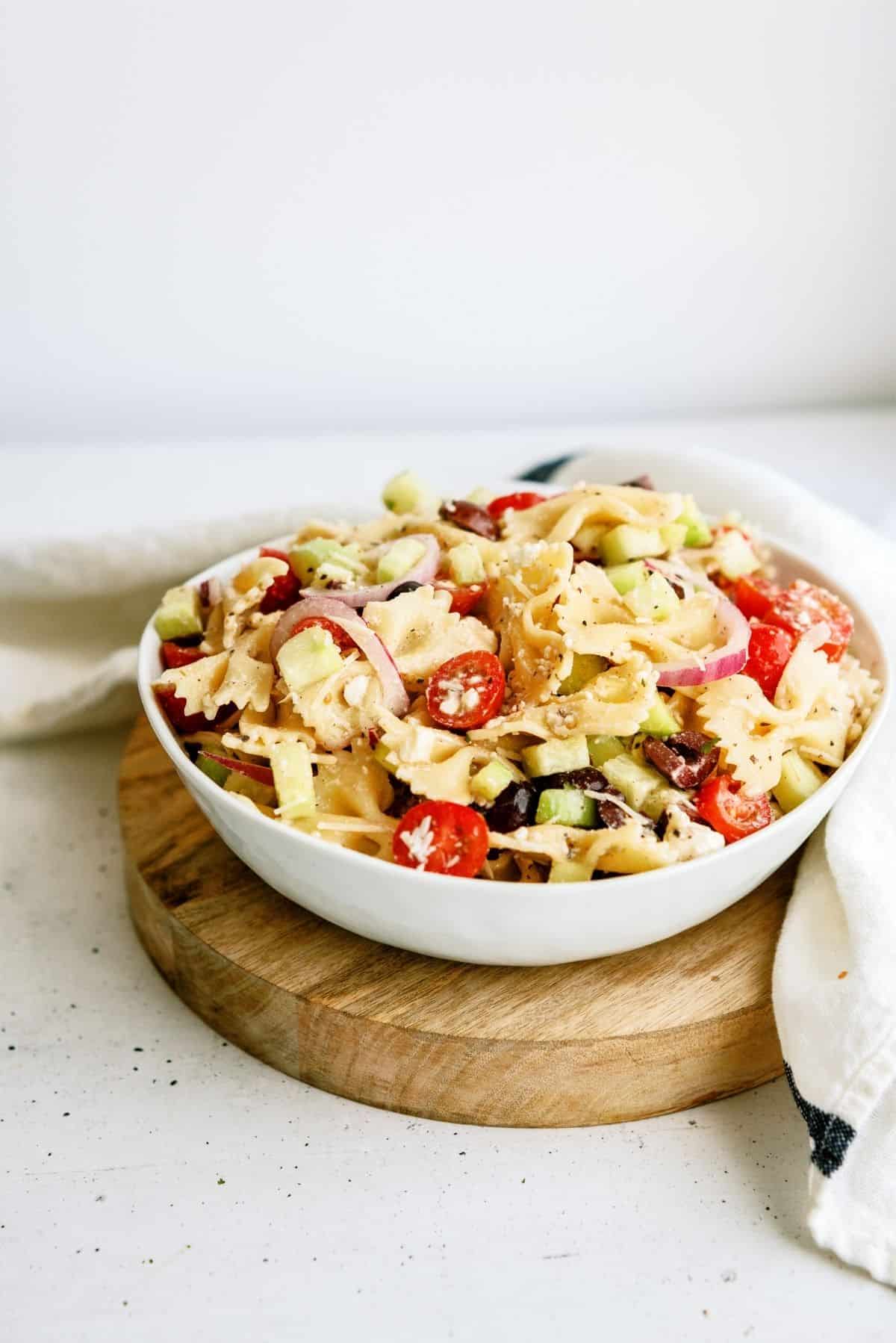 How To Make Our Greek Pasta Salad Recipe:
When you are ready to make our greek pasta salad recipe, start by making the pasta.
Get out a large pot and boil water and cook the pasta according to the directions on the package until the noodles are tender.
While the noodles are cooking, prep the cucumbers, grape tomatoes, kalamata olives, and thinly sliced red onions.
When the noodles are done cooking, drain the pasta and run the noodles under cold water.
NOTE: Running the noodles under cold water stops the noodles from continuing to cook and keeps them at the right texture for pasta salad.
After running the noodles under cold water, make sure they are drained well and let them continue to cool down.
Now, in a large mixing bowl, combine the cooled pasta, sliced and quartered cucumbers, halved grape tomatoes, package of feta cheese, quartered kalamata olives, and the thinly sliced red onion and mix it all together.
When you have that completely mixed, pour the greek dressing over top of the salad and toss it all together until everything is well coated.
Now just top it off with some shredded parmesan cheese. You can serve it right away or pop it in the fridge and let it chill until you are ready to serve it.
I personally love to chill it for at least an hour or two.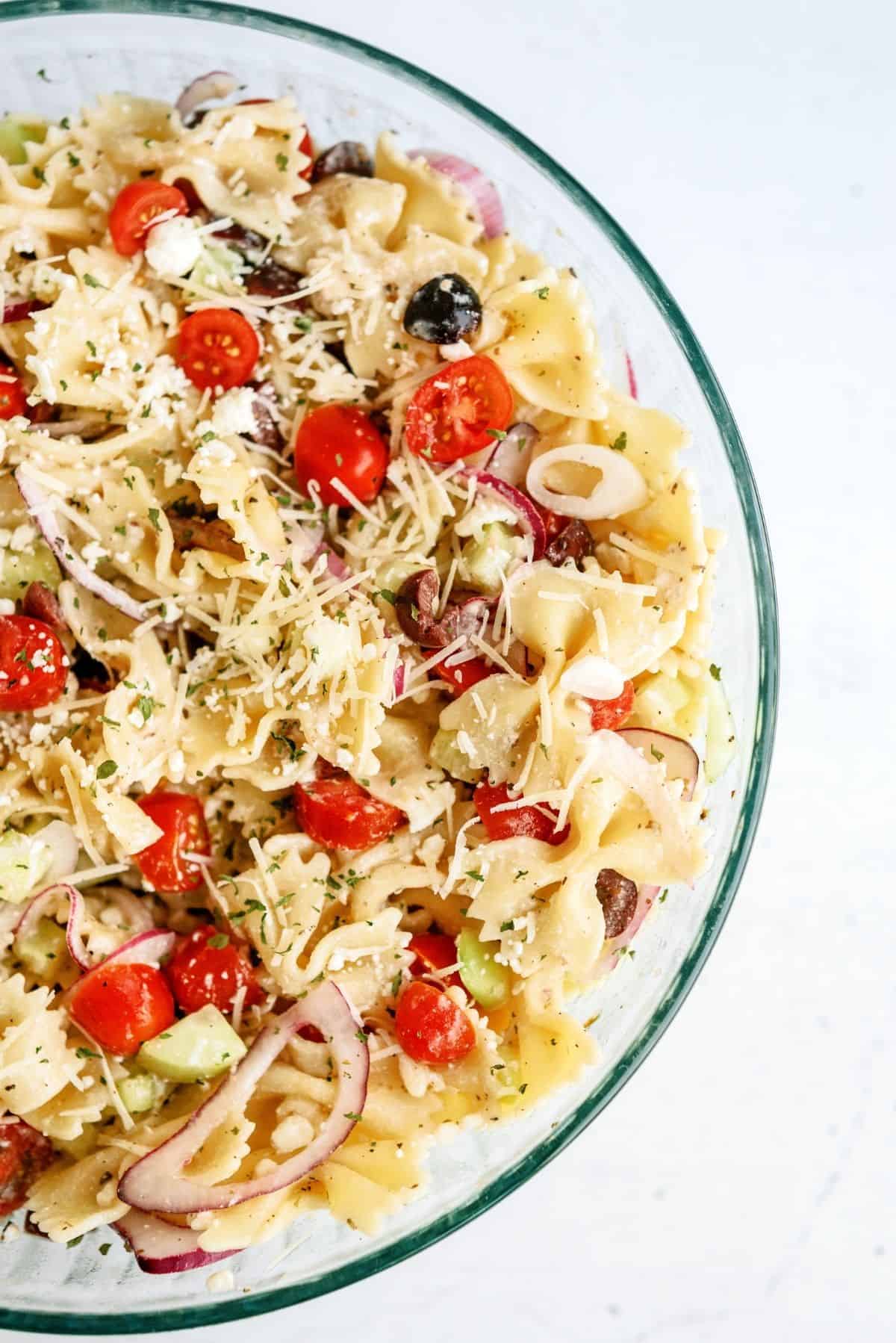 To Make This Greek Pasta Salad With Feta You Will Need:
Large pot
Large mixing bowl
Spatula or serving spoon