I have mentioned before that for the first 3 years of my marriage, my husband did all the cooking.
I had been living on my own for a couple of years and with my busy work and school schedule, I had learned to love cold cereal and peanut butter sandwiches for every meal.
My husband was the exact opposite; he was (and still is) a meat-and-potatoes kind of guy with a need to eat good food (and apparently cereal and sandwiches do not fall in the category of good food).
So during those first few years, I still took a sandwich to school for lunch, but Jared would usually prepare a yummy dinner for me to eat after work.
I have to be honest- Jared really taught me a lot of the things that I know about cooking. And, since I am coming clean . . . Jared even made and photographed a couple of the recipes in our Six Sisters' Stuff cookbook (gasp). He is an amazing cook and I don't give him all the credit that he deserves.
I still remember the first time he made these deviled eggs- he kept telling me how easy they were and threw them together without even looking at a recipe. I was blown away (and fell in love with him even more).
Since then, I have made these eggs multiple times (since I am the one who does most of the cooking these days- my, how the tables have turned!), but I always forget to write out the measurements of the ingredients- Jared taught me to just throw the ingredients in a bowl and "eyeball it".
To be honest, I don't think you can mess these up. They are such a quick and simple side dish that perfectly compliment any summer meal.
how to perfectly boil an egg:
Have you ever wanted to know how to perfectly boil an egg? This is how I do it:
1. Place your eggs in a large pot (the bigger the better so that they aren't bumping into each other and cracking).
Fill the pot with enough water that the eggs are at least 1 inch below the surface of the water.
Add 1 teaspoon of baking soda to the water (the sodium bicarbonate will help the eggs separate from their shells, which makes them so easy to peel) and place the pot (uncovered) on the stove.
2. Turn the heat to high and let the water come to a full rolling boil. Once there, let the eggs boil for one minute (I usually set a timer).
After the 1 minute is up, remove the pot from the heat, place a lid on top, and let the eggs sit in the hot water for 10 minutes (you will want to set a timer for this one too).
3. Once the time is up, remove the eggs from the pot and place in a bowl. Fill the bowl with ice and cold water.
Let the eggs sit in the ice water (full submerged) for 5 minutes. At this time, you can either remove the shells immediately or but the eggs in the fridge and peel them as you need them.
The shells should come off very easily and your yolk will be beautiful (with no green/grey hue around the edges).
watch how to make another egg recipe, here:
Did you know we have a Youtube Channel? We have hundreds of simple and delicious recipes, your family is going to love. We take you through each recipe, step by step, and show you exactly how to make them.
Watch how to make this simple breakfast or brunch recipe, here:
looking for more hard boiled egg recipes? here are a few of our favorite:
Serves: 12
Easy Deviled Eggs Recipe
10 minPrep Time
10 minTotal Time
Ingredients
6 hard-boiled* eggs
salt and pepper
2 tablespoons mayonnaise
1 tablespoon yellow mustard
2 tablespoons dill pickle relish (you can also use sweet pickle relish)
paprika
Instructions
Peel shells off of the hard boiled eggs and slice in half (lengthwise).
Using a spoon, gently remove the yolks from the whites and place all the yolks in a small bowl. Using a fork, mash the yolks into small pieces. Add the mayonnaise, mustard, and relish to the yolks and mix until well combined and creamy.
Using a spoon, carefully scoop some of the yolk mixture into the white of each egg half. Repeat until all egg whites are filled. Lightly sprinkle with paprika and keep in the fridge until ready to serve.
7.8.1.2
1765
https://www.sixsistersstuff.com/recipe/easy-deviled-eggs-recipe/
Follow Six Sisters' Stuff on Instagram |Facebook |Pinterest | YouTube
Looking to eat healthier?  Sign-up to receive a healthy menu plan and shopping list in your inbox every week!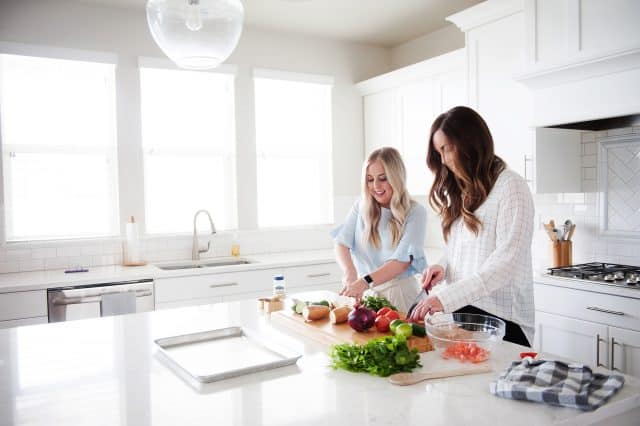 EACH HEALTHY MENU PLAN INCLUDES:
A WEEK AT A GLANCE
6 MAIN DISH RECIPES
2 SIDE DISH RECIPES
1 SNACK/TREAT RECIPE
DETAILED SHOPPING LIST
Every recipe in the menu plan is 500 calories or less per serving and includes nutrition information to help you stay on track!
Learn more, view sample menu plans and join HERE!