I love being able to make recipes from restaurants at home. These biscuits taste identical to Red Lobster's popular Cheddar Bay Biscuits!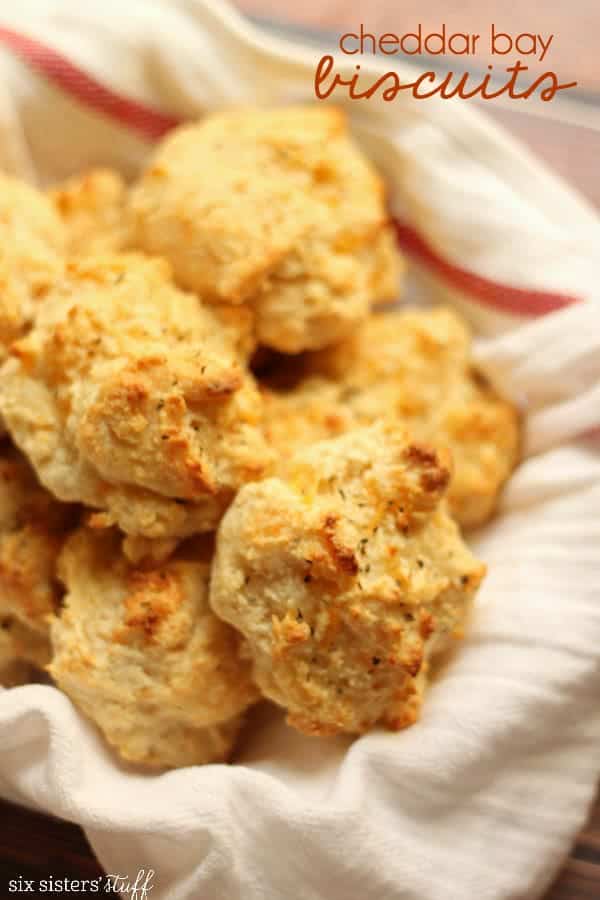 I love the flakey buttery goodness of Red Lobster Cheddar Bay Biscuits! Pretty sure there is nothing better fresh out of the oven! We decided to make them at home and they turned out identical to the original and you can have them on the table in less than 30 minutes!
Ingredients you need to make Red Lobster Cheddar Bay Biscuits at home:
2 ½ cups bisquick baking mix
4 Tablespoons butter cold
1 cup shredded cheddar cheese
¾ cup whole milk
¼ teaspoon garlic powder
How to make Red Lobster Cheddar Bay Biscuits:
Preheat your oven to 400 degrees.
In a medium mixing bowl, combine Bisquick and cold butter using a fork or pastry cutter. Don't combine too thoroughly – there should be small chunks of butter in your mixture.
Mix in cheese, milk and garlic powder by hand, only until combined.
Drop 1/4 cup portions onto an ungreased baking sheet and bake for 15-17 minutes or until golden brown.
In a small bowl, combine melted butter, garlic powder, parsley and salt.
Brush the garlic butter on top of the biscuits, making sure to use all of it.