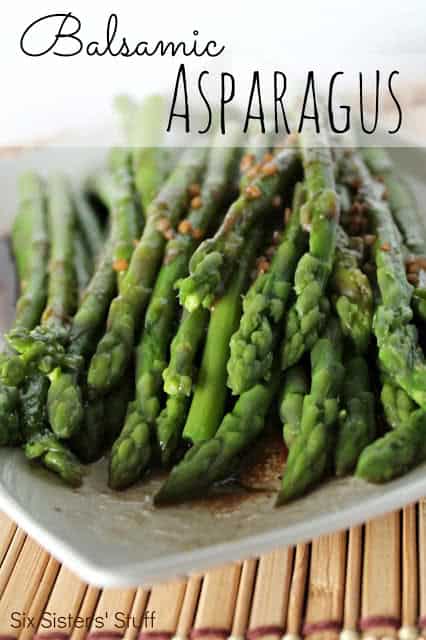 When I make a meal, I tend to concentrate on the main dish so much, that I forget about making any side dishes!  My family has eaten more than their fair share of the veggies in the bags you just toss in the microwave.  This was a delicious side dish with amazing flavor!

Balsamic Asparagus Recipe:
(Makes 4 servings)
Ingredients:
2 cups water
1 bunch (pound) fresh asparagus, trimmed
2 Tablespoons balsamic vinegar
1 Tablespoon butter, melted
1/2 teaspoon minced garlic
1/4 teaspoon salt
1/4 teaspoon pepper
Directions:
In a large pan, bring water to a boil.  Add asparagus, and boil uncovered for 4-5 minutes or until tender.  In a small bowl, whisk together vinegar, butter, garlic, salt and pepper.  Drain asaragus and drizzle with balsamic mixture.  Now you can watch the video for this recipe below!
Looking for more delicious side dishes?
Here are a few of our favorites:
It's finally here!
Our FIRST cookbook is now available for purchase!
You can check it out
HERE
.